Scientists Discover First DNA Evidence of Female Viking Warriors
A recent DNA analysis shows that a skeleton found in a famous Viking grace belonged to a female warrior.
14 September, 2017
The site of Birka, a Viking-era city whose remains lie about 20 miles east of Stockholm, has long been a treasure trove for scholars and archaeologists. Buried here are more than 3,000 Viking graves, all under what was once a central outpost in a complex trading network built during the Early Middle Ages. In the 10th century, for reasons researchers don't fully understand, it was abandoned
---
Nearly a millennium later, archaeologists unearthed, as one put it, the "ultimate Viking grave." It contained the remains of a person buried alongside a sword, an axe, a spear, arrows, a knife, and shields, along with two horses, a mare, and a stallion. The skeleton held a board game, which were used then for devising military strategies. This person, by all accounts, had been a military officer.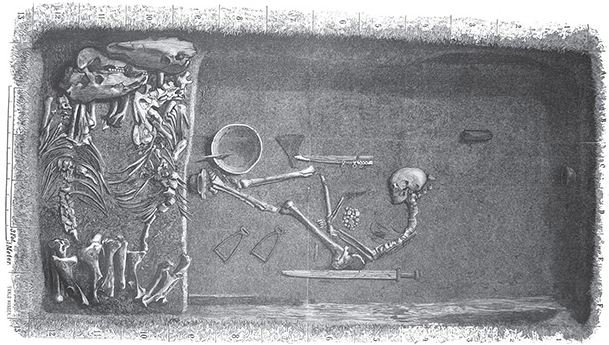 Illustration by Evald Hansen based on the original plan of grave Bj 581 by excavator Hjalmar Stolpe
Scholars have long assumed this Viking officer had been male. However, a new paper published in the American Journal of Physical Anthropology proposes convincing DNA evidence that this famed Viking skeleton was, in fact, a woman. 
"Written sources mention female warriors occasionally, but this is the first time that we've really found convincing archaeological evidence for their existence," says Neil Price, Professor at Uppsala University's Department of Archaeology and Ancient History.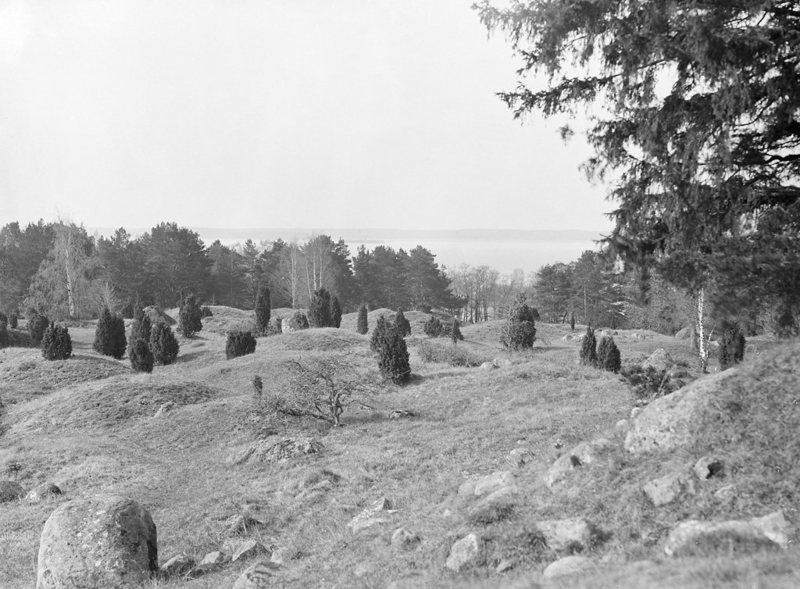 SWEDISH NATIONAL HERITAGE BOARD/PUBLIC DOMAIN
The skeleton had fascinated Anna Kjellström, an osteologist at Stockholm University and coauthor of the paper, when she studied it a few years ago for another project, according to The Local. She noticed its slim cheekbones, feminine hips. It seemed female.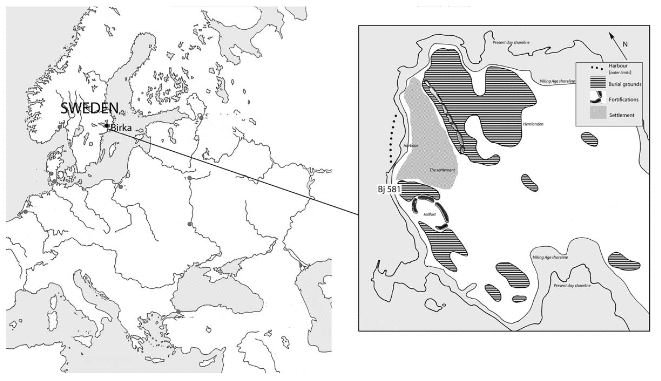 Map showing location of Birka and the grave site
In order to conclusively determine the sex of the warrior, the researchers tested the nuclear DNA of a tooth root and arm bone from the skeleton. The results? Two X chromosomes, zero Y chromosomes. 
"The individual in grave BJ581 is the first confirmed female high-ranking Viking warrior," wrote lead study author Hedenstierna-Jonson and colleagues. 
Video footage of a recreation of Birka from filmmakers Mikael Agaton and Lars Rengfelt
So, the deceased was clearly female. But why do the researchers think she was a warrior and not, say, the wife of a warrior or simply a woman from high-ranking family? After all, the researchers note that Viking women buried alongside weapons have been discovered before.
It comes down to the board game, which she was clutching in her final resting position.
"The gaming set indicates that she was an officer, someone who worked with tactics and strategy and could lead troops in battle. What we have studied was not a Valkyrie from the sagas but a real life military leader, that happens to have been a woman," said Hedenstierna-Jonson.
Hedenstierna-Jonson elaborated in an interview with The Local:
"You can't reach such a high (military) position without having warrior experience, so it's reasonable to believe that she took part in battles.
It was probably quite unusual (for a woman to be a military leader), but in this case, it probably had more to do with her role in society and the family she was from, and that carrying more importance than her gender."
The researchers don't believe their findings will revolutionize the way scholars conceptualize Viking military history. However, the paper raises new questions about the exact role of women in Viking society, and casts some doubt on previously unearthed Viking remains that were assumed to be male. 
The paper concludes with a fitting war poem:
Then the high-born lady saw them play the wounding
game,
she resolved on a hard course and flung off her cloak;
she took a naked sword and fought for her kinsmen's lives
she was handy at fighting, wherever she aimed her blows
— The Greenlandic Poem of Atli
Swipe right to make the connections that could change your career.
Getty Images
Sponsored
Swipe right. Match. Meet over coffee or set up a call.
No, we aren't talking about Tinder. Introducing Shapr, a free app that helps people with synergistic professional goals and skill sets easily meet and collaborate.
In his final years, Martin Luther King, Jr. become increasingly focused on the problem of poverty in America.
(Photo by J. Wilds/Keystone/Getty Images)
Politics & Current Affairs
Despite being widely known for his leadership role in the American civil rights movement, Martin Luther King, Jr. also played a central role in organizing the Poor People's Campaign of 1968.
The campaign was one of the first to demand a guaranteed income for all poor families in America.
Today, the idea of a universal basic income is increasingly popular, and King's arguments in support of the policy still make a good case some 50 years later.
A completely unexpected discovery beneath the ice.
Surprising Science
Scientists find remains of a tardigrade and crustaceans in a deep, frozen Antarctic lake.
The creatures' origin is unknown, and further study is ongoing.
Biology speaks up about Antarctica's history.
For Damien Echols, tattoos are part of his existential armor.
Videos
In prison Damien Echols was known by his number SK931, not his name, and had his hair sheared off. Stripped of his identity, the only thing he had left was his skin.
This is why he began tattooing things that are meaningful to him — to carry a "suit of armor" made up the images of the people and objects that have significance to him, from his friends to talismans.
Echols believes that all places are imbued with divinity: "If you interact with New York City as if there's an intelligence behind... then it will behave towards you the same way."
Big think's weekly newsletter.
Get smarter faster from the comfort of your inbox.
See our newsletter privacy policy
here
Most Popular
Most Recent
Big think's weekly newsletter.
Get smarter faster from the comfort of your inbox.
See our newsletter privacy policy
here
© Copyright 2007-2018 & BIG THINK, BIG THINK EDGE,
SMARTER FASTER trademarks owned by The Big Think, Inc. All rights reserved.