15,000 scientists issue environmental 'warning' to humanity
Thousands of scientists from 184 countries have endorsed an open letter that outlines some of the Earth's most pressing environmental problems.
13 November, 2017
---
More than 15,000 scientists from 184 countries have issued a warning: Mankind must take immediate action to reverse the effects of climate change, deforestation and species extinction before it's too late.
The warning, issued by the Alliance of World Scientists and published in the journal Bioscience, comes on the 25th anniversary of a similar warning from the Union of Concerned Scientists that was titled "World Scientists' Warning to Humanity". The new letter, however, has 10 times as many scientists endorsing it.
"On the 25th anniversary of their call, we look back at their warning and evaluate the human response by exploring available time-series data," the paper reads. "Especially troubling is the current trajectory of potentially catastrophic climate change due to rising GHGs from burning fossil fuels (Hansen et al. 2013), deforestation (Keenan et al. 2015), and agricultural production—particularly from farming ruminants for meat consumption (Ripple et al. 2014). Moreover, we have unleashed a mass extinction event, the sixth in roughly 540 million years, wherein many current life forms could be annihilated or at least committed to extinction by the end of this century."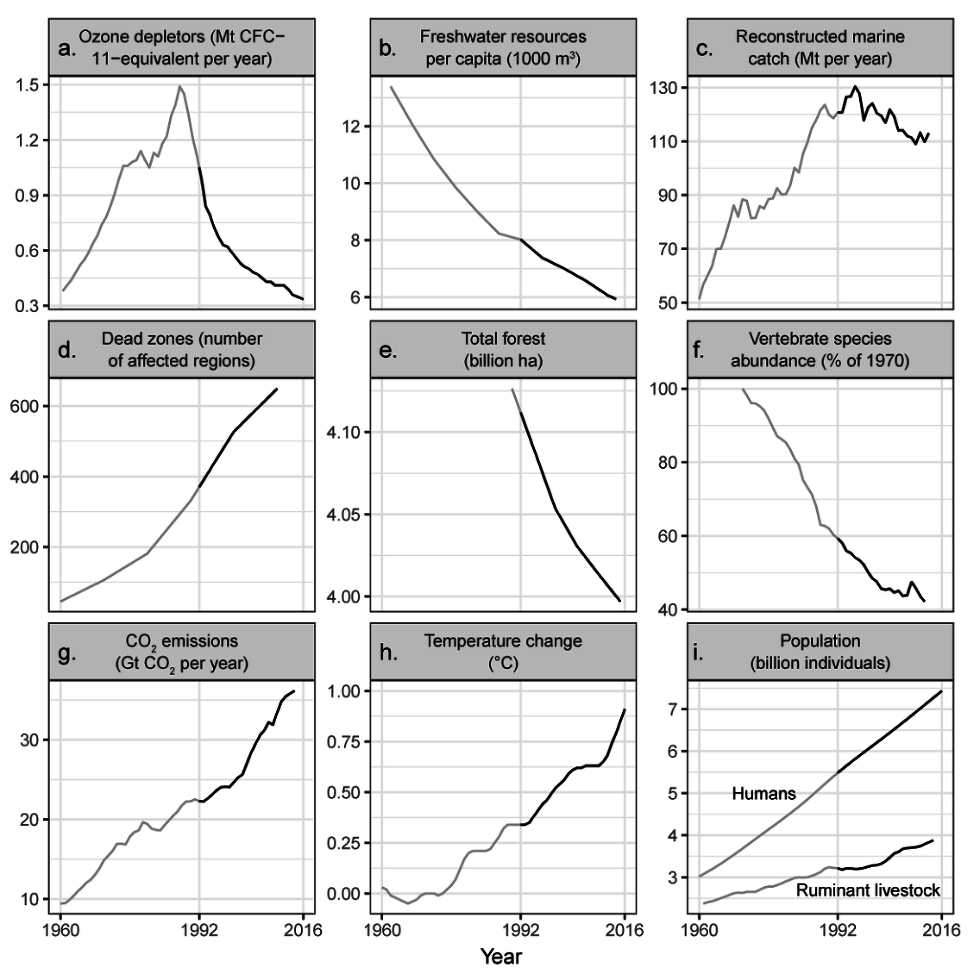 The paper outlines some of the world's most pressing environmental concerns, most of which have only worsened since 1992. They're summarized here:
A decline in freshwater availability – Per capita fresh water availability is less than half of the level of the 1960s. It is likely that climate change will have an overwhelming impact on the freshwater availability through alteration of the hydrologic cycle and water availability.
Unsustainable marine fisheries – In 1992, the total marine catch was at or above the maximum sustainable yield and fisheries were on the verge of collapse. Global catch rates have decreased, though fishing efforts are increasing.
Ocean dead zones – Coastal dead zones which are mainly caused by fertilizer runoff and fossil-fuel use, are killing large swaths of marine life. Dead zones with hypoxic, oxygen-depleted waters, are a significant stressor on marine systems and identified locations have dramatically increased since the 1960s, with more than 600 systems affected by 2010.
Forest losses – The world's forests are crucial for conserving carbon, biodiversity, and freshwater. Between 1990 and 2015, total forest area decreased from 4,128 to 3,999 million ha, a net loss of 129 million ha which is approximately the size of South Africa.
Dwindling biodiversity – The world's biodiversity is vanishing at an alarming rate and populations of vertebrate species are rapidly collapsing (World Wildlife Fund 2016). Collectively, global fish, amphibians, reptiles, birds, and mammals declined by 58% between 1970 and 2012.
Climate change – Global fossil-fuel carbon dioxide emissions have increased sharply since 1960. Relative to the 1951-1980 average, global average annual surface temperature, in parallel to CO2 emissions, has also rapidly risen as shown by 5-year mean temperature anomaly. The 10 warmest years in the 136-year record have occurred since 1998.
Population growth – Since 1992, the human population has increased by approximately 2 billion individuals, a 35% change. The world human population is unlikely to stop growing this century and there is a high likelihood that the world population will grow from 7.2 billon people now to between 9.6 and 12.3 billon by 2100.
It wasn't all awful news, however.
Now for some good news!
The Ozone Hole this year has been the smallest since 1988!https://t.co/8S7dDYW1c7
— Erik Solheim (@ErikSolheim) November 3, 2017
What can 3D printing do for medicine? The "sky is the limit," says Northwell Health researcher Dr. Todd Goldstein.
Northwell Health
Sponsored by Northwell Health
Medical professionals are currently using 3D printers to create prosthetics and patient-specific organ models that doctors can use to prepare for surgery.
Eventually, scientists hope to print patient-specific organs that can be transplanted safely into the human body.
Northwell Health, New York State's largest health care provider, is pioneering 3D printing in medicine in three key ways.
Torn between absolutism on the left and the right, classical liberalism—with its core values of compassion and incremental progress whereby the once-radical becomes the mainstream—is in need of a good defense. And Adam Gopnik is its lawyer.
Think Again Podcasts
Liberalism as "radical pragmatism"
Intersectionality and civic discourse
How "a thousand small sanities" tackled drunk driving, normalized gay marriage, and could control gun violence
Irish president believes students need philosophy.
Personal Growth
President of Ireland Michael D. Higgins calls for students to be thought of as more than tools made to be useful.
Higgins believes that philosophy and history should be a basic requirement forming a core education.
The Irish Young Philosopher Awards is one such event that is celebrating this discipline among the youth.
The lost practice of face-to-face communication has made the world a more extreme place.
Videos
The world was saner when we spoke face-to-face, argues John Cameron Mitchell. Not looking someone in the eye when you talk to them raises the potential for miscommunication and conflict.
Social media has been an incredible force for activism and human rights, but it's also negatively affected our relationship with the media. We are now bombarded 24/7 with news that either drives us to anger or apathy.
Sitting behind a screen makes polarization worse, and polarization is fertile ground for conspiracy theories and fascism, which Cameron describes as irrationally blaming someone else for your problems.
Big think's weekly newsletter.
Get smarter faster from the comfort of your inbox.
See our newsletter privacy policy
here
Most Popular
Most Recent
Big think's weekly newsletter.
Get smarter faster from the comfort of your inbox.
See our newsletter privacy policy
here
© Copyright 2007-2019 & BIG THINK, BIG THINK EDGE,
SMARTER FASTER trademarks owned by The Big Think, Inc. All rights reserved.