What happens when anarchists run a country? History has an answer.
"Anarchy" is often used as a synonym for chaos. Does the historical record match up with that? 
26 January, 2018
When most people hear the word "anarchy", they think of chaos. It brings to mind images of gangs fighting in the streets, looting and rioting, without a police force to help end the madness. It can be hard to grasp why anybody would ever declare themselves to be an "anarchist." After all, most of the news about anarchists in the United States focuses on their violent demonstrations.
---
But, you might be surprised to learn what happened when Anarchy reigned in Spain.
During the Spanish civil war, a brutal conflict between Franco's Nationalists and the Republicans, eight million people in Catalonia engaged in their own revolution. Based on anarcho-syndicalism, organized by trade unionists, and briefly very successful, the revolutionaries offer us a possible image of what happens when anarchy reigns.
The fundamental concepts of anarchism are statelessness and opposition to hierarchy. To these ends, the Catalonian revolutionaries organized the region under cooperative and communal principals. Factories became worker cooperatives, farms became communes, and workers even managed their barber shops. This was done without the utilization of state control. Society became increasingly democratic, and everyone was increasingly equal in both principal and practice.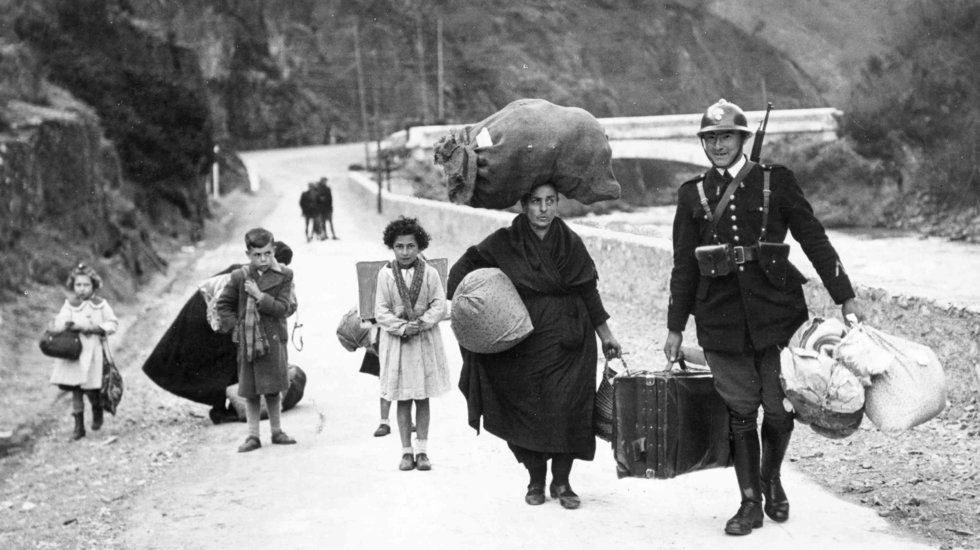 circa 1938: A member of the French frontier troops helps a family of refugees cross the border from Spain during the Spanish Civil War. (Photo by Keystone/Getty Images)
British author George Orwell, who fought for the Anarchists during the civil war, reflected later on how the anarchist society functioned in his book Homage to Catalonia:
"Practically every building of any size had been seized by the workers and was draped with red flags and with the red and black flag of the Anarchists; every wall was scrawled with the hammer and sickle and with the initials of the revolutionary parties; almost every church had been gutted and its images burnt. Churches here and there were being systematically demolished by gangs of workmen. Every shop and cafe had an inscription saying that it had been collectivized; even the bootblacks had been collectivized and their boxes painted red and black. Waiters and shop-walkers looked you in the face and treated you as an equal. Servile and even ceremonial forms of speech had temporarily disappeared. Nobody said 'Señor' or 'Don' or even 'Usted'; everyone called everyone else 'Comrade' or 'Thou', and said 'Salud!' instead of 'Buenos días'. Tipping had been forbidden by law since the time of Primo de Rivera; almost my first experience was receiving a lecture from a hotel manager for trying to tip a lift-boy…… There was no unemployment, and the price of living was still extremely low; you saw very few conspicuously destitute people, and no beggars except the gypsies. Above all, there was a belief in the revolution and the future, a feeling of having suddenly emerged into an era of equality and freedom. Human beings were trying to behave as human beings and not as cogs in the capitalist machine."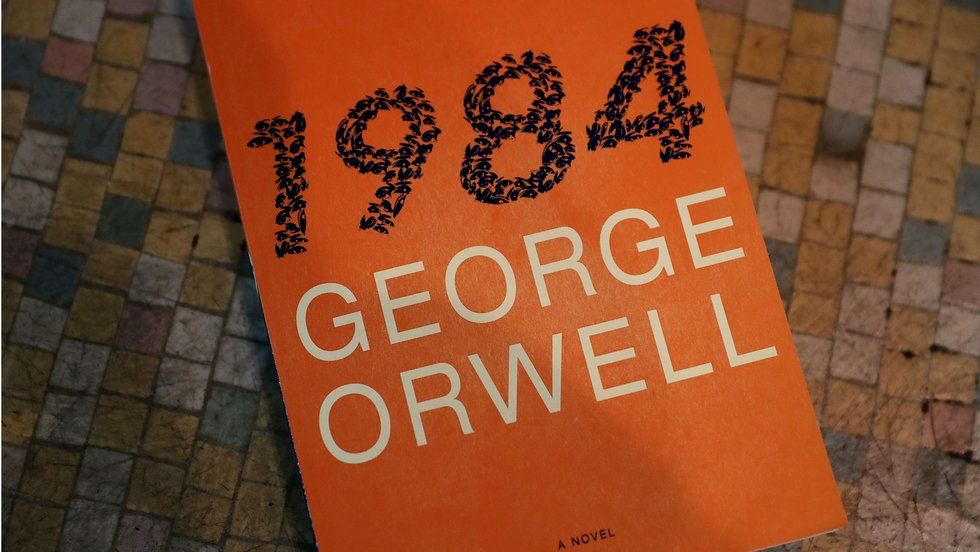 He would later have very well thought out ideas on totalitarian states. So well detailed that his name became the word to describe such states.
If it was so great, what happened? Why did it fail?
Support for the anarchist movement was undermined by Stalinist communists hoping to draw support for their war effort, which they argued was more important than a revolution. This, combined with other factors, meant that the experiment had largely ended by the time that Franco won the war.
So, it was all sunshine and rainbows? They did reach the dream of hippie communes thirty years early?
It has been pointed out by many sources that coercion was used in many cases to "encourage" the collectivization of rural areas and private property was probably taken by force in urban areas as well. The revolutionaries also never entirely took full power in the areas they controlled. In Barcelona, the city with the most significant anarchist presence, at least 25% of the economy was always outside of syndicalist influence. Rates were higher in other areas. As the revolution only lasted ten months, questions on how the society would have continued to develop remain unanswered.
Are there any examples since the 1930s of how anarchism might work?
Nothing on such a scale, though elements of anarchist thought, such as decentralized power and participatory democracy, were hallmarks of the Occupy Movement. Notable American philosopher Noam Chomsky is a self-declared anarchist who has written several books on the subject.
And, perhaps as is to be expected with left-wing movements, there is still a multitude of organizations promoting some form of anarchism/libertarian socialism. The trade unions that lead the social revolution in 1937 are still very active organizations in Spain.
While most uses of the word "anarchy" invoke ideas of fear, madness, and disorder, the leading example of an anarchist society was quite the opposite. While questions of how an anarchist society would endure in the long run remain, an example of how it works in the short run shows us that we might need to find a different synonym for "chaos."
--
Related Articles Around the Web
From Your Site Articles
What can 3D printing do for medicine? The "sky is the limit," says Northwell Health researcher Dr. Todd Goldstein.
Northwell Health
Sponsored by Northwell Health
Medical professionals are currently using 3D printers to create prosthetics and patient-specific organ models that doctors can use to prepare for surgery.
Eventually, scientists hope to print patient-specific organs that can be transplanted safely into the human body.
Northwell Health, New York State's largest health care provider, is pioneering 3D printing in medicine in three key ways.
The periodic table was a lot simpler at the beginning of the universe.
Great ideas in philosophy often come in dense packages. Then there is where the work of Marcus Aurelius.
(Getty Images)
Personal Growth
Meditations is a collection of the philosophical ideas of the Roman Emperor Marcus Aurelius.
Written as a series of notes to himself, the book is much more readable than the dry philosophy most people are used to.
The advice he gave to himself 2,000 years ago is increasingly applicable in our hectic, stressed-out lives.
Can dirt help us fight off stress? Groundbreaking new research shows how.
University of Colorado Boulder
Surprising Science
New research identifies a bacterium that helps block anxiety.
Scientists say this can lead to drugs for first responders and soldiers, preventing PTSD and other mental issues.
The finding builds on the hygiene hypothesis, first proposed in 1989.
Are modern societies trying too hard to be clean, at the detriment to public health? Scientists discovered that a microorganism living in dirt can actually be good for us, potentially helping the body to fight off stress. Harnessing its powers can lead to a "stress vaccine".
Researchers at the University of Colorado Boulder found that the fatty 10(Z)-hexadecenoic acid from the soil-residing bacterium Mycobacterium vaccae aids immune cells in blocking pathways that increase inflammation and the ability to combat stress.
The study's senior author and Integrative Physiology Professor Christopher Lowry described this fat as "one of the main ingredients" in the "special sauce" that causes the beneficial effects of the bacterium.
The finding goes hand in hand with the "hygiene hypothesis," initially proposed in 1989 by the British scientist David Strachan. He maintained that our generally sterile modern world prevents children from being exposed to certain microorganisms, resulting in compromised immune systems and greater incidences of asthma and allergies.
Contemporary research fine-tuned the hypothesis, finding that not interacting with so-called "old friends" or helpful microbes in the soil and the environment, rather than the ones that cause illnesses, is what's detrimental. In particular, our mental health could be at stake.
"The idea is that as humans have moved away from farms and an agricultural or hunter-gatherer existence into cities, we have lost contact with organisms that served to regulate our immune system and suppress inappropriate inflammation," explained Lowry. "That has put us at higher risk for inflammatory disease and stress-related psychiatric disorders."
University of Colorado Boulder
Christopher Lowry
This is not the first study on the subject from Lowry, who published previous work showing the connection between being exposed to healthy bacteria and mental health. He found that being raised with animals and dust in a rural environment helps children develop more stress-proof immune systems. Such kids were also likely to be less at risk for mental illnesses than people living in the city without pets.
Lowry's other work also pointed out that the soil-based bacterium Mycobacterium vaccae acts like an antidepressant when injected into rodents. It alters their behavior and has lasting anti-inflammatory effects on the brain, according to the press release from the University of Colorado Boulder. Prolonged inflammation can lead to such stress-related disorders as PTSD.
The new study from Lowry and his team identified why that worked by pinpointing the specific fatty acid responsible. They showed that when the 10(Z)-hexadecenoic acid gets into cells, it works like a lock, attaching itself to the peroxisome proliferator-activated receptor (PPAR). This allows it to block a number of key pathways responsible for inflammation. Pre-treating the cells with the acid (or lipid) made them withstand inflammation better.
Lowry thinks this understanding can lead to creating a "stress vaccine" that can be given to people in high-stress jobs, like first responders or soldiers. The vaccine can prevent the psychological effects of stress.
What's more, this friendly bacterium is not the only potentially helpful organism we can find in soil.
"This is just one strain of one species of one type of bacterium that is found in the soil but there are millions of other strains in soils," said Lowry. "We are just beginning to see the tip of the iceberg in terms of identifying the mechanisms through which they have evolved to keep us healthy. It should inspire awe in all of us."
Check out the study published in the journal Psychopharmacology.
Big think's weekly newsletter.
Get smarter faster from the comfort of your inbox.
See our newsletter privacy policy
here
Most Popular
Most Recent
Big think's weekly newsletter.
Get smarter faster from the comfort of your inbox.
See our newsletter privacy policy
here
© Copyright 2007-2019 & BIG THINK, BIG THINK EDGE,
SMARTER FASTER trademarks owned by The Big Think, Inc. All rights reserved.