Big ideas.
Once a week.
Subscribe to our weekly newsletter.
24 of the smartest people who ever lived
The smartest humans in history are ranked.
18 September, 2016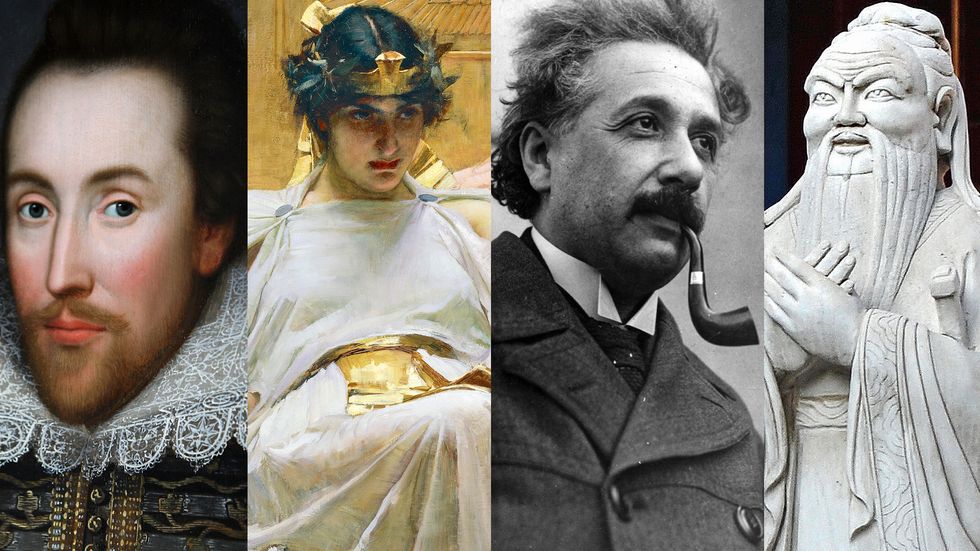 Making a list of the smartest people who ever lived may not be a smart thing to do. After all, intelligence can be measured in a variety of different ways. Some believe in IQ tests, others place more stock in emotional intelligence. There's also something to be said about having accomplishments. Being intelligent is not the same as using that intelligence to create something that no one else can, to somehow advance humanity, to be smarter than everyone.
---
Many smart people do not live up to their potential. It is also true that prejudices and lack of opportunities have surely prevented some brilliant people from reaching their full potential and being recognized. Still, for the sake of argument, we will use all criteria at our disposal to come up with a list of the brightest humans.
Note: while IQ testing was developed in the early 1900s, there have been subsequent studies that estimated IQs of geniuses of the past. Anything above 140 is generally considered near genius-level.
24. William Siddis (1898-1944) was an American child prodigy, whose IQ was reportedly between 250-300, perhaps the highest ever. He had outstanding abilities in math, entered Harvard at age 11, and claimed to know 40 languages. An MIT professor predicted the young Siddis would become the greatest mathematician of the 20th century. William crashed and burned as an adult, however, holding menial jobs and getting in trouble with the law, never finding an avenue to live up to the expectations.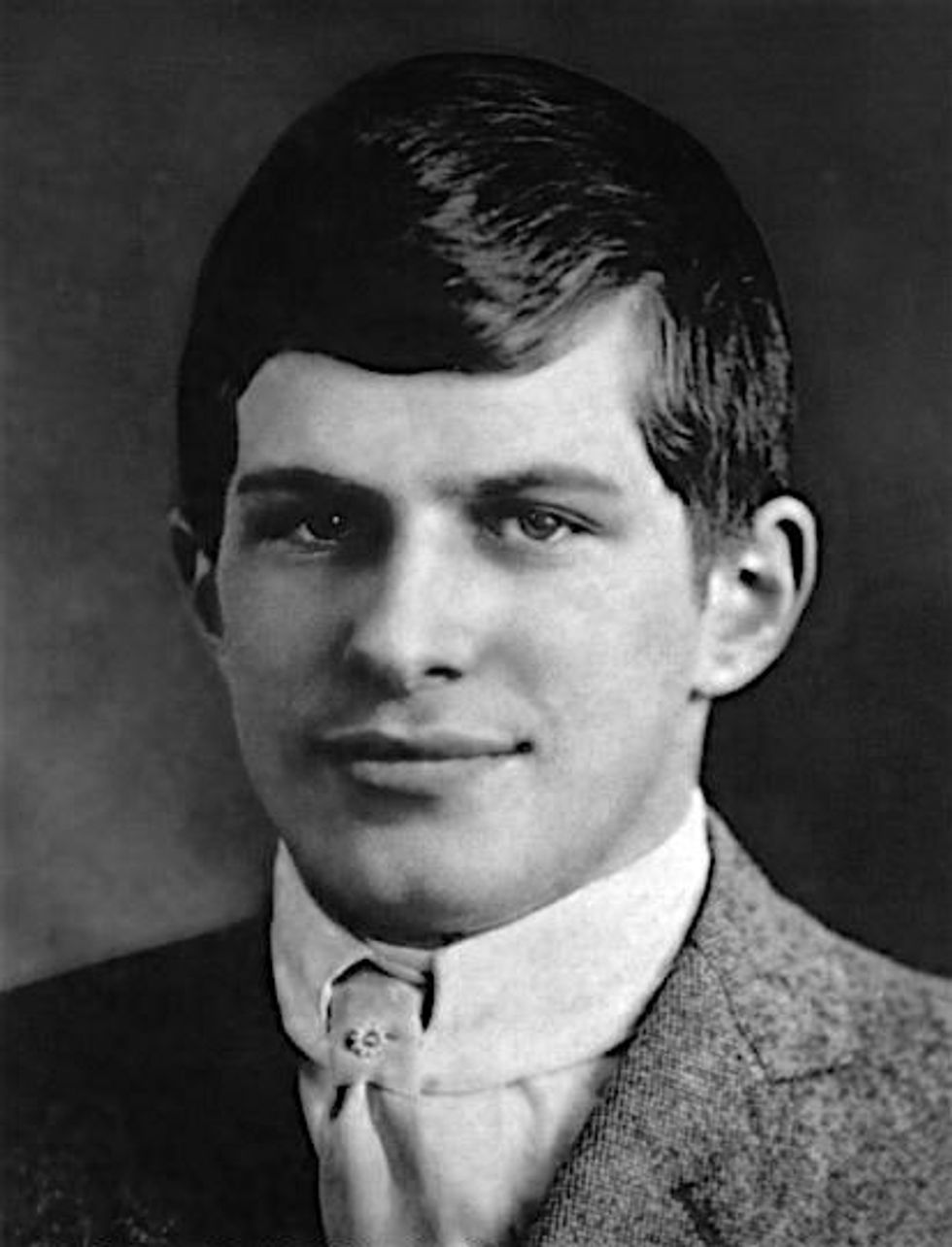 William Sidis. 1914.
23. Judit Polgar (b. 1976) is a Hungarian chess grandmaster, widely regarded as the strongest female chess player of all time. She broke Chess World Champion Bobby Fischer's record to become grandmaster at age 15. Her IQ is recorded as 170.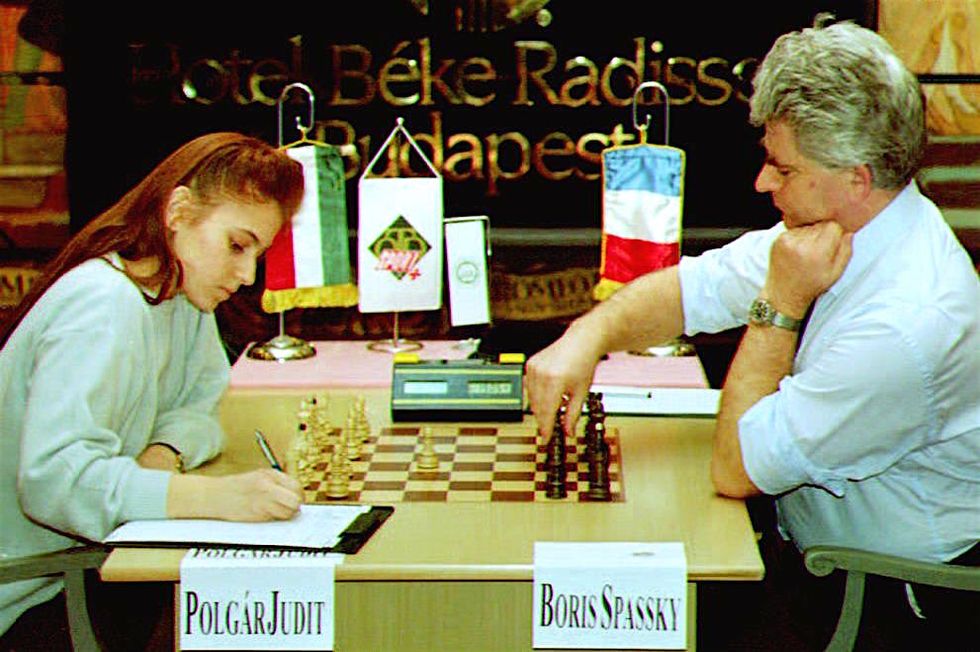 The youngest international chess grand master, 17-year-old Judit Polgar (L) writes down her first move 16 February, 1993 in her last match with Russian born chess champion Boris Spassky (R) in Budapest. (Photo credit: ATTILA KISBENEDEK/AFP/Getty Images)
22. Philip Emeagwali (b. 1954) is a Nigerian inventor and scientist, reportedly with an IQ of 190, voted as the "greatest African scientist of all time". Although this claim is controversial, his math work is often credited as being instrumental in the creation of the internet.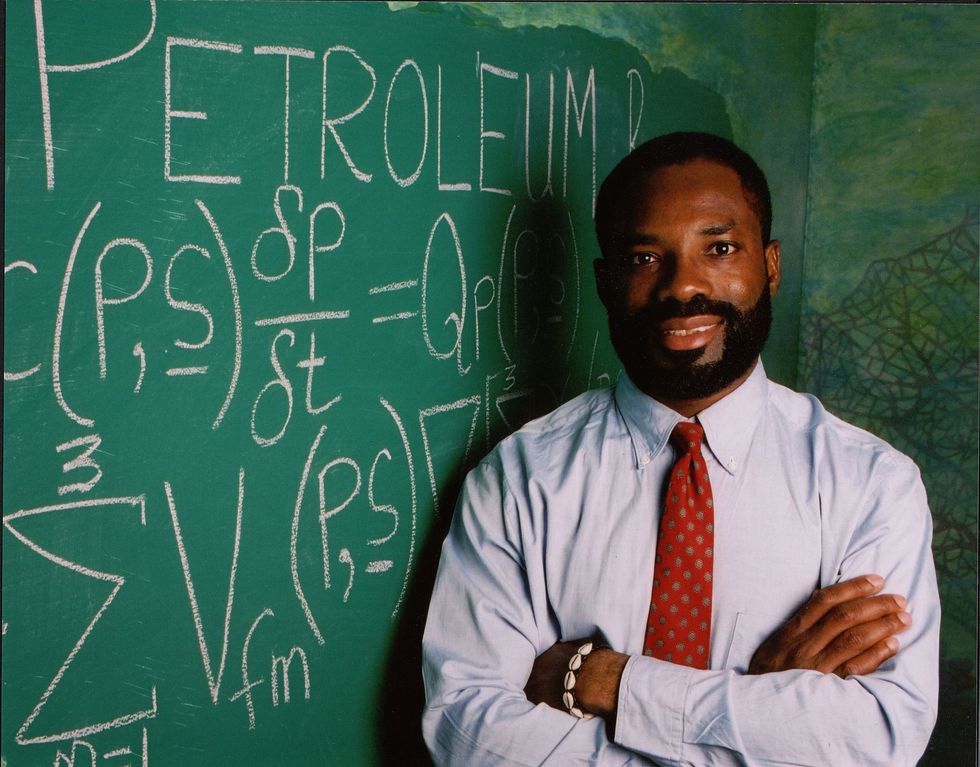 Philip Emeagwali with Exxon-Mobil partial differential equations for petroleum reservoir simulations across an internet powered by 65,536 computers. 2013. ©Photo: emeagwali.com
21. Terence Tao (b. 1975), Chinese, born in Australia, is a former a child prodigy whose IQ scores range from 220-230, some of the highest ever recorded. He is currently a Professor of Mathematics at UCLA.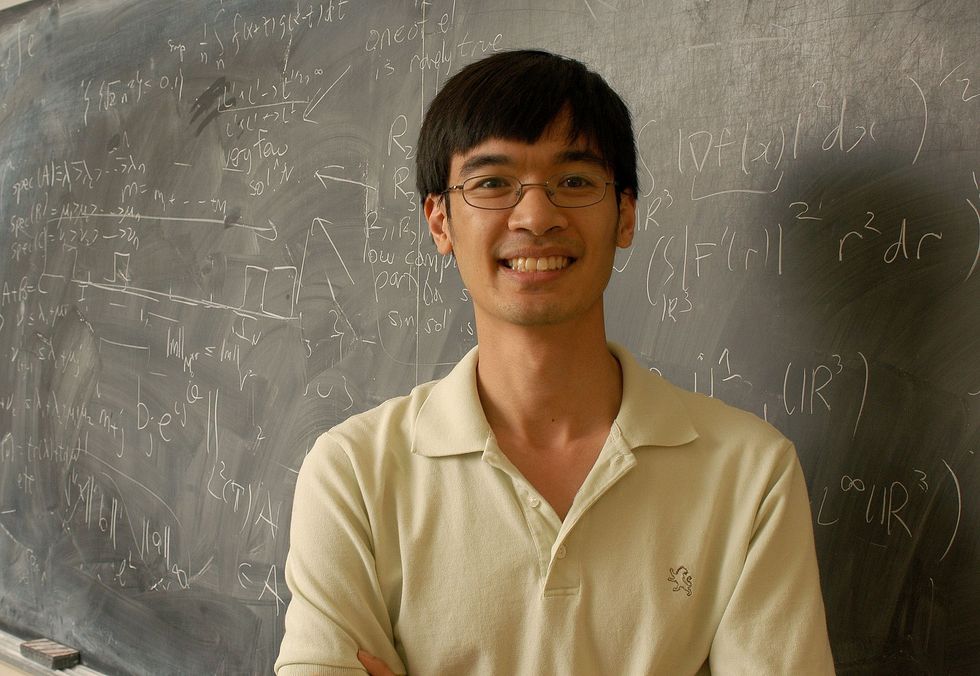 Photo courtesy of the John D. and Catherine T. MacArthur Foundation
20. Cleopatra (68-30 B.C.) was the last pharaoh of Ptolemaic Egypt, ruling the country for almost thirty years. She was fluent in five languages and had an IQ of around 180. Cleopatra was also known for relationships with Julius Caesar and Marc Anthony.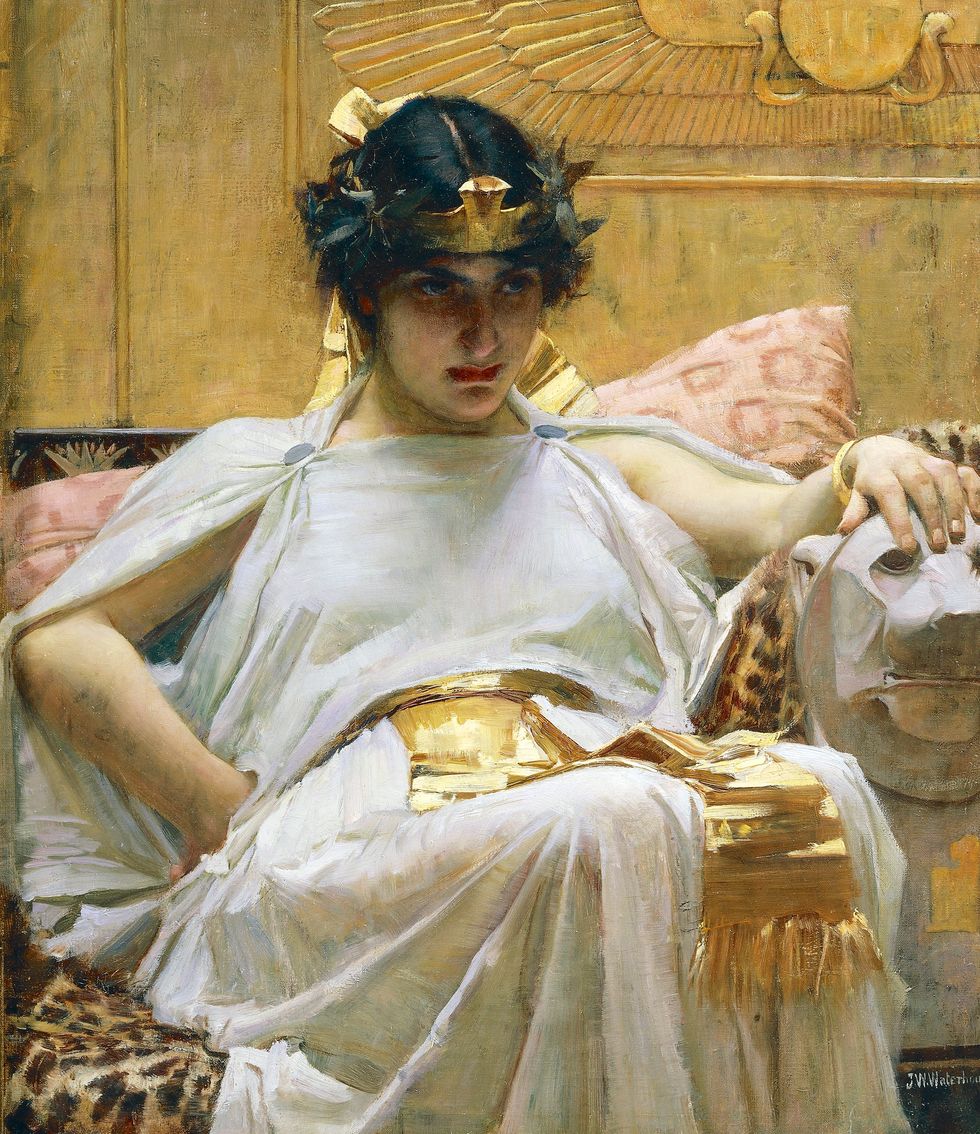 Painting of Cleopatra by John William Waterhouse. 1888.
19. Srinivasa Ramanujan (1887-1920) was an Indian mathematician, who made great contributions in such areas as number theory, continued fractions, and infinite series, despite not having any formal education in math. His estimated IQ was 185.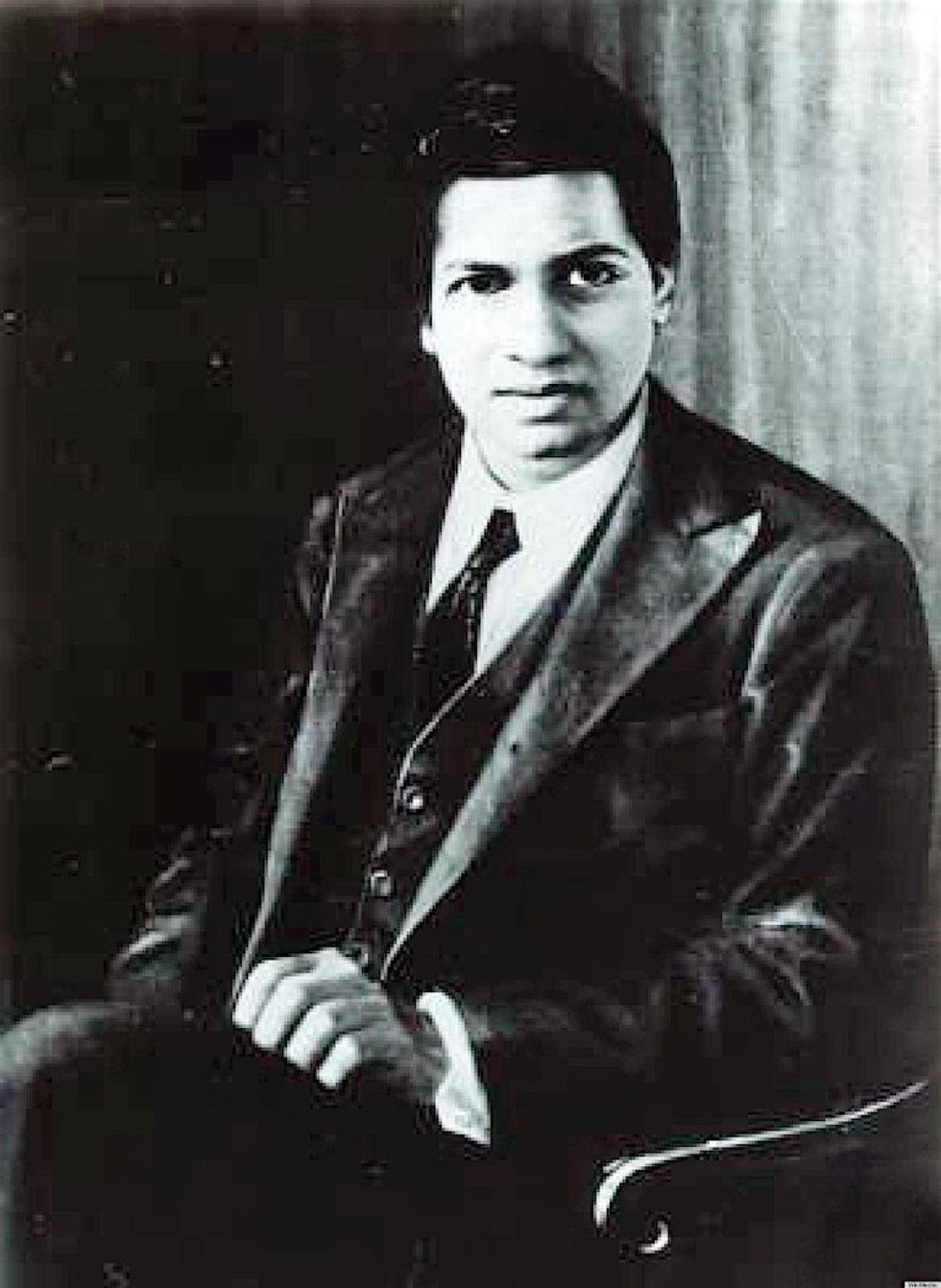 Srinivasa Ramanujan. 1920.
18. Garry Kasparov (b. 1963), Armenian-Jewish, is regarded by many as the greatest chess player of all time, with an IQ reportedly in the 190s. He was the world's number one player for nearly two decades, winning the world championship when was only 22.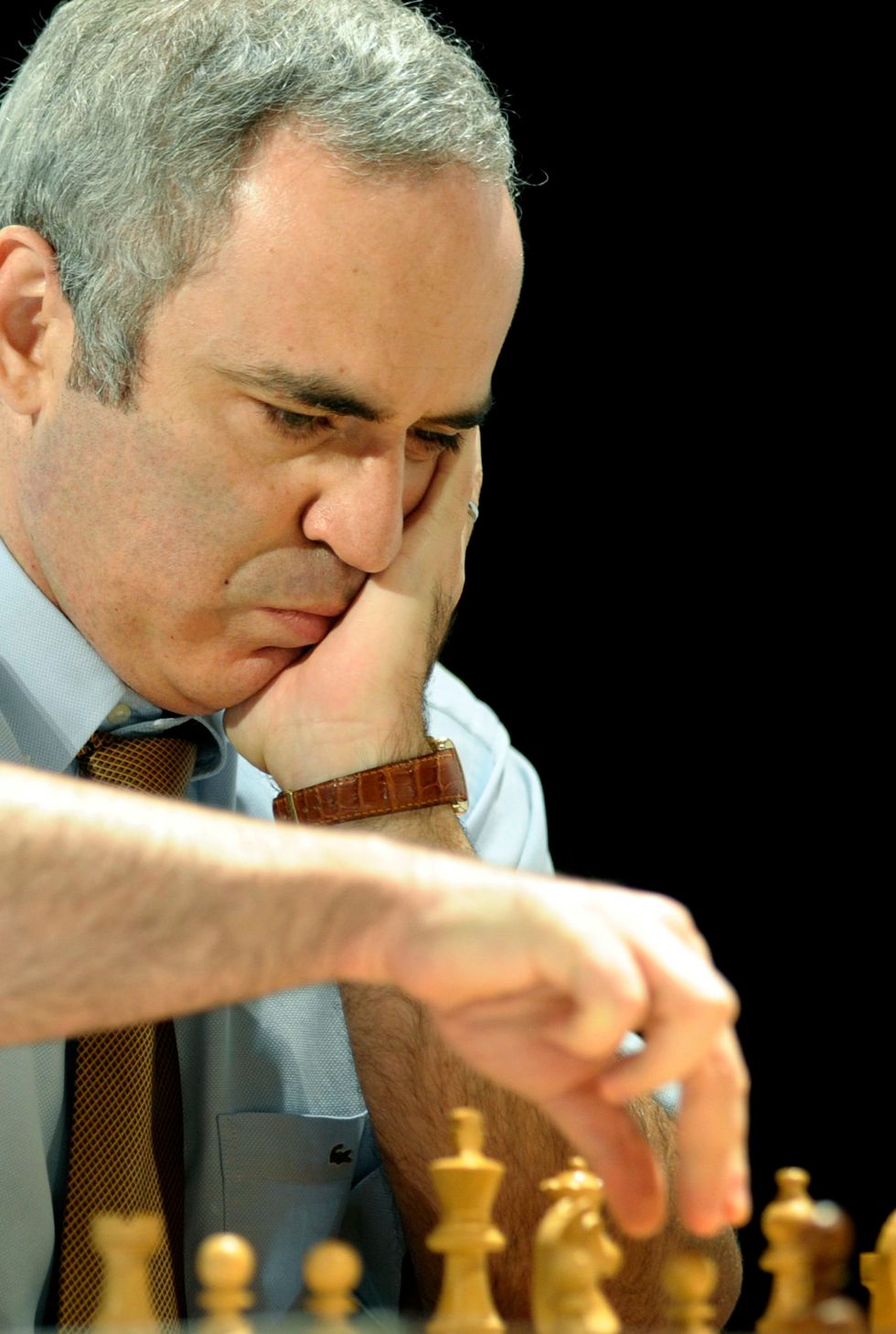 Chess legend Garry Kasparov plays chess with his Russian peer Anatoli Karpov (unseen) at the Arts Palau in Valencia on September 24, 2009, 25 years after their epic world championship duel. (Photo by JOSE JORDAN/AFP/Getty Images)
17. Aryabhata (476—55) was probably the earliest Indian mathematician and astronomer. He is known for approximating the value of pi and developed the knowledge and use of zero.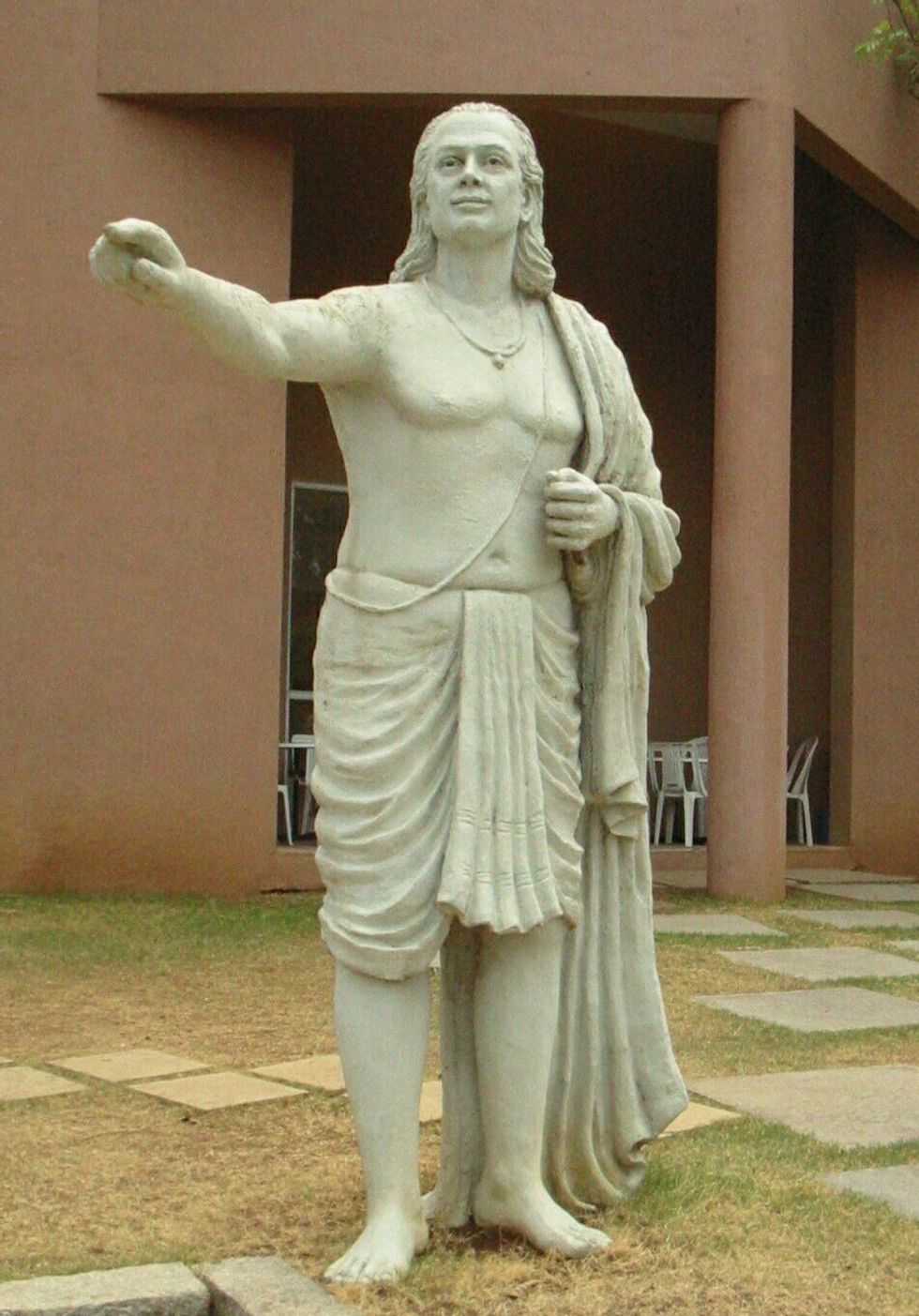 A statue of Aryabhata in Pune, India. 2006.
16. Voltaire (1694 – 1778) was a leading figure of the French Enlightenment. With an IQ of 190 to 200, he was a notoriously witty writer, historian and philosopher. "Voltaire" was actually his pen name as he was born François-Marie Arouet.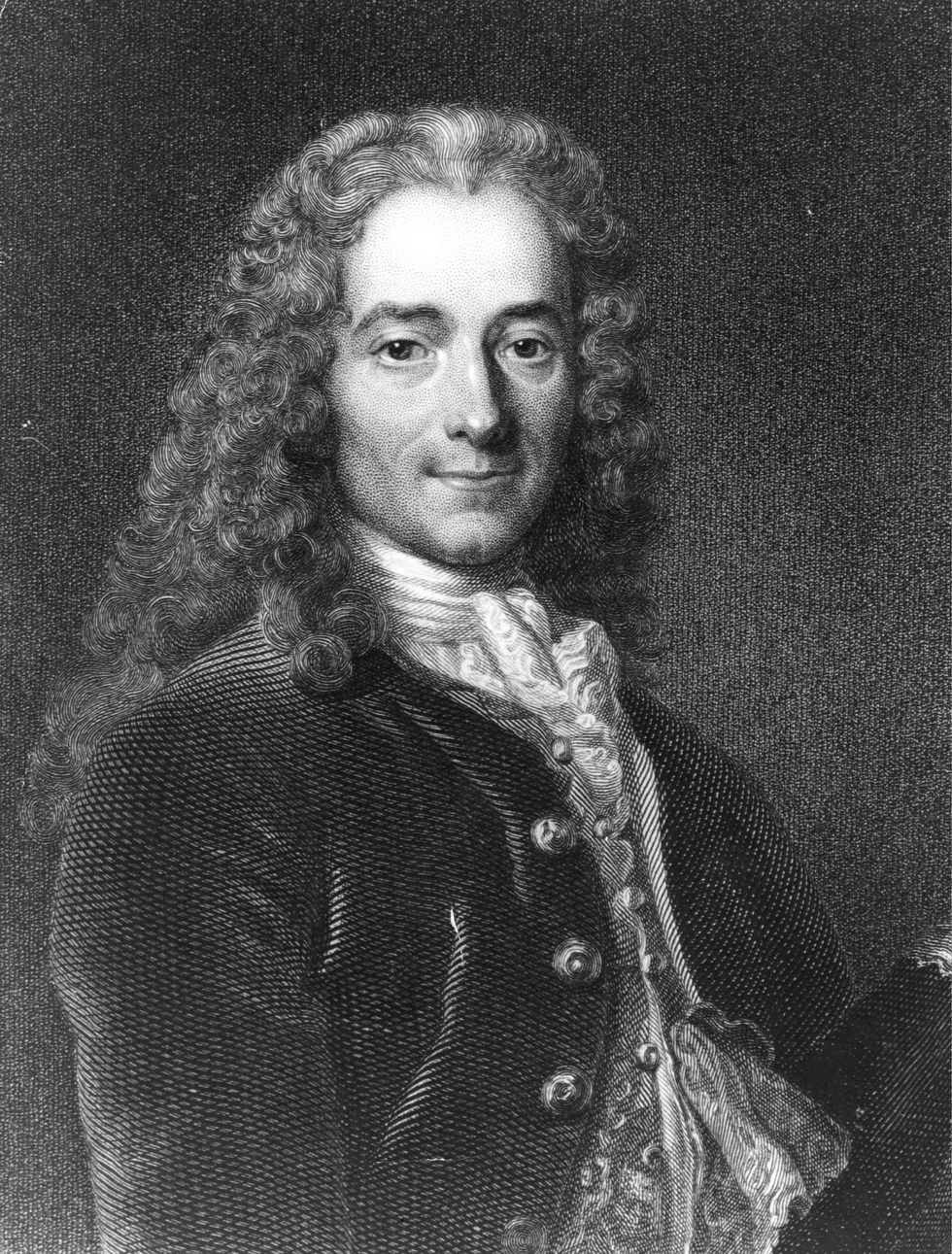 Source - Hulton Archive/Getty Images.
15. Hypatia (b.350-70, d. 415) was a Greek astronomer, philosopher and mathematician, who lived in Egypt and later the Eastern Roman Empire. She was the first female mathematician that we know of, with an estimated IQ of 170-190. She was accused of witchcraft and brutally murdered by a group of Christian fanatics.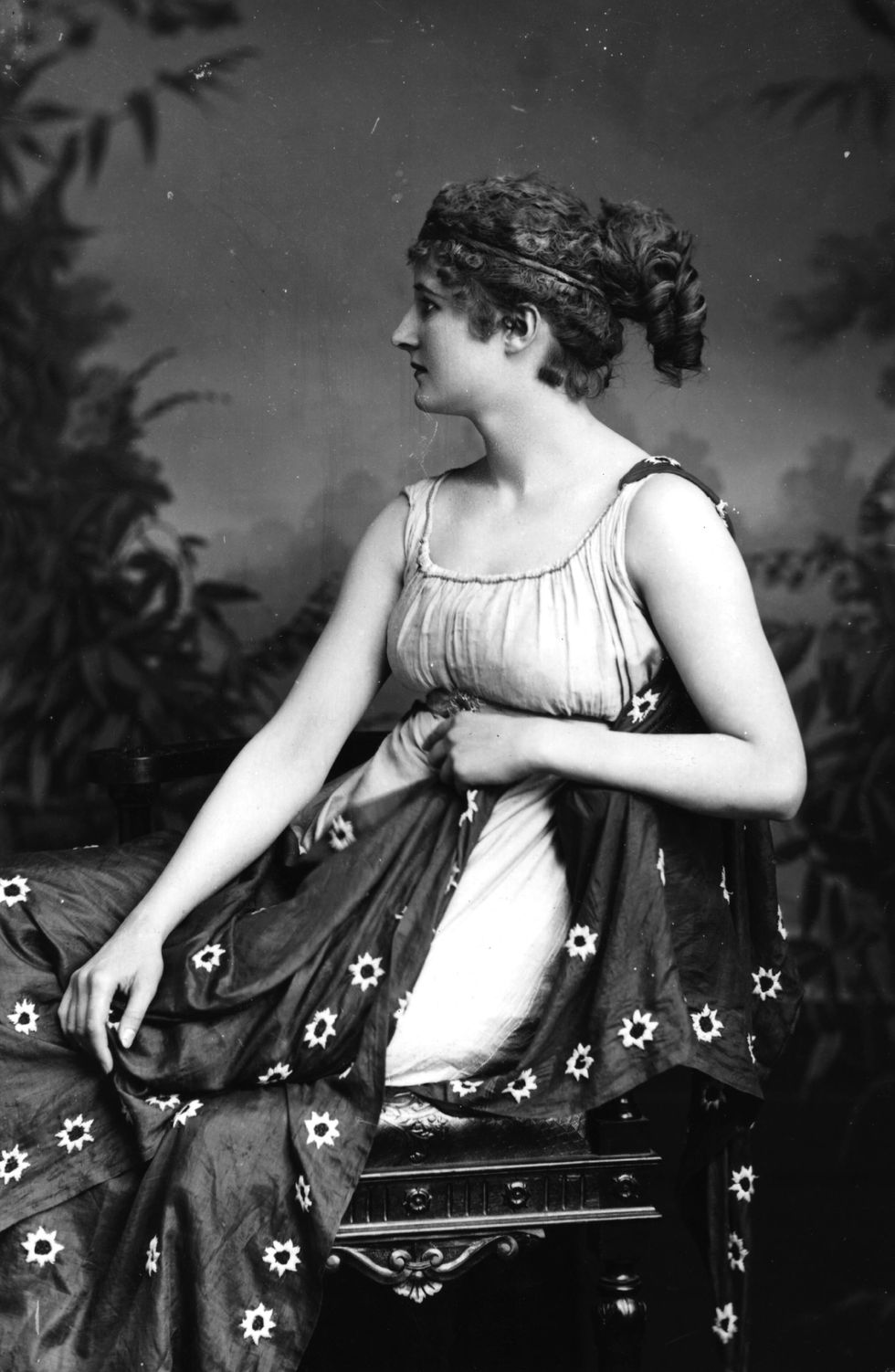 Actress Mary Aynderson in a scene from the play, 'Hypatia'. circa 1900: (Photo by Hulton Archive/Getty Images)
14. Johann Goethe (1749-1832) was a German polymath, with notable achievements in science and considered to have been one of the greatest talents in Western literature, penning the classic "Faust". His projected IQ was 213.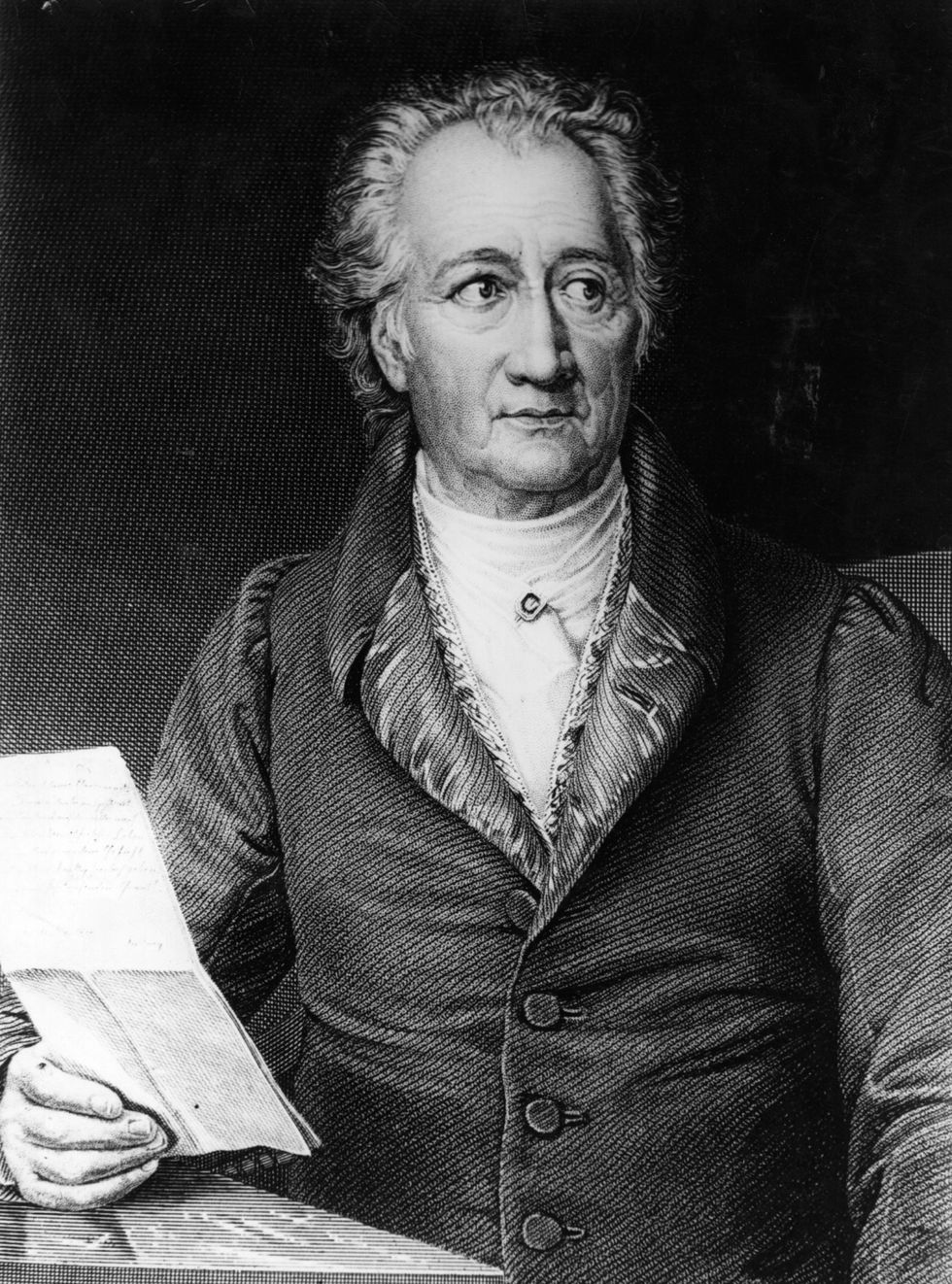 Johann Wolfgang Von Goethe. circa 1790. Source - Hulton Archive/Getty Images.
13. Avicenna aka Ibn Sina (980 – 1037) was a Persian polymath who is regarded as one of the most important thinkers of the Islamic Golden Age. He wrote on philosophy, medicine, astronomy, alchemy, logic, math, physics, psychology and other subjects. He is particularly known for his work on Aristotelian philosophy and his medical books (like "The Canon of Medicine"), which became standard at Medieval universities.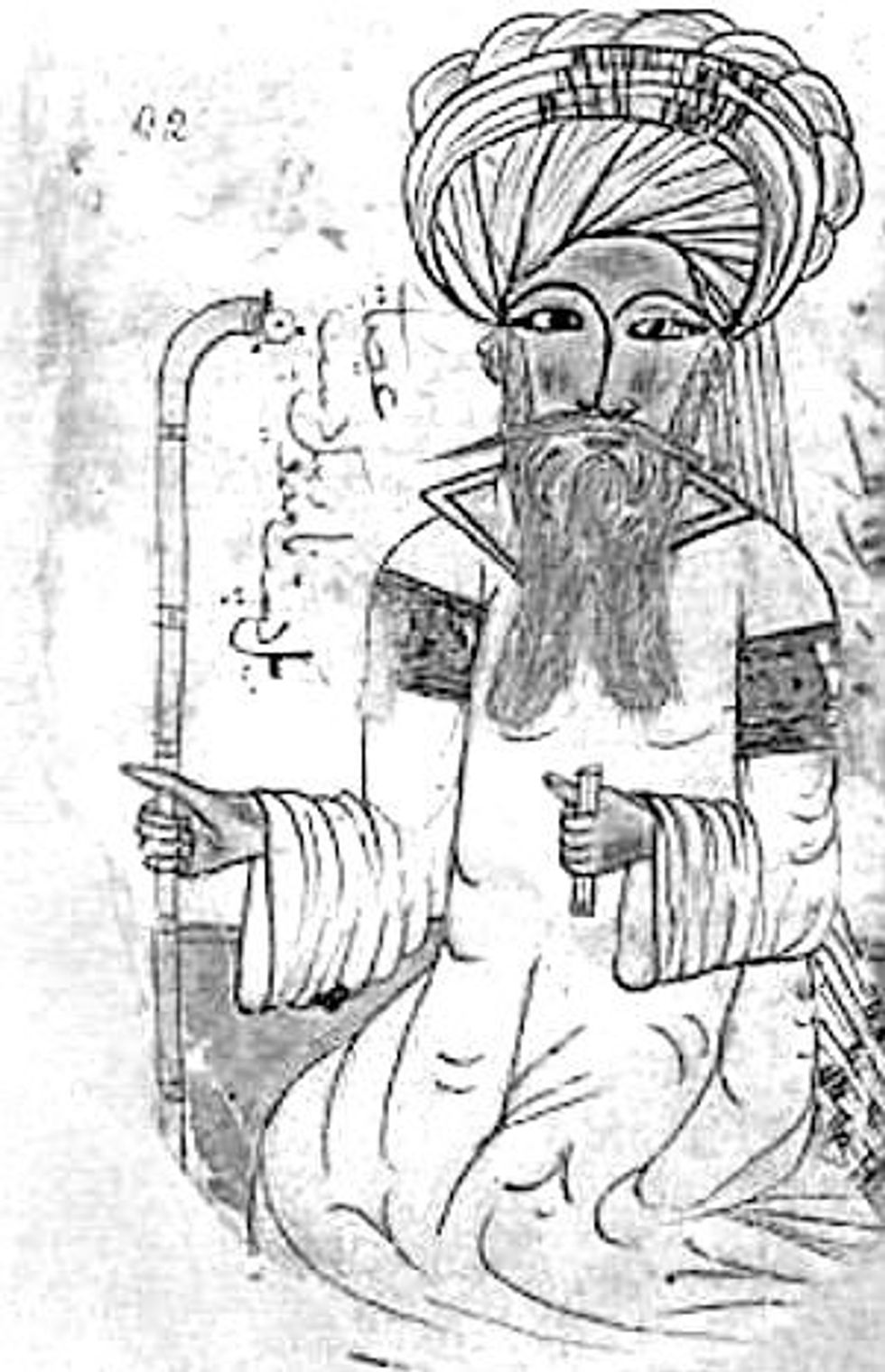 Drawing of Avicenna from 1271.
12. Galileo Galilei (1564-1642) was one of the seminal scientific heroes of all times, making significant contributions in a variety of areas, from astronomy to physics to math and philosophy. The Italian's championing of heliocentrism, which saw Earth revolving around the sun got him branded as a heretic by the Roman Inquisition. His IQ range: 180-200.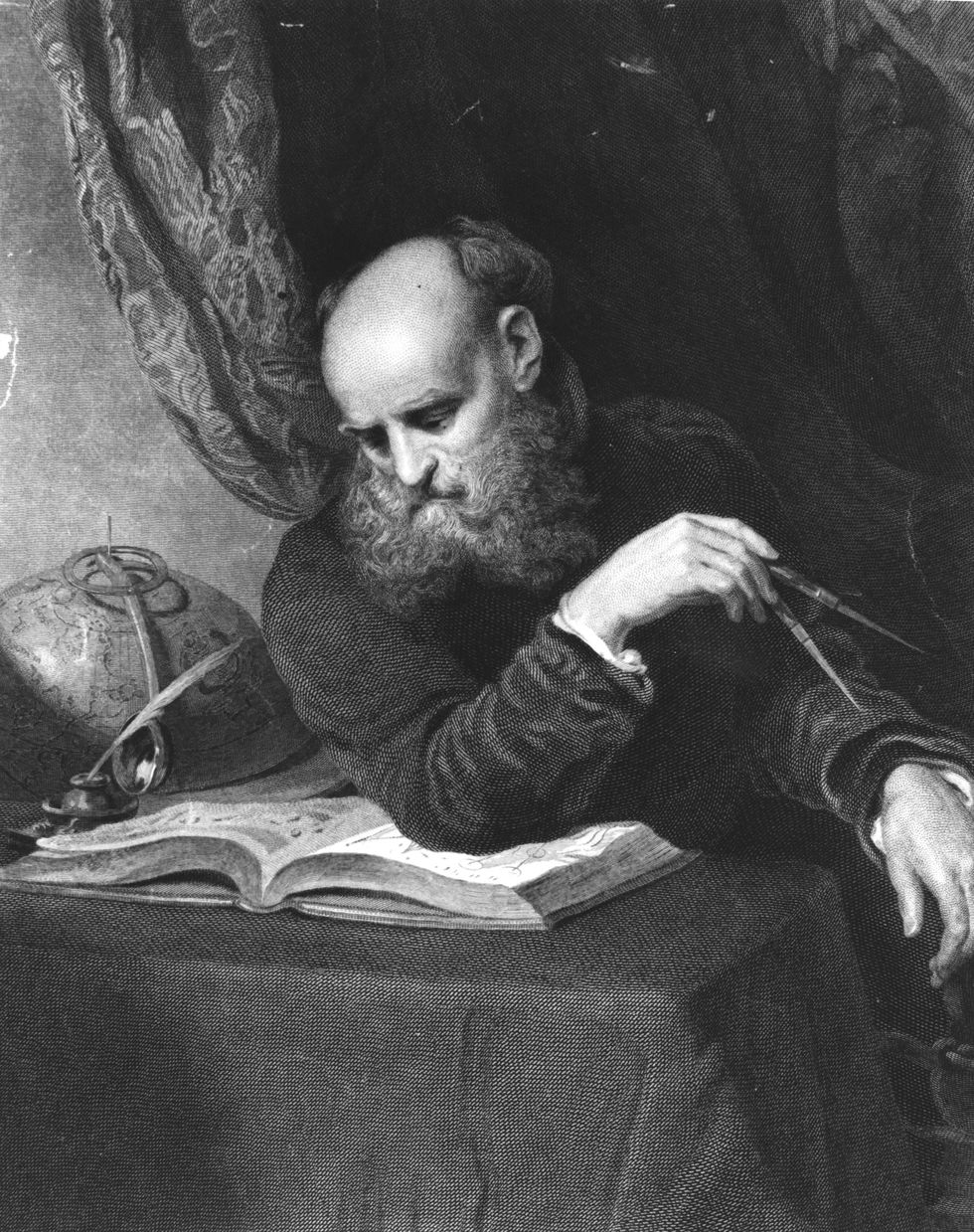 Galileo Galilei, circa 1630. Source - Hulton Archive/Getty Images.
11. Gottfried Leibniz (1646-1716) was another German polymath - a philosopher and mathematician who is best known for inventing calculus. His philosophy work is noted for the conclusion that we lived in the best possible universe that God could have created. Leibniz's IQ estimates range from 182 to 205.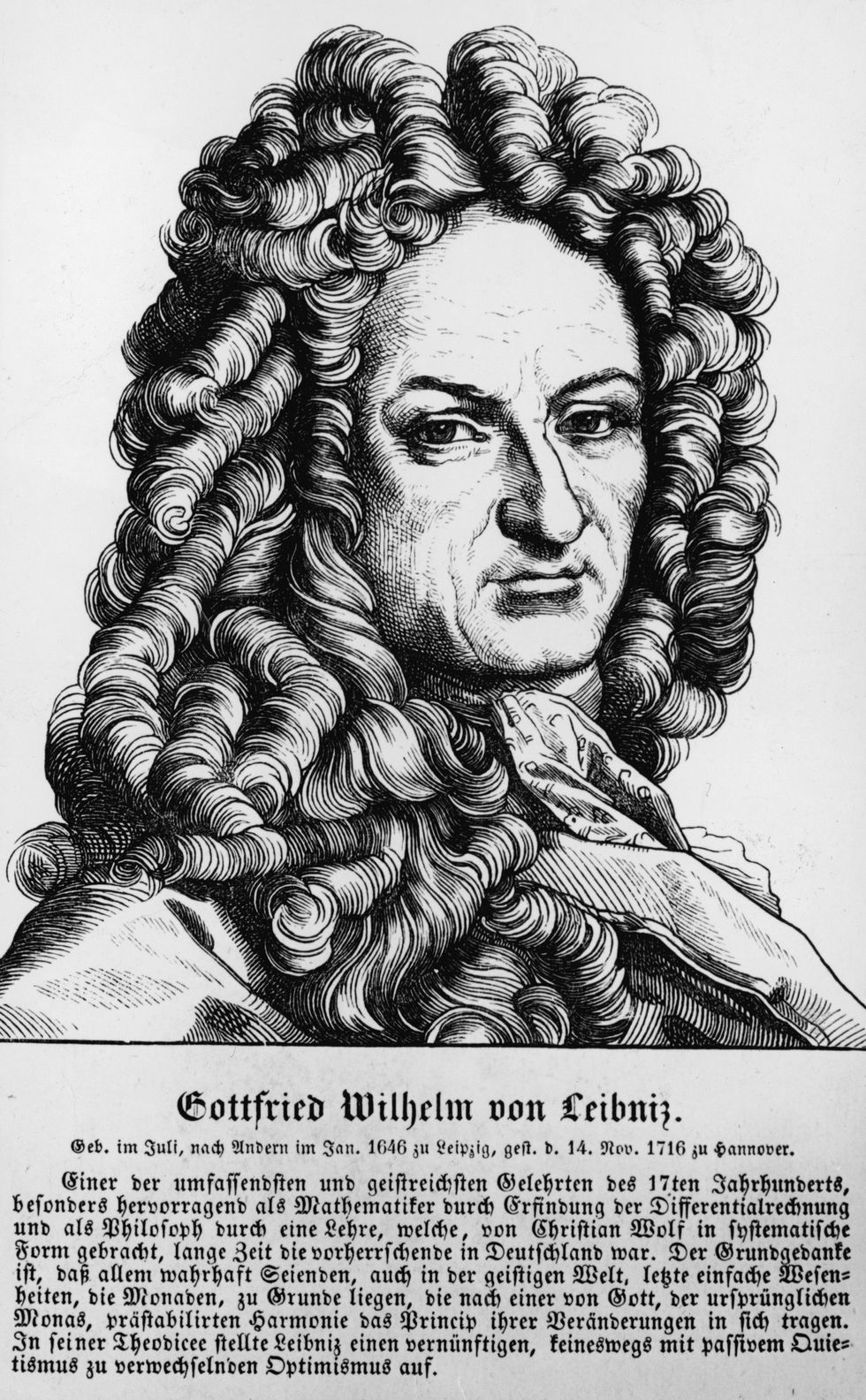 Gottfried Wilhelm von Leibniz, circa 1690. Source - Hulton Archive/Getty Images.
10. Nikola Tesla (1856-1943) was a Serbian-born inventor and futurist, known for AC electricity, Tesla coil, wireless transmission of energy, the "death" ray, as well as predicting the smartphone, drones and other technologies. Estimated IQ - 195.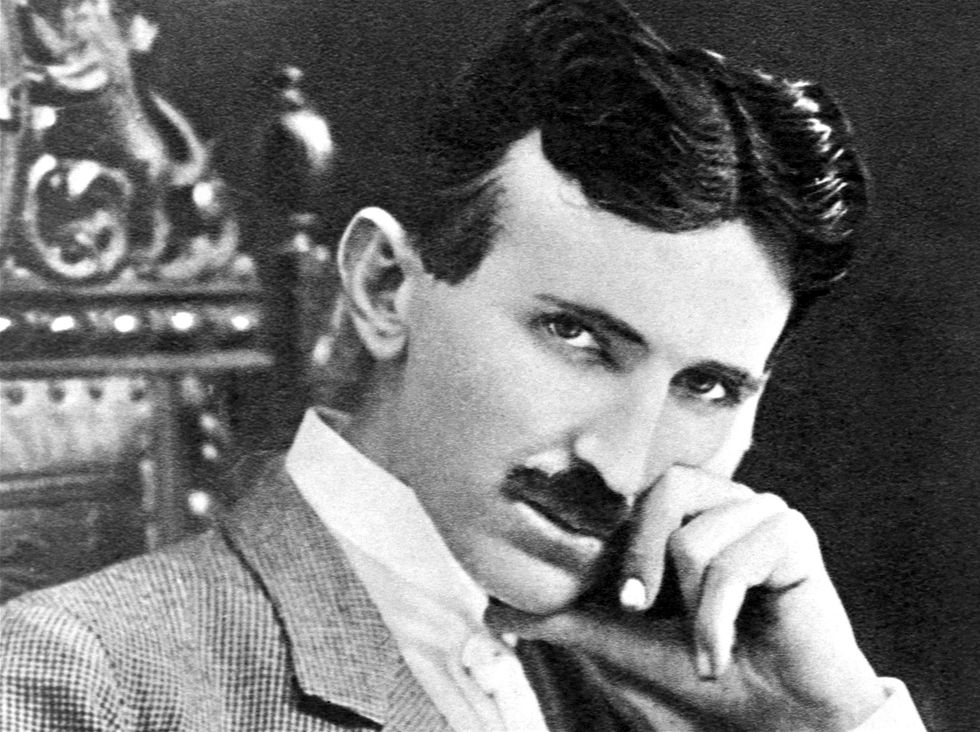 9. Satyendra Nath Bose (1894-1974) was a Bengali Indian physicist, whose brilliant work on quantum mechanics with Albert Einstein resulted in Bose-Einstein statistics. Bosons, a class of particles, are named after him.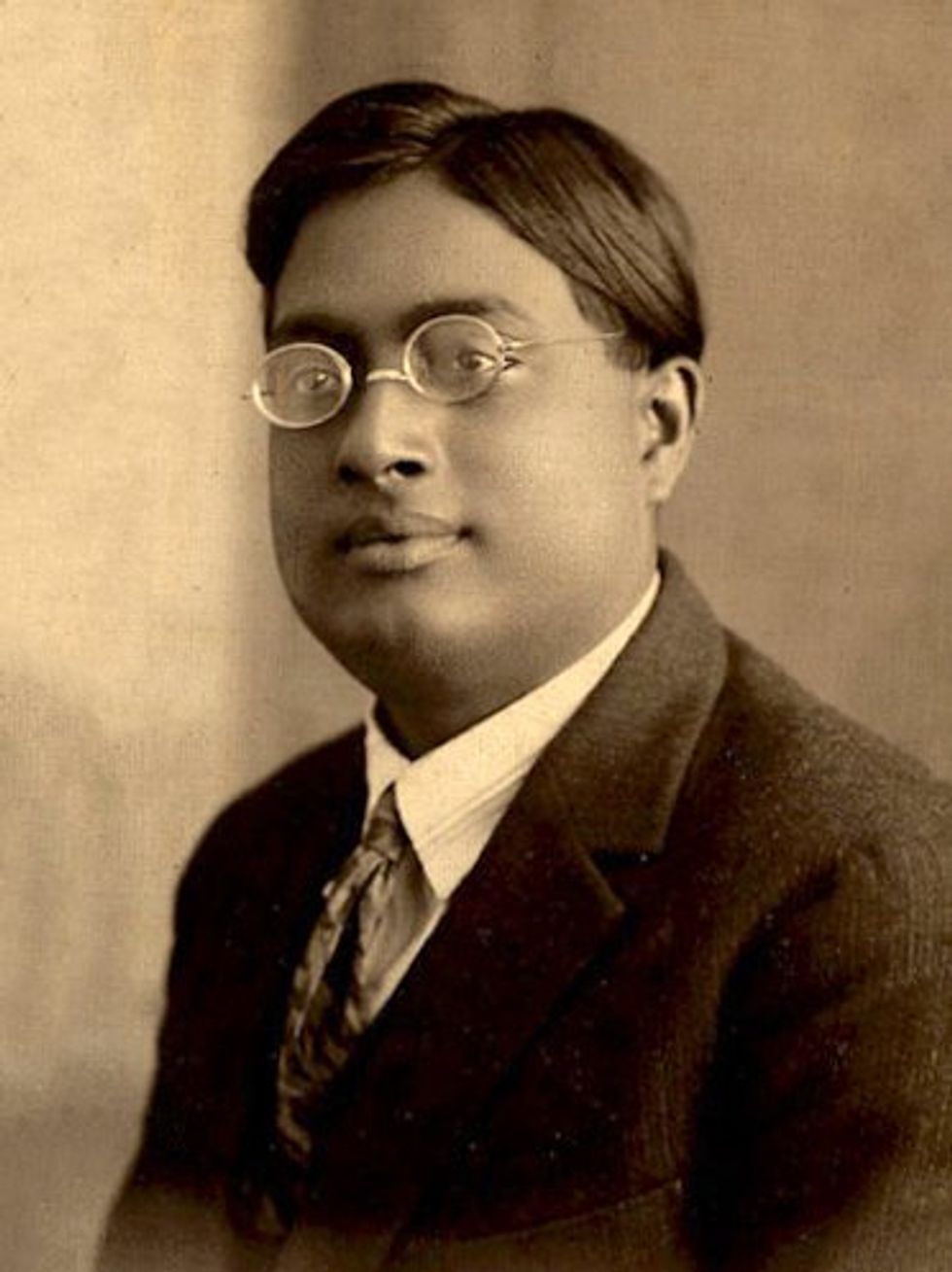 8. Marie Curie (1867-1934) was a Polish physicist and chemist. She was the first woman to win a Nobel Prize (in fact, winning it twice). She developed the theory of radioactivity (coining that term) and discovered two elements (polonium and radium). Her estimated IQ was 180-200.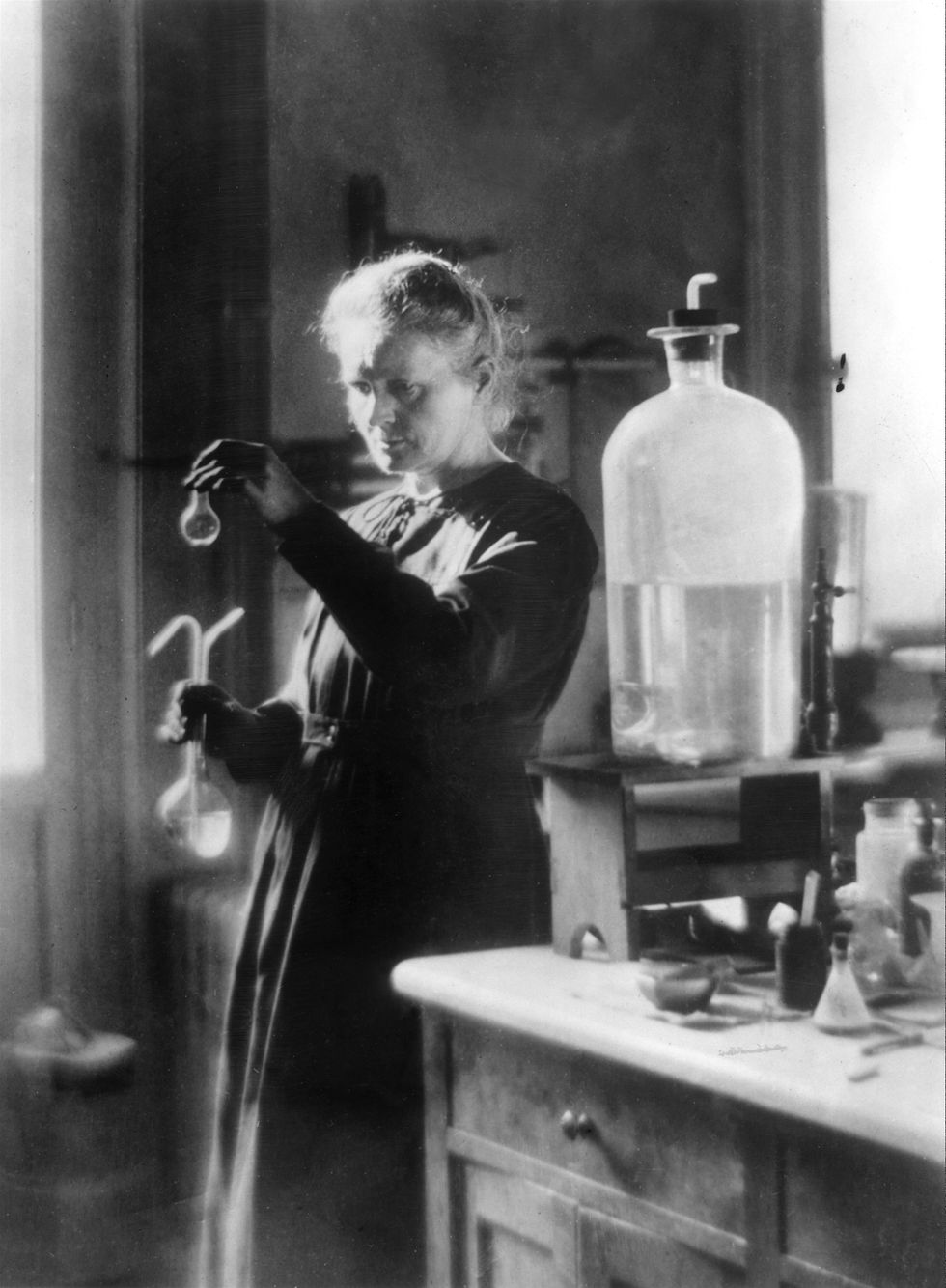 Marie Curie in her laboratory. 1910. (Photo by Hulton Archive/Getty Images)
7. Confucius (551 B.C. - 479 B.C.) was a highly influential Chinese philosopher and teacher, renowned for popular aphorisms. His moral and political teachings had a profound impact all across East Asia. Some recent scholars have argued that much of what we know about Confucius is a myth.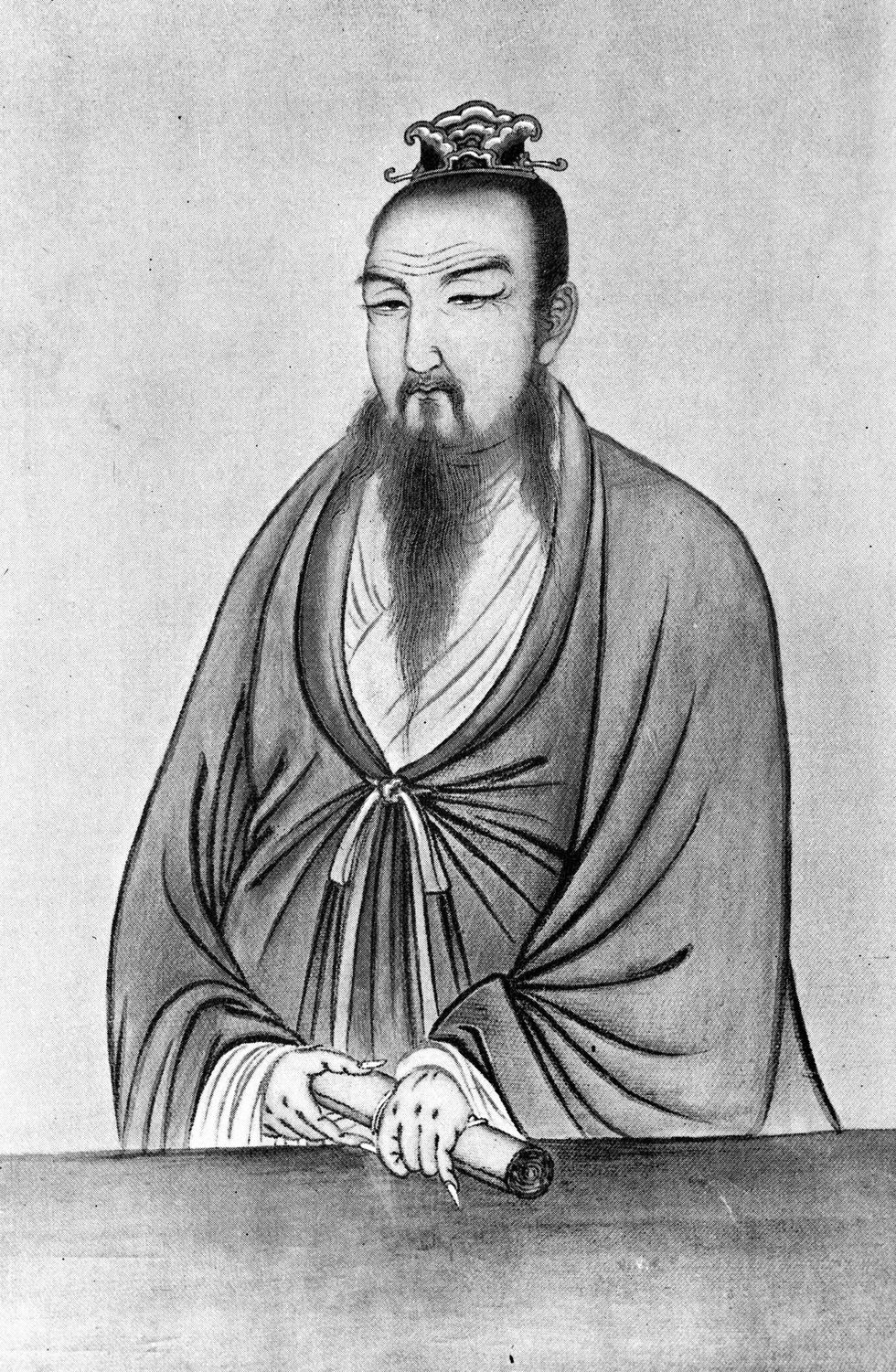 Chinese philosopher Confucius, or K'ung Fu-tzu, circa 500 BC. Source - Rischgitz/Getty Images.
6. Albert Einstein (1879-1955) was a German-Jewish theoretical physicist who, for most people, is an obvious candidate for such a list as this. Arguably the most famous scientist who ever lived, Einstein developed the general theory of relativity, received a 1921 Nobel Prize for physics and had a revolutionary impact on his field. His IQ was estimated to be somewhere between 160-190.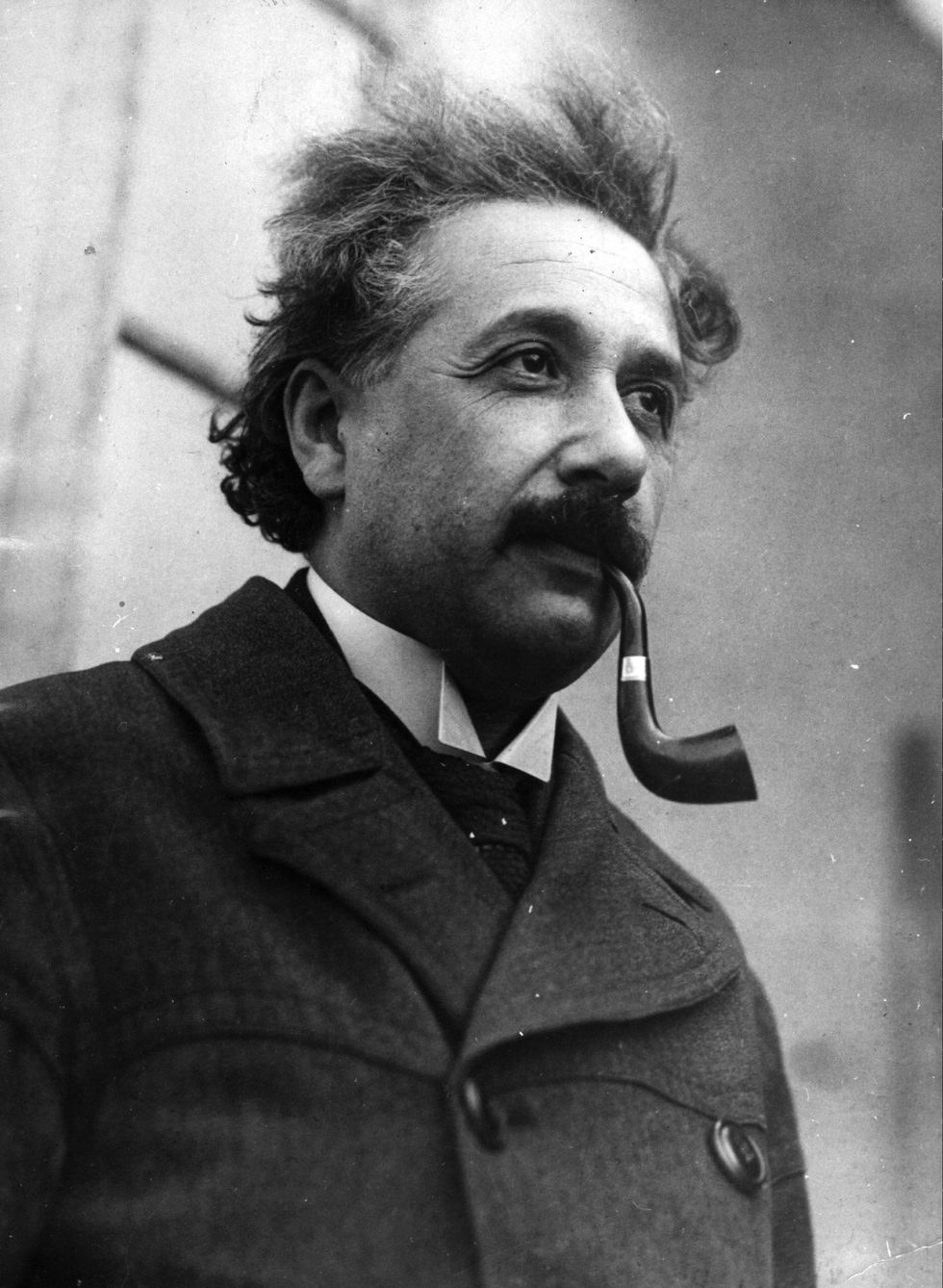 Albert Einstein. 1930. Photo by Keystone/Getty Images.
5. William Shakespeare (1564-1616) is widely seen as the greatest writer of the English language and one of the world's most popular and esteemed playwrights. With an approximate IQ of 210, Shakespeare wrote such constantly-performed classic plays as "Romeo and Juliet," "Hamlet" and "Macbeth".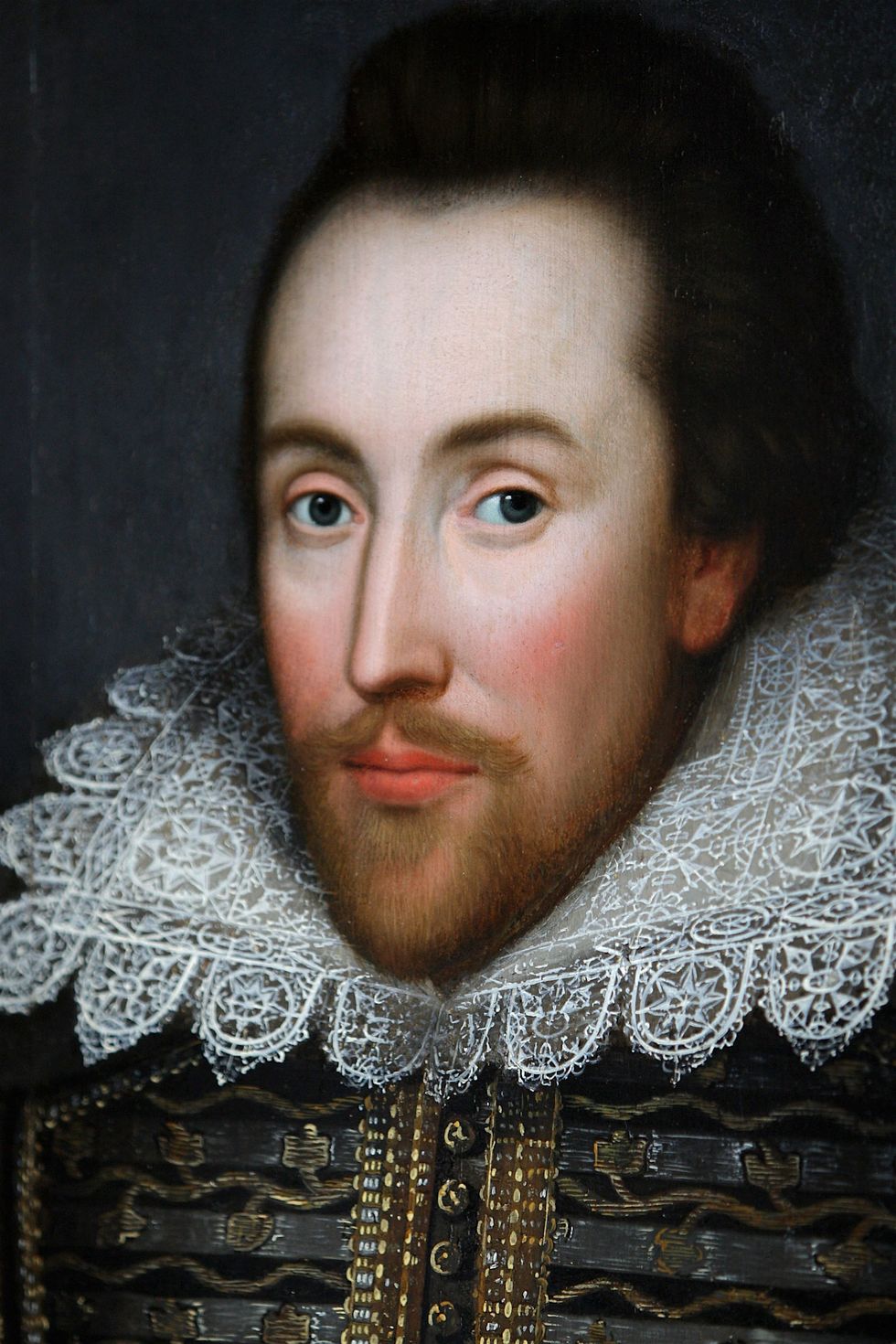 A painting of William Shakespeare which is believed to be the only authentic image of Shakespeare made during his life. 1610. (Source - Oli Scarff/Getty Images)
3-4. Plato (427 - 347 BC) and Aristotle (384 - 322 BC) were both Greek philosophers, who also had a major scientific influence on the Middle Ages. Plato was a foundational figure of Western science, math and philosophy, writing a number of famous works like "Republic". Aristotle was actually a pupil of Plato's, being a part of Plato's Athenian Academy for over 20 years. Aristotle had a major influence on the development of Western philosophy and science, writing on physics, biology, metaphysics, logic, theater, esthetics and other topics. IQs of the Greek thinkers are projected to be at 180-190.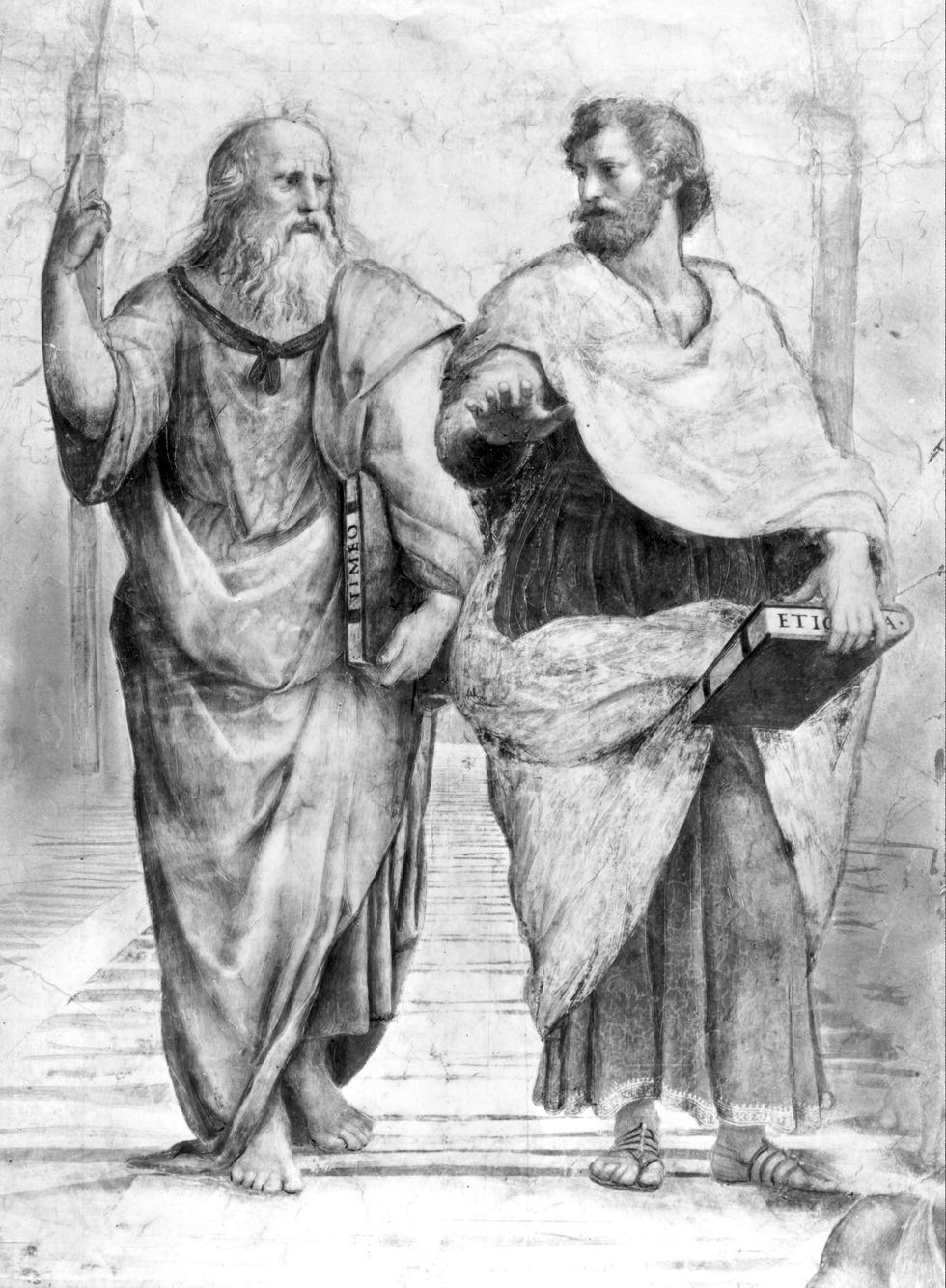 Greek philosopher Plato Aristocles with the philosopher and scientist Aristotle. Ca. 350 BC. Original Publication: From Raphael: School of Athens - Vatican Stanzae (Source - Picture Post/Getty Images)
2. Sir Isaac Newton (1642-1726) was an English physicist and mathematician, most famous for discovering gravity. One of the most celebrated and influential scientists of all time, Newton had an estimated IQ of 193. His book Philosophiæ Naturalis Principia Mathematica was the foundational text of classical mechanics and influenced scientific thought for over 300 hundred years.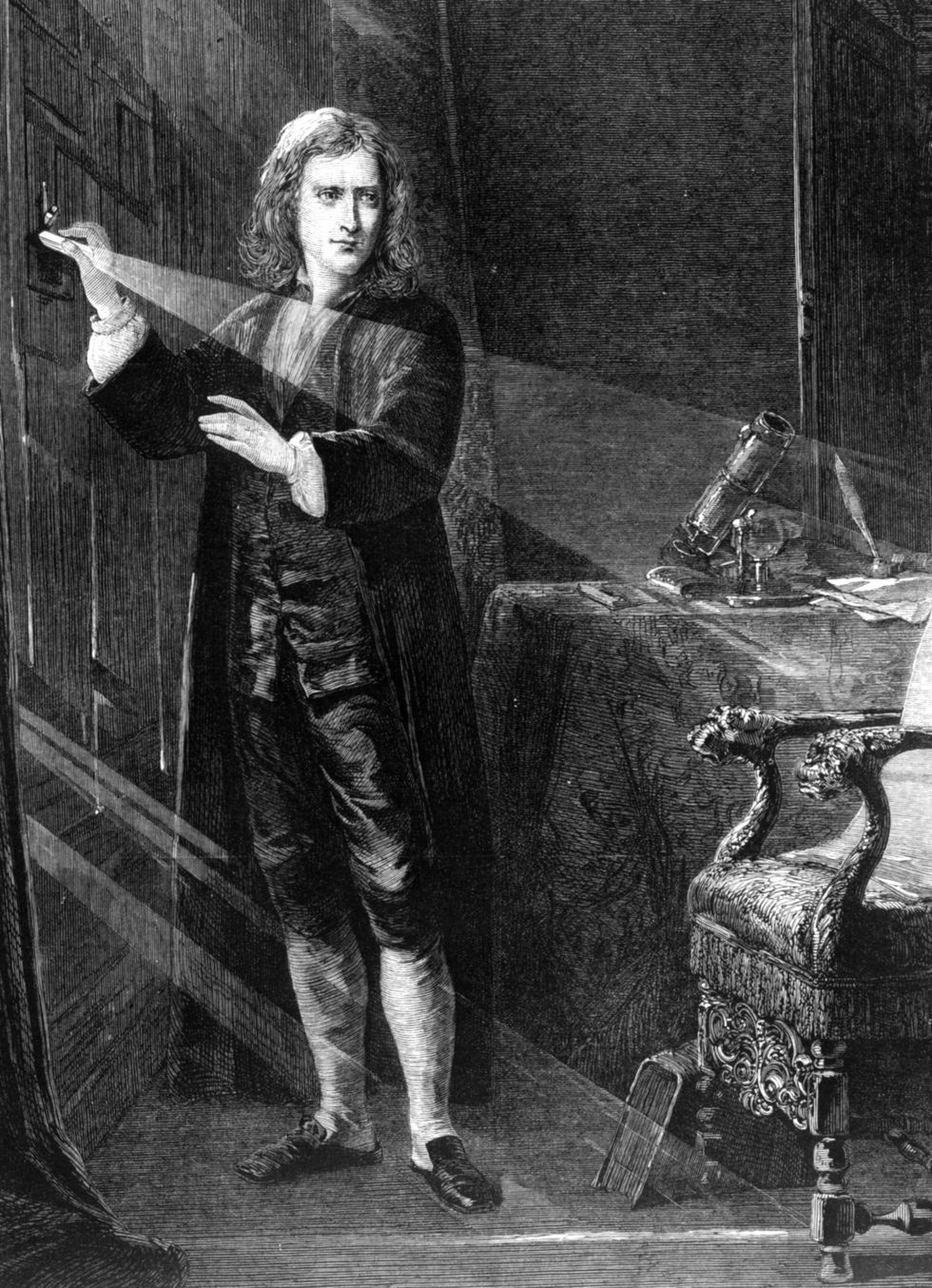 English scientist and mathematician Sir Isaac Newton, creating a shaft of light, circa 1665. Original Artwork: Engraving by J A Houston, RSA Original Publication: Aldus Disc - People & Personalities - 1353 - 007 (Source - Hulton Archive/Getty Images)
1. Leonardo da Vinci (1452-1519) was an Italian Renaissance man, who excelled in a variety of fields, from science to painting and sculpture to inventions. His painting "Mona Lisa" is arguably the most famous art work in the world. The IQ of the man, who was perhaps the most diversely talented person ever, is estimated to have been around 200.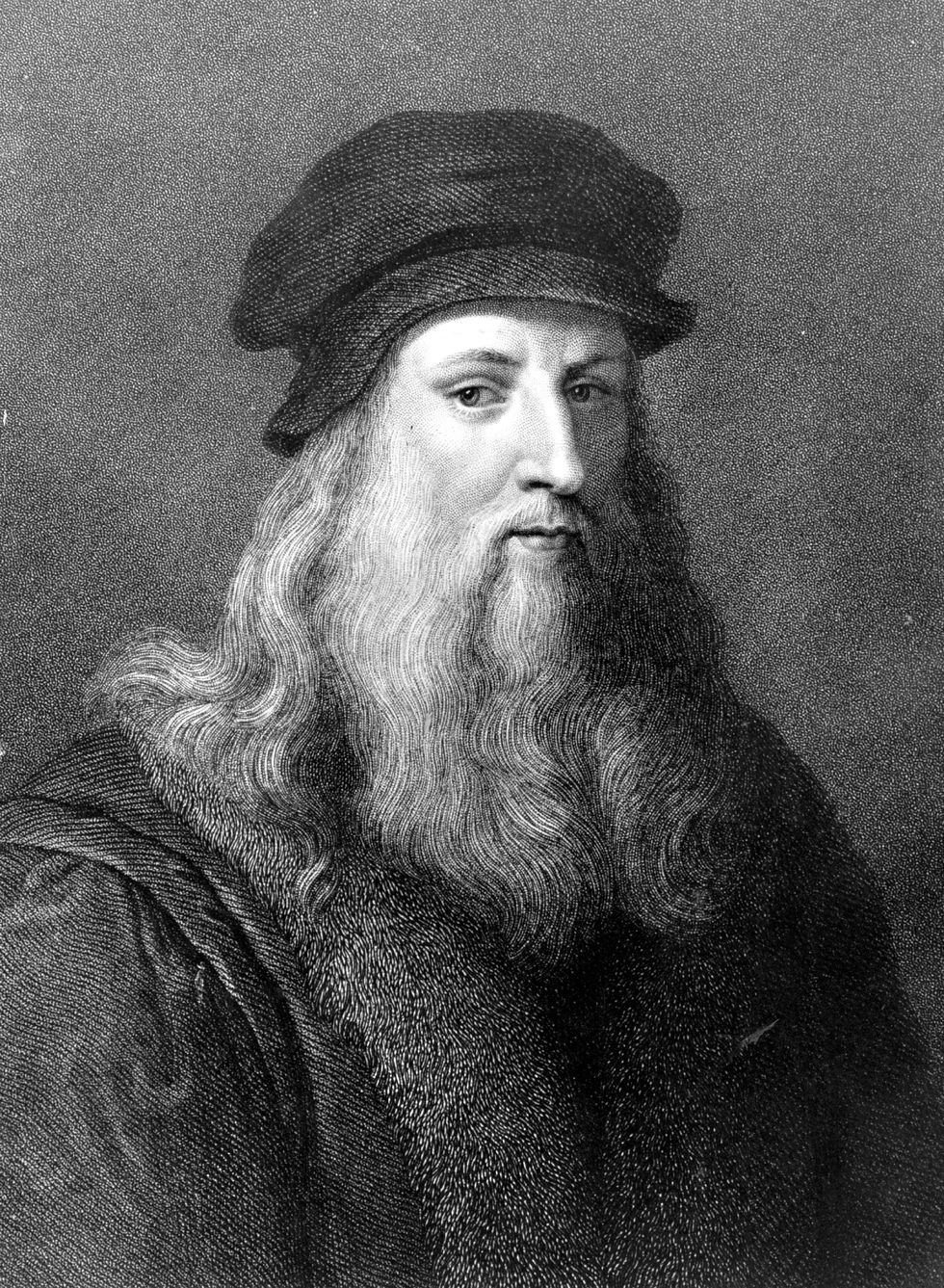 The Italian painter, sculptor, architect and engineer Leonardo da Vinci, circa 1510. Original Artwork: Engraving by J Posselwhite after an engraving by Raphael Morghen, (1758 - 1833), after a self-portrait by da Vinci. (Source - Hulton Archive/Getty Images)
A Harvard professor's study discovers the worst year to be alive.
Credit: Pieter Bruegel the Elder. (Museo del Prado).
Politics & Current Affairs
Harvard professor Michael McCormick argues the worst year to be alive was 536 AD.
The year was terrible due to cataclysmic eruptions that blocked out the sun and the spread of the plague.
536 ushered in the coldest decade in thousands of years and started a century of economic devastation.
The past year has been nothing but the worst in the lives of many people around the globe. A rampaging pandemic, dangerous political instability, weather catastrophes, and a profound change in lifestyle that most have never experienced or imagined.
But was it the worst year ever?
Nope. Not even close. In the eyes of the historian and archaeologist Michael McCormick, the absolute "worst year to be alive" was 536.
Why was 536 so bad? You could certainly argue that 1918, the last year of World War I when the Spanish Flu killed up to 100 million people around the world, was a terrible year by all accounts. 1349 could also be considered on this morbid list as the year when the Black Death wiped out half of Europe, with up to 20 million dead from the plague. Most of the years of World War II could probably lay claim to the "worst year" title as well. But 536 was in a category of its own, argues the historian.
It all began with an eruption...
According to McCormick, Professor of Medieval History at Harvard University, 536 was the precursor year to one of the worst periods of human history. It featured a volcanic eruption early in the year that took place in Iceland, as established by a study of a Swiss glacier carried out by McCormick and the glaciologist Paul Mayewski from the Climate Change Institute of The University of Maine (UM) in Orono.
The ash spewed out by the volcano likely led to a fog that brought an 18-month-long stretch of daytime darkness across Europe, the Middle East, and portions of Asia. As wrote the Byzantine historian Procopius, "For the sun gave forth its light without brightness, like the moon, during the whole year." He also recounted that it looked like the sun was always in eclipse.
Cassiodorus, a Roman politician of that time, wrote that the sun had a "bluish" color, the moon had no luster, and "seasons seem to be all jumbled up together." What's even creepier, he described, "We marvel to see no shadows of our bodies at noon."
...that led to famine...
The dark days also brought a period of coldness, with summer temperatures falling by 1.5° C. to 2.5° C. This started the coldest decade in the past 2300 years, reports Science, leading to the devastation of crops and worldwide hunger.
...and the fall of an empire
In 541, the bubonic plague added considerably to the world's misery. Spreading from the Roman port of Pelusium in Egypt, the so-called Plague of Justinian caused the deaths of up to one half of the population of the eastern Roman Empire. This, in turn, sped up its eventual collapse, writes McCormick.
Between the environmental cataclysms, with massive volcanic eruptions also in 540 and 547, and the devastation brought on by the plague, Europe was in for an economic downturn for nearly all of the next century, until 640 when silver mining gave it a boost.
Was that the worst time in history?
Of course, the absolute worst time in history depends on who you were and where you lived.
Native Americans can easily point to 1520, when smallpox, brought over by the Spanish, killed millions of indigenous people. By 1600, up to 90 percent of the population of the Americas (about 55 million people) was wiped out by various European pathogens.
Like all things, the grisly title of "worst year ever" comes down to historical perspective.
Quantum theory has weird implications. Trying to explain them just makes things weirder.
Credit: dani3315 / 269881579 via Adobe Stock
13-8
The weirdness of quantum theory flies in the face of what we experience in our everyday lives.
Quantum weirdness quickly created a split in the physics community, each side championed by a giant: Albert Einstein and Niels Bohr.
As two recent books espousing opposing views show, the debate still rages on nearly a century afterward. Each "resolution" comes with a high price tag.
Albert Einstein and Niels Bohr, two giants of 20th century science, espoused very different worldviews.
To Einstein, the world was ultimately rational. Things had to make sense. They should be quantifiable and expressible through a logical chain of cause-and-effect interactions, from what we experience in our everyday lives all the way to the depths of reality. To Bohr, we had no right to expect any such order or rationality. Nature, at its deepest level, need not follow any of our expectations of well-behaved determinism. Things could be weird and non-deterministic, so long as they became more like what we expect when we traveled from the world of atoms to our world of trees, frogs, and cars. Bohr divided the world into two realms, the familiar classical world, and the unfamiliar quantum world. They should be complementary to one another but with very different properties.
The two scientists spent decades arguing about the impact of quantum physics on the nature of reality. Each had groups of physicists as followers, all of them giants of their own. Einstein's group of quantum weirdness deniers included quantum physics pioneers Max Planck, Louis de Broglie, and Erwin Schrödinger, while Bohr's group had Werner Heisenberg (of uncertainty principle fame), Max Born, Wolfgang Pauli, and Paul Dirac.
Almost a century afterward, the debate rages on.
Einstein vs. Bohr, Redux
Two books — one authored by Sean Carroll and published last fall and another published very recently and authored by Carlo Rovelli — perfectly illustrate how current leading physicists still cannot come to terms with the nature of quantum reality. The opposing positions still echo, albeit with many modern twists and experimental updates, the original Einstein-Bohr debate.
Albert Einstein and Niels Bohr, two giants of 20th century science, espoused very different worldviews.
I summarized the ongoing dispute in my book The Island of Knowledge: Are the equations of quantum physics a computational tool that we use to make sense of the results of experiments (Bohr), or are they supposed to be a realistic representation of quantum reality (Einstein)? In other words, are the equations of quantum theory the way things really are or just a useful map?
Einstein believed that quantum theory, as it stood in the 1930s and 1940s, was an incomplete description of the world of the very small. There had to be an underlying level of reality, still unknown to us, that made sense of all its weirdness. De Broglie and, later, David Bohm, proposed an extension of the quantum theory known as hidden variable theory that tried to fill in the gap. It was a brilliant attempt to appease the urge Einstein and his followers had for an orderly natural world, predictable and reasonable. The price — and every attempt to deal with the problem of figuring out quantum theory has a price tag — was that the entire universe had to participate in determining the behavior of every single electron and all other quantum particles, implicating the existence of a strange cosmic order.
Later, in the 1960s, physicist John Bell proved a theorem that put such ideas to the test. A series of remarkable experiments starting in the 1970s and still ongoing have essentially disproved the de Broglie-Bohm hypothesis, at least if we restrict their ideas to what one would call "reasonable," that is, theories that have local interactions and causes. Omnipresence — what physicists call nonlocality — is a hard pill to swallow in physics.
Credit: Public domain
Yet, the quantum phenomenon of superposition insists on keeping things weird. Here's one way to picture quantum superposition. In a kind of psychedelic dream state, imagine that you had a magical walk-in closet filled with identical shirts, the only difference between them being their color. What's magical about this closet? Well, as you enter this closet, you split into identical copies of yourself, each wearing a shirt of a different color. There is a you wearing a blue shirt, another a red, another a white, etc., all happily coexisting. But as soon as you step out of the closet or someone or something opens the door, only one you emerges, wearing a single shirt. Inside the closet, you are in a superposition state with your other selves. But in the "real" world, the one where others see you, only one copy of you exists, wearing a single shirt. The question is whether the inside superposition of the many yous is as real as the one you that emerges outside.

To Einstein, the world was ultimately rational... To Bohr, we had no right to expect any such order or rationality.
The (modern version of the) Einstein team would say yes. The equations of quantum physics must be taken as the real description of what's going on, and if they predict superposition, so be it. The so-called wave function that describes this superposition is an essential part of physical reality. This point is most dramatically exposed by the many-worlds interpretation of quantum physics, espoused in Carroll's book. For this interpretation, reality is even weirder: the closet has many doors, each to a different universe. Once you step out, all of your copies step out together, each into a parallel universe. So, if I happen to see you wearing a blue shirt in this universe, in another, I'll see you wearing a red one. The price tag for the many-worlds interpretation is to accept the existence of an uncountable number of non-communicating parallel universes that enact all possibilities from a superstition state. In a parallel universe, there was no COVID-19 pandemic. Not too comforting.
Bohm's team would say take things as they are. If you stepped out of the closet and someone saw you wearing a shirt of a given color, then this is the one. Period. The weirdness of your many superposing selves remains hidden in the quantum closet. Rovelli defends his version of this worldview, called relational interpretation, in which events are defined by the interactions between the objects involved, be them observers or not. In this example, the color of your shirt is the property at stake, and when I see it, I am entangled with this specific shirt of yours. It could have been another color, but it wasn't. As Rovelli puts it, "Entanglement… is the manifestation of one object to another, in the course of an interaction, in which the properties of the objects become actual." The price to pay here is to give up the hope of ever truly understanding what goes on in the quantum world. What we measure is what we get and all we can say about it.
What should we believe?
Both Carroll and Rovelli are master expositors of science to the general public, with Rovelli being the more lyrical of the pair.
There is no resolution to be expected, of course. I, for one, am more inclined to Bohr's worldview and thus to Rovelli's, although the interpretation I am most sympathetic to, called QBism, is not properly explained in either book. It is much closer in spirit to Rovelli's, in that relations are essential, but it places the observer on center stage, given that information is what matters in the end. (Although, as Rovelli acknowledges, information is a loaded word.)
We create theories as maps for us human observers to make sense of reality. But in the excitement of research, we tend to forget the simple fact that theories and models are not nature but our representations of nature. Unless we nurture hopes that our theories are really how the world is (the Einstein camp) and not how we humans describe it (the Bohr camp), why should we expect much more than this?
Maybe eyes really are windows into the soul — or at least into the brain, as a new study finds.
Credit: Adobe stock / Chris Tefme
Surprising Science
Researchers find a correlation between pupil size and differences in cognitive ability.
The larger the pupil, the higher the intelligence.
The explanation for why this happens lies within the brain, but more research is needed.
What can you tell by looking into someone's eyes? You can spot a glint of humor, signs of tiredness, or maybe that they don't like something or someone.
But outside of assessing an emotional state, a person's eyes may also provide clues about their intelligence, suggests new research. A study carried out at the Georgia Institute of Technology shows that pupil size is "closely related" to differences in intelligence between individuals.
The scientists found that larger pupils may be connected to higher intelligence, as demonstrated by tests that gauged reasoning skills, memory, and attention. In fact, the researchers claim that the relationship of intelligence to pupil size is so pronounced, that it came across their previous two studies as well and can be spotted just with your naked eyes, without any additional scientific instruments. You should be able to tell who scored the highest or the lowest on the cognitive tests just by looking at them, say the researchers.
The pupil-IQ link
The connection was first noticed across memory tasks, looking at pupil dilations as signs of mental effort. The studies involved more than 500 people aged 18 to 35 from the Atlanta area. The subjects' pupil sizes were measured by eye trackers, which use a camera and a computer to capture light reflecting off the pupil and cornea. As the scientists explained in Scientific American, pupil diameters range from two to eight millimeters. To determine average pupil size, they took measurements of the pupils at rest when the participants were staring at a blank screen for a few minutes.
Another part of the experiment involved having the subjects take a series of cognitive tests that evaluated "fluid intelligence" (the ability to reason when confronted with new problems), "working memory capacity" (how well people could remember information over time), and "attention control" (the ability to keep focusing attention even while being distracted). An example of the latter involves a test that attempts to divert a person's focus on a disappearing letter by showing a flickering asterisk on another part of the screen. If a person pays too much attention to the asterisk, they might miss the letter.
The conclusions of the research were that having a larger baseline pupil size was related to greater fluid intelligence, having more attention control, and even greater working memory capacity, although to a smaller extent. In an email exchange with Big Think, author Jason Tsukahara pointed out, "It is important to consider that what we find is a correlation — which should not be confused with causation."
The researchers also found that pupil size seemed to decrease with age. Older people had more constricted pupils but when the scientists standardized for age, the pupil-size-to-intelligence connection still remained.
Why are pupils linked to intelligence?
The connection between pupil size and IQ likely resides within the brain. Pupil size has been previously connected to the locus coeruleus, a part of the brain that's responsible for synthesizing the hormone and neurotransmitter norepinephrine (noradrenaline), which mobilizes the brain and body for action. Activity in the locus coeruleus affects our perception, attention, memory, and learning processes.
As the authors explain, this region of the brain "also helps maintain a healthy organization of brain activity so that distant brain regions can work together to accomplish challenging tasks and goals." Because it is so important, loss of function in the locus coeruleus has been linked to conditions like Alzheimer's disease, Parkinson's, clinical depression, and attention deficit hyperactivity disorder (ADHD).
The researchers hypothesize that people who have larger pupils while in a restful state, like staring at a blank computer screen, have "greater regulation of activity by the locus coeruleus." This leads to better cognitive performance. More research is necessary, however, to truly understand why having larger pupils is related to higher intelligence.
In an email to Big Think, Tsukahara shared, "If I had to speculate, I would say that it is people with greater fluid intelligence that develop larger pupils, but again at this point we only have correlational data."
Do other scientists believe this?
As the scientists point out in the beginning of their paper, their conclusions are controversial and, so far, other researchers haven't been able to duplicate their results. The research team addresses this criticism by explaining that other studies had methodological issues and examined only memory capacity but not fluid intelligence, which is what they measured.
Politics & Current Affairs
In each of our minds, we draw a demarcation line between beliefs that are reasonable and those that are nonsense. Where do you draw your line?
Scroll down to load more…