What Shape Is the Universe?
Our universe is flat, geometrically. But what exactly does "flat" mean?
Natalie Shoemaker
Natalie has been writing professionally for about 6 years. After graduating from Ithaca College with a degree in Feature Writing, she snagged a job at PCMag.com where she had the opportunity to review all the latest consumer gadgets. Since then she has become a writer for hire, freelancing for various websites. In her spare time, you may find her riding her motorcycle, reading YA novels, hiking, or playing video games. Follow her on Twitter: @nat_schumaker
12 December, 2016
---
The universe is flat, according to scientists. But to say our universe is flat and leave it there would be irresponsible – it's not quite that simple. So, we must first delve into what scientist mean by "flat" and how they came to such a conclusion.
The Baryon Oscillation Spectroscopic Survey (BOSS) telescope gave astrophysicists a new view of the universe, and a pretty accurate one, too. The telescope down in New Mexico mapped out 1.2 million galaxies in the universe, plotting their locations to an accuracy of one percent. This map represents a tiny sliver of the universe and it was still able to tells us a lot about how it functions on a large scale. With this accurate measurement, cosmologists were able to determine the universe is "extraordinarily flat" and infinite, extending forever throughout space and time.
What does a "flat" universe mean?
When scientists say the universe is flat, they are speaking in geometric terms. At this point, I'm going to ask you to go back to math class, when you learned about parallel lines. So, let's scale down how cosmologists might rule out that the universe is round, by asking how do we know the Earth is not flat?
Well, one way would be to draw two lines from the equator, going directly north. These lines may start out parallel, but eventually they will intersect. The distance between them does not remain constant.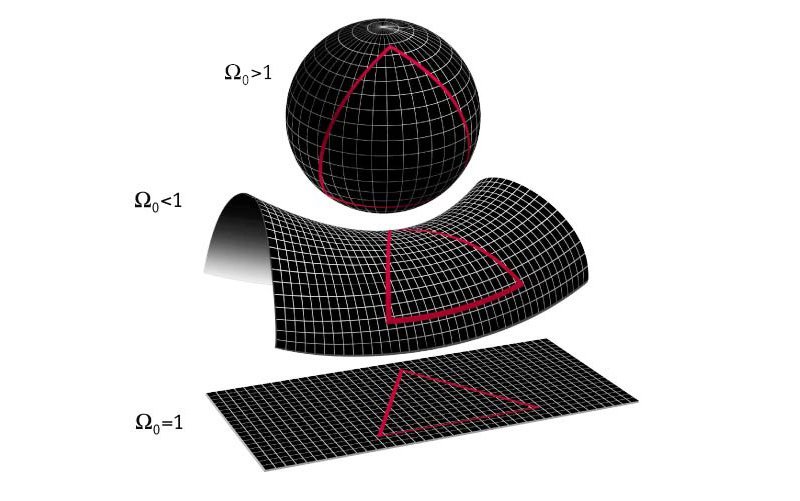 Diagrams of three possible geometries of the universe: closed, open and flat from top to bottom. The closed universe is of finite size and, due to its curvature, traveling far enough in one direction will lead back to one's starting point. The open and flat universes are infinite and traveling in a constant direction will never lead to the same point. Image and caption text permission of NASA Official: Gary Hinshaw
By using this as the basis for our knowledge, we then must observe how light from a few of these 1.2 million observable galaxies behaves. Scientists noted the light from several galaxies from the observable universe remained parallel to one another; these two lines will stay parallel forever.
"One of the reasons we care is that a flat universe has implications for whether the universe is infinite," said David Schlegel, a member of the Physics Division of the U.S. Department of Energy's Lawrence Berkeley National Laboratory. "That means – while we can't say with certainty that it will never come to an end – it's likely the universe extends forever in space and will go on forever in time. Our results are consistent with an infinite universe."
Geometry vs. Topology
Geometrically, the universe is flat. Parallel lines stay parallel, but it doesn't tell us about the topology of the universe. Scientists believe the universe could have one of 18 different shapes. It could be a Möbius strip for all we know—a shape where space bends and distorts, but lines stay parallel, ultimately connecting one end of space to another. That is to say, you could start from one point in the universe and drive in a straight line, you would end up back where you came.
But we cannot yet determine what shape the universe has taken because of our small view.
SpaceX plans to launch about 12,000 internet-providing satellites into orbit over the next six years.
Technology & Innovation
SpaceX plans to launch 1,600 satellites over the next few years, and to complete its full network over the next six.
Blanketing the globe with wireless internet-providing satellites could have big implications for financial institutions and people in rural areas.
Some are concerned about the proliferation of space debris in Earth's orbit.
Protected animals are feared to be headed for the black market.
(VL.ru)
Politics & Current Affairs
Russian news network discovers 101 black-market whales.
Orcas and belugas are seen crammed into tiny pens.
Marine parks continue to create a high-price demand for illegal captures.
Here's the science of black holes, from supermassive monsters to ones the size of ping-pong balls.
Videos
There's more than one way to make a black hole, says NASA's Michelle Thaller. They're not always formed from dead stars. For example, there are teeny tiny black holes all around us, the result of high-energy cosmic rays slamming into our atmosphere with enough force to cram matter together so densely that no light can escape.
CERN is trying to create artificial black holes right now, but don't worry, it's not dangerous. Scientists there are attempting to smash two particles together with such intensity that it creates a black hole that would live for just a millionth of a second.
Thaller uses a brilliant analogy involving a rubber sheet, a marble, and an elephant to explain why different black holes have varying densities. Watch and learn!
Bonus fact: If the Earth became a black hole, it would be crushed to the size of a ping-pong ball.
Big think's weekly newsletter.
Get smarter faster from the comfort of your inbox.
See our newsletter privacy policy
here
Most Popular
Most Recent
Big think's weekly newsletter.
Get smarter faster from the comfort of your inbox.
See our newsletter privacy policy
here
© Copyright 2007-2018 & BIG THINK, BIG THINK EDGE,
SMARTER FASTER trademarks owned by The Big Think, Inc. All rights reserved.