What Shape Is the Universe?
Our universe is flat, geometrically. But what exactly does "flat" mean?
12 December, 2016
---
The universe is flat, according to scientists. But to say our universe is flat and leave it there would be irresponsible – it's not quite that simple. So, we must first delve into what scientist mean by "flat" and how they came to such a conclusion.
The Baryon Oscillation Spectroscopic Survey (BOSS) telescope gave astrophysicists a new view of the universe, and a pretty accurate one, too. The telescope down in New Mexico mapped out 1.2 million galaxies in the universe, plotting their locations to an accuracy of one percent. This map represents a tiny sliver of the universe and it was still able to tells us a lot about how it functions on a large scale. With this accurate measurement, cosmologists were able to determine the universe is "extraordinarily flat" and infinite, extending forever throughout space and time.
What does a "flat" universe mean?
When scientists say the universe is flat, they are speaking in geometric terms. At this point, I'm going to ask you to go back to math class, when you learned about parallel lines. So, let's scale down how cosmologists might rule out that the universe is round, by asking how do we know the Earth is not flat?
Well, one way would be to draw two lines from the equator, going directly north. These lines may start out parallel, but eventually they will intersect. The distance between them does not remain constant.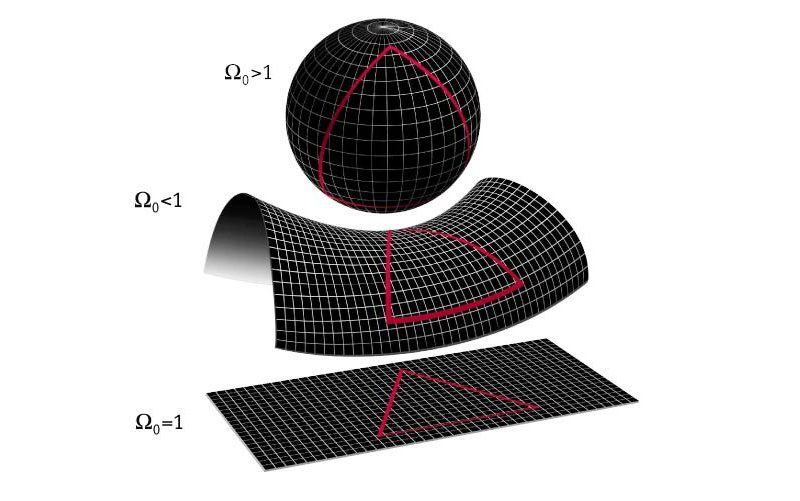 Diagrams of three possible geometries of the universe: closed, open and flat from top to bottom. The closed universe is of finite size and, due to its curvature, traveling far enough in one direction will lead back to one's starting point. The open and flat universes are infinite and traveling in a constant direction will never lead to the same point. Image and caption text permission of NASA Official: Gary Hinshaw
By using this as the basis for our knowledge, we then must observe how light from a few of these 1.2 million observable galaxies behaves. Scientists noted the light from several galaxies from the observable universe remained parallel to one another; these two lines will stay parallel forever.
"One of the reasons we care is that a flat universe has implications for whether the universe is infinite," said David Schlegel, a member of the Physics Division of the U.S. Department of Energy's Lawrence Berkeley National Laboratory. "That means – while we can't say with certainty that it will never come to an end – it's likely the universe extends forever in space and will go on forever in time. Our results are consistent with an infinite universe."
Geometry vs. Topology
Geometrically, the universe is flat. Parallel lines stay parallel, but it doesn't tell us about the topology of the universe. Scientists believe the universe could have one of 18 different shapes. It could be a Möbius strip for all we know—a shape where space bends and distorts, but lines stay parallel, ultimately connecting one end of space to another. That is to say, you could start from one point in the universe and drive in a straight line, you would end up back where you came.
But we cannot yet determine what shape the universe has taken because of our small view.
What can 3D printing do for medicine? The "sky is the limit," says Northwell Health researcher Dr. Todd Goldstein.
Northwell Health
Sponsored by Northwell Health
Medical professionals are currently using 3D printers to create prosthetics and patient-specific organ models that doctors can use to prepare for surgery.
Eventually, scientists hope to print patient-specific organs that can be transplanted safely into the human body.
Northwell Health, New York State's largest health care provider, is pioneering 3D printing in medicine in three key ways.
Technology may soon grant us immortality, in a sense. Here's how.
Videos
Through the Connectome Project we may soon be able to map the pathways of the entire human brain, including memories, and create computer programs that evoke the person the digitization is stemmed from.
We age because errors build up in our cells — mitochondria to be exact.
With CRISPR technology we may soon be able to edit out errors that build up as we age, and extend the human lifespan.
The controversial herbicide is everywhere, apparently.
Surprising Science
U.S. PIRG tested 20 beers and wines, including organics, and found Roundup's active ingredient in almost all of them.
A jury on August 2018 awarded a non-Hodgkin's lymphoma victim $289 million in Roundup damages.
Bayer/Monsanto says Roundup is totally safe. Others disagree.
The pizza giant Domino's partners with a Silicon Valley startup to start delivering pizza by robots.
Nuro
Technology & Innovation
Domino's partnered with the Silicon Valley startup Nuro to have robot cars deliver pizza.
The trial run will begin in Houston later this year.
The robots will be half a regular car and will need to be unlocked by a PIN code.
Would you have to tip robots? You might be answering that question sooner than you think as Domino's is about to start using robots for delivering pizza. Later this year a fleet of self-driving robotic vehicles will be spreading the joy of pizza throughout the Houston area for the famous pizza manufacturer, using delivery cars made by the Silicon Valley startup Nuro.
The startup, founded by Google veterans, raised $940 million in February and has already been delivering groceries for Kroger around Houston. Partnering with the pizza juggernaut Domino's, which delivers close to 3 million pizzas a day, is another logical step for the expanding drone car business.
Kevin Vasconi of Domino's explained in a press release that they see these specially-designed robots as "a valuable partner in our autonomous vehicle journey," adding "The opportunity to bring our customers the choice of an unmanned delivery experience, and our operators an additional delivery solution during a busy store rush, is an important part of our autonomous vehicle testing."
How will they work exactly? Nuro explained in its own press release that this "opportunity to use Nuro's autonomous delivery" will be available for some of the customers who order online. Once they opt in, they'll be able to track the car via an app. When the vehicle gets to them, the customers will use a special PIN code to unlock the pizza compartment.
Nuro and its competitors Udelv and Robomart have been focusing specifically on developing such "last-mile product delivery" machines, reports Arstechnica. Their specially-made R1 vehicle is about half the size of a regular passenger car and doesn't offer any room for a driver. This makes it safer and lighter too, with less potential to cause harm in case of an accident. It also sticks to a fairly low speed of under 25 miles an hour and slams on the breaks at the first sign of trouble.
What also helps such robot cars is "geofencing" technology which confines them to a limited area surrounding the store.
For now, the cars are still tracked around the neighborhoods by human-driven vehicles, with monitors to make sure nothing goes haywire. But these "chase cars" should be phased out eventually, an important milestone in the evolution of your robot pizza drivers.
Check out how Nuro's vehicles work:
Big think's weekly newsletter.
Get smarter faster from the comfort of your inbox.
See our newsletter privacy policy
here
Most Popular
Most Recent
Big think's weekly newsletter.
Get smarter faster from the comfort of your inbox.
See our newsletter privacy policy
here
© Copyright 2007-2019 & BIG THINK, BIG THINK EDGE,
SMARTER FASTER trademarks owned by The Big Think, Inc. All rights reserved.