Big ideas.
Once a week.
Subscribe to our weekly newsletter.
Forget Work-Life Balance. The Question is Rest Versus Effort.
The question is not so much work-life balance, but is rest versus effort.
30 May, 2013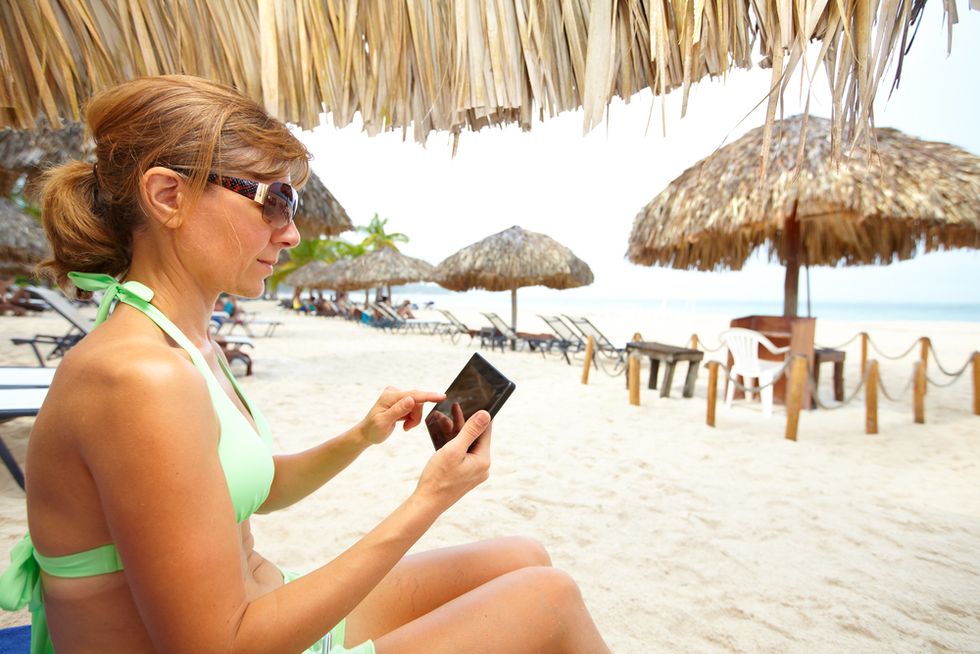 ---
Work penetrates every aspect of our life, so how do you strike a work-life balance?  Personally, I'm terrible at it.  I have absolutely no balance.  My life and my work life are one in the same.  I think about experiments every time I meet people.  I do experiments all the time.  So I'm not an expert on it and I think I also probably have gone a little bit too far in this extremeness.  
I also think we don't know a lot about it.  We don't know exactly what is the right work-life balance.  Work-life balance means that these are two separate aspects of ourselves, but what if they are not?  What if, like me, everything I do in life is part of research? Even when I play with my kids, I think about research.  And even when I talk to my wife about where to go on vacation, we think about what are the things that we know from behavioral economics which will inform what vacations we should be going to and not going to.  
So, I think the question maybe is not so much work-life balance, but the question is rest versus effort.  And I think maybe that's a better way to think about it.  So, I think we have a tendency to fill our calendar with meetings after meetings and tasks after tasks and what we don't have is we don't have time to actually reflect and think and contemplate.  Maybe do other things and think in the back of our minds.  And maybe we don't have time to exercise; maybe we don't have time to expand our horizon, to try different things.  So maybe a way to think about it is not work-life balance, but to think about how much time do we get to execute things versus how much time do we get to think about things that might turn out to be useful in the long run and are kind of investment in our own development.  Investment in our broader sense of what we can do and investment in our hobbies and in other things that contribute to us being more interesting and thoughtful people in the long run, but not have a payoff right now.  
And that I think is a very interesting and very tricky question because we have what we call a present bias focus.  It's very easy to focus on what's in front of us today, I can see the hundreds of emails that are waiting for me, I can see the papers that are waiting for me to review, I see the things I need to grade for my students.  Those things are very easy to see and very easy to get sucked into and only do them and the fact that I really wanted to take some painting lessons in the future and I think it will be interesting are kind of pushed over into the future.  And the fact that I want to try a new dish or a new restaurant or try something else; these are pushed to the future.  And the question is, how do we blend those things that include family life, but also include personal growth?  How do we space them more into our lives?    I think that's a very big challenge.  
And I suspect that one answer to this is the calendar.  The calendar is my most hated application.  And the reason I hate this application is that because the way it's created is that blank spaces are spaces where we have nothing to do.  You open your calendar and you see a blank space and that seems like it's the wrong thing to do, so you quickly fill it up with an appointment.  The reality is that blank spaces are really spaces where you're supposed to do the most meaningful work you have.  It's the other things that are filled that are the distractions.  
But the calendar application doesn't represent this tradeoff.  It doesn't show us that if I have another meeting, what am I giving up?  Of course, it doesn't do it in the short term; it doesn't do it in the long term.  So open my calendar for tomorrow and I have two empty hours, somebody wants to meet, I say, "Oh, that's great."  But I'm not really seeing what are the things that I'm giving up.  What are the things I'm not able to do?  The calendar don't represent the alternative usage for time.  And because of that, I think the calendar is actually making us increase this natural tendency we have to focus on now and forego other thing.  And maybe what we need to do is we need to create a kind of calendar application that help us think about longer term goals and help us understand what are we giving up when we are taking an hour of free time and substituting it with a meeting.
In Their Own Words is recorded in Big Think's studio.
Image courtesy of Shutterstock
Scientists find routes using arches of chaos that can lead to much faster space travel.
Courtesy: Nataša Todorović, Di Wu and Aaron Rosengren/Science Advances
Surprising Science
Researchers discovered a route through the Solar System that can allow for much faster spacecraft travel.
The path takes advantage of "arches of chaos" within space manifolds.
The scientists think this "celestial superhighway" can help humans get to the far reaches of the galaxy.
Humanity could be making its way through the Solar System much faster thanks to the discovery of a new superhighway network among space manifolds. Don't get your engines roaring along this "celestial autobahn" just yet, but the researchers believe the new pathways can eventually be used by spacecraft to get to the outer reaches of our Solar System with relative haste.
The celestial highway could get comets and asteroids from Jupiter to Neptune in less than a decade. Compare that to hundreds of thousands or even millions of years it might ordinarily take for space objects to traverse the Solar System. In a century of travel along the new routes, a 100 astronomical units could be covered, project the scientists. For reference, an astronomical unit is the average distance from the Earth to the Sun or about 93 million miles.
The international research team included Nataša Todorović, Di Wu, and Aaron Rosengren from the Belgrade Astronomical Observatory in Serbia, the University of Arizona, and UC San Diego. Their new paper proposes a dynamic route, going along connected series of arches within so-called space manifolds. These structures, coming into existence from gravitational effects between the Sun and the planets, stretch from the asteroid belt to past Uranus.
The most pronounced of these structures are linked to Jupiter by its strong gravitational pull, explained UC San Diego's press release. They influence the comets around the gas giant as well as smaller space objects called "centaurs," with are like asteroids in size but exhibit the composition of comets.
This animation shows space manifolds over a hundred years. Each frame of the animation shows how the arches and substructures appear over three-year increments.

Credit: Nataša Todorović, Di Wu and Aaron Rosengren/Science Advances
"Space manifolds act as the boundaries of dynamical channels enabling fast transportation into the inner- and outermost reaches of the Solar System," write the researchers. "Besides being an important element in spacecraft navigation and mission design, these manifolds can also explain the apparent erratic nature of comets and their eventual demise."
A closer image of the manifolds showing colliding and escaping objects.
Credit: Science Advances
The researchers discovered the structures by analyzing collected numerical data on the millions of orbits in the Solar System. The scientists figured out how these orbits were contained within known space manifolds. To detect the presences and structure of the space manifolds, the team employed the fast Lyapunov indicator (FLI), used to detect chaos. The scientists ran simulations to compute how the trajectories of particles approaching different planets like Jupiter, Uranus and Neptune would be affected by possible collisions and the manifolds.
While the results are encouraging, the next step is to figure out how these arches can be used by spacecraft for much speedier travel. It's also not clear how similar manifolds work near Earth. Also unclear is how they impact our planet's run-ins with asteroids and meteorites or any of the man-made objects floating up in space near us.
Check out the new paper "The arches of chaos in the Solar System" in Science Advances.
A new episode of "Your Brain on Money" illuminates the strange world of consumer behavior and explores how brands can wreak havoc on our ability to make rational decisions.
popular
Effective branding can not only change how you feel about a company, it can actually change how your brain is wired.
Our new series "Your Brain on Money," created in partnership with Million Stories, recently explored the surprising ways brands can affect our behavior.
Brands aren't going away. But you can make smarter decisions by slowing down and asking yourself why you're making a particular purchase.
How Apple and Nike have branded your brain | Your Brain on Money | Big Think youtu.be
Brands can manipulate our brains in surprisingly profound ways. They can change how we conceptualize ourselves and how we broadcast our identities out to the social world. They can make us feel emotions that have nothing to do with the functions of their products. And they can even sort us into tribes.
To grasp the power of brands, look to Apple. In the 1990s, the company was struggling to compete with Microsoft over the personal computer market. Despite flirting with bankruptcy in the mid-1990s, Apple turned itself around to eventually become the most valuable company in the world.
That early-stage success wasn't due to superior products.
"People talk about technology, but Apple was a marketing company," John Sculley, a former Apple marketing executive, told The Guardian in 1997. "It was the marketing company of the decade."
So, how exactly does branding make people willing to wait hours in line to buy a $1,000 smartphone, or pay exorbitant prices for a pair of sneakers?
Branding and the brain

For more than a century, brands have capitalized on the fact that effective marketing is much more than simply touting the merits of a product. Some ads have nothing to do with the product at all. In 1871, for example, Pearl Tobacco started advertising their cigarettes through branded posters and trading cards that featured exposed women, a trend that continues to this day.
It's crude, sure. But research shows that it's also remarkably effective, even on monkeys. Why? The answer seems to center on how our brains pay special attention to information from the social world.
"In theory, ads that associate sex or status with specific brands or products activate the brain mechanisms that prioritize social information, and turning on this switch may bias us toward the product," wrote neuroscience professor Michael Platt for Scientific American.
Brands can burrow themselves deep into our subconscious. Through ad campaigns, brands can form a web of associations and memories in our brains. When these connections are robust and positive, it can change our behavior, nudging us to make "no-brainer" purchases when we encounter the brand at the store.
Nike storeThamKC
It's a marketing principle that's related to the work of Daniel Kahneman, a psychologist and economist who won the 2002 Nobel Memorial Prize in Economic Sciences. In his book "Thinking Fast and Slow", Kahneman separates thinking into two broad categories, or systems:

System 1 is fast and automatic, requiring little effort or voluntary control.
System 2 is slow and requires subjective deliberation and logic.
Brands that tap into "system 1" are likely to dominate the competition. After all, it's far easier for us as consumers to automatically reach for a familiar brand than it is to analyze all of the available information and make an informed choice. Still, the most successful brands can have an even deeper impact on our psychology, one that causes us to conceptualize them as something like a family member.
A peculiar relationship with brands
Apple has one of the most loyal customer bases in the world, with its brand loyalty hitting an all-time high earlier this year, according to a SellCell survey of more than 5,000 U.S.-based smartphone users.
Qualitatively, how does that loyalty compare to Samsung users? To find out, Platt and his team conducted a study in which functional magnetic resonance imaging scanned the brains of Samsung and Apple users as they viewed positive, negative, and neutral news about each company. The results revealed stark differences between the two groups, as Platt wrote in "The Leader's Brain":
"Apple users showed empathy for their own brand: The reward-related areas of the brain were activated by good news about Apple, and the pain and negative feeling parts of the brain were activated by bad news. They were neutral about any kind of Samsung news. This is exactly what we see when people empathize with other people—particularly their family and friends—but don't feel the joy and pain of people they don't know."
Meanwhile, Samsung users didn't show any significant pain- or pleasure-related brain activity when they saw good or bad news about the company.
"Interestingly, though, the pain areas were activated by good news about Apple, and the reward areas were activated by bad news about the rival company—some serious schadenfreude, or "reverse empathy," Platt wrote.
The results suggest a fundamental difference between the brands: Apple has formed strong emotional and social connections with consumers, Samsung has not.
Brands and the self
Does having a strong connection with a brand justify paying higher prices for their products? Maybe. You could have a strong connection with Apple or Nike and simultaneously think the quality of their products justifies the price.
But beyond product quality lies identity. People have long used objects and clothing to express themselves and signal their affiliation with groups. From prehistoric seashell jewelry to Air Jordans, the things people wear and associate with signal a lot of information about how they conceptualize themselves.
Since the 1950s, researchers have examined the relationship between self-image and brand preferences. This body of research has generally found that consumers tend to prefer brands whose products fit well with their self-image, a concept known as self-image congruity.
By choosing brands that don't disrupt their self-image, consumers are able not only to express themselves personally, but also broadcast a specific version of themselves into the social world. That might sound self-involved. But on the other hand, humans are social creatures who use information from the social world to make decisions, so it's virtually impossible for us not to make inferences about people based on how they present themselves.
Americus Reed II, a marketing professor at the University of Pennsylvania, told Big Think:
"When I make choices about different brands, I'm choosing to create an identity. When I put that shirt on, when I put that shirt on — those jeans, that hat — someone is going to form an impression about what I'm about. So, if I'm choosing Nike over Under Armour, I'm choosing a kind of different way to express affiliation with sport. The Nike thing is about performance. The Under Armour thing is about the underdog. I have to choose which of these different conceptual pathways is most consistent with where I am in my life."
Making smarter decisions
Brands may have some power over us when we're facing a purchasing decision. So, considering brands aren't going away, what can we do to make better choices? The best strategy might be to slow down and try to avoid making "automatic" purchasing decisions that are characteristic of Kahneman's fast "system 1" mode of thinking.
"I think it's important to always pause and think a little bit about, "Okay, why am I buying this product?" Platt said.
As for getting out of the brand game altogether? Good luck.
"I've heard lots of people push back and say, "I'm not into brands,"" Reed II said. "I take a very different view. In some senses, they're not doing anything different than what someone who affiliates with a brand is doing. They have a brand. It's just an anti-brand brand."
Powerful branding can not only change how you feel about a company, it can actually change how your brain is wired.
Sponsored by Singleton
Powerful branding can not only change how you feel about a company, it can actually change how your brain is wired.
"We love to think of ourselves as rational. That's not how it works," says UPenn professor Americus Reed II about our habits (both conscious and subconscious) of paying more for items based primarily on the brand name. Effective marketing causes the consumer to link brands like Apple and Nike with their own identity, and that strong attachment goes deeper than receipts.
Using MRI, professor and neuroscientist Michael Platt and his team were able to see this at play. When reacting to good or bad news about the brand, Samsung users didn't have positive or negative brain responses, yet they did have "reverse empathy" for bad news about Apple. Meanwhile, Apple users showed a "brain empathy response for Apple that was exactly what you'd see in the way you would respond to somebody in your family."
Scroll down to load more…