Is Scientific Genius Extinct?
Due to arduous competition for limited scientific funds, the pie-in-the-sky ideas that may potentially hide brilliance underneath, are often ignored, abandoned, or simply never undertaken in the first place.
30 January, 2013
Editor's Note: This article was provided by our partner, RealClearScience Newton Blog. The original is here.
---
"Is scientific genius extinct?" That's the intriguing question posed by psychologist Dean Keith Simonton in Wednesday's publication of Nature.

It's a sweeping inquiry to be sure -- one open to dispute -- but if there's one person qualified to answer it, it would probably be Simonton. A distinguished professor at UC-Davis, Simonton has devoted more than three decades to studying scientific genius, and literally wrote the book on it.

In describing scientific genius, Simonton insists that while the creative scientist contributes ideas that are original and useful, the genius scientist tenders notions that also surprise. Instead of merely extending established knowledge, the genius scientist engineers novel expertise and provokes momentous leaps. 

Sadly, in Simonton's opinion, scientific genius is in short supply, and likely extinct. In his Nature commentary, he writes:
...in my view, neither discipline creation nor revolution is available to contemporary scientists. Our theories and instruments now probe the earliest seconds and farthest reaches of the Universe, and we can investigate the tiniest of life forms and the shortest-lived of subatomic particles. It is difficult to imagine that scientists have overlooked some phenomenon worthy of its own discipline alongside astronomy, physics, chemistry and biology... Future advances are likely to build on what is already known rather than alter the foundations of knowledge.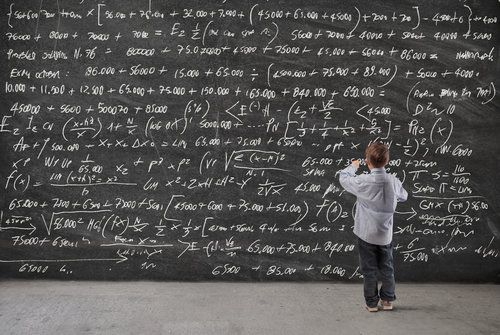 Simonton's thesis seems to hinge on the view that modern science is set; that through mankind's prodigious gaze, we have seen almost everything there is to see. The dots have been discovered, arranged, and numbered. All we have to do now is connect them. 

But as Neil deGrasse Tyson reminds us in his book, Death by Black Hole, we've heard this before. In 1901, the preeminent physicist Lord Kelvin boldly stated, "There is nothing new to be discovered in physics now. All that remains is more and more precise measurement." Kelvin may have been right about the temperature of absolute zero (-273.15 Celsius), but boy he sure was wrong about that.

Much has undeniably changed in 112 years, but Simonton's earlier praise for humanity's scientific prowess seems simply a rehash of Kelvin's misguided over-confidence. Yes, mankind has accomplished many amazing things, but given the scope of creation, there are surely more revolutionary advancements to be made, and more surprises waiting. 

Is "Big Science" Destroying Genius?

However, concerning "big science," Simonton makes a legitimate point. He states, "Natural sciences have become so big, and the knowledge base so complex and specialized, that much of the cutting-edge work these days tends to emerge from large, well-funded collaborative teams involving many contributors."

It's true: the manner in which the majority of science is conducted today is hemmed into a set system. Mostly, it revolves around attaining funding and working together in large groups. This large, publication-centered, interconnected system, with common knowledge and set rules, has its benefits, but it also turns science into a factory. Sure, it keeps the cogs turning, but it may also hamper true creativity and genius, which, as elegantly stated by Scientific American's Ingrid Wickelgren, "depends on an unfiltered view of the world, one that is unconstrained by preconceptions and more open to novelty." 

Moreover, with such arduous competition for limited scientific funds, the pie-in-the-sky ideas that may potentially hide brilliance underneath, are often ignored, abandoned, or simply never undertaken in the first place.

Simonton's fear is that "surprising originality" is a thing of the past. We certainly aren't there yet, but we may be headed down that unfortunate path.
What can 3D printing do for medicine? The "sky is the limit," says Northwell Health researcher Dr. Todd Goldstein.
Northwell Health
Sponsored by Northwell Health
Medical professionals are currently using 3D printers to create prosthetics and patient-specific organ models that doctors can use to prepare for surgery.
Eventually, scientists hope to print patient-specific organs that can be transplanted safely into the human body.
Northwell Health, New York State's largest health care provider, is pioneering 3D printing in medicine in three key ways.
An ordained Lama in a Tibetan Buddhist lineage, Lama Rod grew up a queer, black male within the black Christian church in the American south. Navigating all of these intersecting, evolving identities has led him to a life's work based on compassion for self and others.
Think Again Podcasts
"What I'm interested in is deep, systematic change. What I understand now is that real change doesn't happen until change on the inside begins to happen."
"Masculinity is not inherently toxic. Patriarchy is toxic. We have to let that energy go so we can stop forcing other people to do emotional labor for us."
We were gaining three IQ points per decade for many, many years. Now, that's going backward. Could this explain some of our choices lately?
The Flynn effect appears to be in retrograde. (Credit: Shutterstock/Big Think)
popular
There's a new study out of Norway that indicates our—well, technically, their—IQs are shrinking, to the tune of about seven IQ points per generation.
Here's why generalists triumph over specialists in the new era of innovation.
Videos
Since the explosion of the knowledge economy in the 1990s, generalist inventors have been making larger and more important contributions than specialists.
One theory is that the rise of rapid communication technologies allowed the information created by specialists to be rapidly disseminated, meaning generalists can combine information across disciplines to invent something new.
Here, David Epstein explains how Nintendo's Game Boy was a case of "lateral thinking with withered technology." He also relays the findings of a fascinating study that found the common factor of success among comic book authors.
Big think's weekly newsletter.
Get smarter faster from the comfort of your inbox.
See our newsletter privacy policy
here
Most Popular
Most Recent
Big think's weekly newsletter.
Get smarter faster from the comfort of your inbox.
See our newsletter privacy policy
here
© Copyright 2007-2019 & BIG THINK, BIG THINK EDGE,
SMARTER FASTER trademarks owned by The Big Think, Inc. All rights reserved.