Big ideas.
Once a week.
Subscribe to our weekly newsletter.
Will Mobile Devices Kill the Credit Card?
24 December, 2011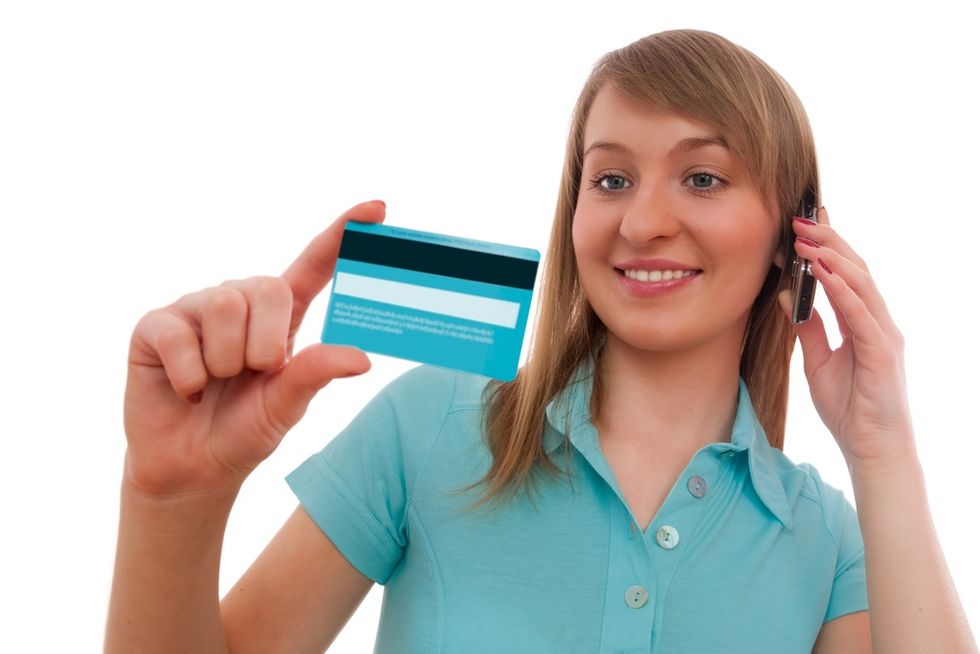 New innovations in mobile banking are making it possible to transfer the entire payment experience from the plastic credit card to your mobile device. New upstarts with funny names that sound nothing like typical financial names - like Dwolla, Venmo and Square - are going far beyond just enabling you to use your mobile devices to check balances on-the-go: they are transforming mobile devices into payment mechanisms at point-of-sale destinations around the nation. New geo-fencing technology is making it possible for apps loaded on your smart phone to "communicate" with the payment systems of retail stores, eliminating the need to stand in line to make a purchase or even to interact with a sales clerk. So at what point will mobile devices end up killing off the $2 trillion credit card industry entirely?
---
When WIRED previewed The Future of Money nearly two years ago, it was clear that financial start-ups were already chipping away at the hegemony of the big credit card players, who essentially collect a "tax" of as much as 3.5% on every single transaction that passes through their payment networks. (Ever wonder why some stores prefer that you pay cash?) By making the payment process as fast, flexible and frictionless as possible, these financial upstarts can reduce the fees charged to merchants. Maybe not as low as zero, but significantly lower than 3.5%. By finding ways to embed payment information within the mobile device itself instead of on plastic cards, they can bypass traditional payment networks entirely. This may be a rough analogy, but it's equivalent to the difference between using Skype to make phone calls over the Internet or using a traditional phone provider and their legacy network to make that same call.
We've already seen the first glimpses of the future of mobile banking, most notably the much-hyped launch of Google Wallet earlier this year. Google Wallet is the next step in weaning customers away from credit cards and teaching them new behaviors - such as storing all their payment card information and loyalty card information in one place -- on their mobile phone. Instead of deciding which credit card you are paying with at a store, you simply pay with Google Wallet. When you get to the checkout counter of a merchant that accepts Google Wallet, you'll now see the Google logo next to the logos of other payment providers.
One startup that is scaring the big credit card companies right now is Square, launched by Twitter co-founder Jack Dorsey. Square enables anyone - not just an official credit card merchant - to accept credit card payments with a mobile device in exchange for a 2.75% transaction fee (perhaps not optimal, but still lower than the standard 3.5% rate). The latest innovation from Square is CardCase, which enables you to walk into a retail location and pay by saying your name aloud. Yep, that's right, thanks to the magic of geo-fencing technology, an app that's loaded on your smart phone already knows where you are and auto-fills all the payment information for you on the fly, eliminating the need to pull a credit card out of your wallet at all.
The digital wallet has always been the Holy Grail for mobile tech innovators – and it's not surprising that the major credit card players are running scared. After all, moving the payment experience to the mobile device is one of those "disruptive" moments that can shake up an entire industry overnight. What happens, for example, if Apple decides to make it possible to make payments on the iPhone 5 using next generation NFC technology in 2012? It's one thing to compete with other legacy payment providers, but what happens when you're suddenly competing with the Googles and the Apples of the world?
Walking around a city like New York, it's easy to see the potential of a world without credit cards. Hop into a Duane Reade pharmacy, and the Google Wallet logo shows up as a potential payment option. Pick up a coffee at your local hipster coffeehouse, and the cash register has been replaced by a Square payment device. Go out for drinks with friends and somebody mentions using a new payment app to share money with other people in your social network.
Nearly every day brings examples of how startups are creating "magical" experiences around payments that don't involve taking a piece of plastic out of your wallet. We already live in a cashless society where nobody carries around cash in their wallet. The natural evolution is toward a cardless society as well, where nobody carries around wallets anymore -- all the payment information is stored, safe and sound, on your mobile device.
Image: Young Woman With Credit Card and Cellphone / Shutterstock
A Harvard professor's study discovers the worst year to be alive.
Credit: Pieter Bruegel the Elder. (Museo del Prado).
Politics & Current Affairs
Harvard professor Michael McCormick argues the worst year to be alive was 536 AD.
The year was terrible due to cataclysmic eruptions that blocked out the sun and the spread of the plague.
536 ushered in the coldest decade in thousands of years and started a century of economic devastation.
The past year has been nothing but the worst in the lives of many people around the globe. A rampaging pandemic, dangerous political instability, weather catastrophes, and a profound change in lifestyle that most have never experienced or imagined.
But was it the worst year ever?
Nope. Not even close. In the eyes of the historian and archaeologist Michael McCormick, the absolute "worst year to be alive" was 536.
Why was 536 so bad? You could certainly argue that 1918, the last year of World War I when the Spanish Flu killed up to 100 million people around the world, was a terrible year by all accounts. 1349 could also be considered on this morbid list as the year when the Black Death wiped out half of Europe, with up to 20 million dead from the plague. Most of the years of World War II could probably lay claim to the "worst year" title as well. But 536 was in a category of its own, argues the historian.
It all began with an eruption...
According to McCormick, Professor of Medieval History at Harvard University, 536 was the precursor year to one of the worst periods of human history. It featured a volcanic eruption early in the year that took place in Iceland, as established by a study of a Swiss glacier carried out by McCormick and the glaciologist Paul Mayewski from the Climate Change Institute of The University of Maine (UM) in Orono.
The ash spewed out by the volcano likely led to a fog that brought an 18-month-long stretch of daytime darkness across Europe, the Middle East, and portions of Asia. As wrote the Byzantine historian Procopius, "For the sun gave forth its light without brightness, like the moon, during the whole year." He also recounted that it looked like the sun was always in eclipse.
Cassiodorus, a Roman politician of that time, wrote that the sun had a "bluish" color, the moon had no luster, and "seasons seem to be all jumbled up together." What's even creepier, he described, "We marvel to see no shadows of our bodies at noon."
...that led to famine...
The dark days also brought a period of coldness, with summer temperatures falling by 1.5° C. to 2.5° C. This started the coldest decade in the past 2300 years, reports Science, leading to the devastation of crops and worldwide hunger.
...and the fall of an empire
In 541, the bubonic plague added considerably to the world's misery. Spreading from the Roman port of Pelusium in Egypt, the so-called Plague of Justinian caused the deaths of up to one half of the population of the eastern Roman Empire. This, in turn, sped up its eventual collapse, writes McCormick.
Between the environmental cataclysms, with massive volcanic eruptions also in 540 and 547, and the devastation brought on by the plague, Europe was in for an economic downturn for nearly all of the next century, until 640 when silver mining gave it a boost.
Was that the worst time in history?
Of course, the absolute worst time in history depends on who you were and where you lived.
Native Americans can easily point to 1520, when smallpox, brought over by the Spanish, killed millions of indigenous people. By 1600, up to 90 percent of the population of the Americas (about 55 million people) was wiped out by various European pathogens.
Like all things, the grisly title of "worst year ever" comes down to historical perspective.
A 19th-century surveying mistake kept lumberjacks away from what is now Minnesota's largest patch of old-growth trees.
Credit
: U.S. Forest Service via Dan Alosso on Substack and licensed under CC-BY-SA
Strange Maps
In 1882, Josias R. King made a mess of mapping Coddington Lake, making it larger than it actually is.
For decades, Minnesota loggers left the local trees alone, thinking they were under water.
Today, the area is one of the last remaining patches of old-growth forest in the state.
Vanishingly rare, but it exists: a patch of Minnesota forest untouched by the logger's axe.Credit: Dan Alosso on Substack and licensed under CC-BY-SA
The trees here tower a hundred feet above the forest floor — a ceiling as high as in prehistory and vanishingly rare today. That's because no logger's axe has ever touched these woods.

Pillars of the green cathedral
As you walk among the giant pillars of this green cathedral, you might think you're among the redwood trees of California. But those are 1,500 miles (2,500 km) away. No, these are the red and white pines of the "Lost Forty" in Minnesota. This is the largest single surviving patch of old-growth forest in the state and a fair stretch beyond. And it's all thanks to a surveying error.
Despite its name, the Lost Forty Scientific and Natural Area (SNA) is actually 144 acres (0.58 km2) in total. Still, it's an easily overlooked part of the Chippewa National Forest, which sprawls across 666,000 acres (2,700 km2) of north-central Minnesota. And that – being easily overlooked – is kind of this area's superpower.
In the 1820s, when European-Americans arrived in what is now Minnesota, they found about 20 million acres (80,000 km2) of prairie and 30 million acres (120,000 km2) of forest. Two centuries on, both ecosystems largely have been depleted. Fewer than 100,000 acres (400 km2) of natural prairie remain, and fewer than 18 million acres (73,000 km2) of forest.
And today's woods are different. They're not just younger; the original pine stands have been harvested and largely replaced with aspen and birch.
Can a place really be "lost" if it has a sign pointing toward it? Credit: Tony Webster via Flickr and licensed under CC BY-SA 2.0
To the moon and back

White pine especially was in heavy demand during the lumbering boom that had Minnesota in its grip by the 1840s — a boom driven by an insatiable demand for building materials and supercharged by the steam that powered the saws and the rails that transported the goods to market.
The two decades flanking the turn of the 20th century were the golden age of lumbering in Minnesota. At any given time, 20,000 lumberjacks were at work in the woods, a further 20,000 in the sawmills, and another 20,000 in other lumber-related industries.
Production peaked in the year 1900, with over 2.3 billion board-feet (5.4 million m3) of lumber harvested from the state's forests. That was enough to build 600,000 two-story houses or a boardwalk nine feet (2.7 m) wide, circling Earth along the equator. From then on, yields declined, albeit slightly at first. By 1910, however, the first lumber operations started packing up and moving on to the Pacific Northwest and elsewhere.
Minnesota's era of Big Timber symbolically came to an end with the closure of the Virginia and Rainy Lake Lumber Company in 1929. At that time, a century's worth of lumbering in Minnesota had produced 68 billion board-feet (160 million m3) of pine — enough to fill a line of boxcars all the way to the moon and halfway back again.
Now spool back a few decades. It's 1882, and the Public Land Survey is measuring, mapping, and quantifying the wilderness of northern Minnesota — and its as yet unharvested north woods. Setting out from the small settlement of Grand Rapids, Josias Redgate King leads a three-man survey team 40 miles north, into the backwoods.
Mapping error becomes cartographic fact
Their job, specifically, is to chart the area between Moose and Coddington Lakes. And they mess up. Perhaps it's the lousy November weather, the desolate swampy terrain, or both. But they make a serious mistake: their survey stretches Coddington Lake half a mile further northwest than it actually exists. As happens surprisingly often with mapping mistakes, the error becomes cartographic fact, undisputed for decades.

The area is marked on all maps as being under water and is therefore excluded from the considerations of logging companies. Only in 1960 is the area re-surveyed and the error corrected. But by then, as we have seen, Big Timber has moved on from the Gopher State.
Map of the "Lost Forty" SNA (top right). Bordering it on the south is the Chippewa National Forest Unique Biological Area. Credit: Minnesota Department of Natural Resources
Incidentally, Josias R. King was more than the mismapper of Coddington Lake. He has another, and rather better, claim to fame. When the Civil War broke out, Minnesota was the first state to offer volunteers to fight for the Union. At Fort Snelling, Mr. King rushed to the front of a line of men waiting to sign up.

So it was said, with some justification, that he was the first volunteer for the Union in all of the country. During the war, he attained the rank of lieutenant colonel. After, he returned to his civilian job, surveying. Because of his credentials as the Union's first volunteer, he was asked to pose for the face of the bronze soldier on the Civil War monument which was unveiled at St. Paul's Summit Park in 1903.
The loggers' loss is nature's gain
But back to the Lost Forty. The loggers' loss — hence the name — is actually nature's gain. The SNA's crowning glory, literally, is nearly 32 acres of designated old-growth red pine and white pine forest, in two stands, partially extending into the Chippewa National Forest proper. (In fact, much of the mismapped area seems to fall within the Chippewa National Forest Unique Biological Area adjacent to the Lost Forty.) Old-growth forests represent less than 2 percent — and designated old-growth forests less than 0.25 percent — of all of Minnesota's forests.
The oldest pine trees in the Lost Forty are between 300 and 400 years old, close to their maximum natural life span, which is up to 500 years. Similar pines in other parts of the National Forest are harvested at between 80 and 150 years for pulp and lumber. As a result, the pines in the Lost Forty are not only higher than most of the surrounding woods but also bigger with a diameter of between 22 and 48 inches (55 to 122 cm). One of the biggest has a circumference of 115 inches (2.9 m).
With their craggy bark, massive trunks, and dizzying height, these trees look like the ancient beings they are. And they exist in a cluster the size of which is unique for the Midwest. There's nothing lost about these trees; in fact, it's rather the reverse. Perhaps the area should more precisely be called the "Last Forty."
At 52 feet, only half as high as an old-growth white pine: Josias R. King's likeness atop the Soldier's Monument in Summit Park, St. Paul.Credit: Library of Congress
Get a good look at the Lost Forty in this video of the local hiking trail.

Strange Maps #1084
Got a strange map? Let me know at strangemaps@gmail.com.
Seawater is raising salt levels in coastal woodlands along the entire Atlantic Coastal Plain, from Maine to Florida.
Surprising Science
Permanent flooding has become commonplace on this low-lying peninsula, nestled behind North Carolina's Outer Banks. The trees growing in the water are small and stunted. Many are dead.
Throughout coastal North Carolina, evidence of forest die-off is everywhere. Nearly every roadside ditch I pass while driving around the region is lined with dead or dying trees.
As an ecologist studying wetland response to sea level rise, I know this flooding is evidence that climate change is altering landscapes along the Atlantic coast. It's emblematic of environmental changes that also threaten wildlife, ecosystems, and local farms and forestry businesses.
Like all living organisms, trees die. But what is happening here is not normal. Large patches of trees are dying simultaneously, and saplings aren't growing to take their place. And it's not just a local issue: Seawater is raising salt levels in coastal woodlands along the entire Atlantic Coastal Plain, from Maine to Florida. Huge swaths of contiguous forest are dying. They're now known in the scientific community as "ghost forests."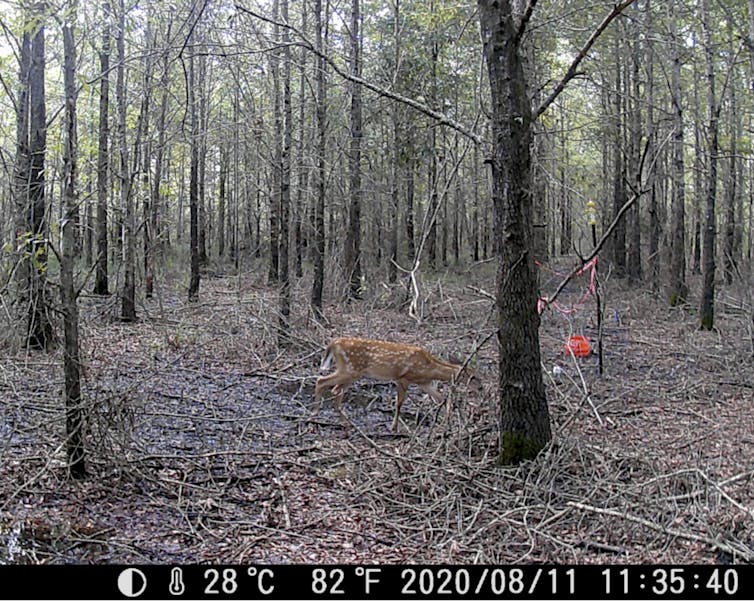 Deer photographed by a remote camera in a climate change-altered forest in North Carolina. Emily Ury, CC BY-ND
The insidious role of salt
Sea level rise driven by climate change is making wetlands wetter in many parts of the world. It's also making them saltier.
In 2016 I began working in a forested North Carolina wetland to study the effect of salt on its plants and soils. Every couple of months, I suit up in heavy rubber waders and a mesh shirt for protection from biting insects, and haul over 100 pounds of salt and other equipment out along the flooded trail to my research site. We are salting an area about the size of a tennis court, seeking to mimic the effects of sea level rise.
After two years of effort, the salt didn't seem to be affecting the plants or soil processes that we were monitoring. I realized that instead of waiting around for our experimental salt to slowly kill these trees, the question I needed to answer was how many trees had already died, and how much more wetland area was vulnerable. To find answers, I had to go to sites where the trees were already dead.
Rising seas are inundating North Carolina's coast, and saltwater is seeping into wetland soils. Salts move through groundwater during phases when freshwater is depleted, such as during droughts. Saltwater also moves through canals and ditches, penetrating inland with help from wind and high tides. Dead trees with pale trunks, devoid of leaves and limbs, are a telltale sign of high salt levels in the soil. A 2019 report called them "wooden tombstones."
As the trees die, more salt-tolerant shrubs and grasses move in to take their place. In a newly published study that I coauthored with Emily Bernhardt and Justin Wright at Duke University and Xi Yang at the University of Virginia, we show that in North Carolina this shift has been dramatic.
The state's coastal region has suffered a rapid and widespread loss of forest, with cascading impacts on wildlife, including the endangered red wolf and red-cockaded woodpecker. Wetland forests sequester and store large quantities of carbon, so forest die-offs also contribute to further climate change.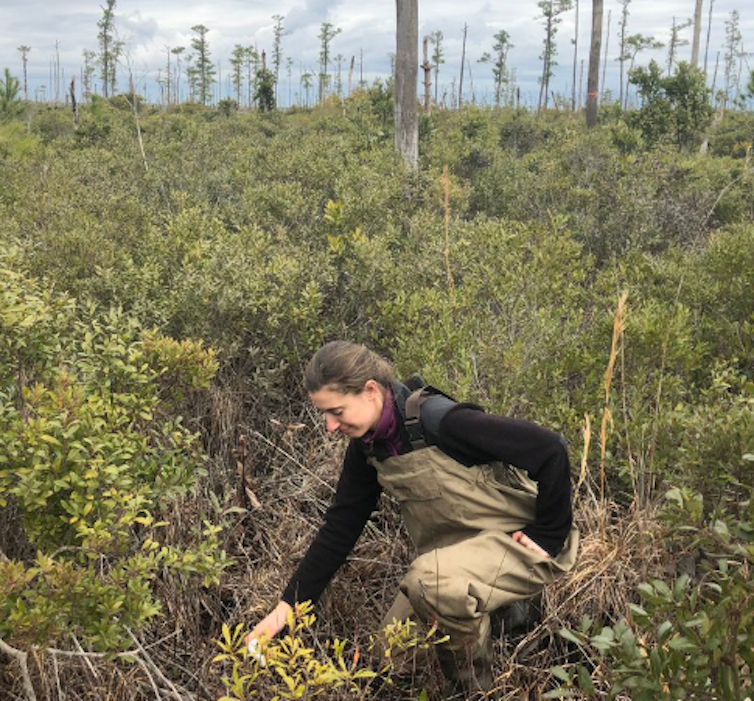 Researcher Emily Ury measuring soil salinity in a ghost forest. Emily Bernhardt, CC BY-ND
Assessing ghost forests from space
To understand where and how quickly these forests are changing, I needed a bird's-eye perspective. This perspective comes from satellites like NASA's Earth Observing System, which are important sources of scientific and environmental data.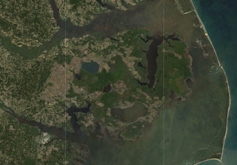 A 2016 Landsat8 image of the Albemarle Pamlico Peninsula in coastal North Carolina. USGS
Since 1972, Landsat satellites, jointly operated by NASA and the U.S. Geological Survey, have captured continuous images of Earth's land surface that reveal both natural and human-induced change. We used Landsat images to quantify changes in coastal vegetation since 1984 and referenced high-resolution Google Earth images to spot ghost forests. Computer analysis helped identify similar patches of dead trees across the entire landscape.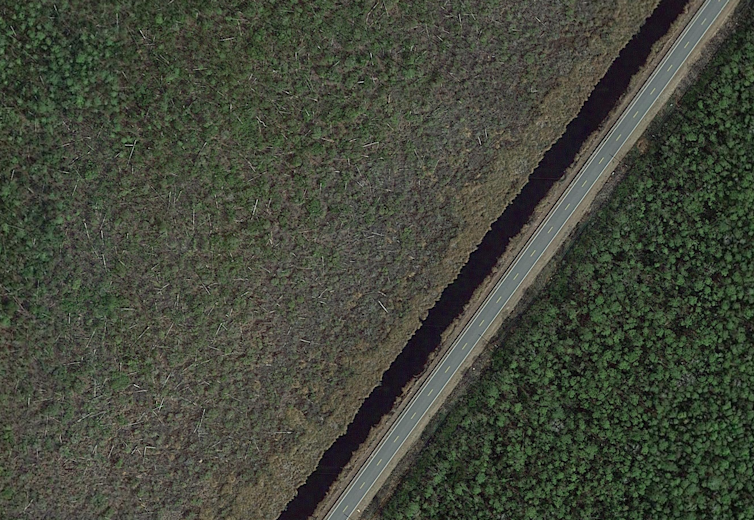 Google Earth image of a healthy forest on the right and a ghost forest with many dead trees on the left. Emily Ury
The results were shocking. We found that more than 10% of forested wetland within the Alligator River National Wildlife Refuge was lost over the past 35 years. This is federally protected land, with no other human activity that could be killing off the forest.
Rapid sea level rise seems to be outpacing the ability of these forests to adapt to wetter, saltier conditions. Extreme weather events, fueled by climate change, are causing further damage from heavy storms, more frequent hurricanes and drought.
We found that the largest annual loss of forest cover within our study area occurred in 2012, following a period of extreme drought, forest fires and storm surges from Hurricane Irene in August 2011. This triple whammy seemed to have been a tipping point that caused mass tree die-offs across the region.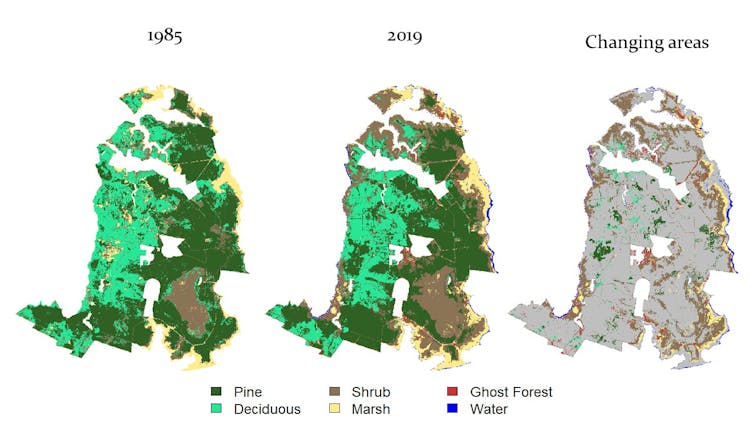 Habitat maps we created for the Alligator River National Wildlife Refuge showing the change over time and the prevalence of ghost forests. Ury et al, 2021., CC BY-ND
Should scientists fight the transition or assist it?
As global sea levels continue to rise, coastal woodlands from the Gulf of Mexico to the Chesapeake Bay and elsewhere around the world could also suffer major losses from saltwater intrusion. Many people in the conservation community are rethinking land management approaches and exploring more adaptive strategies, such as facilitating forests' inevitable transition into salt marshes or other coastal landscapes.
For example, in North Carolina the Nature Conservancy is carrying out some adaptive management approaches, such as creating "living shorelines" made from plants, sand and rock to provide natural buffering from storm surges.
A more radical approach would be to introduce marsh plants that are salt-tolerant in threatened zones. This strategy is controversial because it goes against the desire to try to preserve ecosystems exactly as they are.
But if forests are dying anyway, having a salt marsh is a far better outcome than allowing a wetland to be reduced to open water. While open water isn't inherently bad, it does not provide the many ecological benefits that a salt marsh affords. Proactive management may prolong the lifespan of coastal wetlands, enabling them to continue storing carbon, providing habitat, enhancing water quality and protecting productive farm and forest land in coastal regions.

Emily Ury, Ph.D. Candidate, Duke University
This article is republished from The Conversation under a Creative Commons license. Read the original article.
Mind & Brain
A new study used functional near-infrared spectroscopy (fNIRS) to measure brain activity as inexperienced and experienced soccer players took penalty kicks.
Scroll down to load more…