What Do Teachers Need From Administrators?
Scott McLeod
Scott McLeod, J.D., Ph.D., is an Associate Professor of Educational Leadership at the University of Kentucky. He also is the Founding Director of the UCEA Center for the Advanced Study of Technology Leadership in Education (CASTLE), the nation's only academic center dedicated to the technology needs of school administrators, and was a co-creator of the wildly popular video series, Did You Know? (Shift Happens). He has received numerous national awards for his technology leadership work, including recognitions from the cable industry, Phi Delta Kappa, and the National School Boards Association. In Spring 2011 he was a Visiting Canterbury Fellow at the University of Canterbury in New Zealand. Dr. McLeod blogs regularly about technology leadership issues at Dangerously Irrelevant and Mind Dump, and occasionally at The Huffington Post. He can be reached at scottmcleod.net.
28 February, 2011
What do I need from administrators? It seems to be a huge question, and I am not sure why. Administration, in my experience in elementary schools in California's Bay Area, seems to be a tool of policy makers, not defenders of good, wholesome educational practices--they are the purveyors of fads. Or maybe they are simply trying to stay employed.
---
I have had principals who never taught in an elementary classroom. I've had principals who have been out of a classroom for 20 years, yet still think they are current. My district has gone through 3 superintendents in 10 years, each with his/her own "bee in the bonnet" about something that has more to do with money than educating kids. It's a sorry state of affairs.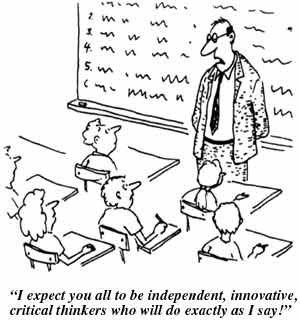 Administration/principals in a school, IMHO, should be made up of current teachers. Actually, administrator should be a non-education based job--administrators should not be principals. At big hospitals there a managers who manage the business side, leaving medical personnel to do medicine. Sure there is a chief medical person, but that person is chiefly medical and only meets with the MBAs when money versus best practices is at issue, not to decide on medical procedures, ideally.
I want this for schools. Principals are too busy dealing with budgets--being the tools of the board and superintendent. School districts spend an inordinate amount of time dealing with money--cutting programs, overworking staff, eliminating positions--because America has chosen war over children, or something similar. Principals, who started as teachers, are not best used as OMB-type employees. They started out as educators, and should remain leaders of education in schools, not budget cutting consultants who come in fresh, ready to cut and slash.
I would like to see an administration separate the double role principals play into 2 distinct roles: the money role (administrator) and the educational leader role (principal). I propose to do it like this:
Let's assume a district with 12 elementary schools--a 1-high school town. In this town there would be an MBA type administrator (or 2) who would deal with the money for all schools--budgets would be prepared and analyzed by this MBA's staff and then presented to the educational leaders at each school. I call them educational leaders because they would be teachers. Let me explain, because here is where I go nuts:
The principal of an elementary school should be working with parents, teachers and children, not budgets and money management. In order to have an educator (teacher) as principal we would need to do something very different in terms of credentialing. Imagine if all teachers were not just credentialed as a teacher, but also as an administrator (principal)? The administrator classes one needs to take to get an administration credential are few, making them an easy addition to a regular credential program. By combining a regular credential with an administrator supplement, making a new, more robust single credential, there is suddenly a large number of those who could be principal.
In my scenario, teachers with the new credential would rotate from year to year as principal. Sure, it is similar to a teacher-led school, but my idea changes credentialing and traditional administration of schools. If I am a classroom teacher this year, I might be principal next year, then my buddy teacher the year after that with me returning to the classroom. This puts educators and colleagues in charge of the school--with no worries about finances because they are taken care of by the "money-man."
I like the idea because my experience with administration has been an adversarial one with money pitted against what's best for kids. What would this new principal/teacher be able to do? Freed from an Excel spreadsheet a principal would have time to help with the actual teaching of students and professional development of teachers. Staff meetings would take on an air of a team working toward more cohesion and attentiveness to the needs of students as opposed to the constant strum and drang of management-speak.
A principal should be a classroom expert, especially in elementary school.  They should be part of the school team, not part of the management adversariat.  
Teachers should run schools.  Schools are not businesses.
The Frustrated Teacher is a former elementary school teacher with 13 years of classroom experience in Title I schools.  Before that he ran summer camps and after school programs for affluent kids.  He has worked with young children for 30 years.  He left the classroom to pursue a private consulting practice where his penchant for calling it like it is won't be such a downer.
New research links urban planning and political polarization.
Pixabay
Politics & Current Affairs
Canadian researchers find that excessive reliance on cars changes political views.
Decades of car-centric urban planning normalized unsustainable lifestyles.
People who prefer personal comfort elect politicians who represent such views.
Progressive America would be half as big, but twice as populated as its conservative twin.
Image: Dicken Schrader
Strange Maps
America's two political tribes have consolidated into 'red' and 'blue' nations, with seemingly irreconcilable differences.
Perhaps the best way to stop the infighting is to go for a divorce and give the two nations a country each
Based on the UN's partition plan for Israel/Palestine, this proposal provides territorial contiguity and sea access to both 'red' and 'blue' America
Science and the squishiness of the human mind. The joys of wearing whatever the hell you want, and so much more.
Flickr / 13winds
Think Again Podcasts
Why can't we have a human-sized cat tree?
What would happen if you got a spoonful of a neutron star?
Why do we insist on dividing our wonderfully complex selves into boring little boxes
Big think's weekly newsletter.
Get smarter faster from the comfort of your inbox.
See our newsletter privacy policy
here
Most Popular
Most Recent
Big think's weekly newsletter.
Get smarter faster from the comfort of your inbox.
See our newsletter privacy policy
here
© Copyright 2007-2018 & BIG THINK, BIG THINK EDGE,
SMARTER FASTER trademarks owned by The Big Think, Inc. All rights reserved.