The teenage brain: Why some years are (a lot) crazier than others
Neurobiologist Robert Sapolsky explains how your first 25 years will shape the next 50.
11 October, 2018
ROBERT SAPOLSKY: Neurobiologically, the single most important fact about, say, a 20-year-old brain is the fact that almost all of it is already matured, fully wired up—myelinated, a jargon-y term for it. The reward dopamine system has been going full blast since somewhere around like early puberty. All of the brain is totally up to speed—except for the frontal cortex. Probably the most interesting fact about human development is that the frontal cortex is the last part of the brain to fully mature. It is not completely online until you're about 25 years old, which is mind-boggling to think about.
What does that explain? That explains why adolescents are adolescent in their behavior. The sensation-seeking and the risk-taking; the highs are higher and the lows are lower, because the steadying frontal cortical hand there isn't fully up to speed yet, and everything else is a gyroscope out of control. And that's where the impulsivity is from. And that's where the extremes of behavior, and that's why most crime is committed by people at a stage whose frontal cortex is not fully developed yet. That is why most people who do astonishing, wondrously self-sacrificial things don't have the frontal cortex that's fully in gear yet either, and it's not in a position to convince them yet, 'Ah, that's somebody else's problem. Look the other way.'
That's why young adults are exactly how they are. Because the frontal cortex isn't quite there yet, and what you have as a result is more adventurousness and more openness to novelty and more likelihood of seeing somebody who's very different as, in fact, not being that different after all. And more likely to grab a cudgel and smash in somebody's skull who happens to seem like a "Them". And everything, just the tone of everything, is pushed up.
One incredibly important implication of that is that if the frontal cortex is the last part of the brain to fully mature it means it's the part of the brain that is most sculpted by environment and experience—and least constrained by genes. And it's the most interesting part of the brain. Meanwhile, look at the other end of it. Look at 60-year-olds and what's going on there. If you are a 60-year-old human, or say a rat equivalent of a 60-year-old, you are far more closed to novelty than a 20-year-old, than an adolescent rat is. Take a rat, for example, and see at what points in life is it willing to try a new food. At exactly the equivalent of late teenage years, early adulthood, and then you're closed to novelty. Any species out there shows that pattern including humans. So a 60-year-old is resistant to change, is resistant to somebody else's novelty. A 60-year-old, unlike a 20-year-old, deals with stress in a very particular way. If you're 20, what stress management is about is trying to overcome the stressor and defeat it. If you're 60, what stress management is about is learning to accommodate what things you're not going to be able to change, and there's nothing you can do about the fact that your knees hurt like hell; it's accommodating, it's learning the difference between what you can change and what you can't.
If you're 20, there's nothing in the world you can't change. By the time you're 60, what intelligence is mostly about is crystallized, fact-based knowledge and crystallized strategies for dealing with that knowledge.
What a 20-year-old intelligence is about is fluid, improvising, changing of set, reversing of orders. All of that is a very, very different sort of picture. So 20- and 60-year-old brains and 20- and 60-year-old social worlds are remarkably different.
The human brain isn't fully developed until 25 years of age. Everything is there except for the frontal cortex, which is the last thing to mature.
An immature frontal cortex explains the spectrum of teenage behaviors: it's what makes adolescents adolescent, says Sapolsky. "The sensation-seeking and the risk-taking; the highs are higher and the lows are lower," he says. Teenagers are more adventurous and more heroic during this time—but can also be more violent and impulsive.
Because your frontal cortex is the last part to develop "it's the part of the brain that is most sculpted by environment and experience—and least constrained by genes," Sapolsky says. That's great news! Your adventure levels, openness, experience, and influences at 25 years old will shape who you are when you're 60.
Malcolm Gladwell teaches "Get over yourself and get to work" for Big Think Edge.
Big Think Edge
Learn to recognize failure and know the big difference between panicking and choking.

At Big Think Edge, Malcolm Gladwell teaches how to check your inner critic and get clear on what failure is.

Subscribe to Big Think Edge before we launch on March 30 to get 20% off monthly and annual memberships.
It turns out, that tattoo ink can travel throughout your body and settle in lymph nodes.
17th August 1973: An American tattoo artist working on a client's shoulder. (Photo by F. Roy Kemp/BIPs/Getty Images)
popular
In the slightly macabre experiment to find out where tattoo ink travels to in the body, French and German researchers recently used synchrotron X-ray fluorescence in four "inked" human cadavers — as well as one without. The results of their 2017 study? Some of the tattoo ink apparently settled in lymph nodes.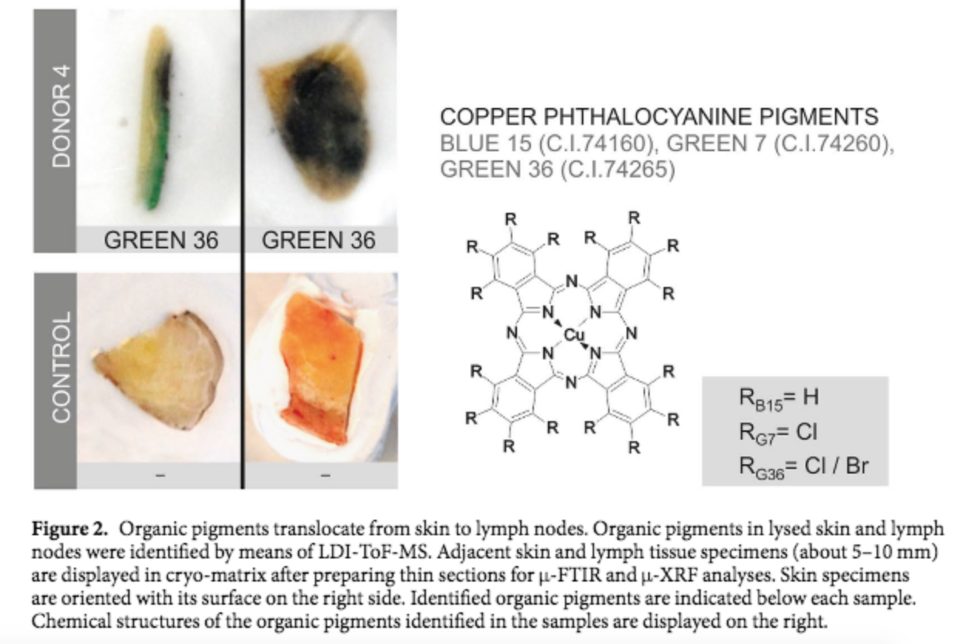 Image from the study.
As the authors explain in the study — they hail from Ludwig Maximilian University of Munich, the European Synchrotron Radiation Facility, and the German Federal Institute for Risk Assessment — it would have been unethical to test this on live animals since those creatures would not be able to give permission to be tattooed.
Because of the prevalence of tattoos these days, the researchers wanted to find out if the ink could be harmful in some way.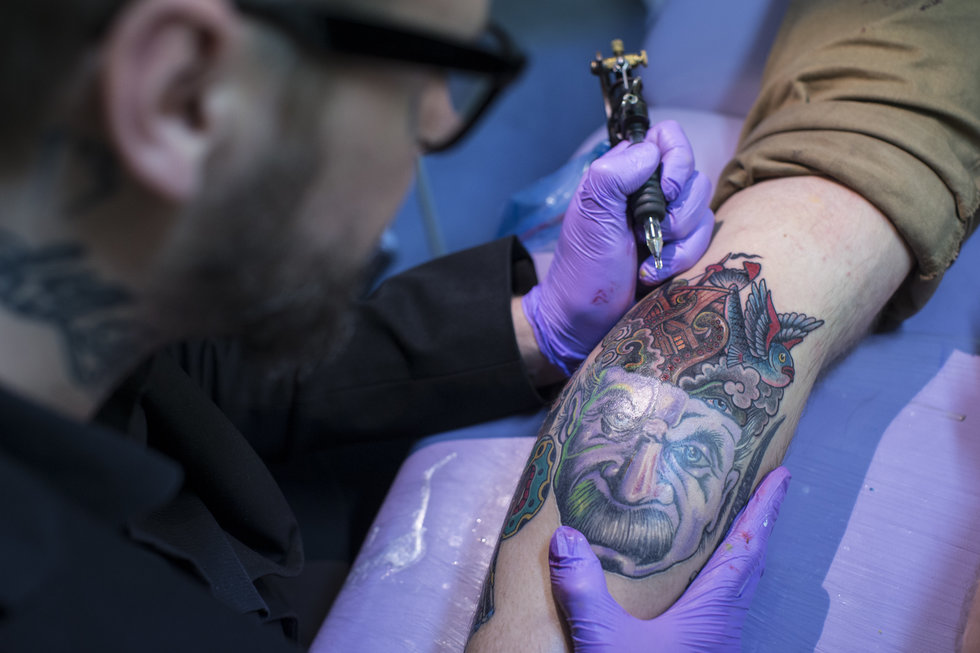 "The increasing prevalence of tattoos provoked safety concerns with respect to particle distribution and effects inside the human body," they write.
It works like this: Since lymph nodes filter lymph, which is the fluid that carries white blood cells throughout the body in an effort to fight infections that are encountered, that is where some of the ink particles collect.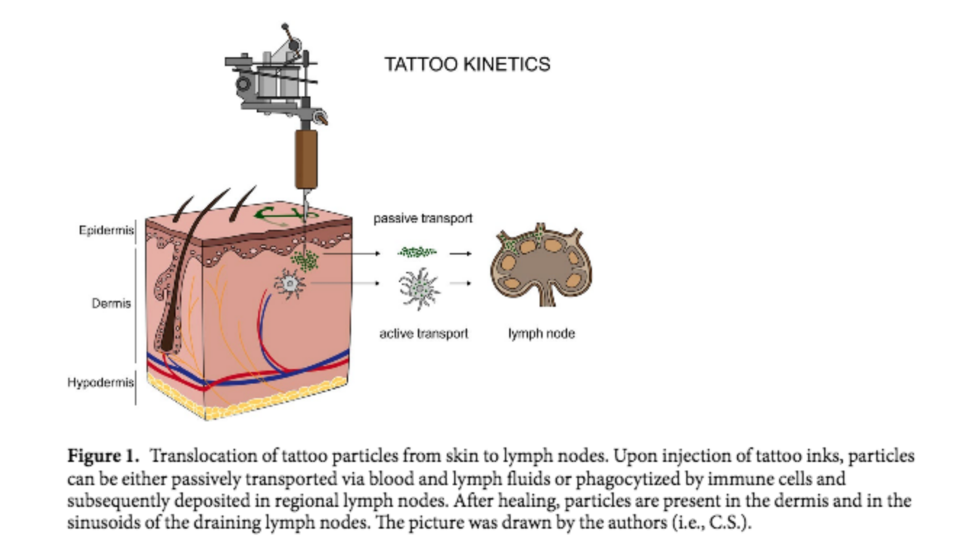 Image by authors of the study.
Titanium dioxide appears to be the thing that travels. It's a white tattoo ink pigment that's mixed with other colors all the time to control shades.
The study's authors will keep working on this in the meantime.
"In future experiments we will also look into the pigment and heavy metal burden of other, more distant internal organs and tissues in order to track any possible bio-distribution of tattoo ink ingredients throughout the body. The outcome of these investigations not only will be helpful in the assessment of the health risks associated with tattooing but also in the judgment of other exposures such as, e.g., the entrance of TiO2 nanoparticles present in cosmetics at the site of damaged skin."
It's one of the most consistent patterns in the unviverse. What causes it?
Videos
Spinning discs are everywhere – just look at our solar system, the rings of Saturn, and all the spiral galaxies in the universe.
Spinning discs are the result of two things: The force of gravity and a phenomenon in physics called the conservation of angular momentum.
Gravity brings matter together; the closer the matter gets, the more it accelerates – much like an ice skater who spins faster and faster the closer their arms get to their body. Then, this spinning cloud collapses due to up and down and diagonal collisions that cancel each other out until the only motion they have in common is the spin – and voila: A flat disc.
Big think's weekly newsletter.
Get smarter faster from the comfort of your inbox.
See our newsletter privacy policy
here
Most Popular
Most Recent
Big think's weekly newsletter.
Get smarter faster from the comfort of your inbox.
See our newsletter privacy policy
here
© Copyright 2007-2018 & BIG THINK, BIG THINK EDGE,
SMARTER FASTER trademarks owned by The Big Think, Inc. All rights reserved.