Learn to listen for what people mean, not just what they say
Without sounding like internet hyperbole, this super-simple listening trick can help you better understand people's intentions. And provide a fascinating insight into the minds of others.
Todd Davis
Todd Davis is the Executive Vice President and Chief People Officer of FranklinCovey, the organizational learning company best known for its popular 7 Habits of Highly Effective People book series. Davis is the author of FranklinCovey's Get Better: 15 Proven Practices to Build Effective Relationships at Work. He is also a co-author of Talent Unleashed: 3 Leadership Conversations to Ignite the Unlimited Potential in People.

As the former director of FranklinCovey's Innovations Group, Todd led the development of many of FranklinCovey's core offerings containing the company's world-renowned content, and he continues to contribute to the development of new offerings. Davis has also served as FranklinCovey's director of recruitment and led a team responsible for attracting, hiring, and retaining top talent for the company, which included over 3,500 employees.
For over 25 years, Davis has delivered numerous keynote addresses and speeches at top industry conferences, associations, corporate events, and for FranklinCovey clients, many of which are Fortune® 100 and 500 companies. His topics include leadership, personal and interpersonal effectiveness, employee engagement, talent management, change management, and building winning cultures.

Davis has served on the Board of Directors for HR.com and is a member of the Association for Talent Development (ATD) and the Society for Human Resource Management (SHRM).
25 November, 2017
Todd Davis: Many of my discussions are centered around someone who has a real issue or bone to pick with someone else. And I'll listen and I'll listen and I'll listen because a lot of times people just want to feel understood. But then when they're finished feeling understood they feel like they've had a shoulder to cry on. I will always ask the question, "I wonder why Jim would have said that? Or I wonder why Gail feels that way?" And the person will usually say something like, "Well I have no idea, I'm not Jim." And I'll say, "Well no, I understand that. But if I think about Jim I wonder what motivates him?"
And if I can start a discussion like that more often than not people will say "Well, you know, he was pretty depressed over that issue last year or she got passed over for that promotion so maybe she's still feeling defensive about that." And it's my way of not manipulation at all but helping someone gently but directly start to see things from another's perspective. And that leads into helping them try to understand what someone's intent is. And when we can get that type of a conversation going... it's not always easy... but it becomes easier to start to assume maybe that everyone doesn't have it out for you or bad intent. But in general people have good intent.
When people have emotions that are high – whether they're high because they're frustrated or whether they're high because they're happy – first and foremost they just want to be understood. And we listen, through what the late Dr. Stephen R. Covey used to say, we listen through this autobiographical lens. And then we have this autobiographical response. So we listen with the intent to reply, not to understand. But the most effective people and therefore the most successful influential people they listen with the intent to understand.
So reflective listening, and this is nothing new but boy it's new to practice it because everybody reads about it, hears about it and yet I see them not model it. And I'll tell you modeling it is magic. When someone says to me, "Gosh, I can't believe that they put that policy out. I'm so frustrated with this thing and blah, blah, blah, blah." I will listen, listen, listen and all I will say and it's not manipulative, it's just because I want to understand I'll say, "It sounds like you're pretty frustrated with the policy." "Well yeah, I am because…" and then they'll go on for five minutes or 20 more minutes. And they'll finish that and I'll just comment, "So it seems like it's really got you considering maybe a change in your career." I'm making this up. But you do reflective listening, take the time to do it you will start to get to the heart of the real issue. And 90 percent of the time it's not in this case the policy. It's something way underneath. And all I had to do was listen and reflect back to the person what I'm hearing them say and what I'm thinking they're feeling.
There is a time then for clarifying questions. Not probing. Not prying. Not trying to judge or agree or disagree, but saying, "So, am I clear in understanding that you think the policy is wrong because of such and such?" That's a clarifying question. Or "If I understand you correctly that you believe Joe has taken more vacation than anybody else in the department?" That's a clarifying question. It's not you're agreeing or disagreeing. You're not prying into or trying to figure somebody out. You're just trying to clarify and understand. It's like giving someone psychological air or oxygen if you will. And when we take the time to do that we actually start to resolve things much quicker than if we jump in ahead of it.
People like to talk. And when they talk, they often muddy the water about what they really mean because people tend to speak through an autobiographical lens, i.e., "this is my truth because it is from my perspective". Todd Davis, the Chief People Officer at Franklin Covey, has spent much of his career looking for the meaning in what people are saying, and has developed a way to better understand what people are really talking about. That technique is a small adaption to a basic skill that many people forget to do when they talk: listening, and then asking questions based on finding the truth in their perspective. Just doing that (Todd explains the practice in the video much better than I do here - Ed.) can make a world of difference in interpersonal interaction. Todd's latest book is Get Better: 15 Proven Practices to Build Effective Relationships at Work.
Malcolm Gladwell teaches "Get over yourself and get to work" for Big Think Edge.
Big Think Edge
Learn to recognize failure and know the big difference between panicking and choking.

At Big Think Edge, Malcolm Gladwell teaches how to check your inner critic and get clear on what failure is.

Subscribe to Big Think Edge before we launch on March 30 to get 20% off monthly and annual memberships.
It turns out, that tattoo ink can travel throughout your body and settle in lymph nodes.
17th August 1973: An American tattoo artist working on a client's shoulder. (Photo by F. Roy Kemp/BIPs/Getty Images)
popular
In the slightly macabre experiment to find out where tattoo ink travels to in the body, French and German researchers recently used synchrotron X-ray fluorescence in four "inked" human cadavers — as well as one without. The results of their 2017 study? Some of the tattoo ink apparently settled in lymph nodes.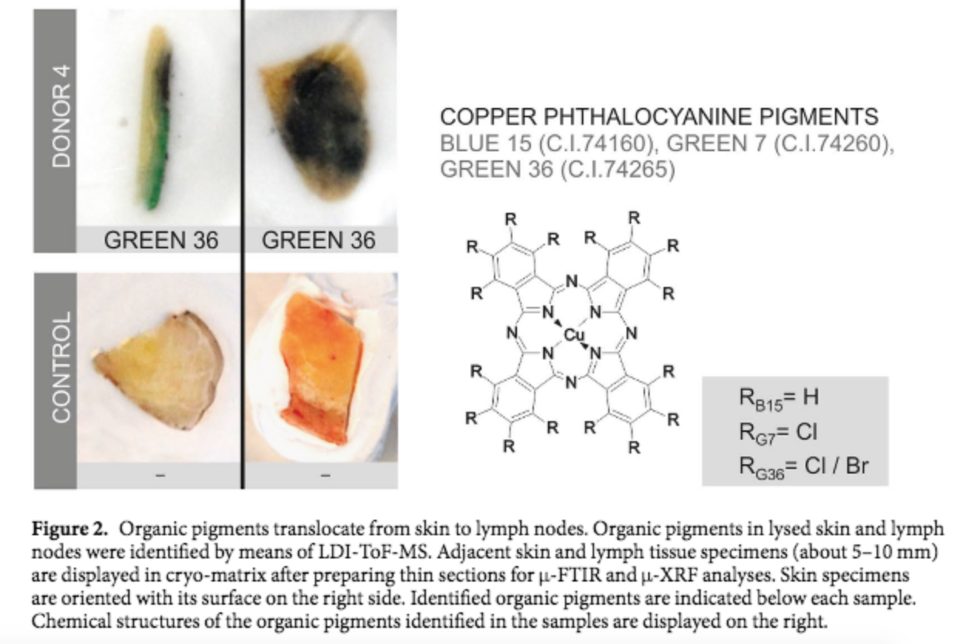 Image from the study.
As the authors explain in the study — they hail from Ludwig Maximilian University of Munich, the European Synchrotron Radiation Facility, and the German Federal Institute for Risk Assessment — it would have been unethical to test this on live animals since those creatures would not be able to give permission to be tattooed.
Because of the prevalence of tattoos these days, the researchers wanted to find out if the ink could be harmful in some way.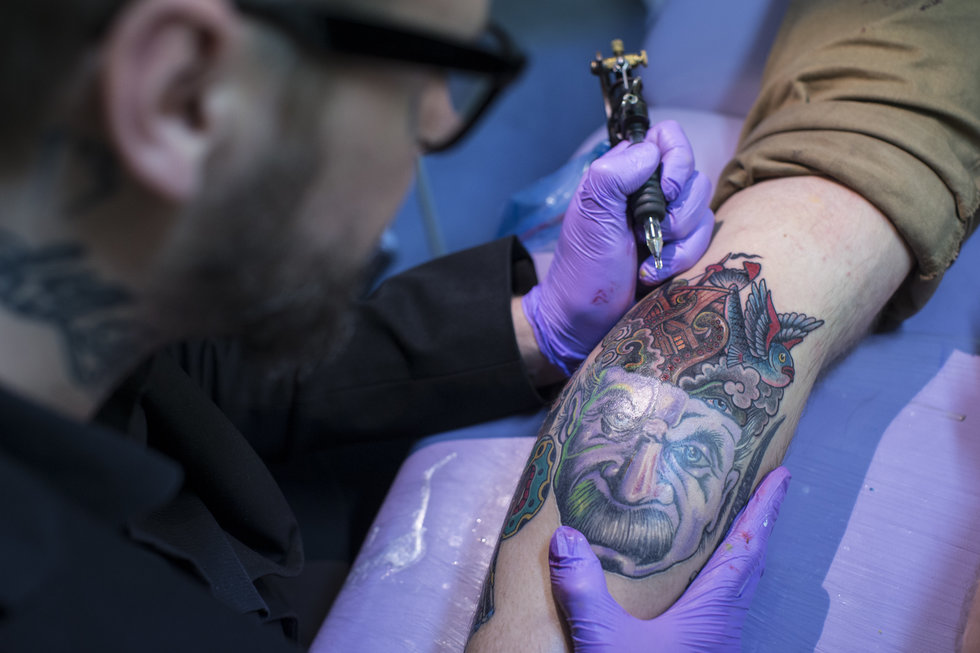 "The increasing prevalence of tattoos provoked safety concerns with respect to particle distribution and effects inside the human body," they write.
It works like this: Since lymph nodes filter lymph, which is the fluid that carries white blood cells throughout the body in an effort to fight infections that are encountered, that is where some of the ink particles collect.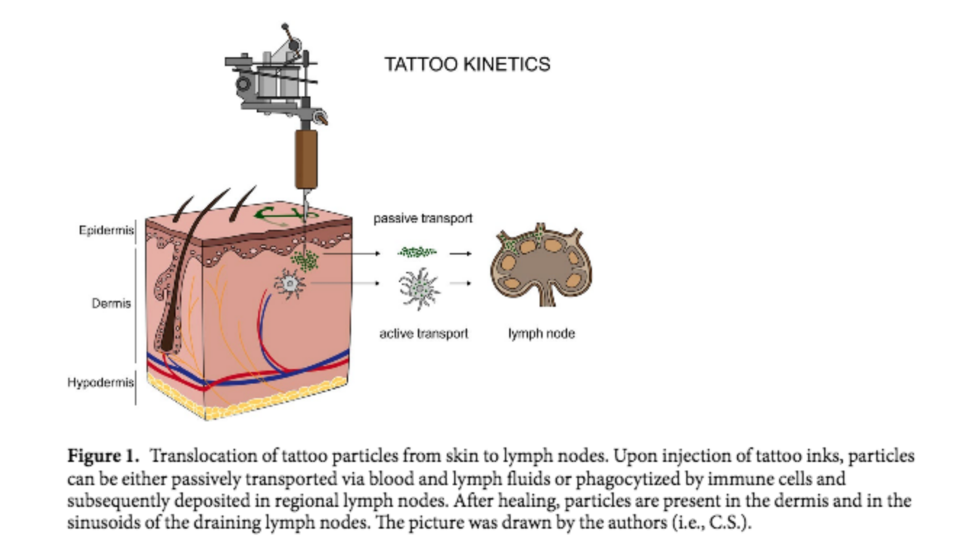 Image by authors of the study.
Titanium dioxide appears to be the thing that travels. It's a white tattoo ink pigment that's mixed with other colors all the time to control shades.
The study's authors will keep working on this in the meantime.
"In future experiments we will also look into the pigment and heavy metal burden of other, more distant internal organs and tissues in order to track any possible bio-distribution of tattoo ink ingredients throughout the body. The outcome of these investigations not only will be helpful in the assessment of the health risks associated with tattooing but also in the judgment of other exposures such as, e.g., the entrance of TiO2 nanoparticles present in cosmetics at the site of damaged skin."
We take fewer mental pictures per second.
Mind & Brain
Recent memories run in our brains like sped-up old movies.
In childhood, we capture images in our memory much more quickly.
The complexities of grownup neural pathways are no match for the direct routes of young brains.
Big think's weekly newsletter.
Get smarter faster from the comfort of your inbox.
See our newsletter privacy policy
here
Most Popular
Most Recent
Big think's weekly newsletter.
Get smarter faster from the comfort of your inbox.
See our newsletter privacy policy
here
© Copyright 2007-2018 & BIG THINK, BIG THINK EDGE,
SMARTER FASTER trademarks owned by The Big Think, Inc. All rights reserved.