Donald Trump's Political Strategy Is Inspired By Dark History
If Donald Trump's political strategies look familiar, says Tim Wu, it's because we've seen them before. Where? In the totalitarian regimes of China, North Korea, and Germany.
Tim Wu
Tim Wu is an author, policy advocate, professor at Columbia Law School, and director of the Poliak Center for the Study of First Amendment Issues at Columbia Journalism School. Wu's best known work is the development of Net Neutrality theory, but he also writes about private power, free speech, copyright, and antitrust.
In 2014, he ran as the progressive Democrat candidate for lieutenant governor of New York. His book The Master Switch (2010) has won wide recognition and various awards. Wu is a contributing writer at The New Yorker and a former contributing editor at The New Republic. He formerly wrote for Slate, where he won the Lowell Thomas Gold medal for Travel Journalism. Wu worked at the Federal Trade Commission during the first term of the Obama administration, and has also worked as Chair of the media reform group Free Press, as a fellow at Google, and worked for Riverstone Networks in the telecommunications industry. In 2015, he was appointed to the Executive Staff of the Office of New York State Attorney General Eric Schneiderman as a senior enforcement counsel and special advisor.
03 November, 2016
Tim Wu: Trump has followed an ignoble history of attracting attention using techniques that other Totalitarian leaders used before him, particularly the Fascists. Now I'm not saying those are the views of Trump but I'm saying he does use the same methods. And one of the keys – this is something that Adolf Hitler in particular understood is that the most compelling way to fire up your audience is to speak to their unconscious fears and hatreds and give voice to them in a way. And that seems so really in terms of intention just grab people in this very intense way. So if you study carefully the rise of the Third Reich it is fascinating how well the speakers of the Third Reich targeted unconscious, unspoken but truly present fears, hatreds, powerful emotions, you know, far beyond the thinking mind. And I think that those techniques whether or not you're a Nazi or Hitler, whatever you are are effective for anyone who wants to captivate their audience and inspire an angry rally. And so I think there's some similarities. One of the things I also think is very interesting about the rise, you know, Trump's success in the, particularly in the primary campaign. He's obviously a master attention merchant and a master at getting people to just want to see what he does next. And, you know, we have a private media. We don't have a state media. Nonetheless, there has been for the last year the phenomenon where you turn on the television or you turn on any website and there's Trump's face.
You know as time reminded me of the heights of some of the Totalitarian schemes or like North Korea where everywhere you looked there's a great leader or in China during the 60's everywhere you looked there was Mao. Everywhere you looked you could not get away from this. And I think, you know, Trump may come to lose this election but I think the rise has been terrifying. The use of the private media to effectively propagandize and get billions of dollars in what has been effectively free coverage has been something to learn from. And every republic is always in some danger of tipping over into an authoritarian regime and it usually is control of the media that begins that process.
On November 2nd, Columbia law professor Tim Wu tweeted: "What is the political press going to do for ratings after this blockbuster election winds down?" It's a funny question, but a serious reflection on the disturbing amount of coverage the Republican candidate has enjoyed. The U.S. has a private media, but the coverage has been skewed one way, and even in his most controversial moments Trump has mostly profited from the millions of dollars of free advertising he has received. Every time you turn on the TV or head to a website's home page you see one person. Wu draws an interesting parallel between this phenomenon and totalitarian regimes, like North Korea where everywhere you look you see the Great Leader, or China in the '60s, where Mao's face was omnipresent. Trump is inescapable.
---
It's just one of the strategies the candidate shares with fascist regimes – and before we go any further, Wu is clear that he is not comparing Trump's views to those of fascist leaders; he is highlighting the similarity of their methods.
Wu's latest book The Attention Merchants is an ethnography of advertising culture, examining the way external forces and agendas creep into our minds and influence us – a practice politics is also deeply tied into. Trump is, as Wu says, a "master attention merchant", and upon breaking down his strategy it turns out he understands something many fascist leaders in the past have also understood: the best way to attract attention and inspire intensity in your audience is to make them afraid. Trump has tapped into the unconscious fears and hatreds of his supporters by overstating the danger the United States is in, and creating enemies much greater than reality supports. "If you study carefully the rise of the Third Reich, it is fascinating how well the speakers of the Third Reich targeted unconscious, unspoken but truly present fears, hatreds, powerful emotions, you know, far beyond the thinking mind," says Wu. "And I think that those techniques whether or not you're a Nazi or Hitler, whatever you are, are effective for anyone who wants to captivate their audience and inspire an angry rally."
Tim Wu's most recent book is The Attention Merchants The Epic Scramble to Get Inside Our Heads.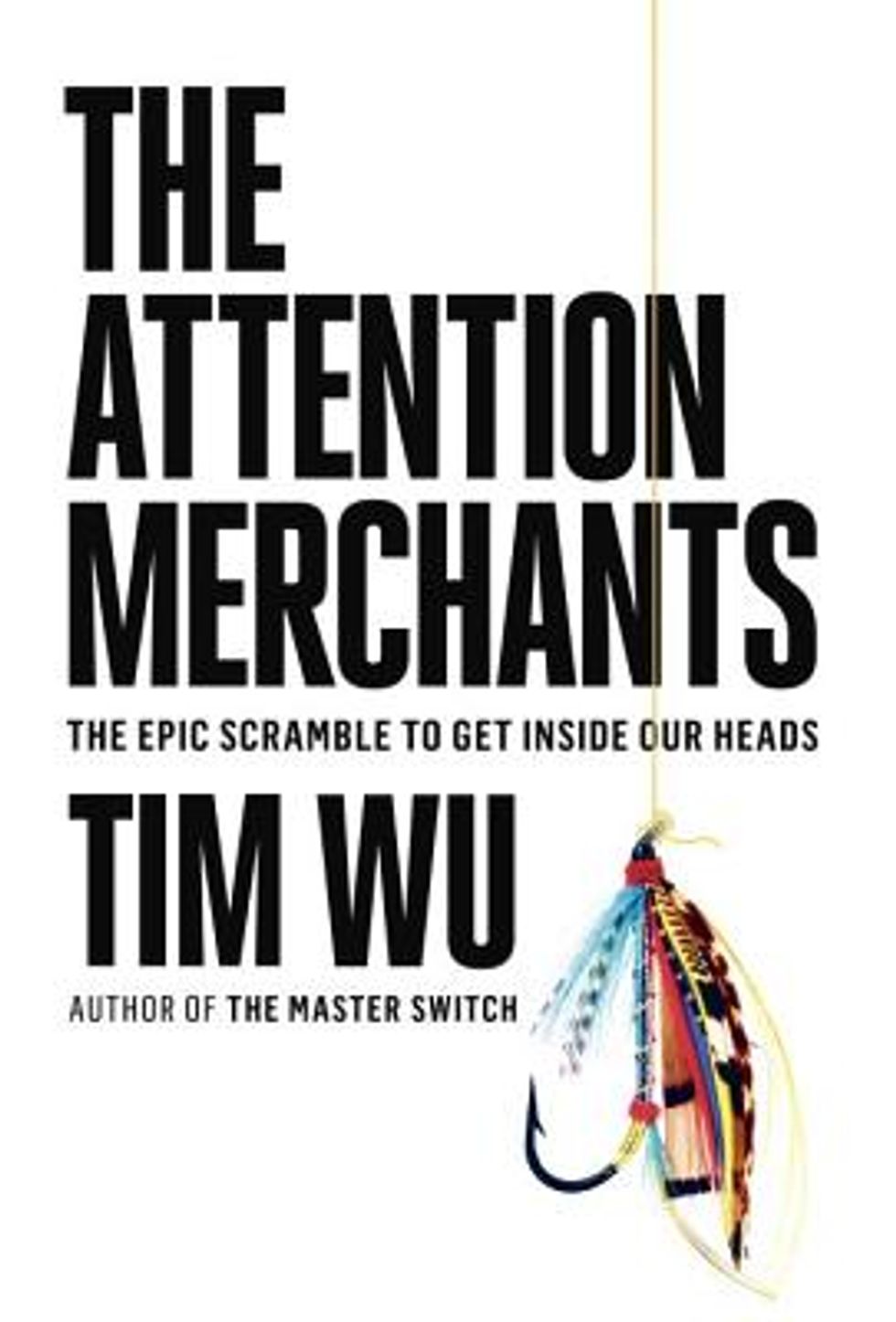 Big ideas.
Once a week.
Subscribe to our weekly newsletter.
The first nation to make bitcoin legal tender will use geothermal energy to mine it.
Technology & Innovation
This article was originally published on our sister site, Freethink.
In June 2021, El Salvador became the first nation in the world to make bitcoin legal tender. Soon after, President Nayib Bukele instructed a state-owned power company to provide bitcoin mining facilities with cheap, clean energy — harnessed from the country's volcanoes.
The challenge: Bitcoin is a cryptocurrency, a digital form of money and a payment system. Crypto has several advantages over physical dollars and cents — it's incredibly difficult to counterfeit, and transactions are more secure — but it also has a major downside.
Crypto transactions are recorded and new coins are added into circulation through a process called mining.
Crypto mining involves computers solving incredibly difficult mathematical puzzles. It is also incredibly energy-intensive — Cambridge University researchers estimate that bitcoin mining alone consumes more electricity every year than Argentina.
Most of that electricity is generated by carbon-emitting fossil fuels. As it stands, bitcoin mining produces an estimated 36.95 megatons of CO2 annually.
A world first: On June 9, El Salvador became the first nation to make bitcoin legal tender, meaning businesses have to accept it as payment and citizens can use it to pay taxes.
Less than a day later, Bukele tweeted that he'd instructed a state-owned geothermal electric company to put together a plan to provide bitcoin mining facilities with "very cheap, 100% clean, 100% renewable, 0 emissions energy."
Geothermal electricity is produced by capturing heat from the Earth itself. In El Salvador, that heat comes from volcanoes, and an estimated two-thirds of their energy potential is currently untapped.
Why it matters: El Salvador's decision to make bitcoin legal tender could be a win for both the crypto and the nation itself.
"(W)hat it does for bitcoin is further legitimizes its status as a potential reserve asset for sovereign and super sovereign entities," Greg King, CEO of crypto asset management firm Osprey Funds, told CBS News of the legislation.
Meanwhile, El Salvador is one of the poorest nations in North America, and bitcoin miners — the people who own and operate the computers doing the mining — receive bitcoins as a reward for their efforts.
"This is going to evolve fast!"
NAYIB BUKELE
If El Salvador begins operating bitcoin mining facilities powered by clean, cheap geothermal energy, it could become a global hub for mining — and receive a much-needed economic boost in the process.
The next steps: It remains to be seen whether Salvadorans will fully embrace bitcoin — which is notoriously volatile — or continue business-as-usual with the nation's other legal tender, the U.S. dollar.
Only time will tell if Bukele's plan for volcano-powered bitcoin mining facilities comes to fruition, too — but based on the speed of things so far, we won't have to wait long to find out.
Less than three hours after tweeting about the idea, Bukele followed up with another tweet claiming that the nation's geothermal energy company had already dug a new well and was designing a "mining hub" around it.
"This is going to evolve fast!" the president promised.
How were mRNA vaccines developed? Pfizer's Dr Bill Gruber explains the science behind this record-breaking achievement and how it was developed without compromising safety.
Sponsored by Pfizer
Wondering how Pfizer and partner BioNTech developed a COVID-19 vaccine in record time without compromising safety? Dr Bill Gruber, SVP of Pfizer Vaccine Clinical Research and Development, explains the process from start to finish.
"I told my team, at first we were inspired by hope and now we're inspired by reality," Dr Gruber said. "If you bring critical science together, talented team members together, government, academia, industry, public health officials—you can achieve what was previously the unachievable."
The Pfizer-BioNTech COVID-19 Vaccine has not been approved or licensed by the Food and Drug Administration (FDA), but has been authorized for emergency use by FDA under an Emergency Use Authorization (EUA) to prevent COVID-19 for use in individuals 12 years of age and older. The emergency use of this product is only authorized for the duration of the emergency declaration unless ended sooner. See Fact Sheet: cvdvaccine-us.com/recipients.
The father of all giant sea bugs was recently discovered off the coast of Java.
SJADE 2018
Surprising Science
A new species of isopod with a resemblance to a certain Sith lord was just discovered.
It is the first known giant isopod from the Indian Ocean.
The finding extends the list of giant isopods even further.
Humanity knows surprisingly little about the ocean depths. An often-repeated bit of evidence for this is the fact that humanity has done a better job mapping the surface of Mars than the bottom of the sea. The creatures we find lurking in the watery abyss often surprise even the most dedicated researchers with their unique features and bizarre behavior.

A recent expedition off the coast of Java discovered a new isopod species remarkable for its size and resemblance to Darth Vader.
The ocean depths are home to many creatures that some consider to be unnatural.
Bathynomus raksasa specimen (left) next to a closely related supergiant isopod, B. giganteus (right)
Sidabalok CM, Wong HP-S, Ng PKL (ZooKeys 2020)
According to LiveScience, the Bathynomus genus is sometimes referred to as "Darth Vader of the Seas" because the crustaceans are shaped like the character's menacing helmet. Deemed Bathynomus raksasa ("raksasa" meaning "giant" in Indonesian), this cockroach-like creature can grow to over 30 cm (12 inches). It is one of several known species of giant ocean-going isopod. Like the other members of its order, it has compound eyes, seven body segments, two pairs of antennae, and four sets of jaws.
The incredible size of this species is likely a result of deep-sea gigantism. This is the tendency for creatures that inhabit deeper parts of the ocean to be much larger than closely related species that live in shallower waters. B. raksasa appears to make its home between 950 and 1,260 meters (3,117 and 4,134 ft) below sea level.
Perhaps fittingly for a creature so creepy looking, that is the lower sections of what is commonly called The Twilight Zone, named for the lack of light available at such depths.
It isn't the only giant isopod, far from it. Other species of ocean-going isopod can get up to 50 cm long (20 inches) and also look like they came out of a nightmare. These are the unusual ones, though. Most of the time, isopods stay at much more reasonable sizes.
The discovery of this new species was published in ZooKeys. The remainder of the specimens from the trip are still being analyzed. The full report will be published shortly.
What benefit does this find have for science? And is it as evil as it looks?
The discovery of a new species is always a cause for celebration in zoology. That this is the discovery of an animal that inhabits the deeps of the sea, one of the least explored areas humans can get to, is the icing on the cake.
Helen Wong of the National University of Singapore, who co-authored the species' description, explained the importance of the discovery:
"The identification of this new species is an indication of just how little we know about the oceans. There is certainly more for us to explore in terms of biodiversity in the deep sea of our region."
The animal's visual similarity to Darth Vader is a result of its compound eyes and the curious shape of its head. However, given the location of its discovery, the bottom of the remote seas, it may be associated with all manner of horrifically evil Elder Things and Great Old Ones.
Every star we can see, including our sun, was born in one of these violent clouds.
Credit
: NASA / ESA via Getty Images
Surprising Science
This article was originally published on our sister site, Freethink.
An international team of astronomers has conducted the biggest survey of stellar nurseries to date, charting more than 100,000 star-birthing regions across our corner of the universe.
Stellar nurseries: Outer space is filled with clouds of dust and gas called nebulae. In some of these nebulae, gravity will pull the dust and gas into clumps that eventually get so big, they collapse on themselves — and a star is born.
These star-birthing nebulae are known as stellar nurseries.
The challenge: Stars are a key part of the universe — they lead to the formation of planets and produce the elements needed to create life as we know it. A better understanding of stars, then, means a better understanding of the universe — but there's still a lot we don't know about star formation.
This is partly because it's hard to see what's going on in stellar nurseries — the clouds of dust obscure optical telescopes' view — and also because there are just so many of them that it's hard to know what the average nursery is like.
The survey: The astronomers conducted their survey of stellar nurseries using the massive ALMA telescope array in Chile. Because ALMA is a radio telescope, it captures the radio waves emanating from celestial objects, rather than the light.
"The new thing ... is that we can use ALMA to take pictures of many galaxies, and these pictures are as sharp and detailed as those taken by optical telescopes," Jiayi Sun, an Ohio State University (OSU) researcher, said in a press release.
"This just hasn't been possible before."
Over the course of the five-year survey, the group was able to chart more than 100,000 stellar nurseries across more than 90 nearby galaxies, expanding the amount of available data on the celestial objects tenfold, according to OSU researcher Adam Leroy.
New insights: The survey is already yielding new insights into stellar nurseries, including the fact that they appear to be more diverse than previously thought.
"For a long time, conventional wisdom among astronomers was that all stellar nurseries looked more or less the same," Sun said. "But with this survey we can see that this is really not the case."
"While there are some similarities, the nature and appearance of these nurseries change within and among galaxies," he continued, "just like cities or trees may vary in important ways as you go from place to place across the world."
Astronomers have also learned from the survey that stellar nurseries aren't particularly efficient at producing stars and tend to live for only 10 to 30 million years, which isn't very long on a universal scale.
Looking ahead: Data from the survey is now publicly available, so expect to see other researchers using it to make their own observations about stellar nurseries in the future.
"We have an incredible dataset here that will continue to be useful," Leroy said. "This is really a new view of galaxies and we expect to be learning from it for years to come."