Donald Trump's Political Strategy Is Inspired By Dark History
If Donald Trump's political strategies look familiar, says Tim Wu, it's because we've seen them before. Where? In the totalitarian regimes of China, North Korea, and Germany.
Tim Wu
Tim Wu is an author, policy advocate, professor at Columbia Law School, and director of the Poliak Center for the Study of First Amendment Issues at Columbia Journalism School. Wu's best known work is the development of Net Neutrality theory, but he also writes about private power, free speech, copyright, and antitrust.
In 2014, he ran as the progressive Democrat candidate for lieutenant governor of New York. His book The Master Switch (2010) has won wide recognition and various awards. Wu is a contributing writer at The New Yorker and a former contributing editor at The New Republic. He formerly wrote for Slate, where he won the Lowell Thomas Gold medal for Travel Journalism. Wu worked at the Federal Trade Commission during the first term of the Obama administration, and has also worked as Chair of the media reform group Free Press, as a fellow at Google, and worked for Riverstone Networks in the telecommunications industry. In 2015, he was appointed to the Executive Staff of the Office of New York State Attorney General Eric Schneiderman as a senior enforcement counsel and special advisor.
03 November, 2016
Tim Wu: Trump has followed an ignoble history of attracting attention using techniques that other Totalitarian leaders used before him, particularly the Fascists. Now I'm not saying those are the views of Trump but I'm saying he does use the same methods. And one of the keys – this is something that Adolf Hitler in particular understood is that the most compelling way to fire up your audience is to speak to their unconscious fears and hatreds and give voice to them in a way. And that seems so really in terms of intention just grab people in this very intense way. So if you study carefully the rise of the Third Reich it is fascinating how well the speakers of the Third Reich targeted unconscious, unspoken but truly present fears, hatreds, powerful emotions, you know, far beyond the thinking mind. And I think that those techniques whether or not you're a Nazi or Hitler, whatever you are are effective for anyone who wants to captivate their audience and inspire an angry rally. And so I think there's some similarities. One of the things I also think is very interesting about the rise, you know, Trump's success in the, particularly in the primary campaign. He's obviously a master attention merchant and a master at getting people to just want to see what he does next. And, you know, we have a private media. We don't have a state media. Nonetheless, there has been for the last year the phenomenon where you turn on the television or you turn on any website and there's Trump's face.
You know as time reminded me of the heights of some of the Totalitarian schemes or like North Korea where everywhere you looked there's a great leader or in China during the 60's everywhere you looked there was Mao. Everywhere you looked you could not get away from this. And I think, you know, Trump may come to lose this election but I think the rise has been terrifying. The use of the private media to effectively propagandize and get billions of dollars in what has been effectively free coverage has been something to learn from. And every republic is always in some danger of tipping over into an authoritarian regime and it usually is control of the media that begins that process.
On November 2nd, Columbia law professor Tim Wu tweeted: "What is the political press going to do for ratings after this blockbuster election winds down?" It's a funny question, but a serious reflection on the disturbing amount of coverage the Republican candidate has enjoyed. The U.S. has a private media, but the coverage has been skewed one way, and even in his most controversial moments Trump has mostly profited from the millions of dollars of free advertising he has received. Every time you turn on the TV or head to a website's home page you see one person. Wu draws an interesting parallel between this phenomenon and totalitarian regimes, like North Korea where everywhere you look you see the Great Leader, or China in the '60s, where Mao's face was omnipresent. Trump is inescapable.
---
It's just one of the strategies the candidate shares with fascist regimes – and before we go any further, Wu is clear that he is not comparing Trump's views to those of fascist leaders; he is highlighting the similarity of their methods.
Wu's latest book The Attention Merchants is an ethnography of advertising culture, examining the way external forces and agendas creep into our minds and influence us – a practice politics is also deeply tied into. Trump is, as Wu says, a "master attention merchant", and upon breaking down his strategy it turns out he understands something many fascist leaders in the past have also understood: the best way to attract attention and inspire intensity in your audience is to make them afraid. Trump has tapped into the unconscious fears and hatreds of his supporters by overstating the danger the United States is in, and creating enemies much greater than reality supports. "If you study carefully the rise of the Third Reich, it is fascinating how well the speakers of the Third Reich targeted unconscious, unspoken but truly present fears, hatreds, powerful emotions, you know, far beyond the thinking mind," says Wu. "And I think that those techniques whether or not you're a Nazi or Hitler, whatever you are, are effective for anyone who wants to captivate their audience and inspire an angry rally."
Tim Wu's most recent book is The Attention Merchants The Epic Scramble to Get Inside Our Heads.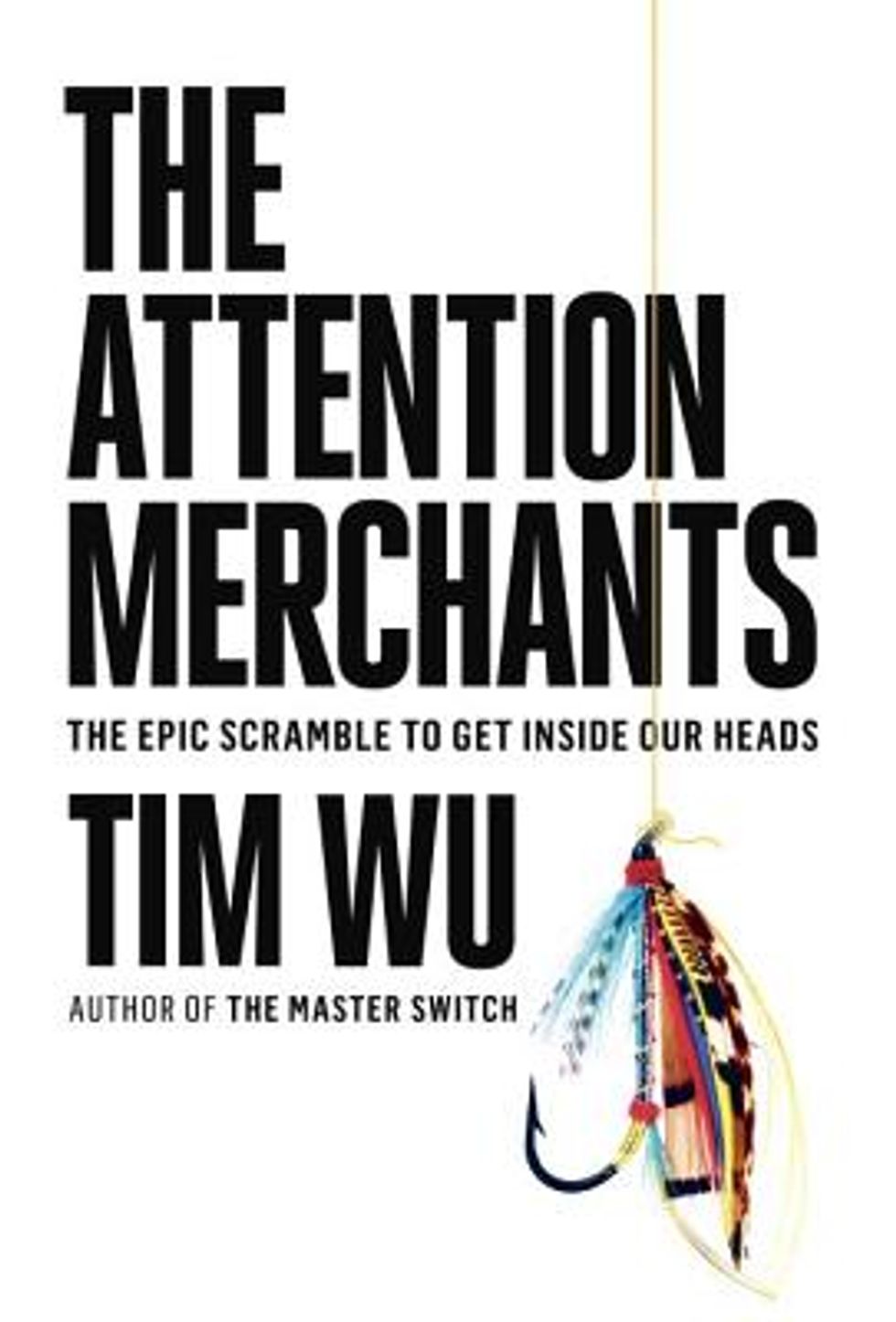 "They" has taken on a not-so-new meaning lately. This earned it the scrutiny it needed to win.
Pixabay by pexels
Politics & Current Affairs
Merriam-Webster has announced "they" as the word of the year.
The selection was based on a marked increase in traffic to the online dictionary page.
Runners up included "quid pro quo" and "crawdad."
A review of the global "wall" that divides rich from poor.
Image: TD Architects
Strange Maps
Trump's border wall is only one puzzle piece of a global picture.
Similar anxieties are raising similar border defenses elsewhere.
This map shows how, as a result, "the West" is in fact one large gated community.
Facebook's misinformation isn't just a threat to democracy. It's endangering lives.
Photo Credit: Paul Butler /
Flickr
Politics & Current Affairs
Facebook and Instagram users have been inundated with misleading ads about medication that prevents the transmission of HIV (PrEP), such as Truvada.
Over the years, Facebook's hands-off ad policy has faced scrutiny when it comes to false or ambiguous information in its political ads.
Unregulated "surveillance capitalism" commodifies people's personal information and makes them vulnerable to sometimes misleading ads.
LGBT groups are saying that Facebook is endangering lives by advertising misleading medical information pertaining to HIV patients.
The tech giant's laissez-faire ad policy has already been accused of threatening democracy by providing a platform for false political ads, and now policy could be fostering a major public-health concern.
LGBT groups take on Facebook's ad policy
According to LGBT advocates, for the past six months Facebook and Instagram users have been inundated with misleading ads about medication that prevents the transmission of HIV (PrEP), such as Truvada. The ads, which The Washington Post reports appear to have been purchased by personal-injury lawyers, claim that these medications threaten patients with serious side effects. According to LGBT organizations led by GLAAD, the ads have left some patients who are potentially at risk of contracting HIV scared to take preventative drugs, even though health officials and federal regulators say the drugs are safe.
LGBT groups like GLAAD, which regularly advises Facebook on LGBT issues, reached out to the company to have the ads taken down, saying they are false. Yet, the tech titan has refused to remove the content claiming that the ads fall within the parameters of its policy. Facebook spokeswoman Devon Kearns told The Post that the ads had not been rated false by independent fact-checkers, which include the Associated Press. But others are saying that Facebook's controversial approach to ads is creating a public-health crisis.
In an open letter to Facebook sent on Monday, GLAAD joined over 50 well-known LGBTQ groups including the Human Rights Campaign, the American Academy of HIV Medicine and the National Coalition for LGBT Health to publicly condemn the company for putting "real people's lives in imminent danger" by "convincing at-risk individuals to avoid PrEP, invariably leading to avoidable HIV infections."
What Facebook's policy risks 
Of course, this is not the first time Facebook's policy has faced scrutiny when it comes to false or ambiguous information in its ads. Social media has been both a catalyst and conduit for the rapid-fire spread of misinformation to the world wide web. As lawmakers struggle to enforce order to cyberspace and its creations, Facebook has become a symbol of the threat the internet poses to our institutions and to public safety. For example, the company has refused to take down 2020 election ads, largely funded by the Trump campaign, that spew false information. For this reason, Facebook and other social media platforms present a serious risk to a fundamental necessity of American democracy, public access to truth.
But this latest scandal underlines how the misconstrued information that plagues the web can infect other, more intimate aspects of American lives. Facebook's handling of paid-for claims about the potential health risks of taking Truvada and other HIV medications threatens lives.
"Almost immediately we started hearing reports from front-line PrEP prescribers, clinics and public health officials around the country, saying we're beginning to hear from potential clients that they're scared of trying Truvada because they're seeing all these ads on their Facebook and Instagram feeds," said Peter Staley, a long-time AIDS activist who works with the PrEP4All Collaboration, to The Post.
Unregulated Surveillance Capitalism
To be fair, the distinction between true and false information can be muddy territory. Personal injury lawyers who represent HIV patients claim that the numbers show that the potential risks of medications such as Turvada and others that contain the ingredient antiretroviral tenofovir may exist. This is particularly of note when the medication is used as a treatment for those that already have HIV rather than prevention for those that do not. But the life-saving potential of the HIV medications are unequivocally real. The problem, as some LGBT advocates are claiming, is that the ads lacked vital nuance.
It also should be pointed out that Facebook has taken action against anti-vaccine content and other ads that pose threats to users. Still, the company's dubious policies clearly pose a big problem, and it has shown no signs of adjusting. But perhaps the underlying issue is the failure to regulate what social psychologist Shoshana Zuboff calls "surveillance capitalism" by which people's experiences, personal information, and characteristics become commodities. In this case, paid-for personal-injury legal ads that target users with certain, undisclosed characteristics. It's been said that you should be wary of what you get for free, because it means you've become the product. Facebook, after all, is a business with an end goal to maximize profits.
But why does a company have this kind of power over our lives? Americans and their legislators are ensnared in an existential predicament. Figure out how to regulate Facebook and be accused with endangering free speech, or leave the cyber business alone and risk the public's health going up for sale along with its government.