Why Can't We Resist Clickbait? The Reason Will SHOCK You!
Columbia professor Tim Wu came to the Big Think studio to talk about clickbait. What happened next will shock you.
Tim Wu
Tim Wu is an author, policy advocate, professor at Columbia Law School, and director of the Poliak Center for the Study of First Amendment Issues at Columbia Journalism School. Wu's best known work is the development of Net Neutrality theory, but he also writes about private power, free speech, copyright, and antitrust.
In 2014, he ran as the progressive Democrat candidate for lieutenant governor of New York. His book The Master Switch (2010) has won wide recognition and various awards. Wu is a contributing writer at The New Yorker and a former contributing editor at The New Republic. He formerly wrote for Slate, where he won the Lowell Thomas Gold medal for Travel Journalism. Wu worked at the Federal Trade Commission during the first term of the Obama administration, and has also worked as Chair of the media reform group Free Press, as a fellow at Google, and worked for Riverstone Networks in the telecommunications industry. In 2015, he was appointed to the Executive Staff of the Office of New York State Attorney General Eric Schneiderman as a senior enforcement counsel and special advisor.
15 November, 2016
Tim Wu: So there's a fellow named Jonah Peretti who is somewhat famous as the founder of BuzzFeed whose role in inventing virality or pushing virality in click bait has an important role in our present. Jonah was a graduate student in the early 2000's at MIT's media laboratories and he had this amusing situation where he ordered a pair of Nike shoes from the custom Nike shoe shop. And then they said well what do you want to – you're able to put whatever you want on it. And he wrote sweatshop because he wanted that. And Nike wrote him back and said well you can't use sweatshop. It's an inappropriate slang. And he said that's not inappropriate slang by the law, it's a real word and so forth. So then they just canceled is order and he said can you send me a photo of the Vietnamese girl, ten-year-old, who's making my shoes.
So he did this little exchange but what's interesting, it's kind of amusing is he put this email on a website and then it became shared and then was shared and was shared and then shared. And it was not the first but an early version of what we now call virality, you know, some piece of content goes crazy. And suddenly I talked to him about it and he said suddenly I was on the media everywhere and they were asking me about sweatshops. I was like well I don't really know about sweatshops. But this thing happened and it sort of fascinated him and he thought well here's a new way of distributing content. It's not broadcasting where you reach millions of people at once. It's through sharing and through virality. And all of Peretti's career from that point forward can kind of be understood as an effort to recapture that lightening in a bottle. So he was one of the cofounders of the Huffington Post in the mid-2000's and the Huffington Post, you know, it had a website but was also trying to create stuff that could be shared and shared and shared. And later on he founded BuzzFeed. The point of BuzzFeed in some sense was to master the art and science of virality, to master the shareable click. And I think in some ways while that's sort of a fascinating project not necessarily one of the ones that's been the greatest for our culture.
But anyway what he did at BuzzFeed was very systematically try and understand what kind of stuff will inspire you first of all to click on it and then next to share it with your friends. And he found out that, for example, cats are very effective. He found out that there are these categories like oh my god or embarrassing or hilarious or gifs or whatever. So that was BuzzFeed's entire model was to try to distribute stuff horizontally so to speak.
I think some of these ideas of what we call click bait are in other ways as old as the hills. I mean I was rereading some of the Penny Press headlines in the 1830's, you know, more than 100 years ago, almost 200 years ago. And they're stories of suicide, stories of divorces, crazy things with headlines that get you immediately interested. So it's older than click bait. It's about enticing headlines and that's been going on for a long time. Some of these appeal – some of the question of why these things are appealing is a question that is more about biology than culture I think. There is a natural reaction we have to certain things – death, sex, violence, enormous monsters. One of the things I did looking at this book, while researching this book I spent a lot of time looking at successful propaganda posters and the kind of things that activate almost involuntarily our attention. And they're the same thing. They're great muscular heroes, terrifying monsters, women in distress, enticing food items.
It gets back to like what we are as creatures as to what attracts us. And why shouldn't it be that way. I mean in the wild – I'm not a biologist but you can imagine the utility if you see something that looks like food that's going to get your attention. Or if you see something that looks like danger well you've got to react. And so these modern day click bait things are getting at very basic principles of our neurobiology that are there for a reason. Now they didn't used to be to try to sell us stuff or get us to click on things but they're certainly in our biology for a reason.
Tim Wu, author of The Attention Merchants, is in a unique position to talk about the emergence of clickbait and viral culture – he's spent the last few years researching what gets our attention.
---
BuzzFeed is synonymous with this species of content, so it's not surprising to learn that the first instance of a viral story originated from Jonah Peretti, the co-founder of BuzzFeed and The Huffington Post. Wu tells the funny story of Peretti's first viral escapade, and notes that the media hasn't stopped trying to catch that lightning in a bottle success since. Almost every entity in the online news and entertainment world today is in a permanent battle to master the art and science of viralty, to harvest the most attention. Why? For its re-sale value to advertisers.
Wu acknowledges that it has not been a particularly positive influence on our culture, but it's fascinating when it's viewed as a project to understand people. In Wu's research, he came to the realization that although the cry of 'Clickbait!' has angrily amplified over the last five years, the phenomenon is anything but new. The penny newspaper headlines of the 1830s were capitalizing on suicides, divorces, and crazy events to hook people in. 'If it bleeds, it leads' has been the news media's slogan for over a century.
Clickbait is not a new cultural phenomenon, but an ancient biological one: what makes us click is exactly what made us tick in prehistoric times. Sex, food, death, violence, women in distress, kittens (don't scoff, falling for cute things is a serious biological necessity – our ancestors had to be neurologically addicted to their babies to ensure they'd protect them), all of this calls to the most base level of our humanity. We're hardwired to react to things that alarm or entice us from a survival point of view. "These modern day clickbait things are getting at very basic principles of our neurobiology that are there for a reason," Wu explains.
The intentions of clickbait and viral content can and should be demonized; it's a manipulative way for media platforms to capitalize on the public's attention. We are less and less able to spend our attention thoughtfully because our biological and psychological buttons are constantly being pressed. In an ethically perfect world, media companies wouldn't do it; but in a capitalist system to refrain is to die. These organizations put in the research and were smart enough to figure out exactly what makes us click. They've laid the bait, but only you are in control of your reactions. Not clicking is the best way to send feedback.
Tim Wu's most recent book is The Attention Merchants The Epic Scramble to Get Inside Our Heads.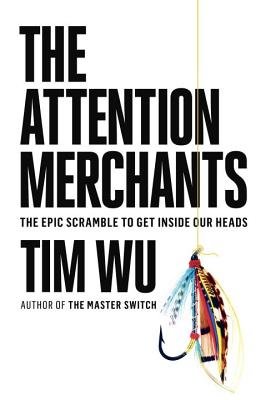 Swiss researchers identify new dangers of modern cocaine.
Getty Images
Mind & Brain
Cocaine cut with anti-worming adulterant levamisole may cause brain damage.
Levamisole can thin out the prefrontal cortex and affect cognitive skills.
Government health programs should encourage testing of cocaine for purity.
Pfizer's partnerships strengthen their ability to deliver vaccines in developing countries.
Susan Silbermann, Global President of Pfizer Vaccines, looks on as a health care worker administers a vaccine in Rwanda. Photo: Courtesy of Pfizer.
Sponsored
Community healthcare workers face many challenges in their work, including often traveling far distances to see their clients
Pfizer is helping to drive the UN's sustainable development goals through partnerships.
Pfizer partnered with AMP and the World Health Organization to develop a training program for healthcare workers.
Politics & Current Affairs
Political division is nothing new. Throughout American history there have been numerous flare ups in which the political arena was more than just tense but incideniary. In a letter addressed to William Hamilton in 1800, Thomas Jefferson once lamented about how an emotional fervor had swept over the populace in regards to a certain political issue at the time. It disturbed him greatly to see how these political issues seemed to seep into every area of life and even affect people's interpersonal relationships. At one point in the letter he states:
"I never considered a difference of opinion in politics, in religion, in philosophy, as cause for withdrawing from a friend."
Today, we Americans find ourselves in a similar situation, with our political environment even more splintered due to a number of factors. The advent of mass digital media, siloed identity-driven political groups, and a societal lack of understanding of basic discursive fundamentals all contribute to the problem.
Civil discourse has fallen to an all time low.
The question that the American populace needs to ask itself now is: how do we fix it?

Discursive fundamentals need to be taught to preserve free expression
In a 2017 Free Speech and Tolerance Survey by Cato, it was found that 71% of Americans believe that political correctness had silenced important discussions necessary to our society. Many have pointed to draconian university policies regarding political correctness as a contributing factor to this phenomenon.

It's a great irony that, colleges, once true bastions of free-speech, counterculture and progressiveness, have now devolved into reactionary tribal politics.
Many years ago, one could count on the fact that universities would be the first places where you could espouse and debate any controversial idea without consequence. The decline of staple subjects that deal with the wisdom of the ancients, historical reference points, and civic discourse could be to blame for this exaggerated partisanship boiling on campuses.
Young people seeking an education are given a disservice when fed biased ideology, even if such ideology is presented with the best of intentions. Politics are but one small sliver for society and the human condition at large. Universities would do well to instead teach the principles of healthy discourse and engagement across the ideological spectrum.
The fundamentals of logic, debate and the rich artistic heritage of western civilization need to be the central focus of an education. They help to create a well-rounded citizen that can deal with controversial political issues.
It has been found that in the abstract, college students generally support and endorse the first amendment, but there's a catch when it comes to actually practicing it. This was explored in a Gallup survey titled: Free Expression on Campus: What college students think about First amendment issues.
In their findings the authors state:
"The vast majority say free speech is important to democracy and favor an open learning environment that promotes the airing of a wide variety of ideas. However, the actions of some students in recent years — from milder actions such as claiming to be threatened by messages written in chalk promoting Trump's candidacy to the most extreme acts of engaging in violence to stop attempted speeches — raise issues of just how committed college students are to
upholding First Amendment ideals.
Most college students do not condone more aggressive actions to squelch speech, like violence and shouting down speakers, although there are some who do. However, students do support many policies or actions that place limits on speech, including free speech zones, speech codes and campus prohibitions on hate speech, suggesting that their commitment to free speech has limits. As one example, barely a majority think handing out literature on controversial issues is "always acceptable."
With this in mind, the problems seen on college campuses are also being seen on a whole through other pockets of society and regular everyday civic discourse. Look no further than the dreaded and cliche prospect of political discussion at Thanksgiving dinner.
Talking politics at Thanksgiving dinner
As a result of this increased tribalization of views, it's becoming increasingly more difficult to engage in polite conversation with people possessing opposing viewpoints. The authors of a recent Hidden Tribes study broke down the political "tribes" in which many find themselves in:
Progressive Activists: younger, highly engaged, secular, cosmopolitan, angry.
Traditional Liberals: older, retired, open to compromise, rational, cautious.
Passive Liberals: unhappy, insecure, distrustful, disillusioned.
Politically Disengaged: young, low income, distrustful, detached, patriotic, conspiratorial
Moderates: engaged, civic-minded, middle-of-the-road, pessimistic, Protestant.
Traditional Conservatives: religious, middle class, patriotic, moralistic.
Devoted Conservatives: white, retired, highly engaged, uncompromising,
Patriotic.
Understanding these different viewpoints and the hidden tribes we may belong to will be essential in having conversations with those we disagree with. This might just come to a head when it's Thanksgiving and you have a mix of many different personalities, ages, and viewpoints.
It's interesting to note the authors found that:
"Tribe membership shows strong reliability in predicting views across different political topics."
You'll find that depending on what group you identify with, that nearly 100 percent of the time you'll believe in the same way the rest of your group constituents do.
Here are some statistics on differing viewpoints according to political party:
51% of staunch liberals say it's "morally acceptable" to punch Nazis.
53% of Republicans favor stripping U.S. citizenship from people who burn the American flag.
51% of Democrats support a law that requires Americans use transgender people's preferred gender pronouns.
65% of Republicans say NFL players should be fired if they refuse to stand for the anthem.
58% of Democrats say employers should punish employees for offensive Facebook posts.
47% of Republicans favor bans on building new mosques.
Understanding the fact that tribal membership indicates what you believe, can help you return to the fundamentals for proper political engagement
Here are some guidelines for civic discourse that might come in handy:
Avoid logical fallacies. Essentially at the core, a logical fallacy is anything that detracts from the debate and seeks to attack the person rather than the idea and stray from the topic at hand.
Practice inclusion and listen to who you're speaking to.
Have the idea that there is nothing out of bounds for inquiry or conversation once you get down to an even stronger or new perspective of whatever you were discussing.
Keep in mind the maxim of : Do not listen with the intent to reply. But with the intent to understand.
We're not trying to proselytize nor shout others down with our rhetoric, but come to understand one another again.
If we're tied too closely to some in-group we no longer become an individual but a clone of someone else's ideology.
Civic discourse in the divisive age
Debate and civic discourse is inherently messy. Add into the mix an ignorance of history, rabid politicization and debased political discourse, you can see that it will be very difficult in mending this discursive staple of a functional civilization.
There is still hope that this great divide can be mended, because it has to be. The Hidden Tribes authors at one point state:
"In the era of social media and partisan news outlets, America's differences have become
dangerously tribal, fueled by a culture of outrage and taking offense. For the combatants,
the other side can no longer be tolerated, and no price is too high to defeat them.
These tensions are poisoning personal relationships, consuming our politics and
putting our democracy in peril.

Once a country has become tribalized, debates about contested issues from
immigration and trade to economic management, climate change and national security,
become shaped by larger tribal identities. Policy debate gives way to tribal conflicts.
Polarization and tribalism are self-reinforcing and will likely continue to accelerate.
The work of rebuilding our fragmented society needs to start now. It extends from
re-connecting people across the lines of division in local communities all the way to
building a renewed sense of national identity: a bigger story of us."
We need to start teaching people how to approach subjects from less of an emotional or baseless educational bias or identity, especially in the event that the subject matter could be construed to be controversial or uncomfortable.
This will be the beginning of a new era of understanding, inclusion and the defeat of regressive philosophies that threaten the core of our nation and civilization.
Big think's weekly newsletter.
Get smarter faster from the comfort of your inbox.
See our newsletter privacy policy
here
Most Popular
Most Recent
Big think's weekly newsletter.
Get smarter faster from the comfort of your inbox.
See our newsletter privacy policy
here
© Copyright 2007-2018 & BIG THINK, BIG THINK EDGE,
SMARTER FASTER trademarks owned by The Big Think, Inc. All rights reserved.