How managers give raises, and why women must ask for more
The best career advice that you are not getting? Financial feminist and Wall Street powerhouse Sallie Krawcheck delivers.
Sallie Krawcheck
Sallie Krawcheck is a financial feminist, CEO and Co-Founder of Ellevest, a recently launched innovative digital investment platform for women. She is the Chair of Ellevate Network, the global professional women's network, and of the Pax Ellevate Global Women's Index Fund, which invests in the top-rated companies in the world for advancing women. She is also the best-selling author of Own It: The Power of Women at Work.
Before becoming an entrepreneur, she was CEO of Merrill Lynch Wealth Management, of Smith Barney and of Sanford Bernstein. Krawcheck has also been named among the top ten of Fast Company's "100 Most Creative People" in business list, as well as one of Entrepreneur Magazine's Entrepreneurs to Watch. and she has also been referred to as one of the most successful and influential executives in financial services.
13 June, 2017
Sallie Krawcheck: So there is so much career advice for women. The best career advice that you are not getting is to invest.
"What? What? That has absolutely nothing to do with my performance on the job!" Yes, but it does have to do with having more money. And if you are investing to the same extent that the guys are, that will on average—and has historically—added to your wealth hundreds of thousands of dollars, for some women millions of dollars, over the course of their lives.
What happens when you've got more money? You can play looser, right? You can, with more confidence, go in, ask for that promotion, for that overseas assignment, quit that job you cannot stand because that boss is such a jerk. Start your own business, test your own business. The degrees of freedom when we've got more money are substantial. And I'll even take it all the way to: it will also help us get to equality with men. That confidence in the workforce, that equality. Ladies, we will not be equal with men until we are financially equal with men. So the best career advice you're not getting is to invest.
I wish I didn't have to give you this advice. I wish every company out there just let you be you; accept that you're just not comfortable going in and negotiating for the raise and not to force you to do it. Close that gender pay gap, pay everybody exactly what they're worth, and not make negotiating a core part of getting compensated in this country. So I wish I didn't have to do that. But I do. And so we have to accept the world as it is today, and so ladies, you've got to negotiate from the first job. You just have to. Let me give you the example why.
So I managed a lot of people over a lot of years and I will tell you that every year almost every guy who reported to me, before bonus time would come into my office and tell me how much they wanted to make. And every guy every year typically told me more than he was in the budget for. And so, think about what happens, right: Jim and Mary. Jim and Mary are both in the budget for a bonus or a raise of five each. Jim comes in, tells me he wants ten—I never hear from Mary. I giggle to myself, "That Jim, he's so crazy, you know, we're never paying him ten."
Well comes around time to put the budget together, give out the raises or the bonuses, and I know—my HR head and I both know Jim wants ten. Well, you know, we're not going to pay him ten but, you know, his office door was closed the other day and the guys down the street are looking for someone like Jim. And by the way, he made a really good point, I totally forgot about that project he did. We'll pay him seven.
Now how much does Mary make? The answer usually is five. The right answer, of course, is three. Just because Jim asked for more and I choose to give him more doesn't mean my bonus pool goes up. It doesn't mean my budget goes up. And so there is to some extent a zero sum game.
All right ladies. Now that I've convinced you, how do we approach it? With facts and in advance. So much of the advice to us is sort of in the meeting, in the moment. You have to start planting those seeds well before. First of all you need to know how much you should be making and go to a Payscale.com or a GetRaised or Comparably or Hired—any of these services that are popping up. Talk to your friends. Have two glasses of wine—or four, you know—and have the conversations. So know how much you should make. Have the conversation in advance with your boss about what are, if possible, the metrics. How many new—you know, quantify it to the extent you can. How many new reports? What kind of client satisfaction score? How many new clients? What in sales? How many clean audits? Whatever it is you can quantify. What does success look like?
So set that up: "This is success for me, for the department, for the company. Here's what I need to achieve this year. Here's what I want to make." Get an agreement and then the negotiation at the end of the year is not a negotiation. To the extent, of course, that you come in, you've done that or haven't done it. Never have one ask and take no for an answer. That if you're told no on the raise, or even if you're told yes, come in with 12 other requests, right."I want to take a coding class that the company pays for. I want to have a stint in marketing. I want to work overseas for a period of time. I want to be mentored by XYZ. I want to work on this big project. I want to, I want to, I want to." And if by number 20, you know, typically your boss is going to say yes to something that can turn into professional advancement or money down the road. And if he or she says no to all 20 I think you've gotten a pretty clear message there as well.
Sallie Krawcheck is the current CEO of Ellevest (a digital investment platform for women), is a former CFO and CEO at Citigroup and Merrill Lynch respectively, and is a self-described "financial feminist". She speaks here to women, but this advice can be applied across the board to anyone who is marginalized in the workplace or wants to jumpstart their personal wealth. For Krawcheck, the best career advice no one is talking about is actually financial advice: invest. Make your money work while you do, so that you have more financial freedom to make confident decisions in your career: ask for a promotion, quit the job that doesn't treat you well, or test your own business ideas. If you have money in the bank, you are free to play looser with your decisions. Men do it, and women should too. Remember this: "Ladies, we will not be equal with men until we are financially equal with men," Krawcheck says. Her second piece of advice is to ask for more money from your very first job, and to plant the seeds of a 12-pronged pay-rise request far in advance. Twelve prongs? Yep. It will all makes sense once you hear out her incredible guide to negotiating a salary increase and closing the gender pay gap. Sallie Krawcheck is the author of Own It: The Power of Women at Work.
---
Big ideas.
Once a week.
Subscribe to our weekly newsletter.
Scientists do not know what is causing the overabundance of the gas.
Credit: NASA
Surprising Science
A new study looked to understand the source of methane on Saturn's moon Enceladus.
The scientists used computer models with data from the Cassini spacecraft.
The explanation could lie in alien organisms or non-biological processes.
Something is producing an overabundance of methane in the ocean hidden under the ice of Saturn's moon Enceladus. A new study analyzed if the source could be an alien life form or some other explanation.
The study, published in Nature Astronomy, was carried out by scientists at the University of Arizona and Paris Sciences & Lettres University, who looked at composition data from the water plumes erupting on Enceladus.
The particular chemistry, discovered by the Cassini spacecraft which flew through the plumes, suggested a high concentration of molecules that have been linked to hydrothermal vents on the bottom of Earth's oceans. Such vents are potential cradles of life on Earth, according to previous studies. The data from Cassini, which has been studying Saturn after entering its orbit in 2004, revealed the presence of molecular hydrogen (dihydrogen), methane, and carbon dioxide, with the amount of methane presenting a particular interest to the scientists.
"We wanted to know: Could Earthlike microbes that 'eat' the dihydrogen and produce methane explain the surprisingly large amount of methane detected by Cassini?"
shared
one of the study's lead authors Régis Ferrière, an associate professor in the department of Ecology and Evolutionary Biology at the University of Arizona.
Earth's hydrothermal vents feature microorganisms that use dihydrogen for energy, creating methane from carbon dioxide via the process of methanogenesis.

Searching for such microorganisms known as methanogens on the seafloor of Enceladus is not yet feasible. Likely, it would require very sophisticated deep diving operations that will be the objective of future missions.
So, Ferrière's team took a more available approach to pinpointing the origins of the methane, creating mathematical models that attempted to explain the Cassini data. They wanted to calculate the likelihood that particular processes were responsible for producing the amount of methane observed. For example, is the methane more likely the result of biological or non-biological processes?
They found that the data from Cassini was consistent with either microbial activity at hydrothermal vents or processes that have nothing to do with life but could be quite different from what happens on Earth. Intriguingly, models that didn't involve biological entities didn't seem to produce enough of the gas.
"Obviously, we are not concluding that life exists in Enceladus' ocean," Ferrière stated. "Rather, we wanted to understand how likely it would be that Enceladus' hydrothermal vents could be habitable to Earthlike microorganisms. Very likely, the Cassini data tell us, according to our models."

Still, the scientists think future missions are necessary to either prove or discard the "life hypothesis." One explanation for the methane that does not involve biological organisms is that the gas is the result of a chemical breakdown of primordial organic matter within Enceladus' core. This matter could have become a part of Saturn's moon from comets rich in organic materials.
It marks a breakthrough in using gene editing to treat diseases.
Credit
: National Cancer Institute via Unsplash
Technology & Innovation
This article was originally published by our sister site, Freethink.
For the first time, researchers appear to have effectively treated a genetic disorder by directly injecting a CRISPR therapy into patients' bloodstreams — overcoming one of the biggest hurdles to curing diseases with the gene editing technology.
The therapy appears to be astonishingly effective, editing nearly every cell in the liver to stop a disease-causing mutation.
The challenge: CRISPR gives us the ability to correct genetic mutations, and given that such mutations are responsible for more than 6,000 human diseases, the tech has the potential to dramatically improve human health.
One way to use CRISPR to treat diseases is to remove affected cells from a patient, edit out the mutation in the lab, and place the cells back in the body to replicate — that's how one team functionally cured people with the blood disorder sickle cell anemia, editing and then infusing bone marrow cells.
Bone marrow is a special case, though, and many mutations cause disease in organs that are harder to fix.
Another option is to insert the CRISPR system itself into the body so that it can make edits directly in the affected organs (that's only been attempted once, in an ongoing study in which people had a CRISPR therapy injected into their eyes to treat a rare vision disorder).
Injecting a CRISPR therapy right into the bloodstream has been a problem, though, because the therapy has to find the right cells to edit. An inherited mutation will be in the DNA of every cell of your body, but if it only causes disease in the liver, you don't want your therapy being used up in the pancreas or kidneys.
A new CRISPR therapy: Now, researchers from Intellia Therapeutics and Regeneron Pharmaceuticals have demonstrated for the first time that a CRISPR therapy delivered into the bloodstream can travel to desired tissues to make edits.
We can overcome one of the biggest challenges with applying CRISPR clinically.

—JENNIFER DOUDNA

"This is a major milestone for patients," Jennifer Doudna, co-developer of CRISPR, who wasn't involved in the trial, told NPR.
"While these are early data, they show us that we can overcome one of the biggest challenges with applying CRISPR clinically so far, which is being able to deliver it systemically and get it to the right place," she continued.
What they did: During a phase 1 clinical trial, Intellia researchers injected a CRISPR therapy dubbed NTLA-2001 into the bloodstreams of six people with a rare, potentially fatal genetic disorder called transthyretin amyloidosis.
The livers of people with transthyretin amyloidosis produce a destructive protein, and the CRISPR therapy was designed to target the gene that makes the protein and halt its production. After just one injection of NTLA-2001, the three patients given a higher dose saw their levels of the protein drop by 80% to 96%.
A better option: The CRISPR therapy produced only mild adverse effects and did lower the protein levels, but we don't know yet if the effect will be permanent. It'll also be a few months before we know if the therapy can alleviate the symptoms of transthyretin amyloidosis.
This is a wonderful day for the future of gene-editing as a medicine.

—FYODOR URNOV

If everything goes as hoped, though, NTLA-2001 could one day offer a better treatment option for transthyretin amyloidosis than a currently approved medication, patisiran, which only reduces toxic protein levels by 81% and must be injected regularly.
Looking ahead: Even more exciting than NTLA-2001's potential impact on transthyretin amyloidosis, though, is the knowledge that we may be able to use CRISPR injections to treat other genetic disorders that are difficult to target directly, such as heart or brain diseases.
"This is a wonderful day for the future of gene-editing as a medicine," Fyodor Urnov, a UC Berkeley professor of genetics, who wasn't involved in the trial, told NPR. "We as a species are watching this remarkable new show called: our gene-edited future."
A global survey shows the majority of countries favor Android over iPhone.
Strange Maps
When Android was launched soon after Apple's own iPhone, Steve Jobs threatened to "destroy" it.
Ever since, and across the world, the rivalry between both systems has animated users.
Now the results are in: worldwide, consumers clearly prefer one side — and it's not Steve Jobs'.
A woman on her phone in Havana, Cuba. Mobile phones have become ubiquitous the world over — and so has the divide between Android and iPhone users.Credit: Yamil Lage / AFP via Getty Images.
Us versus them: it's the archetypal binary. It makes the world understandable by dividing it into two competing halves: labor against capital, West against East, men against women.
These maps are the first to show the dividing lines between one of the world's more recent binaries: Android vs. Apple. Published by Electronics Hub, they are based on a qualitative analysis of almost 350,000 tweets worldwide that presented positive, neutral, and negative attitudes toward Android and/or Apple.
Steve Jobs wanted to go "thermonuclear"
Feelings between Android and Apple were pretty tribal from the get-go. It was Steve Jobs himself who said, when Google rolled out Android a mere ten months after Apple launched the iPhone, "I'm going to destroy Android, because it's a stolen product. I'm willing to go thermonuclear war on this."
Buying a phone is like picking a side in the eternal feud between the Hatfields and the McCoys. Each choice for automatically comes with an in-built arsenal of arguments against.
If you are an iPhone person, you appreciate the sleekness and simplicity of its design, and you are horrified by the confusing mess that is the Android operating system. If you are an Android aficionado, you pity the iPhone user, a captive of an overly expensive closed ecosystem, designed to extract money from its users.
Even without resorting to those extremes, many of us will recognize which side of the dividing line that we are on. Like the American Civil War, that line runs through families and groups of friends, but that would be a bit confusing to chart geographically. To un-muddle the information, these maps zoom out to state and country level.
If the contest is based on the number of countries, Android wins. In all, 74 of the 142 countries surveyed prefer Android (in green on the map). Only 65 favor Apple (colored grey). That's a 52/48 split, which may not sound like a decisive vote, but it was good enough for Boris Johnson to get Brexit done (after he got breakfast done, of course).
And yes, math-heads: 74 plus 65 is three short of 142. Belarus, Fiji, and Peru (in yellow on the map) could not decide which side to support in the Global Phone War.
What about the United States, home of both the Android and the iPhone? Another victory for the former, albeit a slightly narrower one: 30.16 percent of the tweets about Android were positive versus just 29.03 percent of the ones about Apple.

United States: Texas surrounded!
Credit: Electronics Hub
There can be only one winner per state, though, and that leads to this preponderance of Android logos. Frankly, it's a relief to see a map showing a visceral divide within the United States that is not the coasts versus the heartland.
Apple dominates in 19 states: a solid Midwestern bloc, another of states surrounding Texas, the Dakotas and California, plus North Carolina, New Hampshire, and Rhode Island.
And that's it. The other 32 are the United States of Android. You can drive from Seattle to Miami without straying into iPhone territory. But no stopovers in Dallas or Houston – both are behind enemy lines!
North America: strongly leaning toward Android
Credit: Electronics Hub
Only eight of North America's 21 countries surveyed fall into the Apple category.

The U.S. and Canada lean Android, while Mexico goes for the iPhone.
Central America is divided, but here too Android wins hands down, 5-2.
Europe: Big Five divided
Credit: Electronics Hub
In Europe, Apple wins, with 20 countries preferring the iPhone, 17 going for Android, and Belarus sitting on the fence.

Of Western Europe's Big Five markets, three (UK, Germany, Spain) are pro-Android, and two (France, Italy) are pro-Apple.
Czechia and Slovakia are an Apple island in the Android sea that is Central Europe. Glad to see there is still something the divorcees can agree on.
South America: almost even
Credit: Electronics Hub
In South America, the divide is almost even.

Five countries prefer Android, four Apple, and one is undecided.
In Peru, both Android- and Apple-related tweets were 25 percent positive.
Africa: watch out for Huawei
Credit: Electronics Hub
In Africa, Android wins by 17 countries versus Apple's 15.

There's a solid Android bloc running from South Africa via DR Congo all the way to Ethiopia.
iPhone countries are scattered throughout the north (Algeria), west (Guinea), east (Somalia), and south (Namibia).
Huawei — increasingly popular across the continent — could soon dramatically change the picture in Africa. Currently still running on Android, the Chinese phone manufacturer has just launched its own operating system, called Harmony.
Middle East: Iran vs. Saudi Arabia (again)
Credit: Electronics Hub
In the Middle East and Central Asia, Android wins 8 countries to Apple's 6.

But it's complicated. One Turkish tweeter wondered how it is that iPhones seem more popular in the Asian half of Istanbul, while Android phones prevailed in the European part of the city.
The phone divide matches up with the region's main geopolitical one: Iran prefers Android, Saudi Arabia the iPhone.
Asia-Pacific: Apple on the periphery
Credit: Electronics Hub
Another wafer-thin majority for Android in the Asia-Pacific region: 13 countries versus 12 for Apple — and one abstention (Fiji).

The two giants of the Asian mainland, India and China, are both Android countries. Apple countries are on the periphery.
And if India is Android, its rival Pakistan must be Apple. Same with North and South Korea.
Experts point to the fact that both operating systems are becoming more alike with every new generation as a potential resolution to the conflict. But as any student of human behavior will confirm: smaller differences will only exacerbate the rivalry between both camps.


Maps taken from Electronics Hub, reproduced with kind permission.
Strange Maps #1096
Got a strange map? Let me know at strangemaps@gmail.com.
A new government report describes 144 sightings of unidentified aerial phenomena.
Surprising Science
The military has rebranded unidentified flying objects as unidentified aerial phenomena – UAPs – in part to avoid the stigma that has been attached to claims of aliens visiting the Earth since the Roswell incident in 1947. The report presents no convincing evidence that alien spacecraft have been spotted, but some of the data defy easy interpretation.
I'm a professor of astronomy who has written extensively on the search for life in the universe. I also teach a free online class on astrobiology. I do not believe that the new government report or any other sightings of UFOs in the past are proof of aliens visiting Earth. But the report is important because it opens the door for a serious look at UFOs. Specifically, it encourages the U.S. government to collect better data on UFOs, and I think the release of the report increases the chances that scientists will try to interpret that data. Historically, UFOs have felt off limits to mainstream science, but perhaps no more.
Three videos from the U.S. military sparked a recent surge in interest in UFOs.
What's in the UFO report?
The No. 1 thing the report focuses on is the lack of high-quality data. Here are the highlights from the slender nine-page report, covering a total of 144 UAP sightings from U.S. government sources between 2004 and 2021:
"Limited data and inconsistent reporting are key challenges to evaluating UAP."
Some observations "could be the result of sensor errors, spoofing, or observer misperception."
"UAP clearly pose a safety of flight issue and may pose a challenge to U.S. national security."
Of the 144 sightings, the task force was "able to identify one reported UAP with high confidence. In that case, we identified the object as a large, deflating balloon. The others remain unexplained."
"Some UAP many be technologies deployed by China, Russia, another nation, or non-governmental entity."
UFOs are taboo among scientists
UFO means unidentified flying object. Nothing more, nothing less. You'd think scientists would enjoy the challenge of solving this puzzle. Instead, UFOs have been taboo for academic scientists to investigate, and so unexplained reports have not received the scrutiny they deserve.
One reason is that most scientists think there is less to most reports than meets the eye, and the few who have dug deeply have mostly debunked the phenomenon. Over half of sightings can be attributed to meteors, fireballs and the planet Venus.
Another reason for the scientific hesitance is that UFOs have been co-opted by popular culture. They are part of a landscape of conspiracy theories that includes accounts of abduction by aliens and crop circles. Scientists worry about their professional reputations, and the association of UFOs with these supernatural stories causes most researchers to avoid the topic.
But some scientists have looked. In 1968, Edward U. Condon at the University of Colorado published the first major academic study of UFO sightings. The Condon Report put a damper on further research when it found that "nothing has come from the study of UFOs in the past 21 years that has added to scientific knowledge."
However, a review in 1998 by a panel led by Peter Sturrock, a professor of applied physics at Stanford University, concluded that some sightings are accompanied by physical evidence that deserves scientific study. Sturrock also surveyed professional astronomers and found that nearly half thought UFOs were worthy of scientific study, with higher interest among younger and more well-informed astronomers.
If astronomers are intrigued by UFOs – and believe some cases deserve study with academic rigor – what's holding them back? A history of mistrust between ufologists and scientists hasn't helped. And while UFO research has employed some of the tools of the scientific method, it has not had the core of skeptical, evidence-based reasoning that demarcates science from pseudoscience.
A search of 90,000 recent and current grants awarded by the National Science Foundation finds none addressing UFOs or related phenomena. I've served on review panels for 35 years, and can imagine the reaction if such a proposal came up for peer review: raised eyebrows and a quick vote not to fund.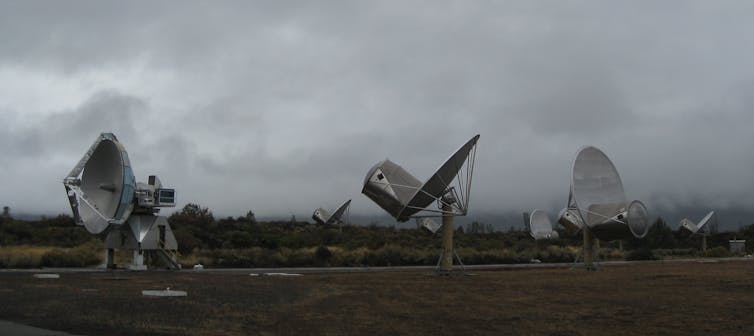 Radio telescopes like the Allen Telescope Array seen here scan the sky looking for signs of intelligent life in the universe. (Brewbooks/Wikimedia Commons, CC BY-SA)
A decadeslong search for aliens
While the scientific community has almost entirely avoided engaging with UFOs, a much more mainstream search for intelligent aliens and their technology has been going on for decades.
The search is motivated by the fact that astronomers have, to date, discovered over 4,400 planets orbiting other stars. Called exoplanets, some are close to the Earth's mass and at just the right distance from their stars to potentially have water on their surfaces – meaning they might be habitable.
Astronomers estimate that there are 300 million habitable worlds in the Milky Way galaxy alone, and each one is a potential opportunity for life to develop and for intelligence and technology to emerge. Indeed, most astronomers think it very unlikely that humans are the only or the first advanced civilization.
This confidence has fueled an active search for extraterrestrial intelligence, known as SETI. It has been unsuccessful so far. As a result, researchers have recast the question "Are we alone?" to "Where are the aliens?" The absence of evidence for intelligent aliens is called the Fermi paradox. First articulated by the physicist Enrico Fermi, it's a paradox because advanced civilizations should be spread throughout the galaxy, yet we see no sign of their existence.
The SETI activity has not been immune from scientists' criticism. It was starved of federal funding for decades and recently has gotten most of its support from private sources. However, in 2020, NASA resumed funding for SETI, and the new NASA administrator wants researchers to pursue the topic of UFOs.
In this context, the intelligence report is welcome. The report draws few concrete conclusions about UFOs and avoids any reference to aliens or extraterrestrial spacecraft. However, it notes the importance of destigmatizing UFOs so that more pilots report what they see. It also sets a goal of moving from anecdotal observations to standardized and scientific data collection. Time will tell if this is enough to draw scientists into the effort, but the transparency to publish the report at all reverses a long history of secrecy surrounding U.S. government reports on UFOs.
I don't see any convincing evidence of alien spacecraft, but as a curious scientist, I hope the subset of UFO sightings that are truly unexplained gets closer study. Scientists are unlikely to weigh in if their skepticism generates attacks from "true believers" or they get ostracized by their colleagues. Meanwhile, the truth is still out there.
This article has been updated to clarify that the report was produced by the Office of the Director of National Intelligence.
Chris Impey, University Distinguished Professor of Astronomy, University of Arizona
This article is republished from The Conversation under a Creative Commons license. Read the original article.