Industrial Revolution 2.0: First We Electrified, Then We Cognified
There's a new verb in town: cognify. We have far too much baggage with the word 'intelligence' so to fully embrace the second industrial revolution we need to start talking about artificial cognification.
24 February, 2017
Kevin Kelly: Artificial intelligence has come into its own because we have had certain demonstrations of its power. For instance the Google AI beating the best Go player in the world which had been a goal that many people thought would not be achieved for many decades. And here it is already. Now we have examples of Amazon Echo, Alexa, Google, people talking to their machines and they're talking back having a conversation. And so it's now suddenly easy for us to imagine how the benefits of artificial intelligence could kind of creep into the rest of our lives. And it's best I think to think of these intelligences as smartness instead of intelligence because we have a lot of baggage with the idea of intelligence. If we think of these as artificial smartness and everything getting smarter I think we'll have a better idea of what we're going to see. So we don't have a good English word for making smarter and smarten, smartify. So I use the word cognify to mean making things smarter. And I'm suggesting that, in fact, this is a very broad verb that will apply to everything in our lives and that basically anything that we have already electrified, made electronic, automatic, we're now going to cognify.
\r\n
So the first industrial revolution was our large-scale switch from the agricultural world where anything that we made had to be done with natural power, muscle power. Human or animal muscle power. It was the only way you could make something. The big switch was we automated this and we had electronic motors, gasoline, steam engines. We had automation and we had artificial power. That's what powered the industrial revolution was we could apply artificial power to everything. 
And we made a grid to deliver that power to every farm and every home in the country, in the world. And so everything that had been done with natural power was now being done with artificial power. So movement, transportation was amplified by this new artificial power. So today when you get in your car and turn the switch you're suddenly summoning 250 horses, the equivalent of 250 horses. Their natural power is made artificial and is going to run your car down 60 miles an hour just with your turning of the wrist. So that's what the industrial revolution was. We took things, we took natural muscle power and we amplified them and we multiplied that by a million times and that was made everything that surrounds me right now, that surrounds the city, all that came from this artificial power.
\r\n
We're going to have a second industrial revolution where we take everything we've already automated with synthetic artificial power and now we're going to add artificial intelligence on top. We're going to take that car that has 250 horses and now we're going to add 250 minds. They're not human minds. They're artificial minds but that's the auto driven car. And we're going to multiply that power of adding this natural, excuse me, this artificial smartness to everything. And we're going to have a second industrial revolution where everything that we make and have previously electrified we're now going to cognify. And that additional smartness is going to unleash the power that we have not even seen with the industrial revolution. The extent of this transformation is very, very profound. And that is what we're now in the dawn of and we'll see in the next 20 years in a very real way.
\r\n
If an object has a battery in it or a plug at the end of it, it won't be long before that item is intelligent – although Kevin Kelly, the founder editor of WIRED, questions whether intelligence is really the word we want to be using. "It's best I think to think of these intelligences as smartness instead of intelligence, because we have a lot of baggage with the idea of intelligence," says Kelly. He suggests a new verb: cognify, and also cognification. This is what Kelly terms the second industrial revolution. The first saw us put the power of muscle into objects in the form of energy – steam, gasoline, electricity – literally giving things like cars a certain amount of 'horsepower'. Next, we will cognify anything that is electric. And if you think the first industrial revolution shook up the way we lived, just wait for the second one to fully set in. Kevin Kelly's most recent book is The Inevitable: Understanding the 12 Technological Forces That Will Shape Our Future.
---
Kevin Kelly's most recent book is The Inevitable: Understanding the 12 Technological Forces That Will Shape Our Future.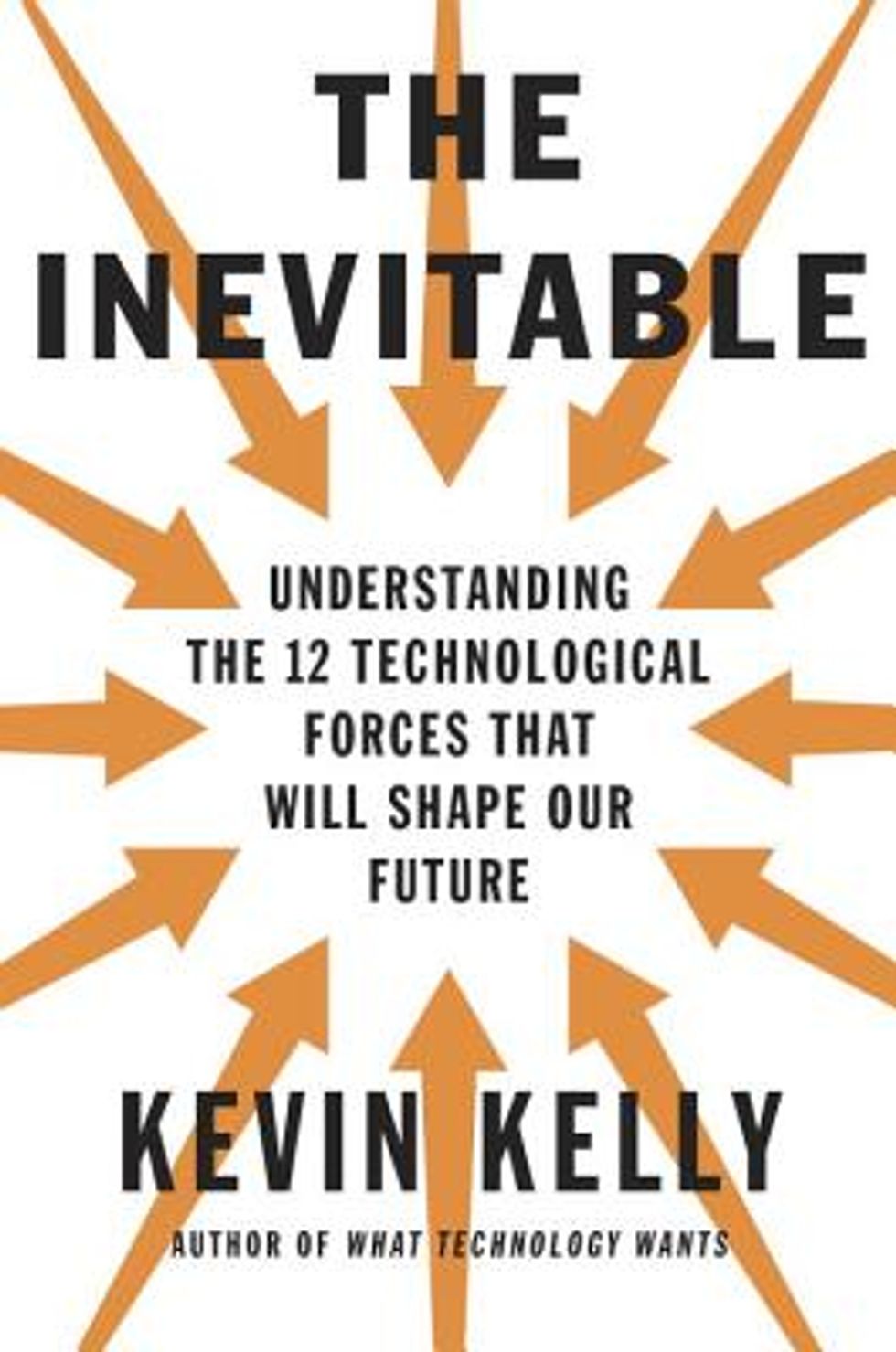 Researchers at UCSF have trained an algorithm to parse meaning from neural activity.
Technology & Innovation
Participants' neural activity is collected as they speak 50 sentences.
A machine-learning algorithm develops a prediction of what the collected data means.
The system's accuracy varies, but the results are promising.
Can an orgasm a day really keep the doctor away?
Sex & Relationships
Achieving orgasm through masturbation provides a rush of feel-good hormones (such as dopamine, serotonin and oxytocin) and can re-balance our levels of cortisol (a stress-inducing hormone). This helps our immune system function at a higher level.
The surge in "feel-good" hormones also promotes a more relaxed and calm state of being, making it easier to achieve restful sleep, which is a critical part in maintaining a high-functioning immune system.
Just as bad habits can slow your immune system, positive habits (such as a healthy sleep schedule and active sex life) can help boost your immune system which can prevent you from becoming sick.
While we might not love the idea of deadlines, they can be cause for some of our greatest creative work.
Videos
Creative individuals produce better work when there's a deadline involved, says media mogul Tina Brown.
To extract great work, you shouldn't have the option to escape it. Deadlines add a level of pressure that makes for better results.
In Brown's opinion, some of the best journalistic work was done in the period after 9/11. The combination of subject matter, content, and passion rallied creatives to put forth incredible coverage.