Antidepressants: Why the 'Overmedicated America' Narrative Is Harmful
We're in an epidemic of mental illness and in an epidemic of misinformation about mental illness. The myth that America is "overmedicated" regarding antidepressants only furthers the stigma that stops people from seeking help.
Drew Ramsey
Dr. Drew Ramsey is a psychiatrist, author, and farmer. He is one of psychiatry's leading proponents of using dietary change to help balance moods, sharpen brain function and improve mental health. He is an assistant clinical professor of psychiatry at Columbia University College of Physicians and Surgeons and in active clinical practice in New York City where his work focuses on the clinical treatment of depression and anxiety. Using the latest brain science and nutritional research, modern treatments, and an array of delicious food he aims to help people live to their happiest, healthiest lives.
He is the co-creator of The Brain Food Scale, co-founder of National Kale Day 501(c)3, and a member of the medical review team at Dr. Oz's webportal ShareCare. He frequently speaks and conducts workshops nationally, including two recent TEDx talks BrainFork and Brain Farmacy on food and brain health. His work and writing have been featured by The New York Times, The Wall Street Journal, The Huffington Post, Atlantic.com, Prevention, Lancet Psychiatry, and NPR, which named him a "kale evangelist." His recent bestseller 50 Shades of Kale has made this superfood accessible to thousands. His first book, The Happiness Diet: A Nutritional Prescription for a Sharp Brain, Balanced Mood and Lean, Energized Body explored the impact of modern diets on brain health.
Dr. Ramsey teaches and supervises Psychiatric Evaluation and in the Columbia University Adult Psychiatry Residency Program. He serves as a thesis mentor for graduate students at the Columbia University Institute of Human Nutrition where is also lectures on nutrition and the brain. From 2005 to 2008, he directed the Audubon Continuing Day Treatment Program, a bilingual service for the severely mentally ill located in the Washington Heights. He is a faculty member at the Center for Mind-Body Medicine. Dr. Ramsey is a diplomate of the American Board of Psychiatry and Neurology. He completed his specialty training in adult psychiatry at Columbia University and the New York State Psychiatric Institute, received an M.D. from Indiana University School of Medicine and is a Phi Beta Kappa graduate of Earlham College.
20 January, 2017
Drew Ramsey: I think the big question in people's minds is who can they trust for their information about mental health? On the one hand we have big pharma, and there have been some incredible breakthroughs. I'm a psychiatrist. I prescribe medications and I find some people really it saves their lives. And you don't hear that in the media. This week I've heard a number of antidepressants called a miracle drug, a miracle cure and I don't take any money from big pharma I've just used these medications for over a decade now. For some people they're lifesavers. Then there's the supplement industry. And the supplement industry is really largely unregulated. They make a number of claims that really aren't supported by the evidence and it gets people into a notion, this happens a lot where instead of taking a medicine that's been closely studied and brought to market and closely monitored, they'll be taking five, ten, 15 different supplements. It's hard to know as a physician whether that's safe or not and whether that's really warranted. There's a lot of delay in terms of people getting appropriate treatment. Then, of course, we have talk therapies, which tend to take a longer time and cost more money.
So this is where I think food comes into the picture. One is we all can agree we trust. For the most part if it's a whole food it grows on a farm. There are concerns about big pharma out but I've never heard a concern about little farmers so that's where I try to direct people. And I also like it as a psychiatrist that it's one of my interventions that is absolutely delicious, that people like, that people can do for themselves. We're in an epidemic of mental illness and we're also in an epidemic of misinformation about mental illness. The amount of stigma that we see still and the embarrassment that my patients have for a victory over some of the most debilitating and disabling illnesses and deadly illnesses in the world, it's concerning as a doctor. I see people just profoundly ashamed by how they're feeling and the illness that they have. So I think we have a long way to go. I think we're getting there. I think more and more - I've been a psychiatrist for 16 years, there's a change in the conversation. People talk about having bipolar illness. People talk about being treated for depression. Men talk about being treated for depression really for the first time in history in a way that it gives me some hope that if we can have a more open conversation we can make a bigger dent. Now it's what more than 40,000 suicides a year in America. We have 600,000 veterans with severe traumatic brain injuries. We have a lot of work to be done.
And on the front lines of mental health I think I just try to remind myself to sit with my patients, to do no harm and to give them a menu of options. I think that's one of the things that's gotten missed in this whole discussion about mental health. People talk about how many people are kind of overmedicated in America and I always like to point out that ten percent of Americans that take antidepressants in the morning, they do that voluntarily because it's something that helps them. And I think that when we talk about an overmedicated society sometimes we miss the point. I would say that we're a mis-medicated society. I've seen a lot of people in my practice who are just on the wrong meds for the wrong reasons and I've met even more people who've never ever had a trial of even something natural like St. John's wort that has incredible evidence that it's a very, very good antidepressant. And I think that's the part, the folks who aren't getting any help that's the most concerning part to me because that's when people end up in real, real trouble.
Big Pharma has got itself a bad, bad name. Many people become nervous at the mention of pharmaceutical intervention for mental illness, but there's another solution that may bring ease to some: it's called little farmer, quips psychiatrist Drew Ramsey. For how food can control conditions like anxiety and depression, look through Ramsey's previous videos on Big Think. But here, Ramsey wants to address the popular notion that America is overprescribed. "I always like to point out that the ten percent of Americans who take antidepressants in the morning, they do that voluntarily because it's something that helps them." In his 16 years of psychiatric practice, Ramsey has more often seen mis-prescription rather than overprescription. But at least mis-prescribed people are on the path to finding the right treatment – much worse is the people who aren't getting any help at all whether it be diet, or therapy, or pharmaceuticals. Psychiatric medication isn't right for everyone, but in many cases it truly saves lives, says Ramsey. If we continue to propagate the over-prescription myth for this kind of medication (opiates are another issue), it may alienate those who need help from seeking it at all. Stigma doesn't help in the effort to reduce severe life disruption and suicide, which for the latter totaled 42,773 Americans in 2014, a steep rise from 29,199 people in 1999. Drew Ramsey's book is Eat Complete: The 21 Nutrients That Fuel Brainpower, Boost Weight Loss, and Transform Your Health.
---
Drew Ramsey's book is Eat Complete.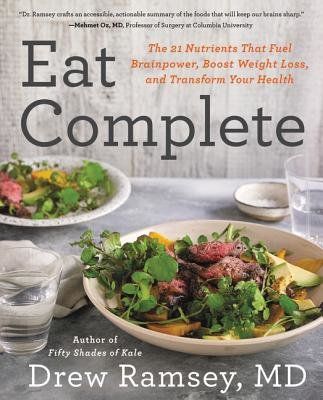 Why do people with bigger hands have a better vocabulary? That's one question deep learning can't answer.
Videos
Did you know that people with bigger hands have larger vocabularies?
While that's actually true, it's not a causal relationship. This pattern exists because adults tend know more words than kids. It's a correlation, explains NYU professor Gary Marcus.
Deep learning struggles with how to perceive causal relationships. If given the data on hand size and vocabulary size, a deep learning system might only be able to see the correlation, but wouldn't be able to answer the 'why?' of it.
One of the scientists with the Viking missions says yes.
Image source: David Williams/NASA
Surprising Science
A former NASA consultant believe his experiments on the Viking 1 and 2 landers proved the existence of living microorganisms on Mars
Because of other conflicting data, his experiments' results have been largely discarded.
Though other subsequent evidence supports their findings, he says NASA has been frustratingly disinterested in following up.
Gilbert V. Levin is clearly aggravated with NASA, frustrated by the agency's apparent unwillingness to acknowledge what he considers a fact: That NASA has had dispositive proof of living microorganisms on Mars since 1976, and a great deal of additional evidence since then. Levin is no conspiracy theorist, either. He's an engineer, a respected inventor, founder of scientific-research company Spherix, and a participant in that 1976 NASA mission. He's written an opinion piece in Scientific American that asks why NASA won't follow up on what he believes they should already know.
In 1976
Image source: NASA/JPL
Sunset at the Viking 1 site
As the developer of methods for rapidly detecting and identifying microorganisms, Levin took part in the Labeled Release (LR) experiment landed on Mars by NASA's Viking 1 and 2.
At both landing sites, the Vikings picked up samples of Mars soil, treating each with a drop of a dilute nutrient solution. This solution was tagged with radioactive carbon-14, and so if there were any microorganisms in the samples, they would metabolize it. This would lead to the production of radioactive carbon or radioactive methane. Sensors were positioned above the soil samples to detect the presence of either as signifiers of life.
At both landing sites, four positive indications of life were recorded, backed up by five controls. As a guarantee, the samples were then heated to 160°, hot enough to kill any living organisms in the soil, and then tested again. No further indicators of life were detected.
According to many, including Levin, had this test been performed on Earth, there would have been no doubt that life had been found. In fact, parallel control tests were performed on Earth on two samples known to be lifeless, one from the Moon and one from Iceland's volcanic Surtsey island, and no life was indicated.
However, on Mars, another experiment, a search for organic molecules, had been performed prior to the LR test and found nothing, leaving NASA in doubt regarding the results of the LR experiment, and concluding, according to Levin, that they'd found something imitating life, but not life itself. From there, notes Levin, "Inexplicably, over the 43 years since Viking, none of NASA's subsequent Mars landers has carried a life detection instrument to follow up on these exciting results."
Subsequent evidence
Image source: NASA
A thin coating of water ice on the rocks and soil photographed by Viking 2
Levin presents in his opinion piece 17 discoveries by subsequent Mars landers that support the results of the LR experiment. Among these:
Surface water sufficient to sustain microorganisms has been found on the red planet by Viking, Pathfinder, Phoenix and Curiosity.
The excess of carbon-13 over carbon-12 in the Martian atmosphere indicates biological activity since organisms prefer ingesting carbon-12.
Mars' CO2should long ago have been converted to CO by the sun's UV light, but CO2 is being regenerated, possibly by microorganisms as happens on Earth.
Ghost-like moving lights, resembling Earth's will-O'-the-wisps produced by spontaneous ignition of methane, have been seen and recorded on the Martian surface.
"No factor inimical to life has been found on Mars." This is a direct rebuttal of NASA's claim cited above.
Frustration
Image source: NASA
A technician checks the soil sampler of a Viking lander.
By 1997, Levin was convinced that NASA was wrong and set out to publish followup research supporting his conclusion. It took nearly 20 years to find a venue, he believes due to his controversial certainty that the LR experiment did indeed find life on Mars.
Levin tells phys.org, "Since I first concluded that the LR had detected life (in 1997), major juried journals had refused our publications. I and my co-Experimenter, Dr. Patricia Ann Straat, then published mainly in the astrobiology section of the SPIE Proceedings, after presenting the papers at the annual SPIE conventions. Though these were invited papers, they were largely ignored by the bulk of astrobiologists in their publications." (Staat is the author of To Mars with Love, about her experience as co-experimenter with Levin for the LR experiments.)
Finally, he and Straat decided to craft a paper that answers every objection anyone ever had to their earlier versions, finally publishing it in Astrobiology's October 2016 issue. "You may not agree with the conclusion," he says, "but you cannot disparage the steps leading there. You can say only that the steps are insufficient. But, to us, that seems a tenuous defense, since no one would refute these results had they been obtained on Earth."
Nonetheless, NASA's seeming reluctance to address the LR experiment's finding remains an issue for Levin. He and Straat have petitioned NASA to send a new LR test to the red planets, but, alas, Levin reports that "NASA has already announced that its 2020 Mars lander will not contain a life-detection test."
Scientists discover the inner workings of an effect that will lead to a new generation of devices.
Credit: IBM
Surprising Science
Researchers discover a method of extracting previously unavailable information from superconductors.
The study builds on a 19th-century discovery by physicist Edward Hall.
The research promises to lead to a new generation of semiconductor materials and devices.