Become a Smarter Negotiator By Using Prospect Theory
Want to make someone an offer they can't refuse? Understand how our minds are hung up on loss aversion, says former FBI negotiator Chris Voss.
12 January, 2017
Chris Voss: So I refer to bending reality as understanding how people view losses and gains. And there's Nobel Prize winning behavioral economics theory that says people put a value of losses on at least twice what an equivalent gain is. And that's how people get their valuations distorted. And actually the guys that came up with that theory said that losses are twice as heavy as gains, but then they've unofficially said really it's five to seven times as much, we just wrote down twice as much because we wanted fewer arguments. So losing $5 stings at least twice as much as gaining $5. Losing $5 feels like losing $10 or even $35, it's just a ridiculous skewing in our brains over loss, which is why when you're pitching a gain, if you think that what you're offering is worth $100 and you're only charging $80, well based on prospect theory they're not going to make that exchange, while to us that makes all the sense in the world because it's a gain. But if paying $80 for something it's got to be worth at least $160 for them to want it. I mean it's this crazy math that goes on in our heads over gains and losses. It just is. There's nothing we can do about it.
So understanding that, first of all when I began to use an accusations audit to try to diminish those fears of lost, it gets a person back more into even gains. And then I realize that people are more likely to do things to avoid losses. In a negotiation all I have to point out is what's actually going to be lost if this isn't done. In some ways in a business world a reverse of this is what I call taking people hostage to the future. If I can convince you that if you do all this work for me for nothing that all this business will come your way as a result, which is actually what's done a lot in the business community. Come and do this business for us at a cut rate and we'll introduce you to all this business and you'll be fabulously wealthy as a result of our referrals. Well, if you buy into getting all that money for those referrals now you're being taken hostage to the future and you'll do the business for nothing because you're afraid of losing those referrals. That's pretty common. And after a while people tend to catch on to it.
The much wiser approach is for me to simply point out how not doing this deal is in fact costing you every day. If you do nothing you lose. If you don't address this issue it's going to cost to you. So when the status quo becomes a loss then people are more likely to make a decision to make a move because of prospect theory, just the fear of loss in our head is huge.
In 2002, Daniel Kahneman and Amos Tversky won the Nobel Prize in Economics for a behavioral theory they created and refined between 1979 and 1992: prospect theory. It explained how people weigh up risks in decision making, and part of its findings revealed that we are inherently loss averse, meaning we give at least twice as much decision-making weight to the idea of losses than gains. Losing $5, explains former FBI negotiator Chris Voss, feels like losing $10, and the prospect of gaining $5 will feel joyless coompared to the fear of losing $5. This can be leveraged in negotiations simply by pointing out what is going to be lost if a deal isn't made, or something isn't done. The "crazy mathematics" we do in our heads isn't rational, but understanding it will give you an upper hand in your next negotiation. Chris Voss's book is Never Split the Difference: Negotiating as if Your Life Depended On It.
---
Chris Voss's book is Never Split the Difference: Negotiating as if Your Life Depended On It.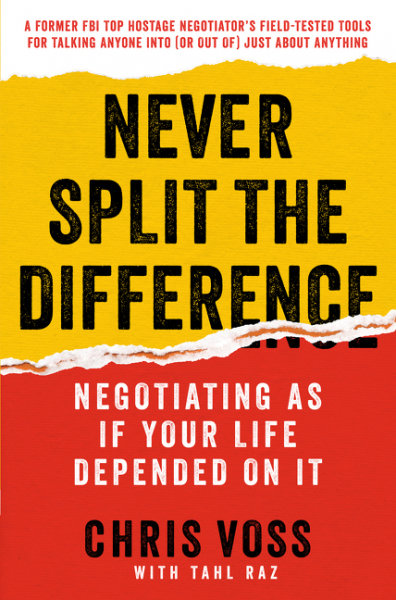 VR's coolest feature? Boosting compassion and empathy.
Videos
Virtual reality fills us with awe and adrenaline — and the technology is only at a crude stage, explains VR filmmaker Danfung Dennis. It's capable of inspiring something much greater in us: empathy.
With coming technological advancements in pixel display, haptics, and sound tracking, VR users will finally be able to know what it's like to really take another person's perspective. Empathy is inherent in humans (and other animal species), but just as it can be squashed, it must be practiced in order to develop.
"This ability to improve ourselves to become a more empathetic and compassionate society is what I hope we will use this technology for," Dennis says.
We have to practice doing nothing more often.
Photo: Shutterstock
Personal Growth
Constantly being busy is neurologically taxing and emotionally draining.
In his new book, Jon Kabat-Zinn writes that you're doing a disservice to others by always being busy.
Busyness is often an excuse for the discomfort of being alone with your own thoughts.
That's a sharp increase from the 1960s when it took the same share of scientists an average of 35 years to drop out of academia.
Pixabay
Surprising Science
The study tracked the careers of more than 100,000 scientists over 50 years.
The results showed career lifespans are shrinking, and fewer scientists are getting credited as the lead author on scientific papers.
Scientists are still pursuing careers in the private sector, however there are key differences between research conducted in academia and industry.
Big think's weekly newsletter.
Get smarter faster from the comfort of your inbox.
See our newsletter privacy policy
here
Most Popular
Most Recent
Big think's weekly newsletter.
Get smarter faster from the comfort of your inbox.
See our newsletter privacy policy
here
© Copyright 2007-2018 & BIG THINK, BIG THINK EDGE,
SMARTER FASTER trademarks owned by The Big Think, Inc. All rights reserved.