Big Think Interview With Jacob Appel
Jacob Appel
Jacob M. Appel is a bioethicist and fiction writer. He holds a B.A. and an M.A. from Brown University, an M.A. and an M.Phil. from Columbia University, an M.D. from Columbia University's College of Physicians and Surgeons, an M.F.A. in creative writing from New York University, and a J.D. from Harvard Law School. He has most recently taught at Brown University in Providence, Rhode Island, and at the Gotham Writers Workshop in New York City. He publishes in the field of bioethics and contributes to such publications as the Journal of Clinical Ethics, the Journal of Law, Medicine & Ethics, and the Bulletin of the History of Medicine. His essays have appeared in The New York Times, The New York Daily News, The Chicago Tribune, and other publications.

Appel has also published short fiction in more than one hundred literary journals. His short story, Shell Game With Organs, won the Boston Review Short Fiction Contest in 1998. His story about two census takers, "Counting," was shortlisted for the O. Henry Award in 2001. Other stories received "special mention" for the Pushcart Prize in 2006 and 2007.
He is admitted to the practice of law in New York State and Rhode Island, and is a licensed New York City sightseeing guide.
Appel contributed a Dangerous Idea to Big Think's "Month of Thinking Dangerously," advocating that we add trace amounts of lithium to our drinking water to help reduce the suicide rate.
Appel is a Big Think Delphi Fellow.
27 August, 2010
Question: Why should we drug our drinking water?
Jacob Appel: I think when you ask questions about whether or not any pharmaceutical or any products be added to the drinking water, you're really asking two sets of questions. One is: should any product that might be beneficial be added to the drinking water? And secondly, should the specific product be added. The first question I think can be dismissed fairly easily. People who oppose adding enhancement to the drinking water in the way people opposed adding fluoride to the drinking water half a century ago rely on the false premise of naturalism that if something occurs naturally, it must be better.
Now many things that occur naturally are better, but that's correlational, not causational. Pain is natural, anesthetics are synthetic. Most people would prefer anesthesia to pain. By the same logic, there are many things that naturally occur in the drinking water that are beneficial. In some parts of the country that don't cover other parts of the country. One of those items happens to be lithium. People who oppose adding lithium to the drinking water in trace amounts don't go around advocating to strain the lithium from the drinking water in the areas where it does exist.
The specifics of lithium are rather interesting and I should add, I am not the first person to propose this idea. Peter Kramer floated this idea in the New York Times over a year ago; the Brown University Psychiatrist, the author of Listening to Prozac. In areas where Lithium in trace amounts is in the drinking water, there seems to be a lower level of suicidality and in the Texas counties that we're studying, there's actually a lower crime rate. The same studies were repeated in Japan, a completely different culture and they had the same result.
I should add that we are not talking about adding therapeutic levels of lithium to the drinking water. It's worth noting that if you wanted to get a therapeutic level than the trace amounts that currently exist in the area where there is already lithium, you would have to drink several Olympic size swimming pools every minute to reach that level of concern. That level of therapeutics. So the reality is, these are very low levels and there's no reason to think they are not safe in the areas they already exist, so why not give everybody that benefit?
Question: Is lithium the drug different from lithium the element?
Jacob Appel: Actually it is the element. It's the ionic form of the element. Unlike many pharmaceuticals, which are complex compound synthesized in laboratories, lithium is simply an ion that occurs naturally in the environment. I am not a geologist, I don't know exactly the process by which the lithium leaches into the water, but it does. And I think it is also worth noting that the mechanism by which the lithium works in the body is probably very different in the treatment of diseases like bipolar disorder, or mood disorders, mania being it is in the much lower levels where it seems to prevent suicidality.
And the theory is that very low or trace amounts of lithium enhance connectivity between neurons. And doing that over the course of a lifetime, a lifetime exposure makes the brain more healthy.
Question: Why stop at lithium? Are there other enhancements that we should add to the water?
Jacob Appel: Well I think the first thing to point out is fluoride, which is widely available in the United States, the Surgeon General has determined that it is possibly the most cost effective health intervention in the history of the United States. That has saved hundreds of dollars, if not thousands of dollars per person in dental care over the course of lifetimes. And it's the reason why Americans tend to have very good teeth. And if you go abroad to some countries people tend not to have as good teeth with the same other dental hygiene care. Because our fluoride protects our teeth and there is no evidence that that fluoride – no credible evidence, does any damage. So this has been an experiment that has been tried.
I think the other most interesting area to look at would be in basic nutrients added to the drinking water to protect specific populations. A good example might be alcoholics who are at risk of certain neurogenic disorders, for example, from lack of thiamin and adding a trace amount of thiamin to the drinking water. I could be done relatively cost effectively. It might prevent an alcoholic from developing what's called Wernicke-Korsakoff Syndrome. The other benefit of this would be every emergency room that treats alcoholics wouldn't instantly have to treat them with thiamin because they would know these people are exposed to thiamin. Not that different from adding Vitamin A to rice.
Question: Should parents be allowed to euthanize severely disabled children?
Jacob Appel: Absolutely. I think the Dutch have used a system called the Hornussen Protocol for almost a decade now. And under this principle, they evaluate children that are born with either severe defects or in severe pain and assess their likelihood of surviving into meaningful adulthood, and if the answer is no and two physicians a the parents agree upon this, then the baby can be euthanized and they do it very pain-free and very quickly in the first few days of life.
Only in our culture is the obsession with keeping life going at all costs, even when the pain is immense and the likelihood of survival is very low come to the fore. In many cultures historically, the ancient Romans, for example, didn't view life as a whole in it's beginning until well into childhood. Understanding that infant mortality was high and that sometimes the suffering an infant went through made it not worth the **** alive.
The real interesting ethical question is if our goal to prevent the childhood suffering. Where their parents should actually have a say in this process. Whether, and I've written about this in the past, if a child is going to suffer immensely over the course of several weeks and die, would the parents have the right to say, we want this process to occur rather than injecting the baby with Potassium instantly, or whether **** itself is a form of child abuse. If an older child was to need a medical intervention or medical procedure and without it they would suffer severe pain, we wouldn't let adults make that choice. Why do we let them make the choice the other way with infants?
Question: Is it tantamount to child abuse to let such disabled children live?
Jacob Appel: I think it can be. I think we are very reluctant to condemn parents in those situations, in part because it is a very stressful situation. These parents themselves have suffered. I wouldn't want, for example, criminal penalties to punish parents in this situation. But I think in terms of determining what should be done with a child, the best interests of the child's standard should be the standard we use.
Question: Why do you think life should begin after seven days?
Jacob Appel: Well I should emphasize, I don't think there is much value in having an arbitrary hard and fast rule. One of the reasons I've actually said the law should use birth, for the most part as the standard would it would be very easy to figure out whether the baby is born or not born. Figuring out whether an infant is six days old, or eight days old is a much harder project to endeavor. Particularly, in situations where the baby has been abandoned or the origins of the baby are unknown.
The larger point I am trying to make, and I'm not the only person that's made this, Peter Singer at Princeton has made this for years, is that life should be divined by cognizance, by sentience, by ability to interact with the world. And infants who can't do that in the same way adults do should have their lives evaluated in very different ways. And the potentiality of fulfilling life is a factor to consider. But the suffering that an infant may undergo if they aren't going to lead a meaningful fulfilling life is also a valid concern to think about.
Question: Who should be allowed to commit suicide?
Jacob Appel: The short answer, I would say, is anyone. But the real answer I think is, almost anyone. I am very comfortable with the system that for a very acute period of time protects from their own worst instincts. But I do mean for a very acute period of time. I think the paradigmatic example of someone you might want to prevent from committing suicide is the teenager who breaks up with a boyfriend or girlfriend and tries to overdose on Tylenol. And to tell them, for a few days, we're going to hospitalize you against your will doesn't seem that reasonable to me.
In contrast, someone who has suffered from chronic depression throughout their life with multiple suicide attempts clearly, modern medicine and modern psychiatry has been unable to help this person. While I wouldn't necessarily choose to end my life under those circumstances, I would respect someone else's right to do so. So the real standard I would use is, does this person on the one hand have the capacity to make this decision. Are they thinking clearly, are they thinking rationally? And secondly, can they demonstrate this capacity over a prolonged period of several days rather than in an instant? And I think the vast majority of people who wish to commit suicide wouldn't meet most of those criteria.
Question: Why should prostitution, polygamy, incest, and bestiality be legalized?
Jacob Appel: I would argue that all of them should be legal. Overarchingly for the same reason that the state has very little interest controlling what people do in their own private lives in their own bedrooms unless it directly and negatively affects other people in a tangible way. And I'm not convinced that any of those particular items, whether it's bestiality, polygamy, incest do have that affect on consenting adults or between human beings, animals where consent is not really a meaningful question.
I think you have to assess each of these phenomena on its own terms though. And I've written fairly extensively on each. I think the concerns about polygamy are structural. While it is entirely not my concern if people want to have three or four wives, or 30 or 40 husbands, and it all comes – some cultures they do, and cultures survive quite well. My one concern would be, for example, the person who decides they're going to have 40 wives and will let social Security pay benefits to all of them after their demise. And we have to set up a system to balance the rights of people to marry who and how many people they choose with one that controls funding of this in a way that the rest of society can function.
In the same manner, while I think bestiality, per se, should be legal, I think there may be forms of bestiality that transcends into animal cruelty and there the government might want to step in. I think the important distinction to make is, it is not inherently clear that sex between animals and humans is unpleasurable for the animals, and in fact there are documented cases where clearly it is the opposite. There is a man who, off the coast of England masturbates with the Dolphins. Not something I would particularly choose to do, but he seems to find it fulfilling. And we know the Dolphins find it fulfilling is they keep coming back for more. I think you're hard pressed to argue is this fundamentally unethical. People talk about animals not being able to consent. You're dog can't consent when you play Frisbee with it either. Nobody evaluates the question in that term.
Prostitution, we often hear the object here is this leads to vice, this leads to crime we'd be undermining the social fabric of the community. In countries that have legalized or decriminalize prostitution, Amsterdam comes to mind, Sweden comes to mind; crime rates have actually gone down. The prostitutes, rather than being victims can lead stable middle-class lives and they are protected. So in some ways, it's suspicious argument.
The objections to all of these phenomena are really not what people say they are. People say they are concerned about the welfare of the individuals, but what they are really interested in doing is imposing their own social values, or their own religious values on other people. And that's what really concerns me.
Question: Why should all medicine be available over the counter?
Jacob Appel: Well it's interesting you ask that because historically in the United States, all medicine was available over the counter without a prescription. It's interesting to note one of the first "medications" that you needed a prescription for in the United States was beer. Because beer was prescribed at Prohibition and doctors would prescribe beer for various ailments, for small pox, for rabies, for measles. I should add, not effectively. This is not a good remedy. And from that, from the interest in protecting the rights of doctors, over time, the prescription right of doctors, which is really what it's about.
The theory is we should protect from themselves. People don't know the consequences of the medication. The reality is, in the world of the internet, in the world of the educated consumer, most people go to the doctor and say, "This is what I want medically, and there are enough doctors out there that honor this request anyway. That the harm of not letting some people buy medication over the counter and forcing them to have a doctor's appointment with the added cost will keep certain people from getting the medical care they need. Which in my opinion is far greater a risk than the small number of people who might not be educated enough or informed themselves enough to use medicine in a dangerous way. I think it's important to keep in mind there are many people out there, and I see them every day who really do need medication. Medical medication, psychiatric medication, who know they need it, who don't get it because they haven't been able to get to a doctor, or can't afford a doctor, or have time to see a doctor to get the prescription.
Question: What is the most pressing ethical issue of our time?
Jacob Appel: I think it is, to phrase it bluntly, the rights of foreigners. It is the arbitrary distinction that people have more or fewer rights because they were born on one side of the border of another side of a border. Once you accept the premise that all human beings are endowed with equal rights and of equal value, then there's no moral or ethical justification treating them differently simply they were born in different countries.
We can't grant everybody rights by invading all the countries in the world and forcing our values upon them. What we can do is grant anybody who has the wherewithal or power to come within our borders the same set of rights that we grant the people that are already here.
I should add that was the American tradition up until the 1920's with the exception of Asian Americans, all other groups until the 1920's who came here volitionally were granted a certain set of basic rights and the borders were open to them. And that really was the fundamental difference between the United States and the countries of Europe. You came to America, you had the opportunity to become a citizen, you had an opportunity to take part in "The American Dream." That's what the Statute of Liberty is all about. The people who waved their American flags and shout about patriotism and at the same time don't want immigrants to come across our borders or are concerned about illegal immigrants have missed the entire point of America.
Question: Wouldn't such a massive influx of immigrants overtax government entitlement programs?
Jacob Appel: It's not at all clear that having more immigrants coming to the country wouldn't generate more revenue and make more revenue available to provide the entitlements that people seek. Immigrants tend to be among the most productive members of our society. And historically, people have studied this. It's second generation, third generation Americans, the children of immigrants who are the powerhouse to the American economy. If you were really concerned about expenditures on entitlements, you would take people whose families have lived here for a very long time and weren't being economically productive and you would deport them and then you have more money for entitlement programs or you would spend less on entitlements in relation to economic progress. I think it's a terrible idea, but I think it's worth noting that many of those same people or of people who have waived their flags complaining about the criminality of illegal immigrants.
Question: Why should parents be allowed to choose the sexual orientation of their child?
Jacob Appel: I think there are two reasons for this: one, people who oppose the possibility. I mean, technology for the most part really isn't there yet. Letting people choose the sexual orientation of their children assume that this will lead to more straight children and fewer gay children. I'm not at all convinced that this is the case. If a small percentage of people choose to have straight children because they would otherwise be bigoted – or they otherwise are bigoted and don't want to have gay children, but a large percentage of gay people choose to have gay children and the average of likelihood of randomly being gay is somewhere between 2% and 10%. On the whole, the number of gay people will actually increase rather than decrease. So I think that's a red herring argument.
The real concern I have is I want people to be born into families that want them. On an individual basis, as a utilitarian philosopher, I think the least suffering we have the better. And my concern is for the potential gay child born into the bigoted family who mistreats that child, who disowns that child, who drives that child to suicide. And that to me, that suffering is far more concerning than the possibility that we won't force more progressive cultural values on people who don't want them.
While I wouldn't necessarily make that choice personally, I can also understand why a parent might say, "I'm deeply opposed to homophobia, I think the world should be a fair and equal place, but the reality is I want the best for my children. And I understand that people discriminate against gays and lesbians. I don't want my child to be discriminated against. Until the revolution occurs and there is equality, I want my children to have the best opportunities." And I wouldn't necessarily justify that sexual orientation. I think that's a reasonable philosophy to apply to race, religion, ethnicity, and characteristic.
I should add that I don't think many will make that choice. I don't think it will, on the whole lower social diversity. What I think it will do is guarantee that people who do have children who are more diverse want those children.
Question: How much of sexual orientation do you think is genetically determined?
Jacob Appel: I think the research on this is still rapidly evolving. But there will be some genetic component to sexuality. There clearly is some hormonal component in the womb. While there maybe some environmental component too. We simply don't know yet. I do think over the course of time, we will be able to unravel whatever the complex web of causes of homosexuality, or for that matter whatever the complex web of causes of heterosexuality are. And once we can do that, then parents are going to have to face the choice, and they should be able to make the choice what kind of child they want.
I should add, I've already written in the past, that I think parents should be able to choose whether they want to have male children or female children. I think in this country, not many people would do that, and I think the only limitation on that should be, if there is a mass structural dislocation. So I can understand why India might require parents to – might prevent parents from making a choice because of the fear of having a overwhelming number of men in relation to women, I would be far more pressed to say Sweden without those same cultural concerns should be allowed to do this. I would also add for what it's worth that in cultures where there may be people who choose male children or straight children, they're outliers like me where if they did make a choice, might choose to have female children or gay children that would balance things out.
A conversation with the bioethicist.
Big ideas.
Once a week.
Subscribe to our weekly newsletter.
The few seconds of nuclear explosion opening shots in Godzilla alone required more than 6.5 times the entire budget of the monster movie they ended up in.
Culture & Religion
As I sat in a darkened cinema in 1998, mesmerised and unnerved by the opening nuclear bomb explosions that framed the beginning of Roland Emmerich's Godzilla, it felt like I was watching the most expensive special effect in history.
Vast expanding clouds and fireballs eclipsed their surroundings and smothered everything in their path, dropping radioactive material that gave rise to the title monster. I had never encountered anything like this. I appreciated the creativity of those 90s films that tried to push visual boundaries through emerging computer technology, but this was on a different scale. I later discovered that there was a good reason for this – the footage was real.
The film did win awards for its special effects, although that was for the giant lizard itself and scenes of New York landmarks being shattered by its rampage, not the precise origin or significance of those fleeting mushroom clouds.
I kept coming back to those images and the accompaniment of haunting, almost other-worldly, choral music. It sent shivers down my spine, and still does every time I re-watch it.
It was that footage which started my journey towards research into nuclear history, and which led to me becoming a visiting fellow at the British Library's Eccles Centre for American Studies, where I study their collections, including the early pictorial history of nuclear testing.
Many of those iconic images which originally stunned me came from the aptly named Operation Crossroads – an exercise 75 years ago involving the first postwar nuclear weapons tests in July 1946, conducted by a joint US army-navy task force in Bikini Atoll in the Pacific. It involved 42,000 people, around 150 support vessels and over 90 target ships and submarines.
It also used over half the world's supply of film footage and hundreds of cameras to capture the nuclear detonations. Officially, this extensive filming was driven by military policy and scientific considerations, US political and military leaders wanting to understand the effects of this new weapon. At the same time, the demonstration of these weapons on film also served to showcase US power to a global audience.
The literal and psychological shock waves of that event were significant in the early cold war and in shaping the modern world, from setting precedents for thousands of subsequent bomb tests and accelerating the arms race to long-lasting radioactive environmental damage in locations where these tests occurred.
Crossroads even led to the invention of a language of terms to describe nuclear testing (through over two months of negotiation). Some terms agreed on are perhaps less familiar, including "cauliflower cloud" and "base surge", while others (like "fallout") have become ubiquitous since.
Crossroads had such an impact because it was almost a blockbuster movie production in its filmic scale and focus – a military-scientific cinematic spectacle, unique among over 2,000 nuclear tests conducted worldwide by all nations since.
Public Domain (Wikicommons)
Even as much of its cold war origins and significance lie forgotten, Crossroads' cinematic legacies have lived on over the last 75 years. Photos and footage from it have been used widely, from propaganda to popular culture: from Godzilla movies to internet memes. It has been employed to inform, to protest, as cultural symbols, and in ways which have obscured or re-framed aspects of nuclear history, shifting away from legacies of US testing, or even making the bomb a monster-destroying weapon (seen not least through Godzilla), much like a mushroom cloud enveloping everything in its path.

The world's most expensive film shoot
Crossroads fundamentally changed the film profile of atom bombs. Still images of those dropped on Hiroshima and Nagasaki in 1945 had appeared in many newspapers, but there was limited camera footage of these. There were also only a few thousand TVs in the US in 1946, so for many the Crossroads footage would be watched in cinema newsreels (whether in the US or other countries).
The Crossroads plan was large in scale and complexity, but underpinned by one central concept: assembling a fleet of around 90 decommissioned US naval ships (including three captured German and Japanese vessels), anchoring them in a remote lagoon in the Pacific (Bikini Atoll) and setting off atom bombs against them. A truly blockbuster plan.
'Operation Crossroads. Underwater atomic blast again rocks Bikini Atoll', British Pathé newsreel, 1946.
The stated goal was to test how atomic bombs would affect naval vessels, better to improve the design of future ships and such defensive arrangements as anchoring them in harbours, in the event that America faced the atom bombs of other nations in the future – though only the US had the bomb at this time. But Crossroads was later widened to test damage to other types of material and equipment, as well as measuring various effects of the weapons, such as (rather unsettlingly) the biological impact on thousands of animals present on target ships, including pigs, goats and rats.
Crossroads has been described as one of the most photographed events in history, and this had had several practical effects for moviemakers, even before the first weapon had been exploded. As more than half the world's available stock of film footage was bought up for cameras to record the tests, there were months of shortages in Hollywood and other major studios around the world.
New high-speed cameras were used to capture even the first fractions of a second after detonation (although these didn't always go to plan). Subsequent nuclear tests prompted further developments of these technologies, some of which would later make their way into fields from commercial cinematography to medicine.
Some of the first drone cameras – a concept evoking images of 21st-century movie-making – were also significantly developed and used in Crossroads. Large four-propeller engine B-17 bombers were rigged with TV cameras and transmitters so that they could be flown remotely as drone aircraft, to film the explosions and to collect radioactive samples from clouds. Similar arrangements were made for small, un-crewed boats. While a far cry from modern military and civil drones, such experiments were groundbreaking, leading to shots that would previously have been impossible, and laying foundations for future developments in both drones and in remote-controlled photography.
Development of the atomic bomb had been shrouded in the utmost secrecy throughout the second world war, to the point that the public and most members of Congress didn't know about it until after Hiroshima was bombed. Even Harry Truman – as vice president – hadn't known of its existence until he succeeded President Roosevelt in April 1945. This made the widespread publicity of Crossroads as a global media event one year later even more remarkable. Observers were invited to attend the tests from such unlikely places as the Soviet Union.
While the visuals of nuclear tests may be well recognised, the sound adds another dimension to their impact. The orchestras of the US Armed Forces provided custom music for films of the tests, whether for classified or public consumption, akin to the dramatic soundtracks of action or superhero adventures, or the eerie music of horror movies that creates the atmosphere.
The music was usually reserved as rousing chords for the opening and ending, or particularly poignant moments, such as observing damage to ships, though not for the detonations themselves. By contrast, all cinematic and documentary uses of Crossroads almost always overlay detonation footage with dramatic music.
Crossroads Baker detonation, with added music and with commentary by William Shatner, as featured in the revised version of the 1995 documentary 'Trinity and Beyond'.
One of a kind
"Those black dots are battleships? But they're so tiny," was the amazed reaction of one student when I showed their class footage from Crossroads – it was by no means an isolated response. The iconic nature of those images partly stems from Crossroads being distinctive among nuclear tests, particularly the second detonation, Crossroads Baker, on July 25 1946.
Almost all nuclear weapons tested have either been detonated within the atmosphere (ground or air, sometimes on the verge of space), in which case the first sign of the explosion has involved a blinding flash obscuring everything, or underground, in which there was often much less to see, except eerie videos of the earth slowly giving way to form a crater before kicking up dust. Underground testing could, of course, still lead to dramatic (and disturbing) footage, such as the ground rising up before exploding, a particularly notable example being the Operation Storax Sedan detonation in 1962, which was testing (almost unbelievably) ways of using nuclear weapons for civil construction in large excavation projects.
Crossroads Baker, meanwhile, was detonated just underwater, meaning it could be observed from the moment the explosion reached the surface. The visual effect was also made all the more powerful by the surrounding lagoon, the rapidly expanding blast hurling what were later estimated to be over two million tonnes of water and spray high into the air.
Silent footage from a ground angle with a clear view of the Crossroads Baker detonation, showing the growth of the explosion.
The scale of subsequent test series was different. While the bombs increased in power hundreds of times after Crossroads (and tests grew from using two weapons to sometimes up to 30 or 40 in a single operation), never again was there such a fleet assembled to be bombed.
Filming of tests became an industry in its own right, with subsequent tests having an entire US Air Force studio at Lookout Mountain Laboratory being dedicated to them. But there was rarely the same gathering of news media or scale of filming as at Crossroads. Footage of later tests, while still released in some propaganda and news films, also became less public for various reasons, including security.
There were no further underwater tests until 1955 with Operation Wigwam, which examined a concept originally planned for the cancelled third Crossroads test, Charlie, on the effects of deep ocean nuclear explosions against submarines. Wigwam similarly saw no repeat of the Crossroads fleet – only three miniature submarines anchored to the bomb for taking damage measurements, alongside a modest number of support vessels.
Other stories
For all the effort of being so widely photographed, much of the footage captured remained classified. Some was released in 1946 newsreel and public information films, more appeared in the 1960s, and further photographs and footage were released in 2016.
Crossroads had a book as well: an "Official Pictorial Report", something not repeated in any other test series and publicly available with around 200 photographs and captions. It has been a very valuable and often-overlooked time capsule of how the test was recorded and presented, but is also only a drop in the lagoon of 50,000 still images captured.
Many photos are of the people involved rather than the bombs themselves. In the Official Report, for instance, I discovered that only a fifth of the images show mushroom clouds; the rest charting things like scientific preparations or the aftermath of tests, but also everyday life for the task-force members conducting them. The more I saw them, the more I became fascinated with how these people were adapting to living through such events. It was like seeing "behind the scenes" footage.
And then there are the people who are only represented briefly in these images, often in a particular light, or excluded entirely – such as the existing population of 167 people at Bikini Atoll. These people ostensibly "agreed" to give up their homes for science, but, in reality, felt that they didn't have a choice, and also assumed that the move would only be temporary.
This was one of the first examples of nuclear colonialism. They were relocated to Rongerik Atoll, where food sources turned out not to be sustainable, and relocated further times after that. About 150 returned to Bikini in the 1970s, but the health dangers from radioactivity left behind by subsequent tests meant they had to leave again in 1978 and have never been able to return. Their story only received the greater attention it deserves in recent years.
In the world of box office films, the predominant cinematic uses of Crossroads' historic footage remains the mushroom cloud, inescapable in its iconic and instantly recognisable form. But the ways in which it has been used out of context in such films as Godzilla can create new meanings for how others depicted nuclear history, while further obscuring the original ones.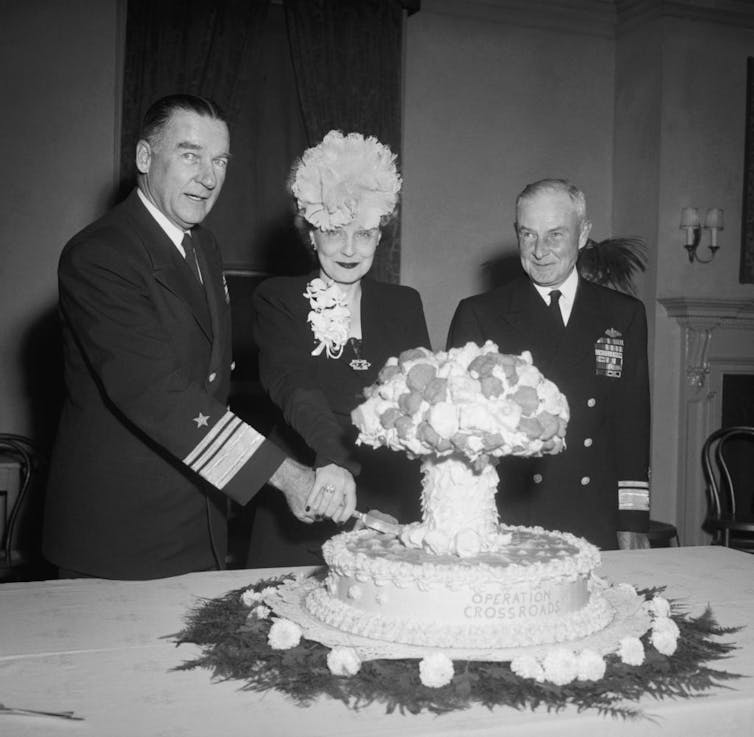 Admiral William Blandy, who led Operation Crossroads, and his wife cut a mushroom cloud cake. ( Harris & Ewing Studio/Wikimedia Commons)
(Mis)appropriation of Crossroads
Crossroads' footage has been used in a wide variety of settings, from the ending of Stanley Kubrick's Dr Strangelove to YouTube memes. But the Godzilla uses stand out, both in my own personal experience, but also because of their significance of wider trends in how nuclear history has been re-interpreted cinematically.
Even in 1998, I saw Godzilla as an allegory for the effects of nuclear tests and radiation. It was only when reading about the 1954 original that I learned the wider history: in the original (Japanese) story, Godzilla is an embodiment of the harm from nuclear weapons themselves and particularly the atomic bombings of Hiroshima and Nagasaki. The 1954 Godzilla was a peaceful ancient dinosaur, sent on a rampage by the effects of radiation from an atomic explosion. But this narrative became distorted in some later remakes, whether aimed at Japanese or western audiences.
A particular criticism of US adaptations, right from US re-cuts of the 1954 original that were sold back to Japan, has been the removal of overt references within the movies to Hiroshima and Nagasaki, or indeed to any of the problematic aspects of US nuclear history.
The 1998 film begins by focusing on Godzilla as being created by French nuclear tests in the Pacific. Such detonations did indeed happen, although the footage used is entirely that of American Pacific nuclear testing (Crossroads Baker featuring prominently from different angles alongside a few shots of other tests). Little visual and audio cues reinforce this fiction by superimposing over a montage of test preparations a map of French Polynesia, a countdown in French, and La Marseillaise playing in the background.
There are other hints later in the film which – as subtle as the presence of Godzilla itself – include Jean Reno as leader of a "French Secret Service" team who signals their job is to clean up the problems created by their country's tests in the Pacific, and a US TV station helpfully putting up a map of Godzilla's origins alongside a big sign "French Nuke Testing".
The 2014 film goes even further in its repainting of nuclear testing history. The opening also starts with Pacific tests, although framed as being the 1954 US thermonuclear weapons test, Castle Bravo. This time, instead of starting with a Godzilla created by atom bomb radiation, the nuclear tests are portrayed as a weapon used to try to kill Godzilla.
Opening shots of Godzilla (2014), prominently featuring footage of the Crossroads Baker detonation.
Of course, it's ironic that the film starts with an attempt to kill the embodiment of the effects of nuclear weapons, Godzilla, with nuclear weapons. And that the real-life 1954 Castle Bravo test went out of control because of an unexpected reaction, spreading radiation much further than planned, severely affecting the population of the Rongelap and Utirik Atolls with radiation poisoning, as well as sailors on a Japanese fishing trawler, one of whom later died. This story of the fishermen ignited protests in Japan over nuclear testing, resonating with the still fresh wounds of Hiroshima and Nagasaki and acting as a major inspiration for the original Japanese Godzilla film that same year.
For all the advancements in special effects technology, at the crucial moment of detonation, the iconic footage of Crossroads Baker still appears as the centrepiece in the 2014 Godzilla. It is interspersed with a more computer-generated mushroom cloud and the mimicking of shock waves hitting island beaches, but the continued usage shows its cinematic longevity.
It is not that there weren't videos of Castle Bravo available. On the contrary, footage of it has been iconic, and terrifying, in its own right in documentaries and films, and that bomb itself was over 700 times more powerful than Crossroads Baker. It is possible that these films, taken from a greater distance, didn't have quite the same, seemingly close-up, unobscured, and immediate feeling of scale as Baker, flanked by full-sized naval ships that appear as mere toys against the mushroom cloud.
To stunned moviegoers like myself, Crossroads may well have been the most expensive special effects in history. Adjusted for inflation, the operation would have cost over US$800 million in 1998, possibly even more with added technical and safety complexities (fortunately, US and Soviet atmospheric nuclear testing had ended in 1962). As such, those few seconds of nuclear explosion opening shots in Godzilla alone required more than 6.5 times the entire budget of the monster movie they ended up in.
But the cost which can never be calculated is the power of those images upon the human imagination and fear, as well as their effect on the nuclear arms race. Many target ships, while damaged, survived Crossroads Baker, but were enveloped in so much radioactive seawater that decontamination became almost impossible, except for a few vessels.
Plans to sail the remaining ships back to the US triumphantly gave way to sinking most of them, albeit without the same fanfare as the operation itself. A forgotten end credits scene on which the cameras never rolled, but the fallout from which fogs the films to this day.
Timothy Noël Peacock, Lecturer in History, University of Glasgow

This article is republished from The Conversation under a Creative Commons license. Read the original article.
Opponents of 19th-century American imperialism were not above body-shaming the personification of the U.S. government.
Credit
: Bill of Rights Institute / Public domain
Strange Maps
In the years before 1900, the United States was experiencing a spectacular spurt of growth.
Not everyone approved: many feared continued expansionism would lead to American imperialism.
To illustrate the threat, Uncle Sam was depicted as dangerously or comically fat.
Detail from "Charge of the 24th and 25th Colored Infantry, July 2nd 1898", depicting the Battle of San Juan Hill – a turning point in the Spanish-American War. Credit: Kurz and Allison / Public domain
The past is a different country. And not just in the poetic sense. In the early 19th century, the United States was much smaller than it is today. But by the end of that century, the U.S. had consolidated into an empire both in the continental sense as well as the colonial one: not only did it stretch across the entirety of North America, from sea to shining sea, it also had acquired significant amounts of territory and influence beyond those shores.

Decidedly non-progressive
America's imperial girth and radiance may seem like faits accomplis today, but they were vehemently contested by the domestic press of the time. At the very tail of the century, this opposition led to a curious cartographic phenomenon which, despite its anti-imperialist origins, we today recognize as a decidedly non-progressive practice: the fat-shaming of Uncle Sam.
Uncle Sam is the personification of the United States (the country and, often specifically, its government), with which he shares his initials. His exact origins are unknown, although an apocryphal reference is often made to Samuel Wilson, a meat packer from Troy, NY and supplier of American troops during the War of 1812. Authenticity concerns aside, ever since 1989, the U.S. has had an annual Uncle Sam Day on September 13th, Wilson's birthday.
However, Uncle Sam is also the continuation of Brother Jonathan, who personified the typical New England Yankee and has his origins in the 17th-century English Civil War (where the term was used by the Royalists to mock the Puritans). Sam certainly borrowed Jonathan's striped pants, stove-pipe hat, and lanky figure. The thinness and old-fashioned appearance of both Jonathan and Sam (who were interchangeable by the mid-19th century) were meant to symbolize a kind of restless thriftiness, a supposedly national trait of the Yankee — and by extension, the American nation.
A lightning rod for criticism
Around the time of the Civil War, Sam had largely supplanted Jonathan as a national figure. As a sort of shorthand of the U.S., Uncle Sam was a favorite of cartoonists in the 19th and 20th centuries. (He seems to have gone a bit out of fashion in the 21st.) Especially during the World Wars, he was used as a symbol of national resilience and an important ingredient of patriotic propaganda. Inversely, he was also easily adopted as a lightning rod for criticism of the U.S. and its international policies.
In various cartoons of the 19th century's last decade, Uncle Sam — recognizable by his goatee and tricolored clothes — is depicted as increasingly fat and mocked for it. His embonpoint is understood to be a symbol of geopolitical gluttony, making him — that is, the United States itself — appear both avaricious and ridiculous on the world stage. This was the build-up toward the Spanish-American war of 1898, from which the U.S. would emerge victorious and in possession of much of Spain's remaining overseas empire, consisting of the Philippines, Puerto Rico, Cuba, and other smaller island territories.
This can be seen as America's Julius Caesar moment — when it, like Rome before it, changed from a republic into an empire. It was certainly recognized (and feared) as such in those days.

Trying to swallow Cuba whole
A Victor Gillam cartoon for Judge, this front-page illustration clearly shows Uncle Sam's voracious ambition toward Cuba. Credit: Cornell University Library / Public domain
On August 10, 1895, the satirical magazine Judge published a cartoon by Victor Gillam on its front page that showed a modified map of North America, enlisting the continent's geography to make a shockingly visceral, anti-imperialist point.
Cuba is shown as a small fish, attempting to swim away from the maw of Uncle Sam, who coincides with North America itself. Mexico is his lower jaw, Central America his goatee, Florida his nose, Washington, DC his all-seeing eye, and Canada his hat.
The map is entitled The Trouble in Cuba. The trouble seems to be that Cuba refuses to be swallowed by Uncle Sam, who says, "I've had my eye on that morsel for a long time; guess I'll have to take it in!"

An expansionist menu
"You're too late", says Uncle Sam: "I've eaten."Credit: National Archives / Public domain
In this cartoon, Uncle Sam, identified with President McKinley, is presented as a glutton and his detractors as too slow to stop him. In 1898, the United States had won the Spanish-American War, laying claim to Puerto Rico and the Philippines among other spoils of the now defunct Spanish empire. In the same year, the U.S. had also acquired Hawaii as a territory.
Many in Congress worried that McKinley's policy of continued expansion would lead to imperialism. Bursting through the door to prevent Uncle Sam from gobbling up a load of overseas territories are Representative William Jennings Bryan and Senator George Frisbie Hoar. They are too late; the plates are empty. On the ground is an Expansion Menu, listing what just has been devoured: Hawaiian Soup, Portorican Rice (?), Philippine Pudding.

Cracks in the pond
Skating on thin ice? U.S. expansionism reimagined as a winter sport.Credit: Library of Congress / Public domain
This centerfold cartoon from the New York Herald of November 26, 1898 shows the comically rotund figures of Uncle Sam and President McKinley, skating across a wintery landscape on a body of water labelled Expansion Pond. A rather joyless figure in a deerstalker hat, perhaps newspaper magnate Joseph Pulitzer, known for his anti-expansionist stance, does not want to join in the fun. "I will not skate on your pond," he avers.

Big, bigger, best?
A cartoon from 1899, from the satirical magazine Judge, depicting the growth (and growth) of the United States.Credit: Bill of Rights Institute / Public domain
In 1899, Judge published another cartoon by Victor Gillam, entitled A Lesson for Anti-Expansionists. Showing the growth of Uncle Sam over the various stages of his life, that lesson is how the U.S. "has been an expansionist first, last, and all the time."
On the left, the U.S. starts out as an infant (1783, 13 states).
The second figure is a strapping young lad confidently leaning on a frontiersman's axe (1803, Louisiana Purchase).
The third figure is a stern-looking, musket-holding soldier (1819, Florida ceded by Spain).
The fourth figure is a supremely confident-looking gentleman, newly goateed and top-hatted (1861, having recently annexed Texas).
Fifth is an older gentleman, slightly roguish and rotund (1898, annexed Hawaii).
In just one year, Uncle Sam has gone from merely full-figured to morbidly obese but with a confident smirk on his face and a ship under his arm, as a symbol of the naval prowess that earned him various colonies (Cuba, Philippines, Porto Rico [sic] in 1899).
The final figure is pondering the many hands outstretched toward him, labelled as Russia, China, Germany, England, and other world powers. "And now all the nations are anxious to be on friendly terms with Uncle Sam," the caption reads. Unlike Gillam's earlier cartoon, this one can be construed as ambiguous: is this a critique of expansionism or an acknowledgement of the influence that expansion has brought with it?
Expand and explode

"1776 – 1803 – 1867 – 1898 - ?": Life magazine cartoon critical of America's expansionism.Credit: Life magazine, 26-January-1899, pp. 72-73. Via Hathi Trust Digital Library / Public domain
Gillam may have been inspired by a cartoon published earlier that year in Life magazine, which depicts a similarly inflating Uncle Sam, but with a more dramatic finale.
Uncle Sam starts out as his full-grown, slim-figured self in 1776.
The Louisiana Purchase of 1803 seems to subtract rather than to add to his joy.
The annexations of Alaska and Texas only add to his discomfort.
Discomfort turns to distemper in 1898, with the takeover of the defunct Spanish empire in the Pacific and Caribbean.
Growing ever bigger and more agitated over the course of these additions, can it be far off before Uncle Sam simply explodes?
Intervention at the tailor shop
Cartoon by John S. Pughe, published in Puck on September 5, 1900, titled "Declined with Thanks."Credit: Keppler & Swartzmann / Public domain
This cartoon from 1900 shows then-President William McKinley as a tailor, sizing up an enormous Uncle Sam. The striped pants list Sam's recent acquisitions, from Louisiana and California to Hawaii and Porto Rico.
McKinley is getting ready to cut Uncle Sam a new suit from cloth labelled "enlightened foreign policy - rational expansion." But three stern-looking gentlemen have entered McKinley's tailor shop and are keen for another course of action. They want to administer a medicine called "anti-expansionist policy."
The most prominent of the three would have been recognized by contemporaries as publishing magnate Joseph Pulitzer, campaigner against imperial expansion. He says, "Here, take a dose of this anti-fat and get thin again!" To which Uncle Sam replies, "No, Sonny! I never did take any of that stuff, and I'm too old to begin!"
And… thin again
John Bull and Uncle Sam in the year 1900, a study in contrasts. Credit: American Truth Society / Public domain
Uncle Sam and other national personifications have several advantages over real people — one of those is that they can change body type to fit the situation.

Despite years of cartoons showing Uncle Sam as getting too big for his britches, in this illustration from 1900 he reverts to type, becoming rail-thin again. The reason: to contrast with that other national archetype, John Bull, representing the British Empire, which was then at its height. How do you personify a globe-spanning empire? By fattening up the figure in question.
Without knowing anything about the content of The Fable of John Bull and Uncle Sam, it is safe to say, judging from the stance of both figures alone, that it will show the former as unworthy of his leading role in the world with the latter more capable and willing to assume that role.
Most maps were taken from this article on Carto-Caricatures, a fascinating blog about the intersection between cartography and caricature.
Strange Maps #1097
Got a strange map? Let me know at strangemaps@gmail.com.
A new study tested to what extent dogs can sense human deception.
Credit: Adobe Stock / kozorog
Surprising Science
A study of 260 dogs found that, in some cases, dogs can tell when people are lying.
The experiments involved giving dogs information about the location of food.
The majority of the dogs did not follow false suggestions when they knew humans were lying.
Is humanity's best friend catching on to our shenanigans? Researchers at the University of Vienna discovered that dogs can in certain cases know when people are lying.
The scientists carried out a study with hundreds of dogs to determine to what extent dogs could spot deception. The team's new paper, published in Proceedings of the Royal Society B, outlined experiments that tested whether dogs, like humans, have some inner sense of how to assess truthfulness.
As the researchers wrote in their paper, "Among non-primates, dogs (Canis familiaris) constitute a particularly interesting case, as their social environment has been shared with humans for at least 14,000 years. For this reason, dogs have been considered as a model species for the comparative investigation of socio-cognitive abilities." The investigation focused specifically on understanding if dogs were "sensitive to some mental or psychological states of humans."
The experiment
The experiments involved 260 dogs, which were made to listen to advice from a human "communicator" whom they did not know. The human told them which one of two bowls had a treat hidden inside by touching it and saying, "Look, this is very good!" If the dogs took the person's advice, they would get the treat.
Once they established the trust of the dogs, the researchers then complicated the experience by letting dogs watch another human that they did not know transfer the treat from one bowl to another. In some cases, the original communicator would also be present to watch but not always.
The findings revealed that half of the dogs did not follow the advice of the communicator if that person was not present when the food was switched to a different bowl. The dogs had a sense that this human could not have known the true location of the treat. Furthermore, two-thirds of the dogs ignored the human's suggestion if she did see the food switch but pointed to the wrong bowl. The dogs figured out the human was lying to them.
Photos of experiments showing the dog, human communicator, and person hiding the treat. Credit: Lucrezia Lonardo et al / Proceedings of the Royal Society B.
"We thought dogs would behave like children under age five and apes, but now we speculate that perhaps dogs can understand when someone is being deceitful," co-author Ludwig Huber from the University of Vienna told New Scientist. "Maybe they think, 'This person has the same knowledge as me, and is nevertheless giving me the wrong [information].' It's possible they could see that as intentionally misleading, which is lying."
This is not the first time such experiments have been carried out. Previously, children under age five, macaques, and chimps were tested in a similar way. It turned out that children and other animals were more likely than dogs to listen to the advice of the liars. Notably, among the dogs, terriers were found to be more like children and apes, more eagerly following false suggestions.
Information may not seem like something physical, yet it has become a central concern for physicists. A wonderful new book explores the importance of the "dataome" for the physical, biological, and human worlds.
Credit: agsandrew via Adobe Stock
13-8
The most important current topic in physics relates to a subject that hardly seems physical at all — information, which is central to thermodynamics and perhaps the universe itself.
The "dataome" is the way human beings have been externalizing information about ourselves and the world since we first began making paintings on cave walls.
The dataome is vast and growing everyday, sucking up an ever increasing share of the energy humans produce.
Physics is a field that is supposed to study real stuff. By real, I mean things like matter and energy. Matter is, of course, the kind of stuff you can hold in your hand. Energy may seem a little more abstract, but its reality is pretty apparent, appearing in the form of motion or gravity or electromagnetic fields.
What has become apparent recently, however, is the importance to physics of something that seems somewhat less real: information. From black holes to quantum mechanics to understanding the physics of life, information has risen to become a principal concern of many physicists in many domains. This new centrality of information is why you really need to read astrophysicist Caleb Scharf's new book The Ascent of Information: Books, Bits, Machines, and Life's Unending Algorithms.
Scharf is currently the director of the Astrobiology Program at Columbia University. He is also the author of four other books as well as a regular contributor to Scientific American.
(Full disclosure: Scharf and I have been collaborators on a scientific project involving the Fermi Paradox, so I was a big fan before I read this new book. Of course, the reason why I collaborated with him is because I really like the way he thinks, and his creativity in tackling tough problems is on full display in The Ascent of Information.)
What is the dataome?
In his new book, Scharf is seeking a deeper understanding of what he calls the "dataome." This is the way human beings have been externalizing information about ourselves and the world since we first began making paintings on cave walls. The book opens with a compelling exploration of how Shakespeare's works, which began as scribbles on a page, have gone on to have lives of their own in the dataome. Through reprintings in different languages, recordings of performances, movie adaptations, comic books, and so on, Shakespeare's works are now a permanent part of the vast swirling ensemble of information that constitutes the human dataome.
I found gems in these parts of the book that forced me to put the volume down and stare into space for a time to deal with their impact.
But the dataome does not just live in our heads. Scharf takes us on a proper physicist's journey through the dataome, showing us how information can never be divorced from energy. Your brain needs the chemical energy from food you ate this morning to read, process, and interpret these words. One of the most engaging parts of the book is when Scharf details just how much energy and real physical space our data-hungry world consumes as it adds to the dataome. For example, the Hohhot Data Center in the Inner Mongolia Autonomous Region of China is made of vast "farms" of data processing servers covering 245 acres of real estate. A single application like Bitcoin, Scharf tells us, consumes 7.7 gigawatts per year, equivalent to the output of half a dozen nuclear reactors!
Information is everywhere
But the dataome is not just about energy. Entropy is central to the story as well. Scharf takes the reader through a beautifully crafted discussion of information and the science of thermodynamics. This is where the links between energy, entropy, the limits of useful work, and probability all become profoundly connected to the definition of information.
The second law of thermodynamics tells us that you cannot use all of a given amount of energy to do useful work. Some of that energy must be wasted by getting turned into heat. Entropy is the physicist's way of measuring that waste (which can also be thought of as disorder). Scharf takes the reader through the basic relations of thermodynamics and then shows how entropy became intimately linked with information. It was Claude Shannon's brilliant work in the 1940s that showed how information — bits — could be defined for communication and computation as an entropy associated with the redundancy of strings of symbols. That was the link tying the physical world of physics explicitly to the informational and computational world of the dataome.
The best parts of the book are where Scharf unpacks how information makes its appearance in biology. From the data storage and processing that occurs with every strand of DNA, to the tangled pathways that define evolutionary dynamics, Scharf demonstrates how life is what happens to physics and chemistry when information matters. I found gems in these parts of the book that forced me to put the volume down and stare into space for a time to deal with their impact.
The physics of information
There are a lot of popular physics books out there about black holes and exoplanets and other cool stuff. But right now, I feel like the most important topic in physics relates to a subject that hardly seems physical at all. Information is a relatively new addition to the physics bestiary, making it even more compelling. If you are looking for a good introduction to how that is so, The Ascent of Information is a good place to start.