Why great thinkers balance optimism and pessimism
Leaning too far in either direction is a recipe for stagnation and perhaps even failure.
07 September, 2020
MICHIO KAKU: Leadership is understanding the challenges of the future, to working on scenarios of the future. Now, President Eisenhower, when he was a general, he was asked about his attitude toward victory, toward fights and toward war and he basically said that pessimists never win wars, only optimists win wars. And optimists what separates them from the pessimists? You see, the optimists see the future, the bright side of the future, the future that has opportunities, not the pessimists who simply says ah, I can't do it, not possible, end of story. That's it folks. So, you have to have not just optimism but you have to have one eye on the future.
LAWRENCE KRAUSS: I'm a pessimist, but that's no reason to be gloomy. And that's become our mantra in some sense, and it seems perfectly appropriate when you think about the universe because the universe first of all isn't here to make us happy, it isn't here to please us and it doesn't give a damn what happens to us. In the far future of the universe is likely to be miserable as I talked about in my last book and I point out in my new book could be even more miserable. So, in a purposeless universe that may have a miserable future you may wonder well how can I go about each day? And the answer is we make our own purpose. We make our own joy.
JASON SILVA: And I've fallen in love with this idea of feedback loops. One of the things that Rich Doyle, who wrote "Darwin's Pharmacy," talks about is finding ways to become aware, to learn to perceive the feedback loops between our creative and linguistic choices and our consciousness and our experience. In other words, the extraordinary capacity that we have to sculpt and mold our lives. The spaces we inhabit, the people we surround ourselves with, by curating spaces, by curating circumstance we essentially co-author our experience. A lot of people go through life thinking that they don't have any control, that life is just happening to them but that's not true. We have a lot more control than we realize and this extraordinary control comes from the power of feedback loops. You literally can decide, can almost author an afternoon into being by planning to meet in a certain place with a certain person, listening to certain music, drinking a certain kind of wine. I've decided that I'm going to see the world through rose colored lenses, I'm going to be optimistic, I'm going to look for the beautiful in every possible experience. That intention, that agency coupled with action, with editorial discernment and saying okay I'm going to do this, I'm going to hang out with this person, it creates a self-amplifying feedback loop, in other words the intention to be optimistic makes me stumble upon all these things that make me feel more optimistic and so on and so forth.
KEVIN KELLY: Over almost 200 years every year has gotten a little bit better when we look at the scientific evidence. And while it's possible that next year everything could change, everything could collapse and fall to the ground, statistically, probabilistically it won't it will continue because 200 years has gone and next year it probably will continue. But if you look at the kind of current political regime around the world and the factors of pressures, environmental pressures, the pressures of distraction that we have from the new media then I think you have to resort to hope. In the long term optimists decide the future. It's the optimists who create all of the things that are going to be most important in our life because it was the optimists who built and invented all the things that are now important in our current lives. And I think people behave better when they're optimistic. There's absolutely a need to be critical and doubtful and skeptical and even pessimistic just like if you have a car you have to have brakes, you can't have a car no matter where it is without brakes. But it's the engine, the optimistic engine that keeps going and going and refuses to stop and it's only concerned about going forward that really drives a car, but you certainly need breaks to steer it.
WILLIAM MAGEE: Is it itself a form of stratification? Is there something about optimism that's a resource that we can understand as a psychological good like happiness? So if it's stratified in a population how is it associated with other kinds of stratification, income and so forth, education? And so, you're saying well class, the real interesting one is class. Everyone wants to know pull yourself up by your bootstraps, think positively you'll be successful, if you're optimistic you'll be successful. But of course, if you're successful you're going to be optimistic so there's the reverse causality thing and so taking class and looking at class is a really interesting part that I'll want to get to. And I think that's an interesting question because there's a lot of theory around sociology and emotions, around the idea that expectations are created, the ability to meet expectations generates energy, that energy is what allows people to do things, that emotional energy, and then it replicates itself. So, people are convinced to be optimistic, especially the middle classes, and if they're not able to achieve those expectations then their energy goes down and they become dissatisfied.
SILVA: There's always going to be the wildcard, there's always going to be the circumstances you can't plan for, there's always the unexpected the relevance and the serendipity, but just like that book "The Power of Pull" talks about we can funnel the serendipity or we can channel the serendipity funnel, we can help engender and engineer serendipity by the choices that we make every moment. And so, by cultivating rich social networks, by cultivating weak ties, not just close ties but the weak ties, by becoming connectors and by connecting others so that they connect us we create a world in which these self-amplifying feedback loops feed on top of each other. So, good circumstances lead to other good circumstances which lead to other good circumstances and each one of them encourages us to then live more openly and participate in that creative flow space and you can go on and on. But that requires a boldness of character as well because the realization of the dizzying freedom we have to compose our lives, if I can do anything it can be paralyzing, but I think that if we are able to courageously embrace the uncertainty of that freedom and then exercise discerning and smart and refined creative and linguist choices every step of the way we do have the capacity to turn our lives into a work of art.
KAKU: When I was a kid, when I was a child I had two role models. The first was Einstein. I read that he couldn't finish his greatest work and as a child I said to myself I want to help you finish it. I want to help finish it because it's the fundamentals of physics. But the other role model I had was, well, I used to watch "Flash Gordon" on TV every Saturday morning and he kind of like blew my mind away. Ray guns, cities in the sky, invisibility shields, monsters from outer space. And then I begin to realize that the two loves of my life were actually the same thing, that if you want to understand the future you have to understand science. You've got to pay your dues. That's where leadership will take you because you can see the future. That's what Eisenhower could do he could see the future of a war because he understood the mechanics of the war and how the war would progress. Seeing the future is the key to success in life, I think it's the key to intelligence and it's also the key to leadership as well. Now, you might say to yourself now wait a minute, I thought IQs were a good predictor of the future? Wrong. If you take a look at people with high IQs, yeah some of them do win the Nobel Prize, but a lot of them wind up as marginal people, petty criminals, people that are failures. And then you wonder why? Why is it that some people with high IQs never get anywhere? Well, the Air Force had this problem, you see the Air Force devised a test: what happens if your airplane is shot down over enemy territory in Vietnam and you were captured by the Vietnamese? Do something. What are you going to do? It turns out that the people with high IQs got paralyzed, flummoxed, they didn't know what to do they were paralyzed. What? You're captured behind enemy lines? What are you going to do? Give up? The people who came up with the most imaginative, the most creative ideas they were the ones who did not score so high on the IQ exam but they were creative, they saw the future. They came up with all sorts of schemes in which to escape. Now, I like to think of it this way: let's say you get a bunch of people, kids, and you ask them to rob a bank. That's your job: rob a bank. How would you do it? I think the people with high IQs would get all embarrassed, flummoxed, they wouldn't know what to do. Even people who want to become policemen of the future they would get all flummoxed. But, criminals they're constantly thinking about the future, master criminals now not the ones who are petty and just steal things off the grocery shelf, but the master criminals are the ones who constantly simulate the future. How do you rob this bank? How do you nail down the police? How do you get away? Where is your getaway car? These are the ones who have high intelligence. These are "the future leaders."
KELLY: If you have only brakes you don't go anywhere. And I think what we have right now is we have an imbalance between pessimism and optimism and we really need a lot more optimism about the future in order to have an engine keep going. And I think that one of the reasons why we maybe have an imbalance right now is because we have been burned so often by the promises of the optimists about how technology is going to bring us a kind of utopia. And I think nobody believes in utopia anymore, I certainly don't. But dystopia is actually not any better, and that's actually the only vision that we have of the future, which is really sort of made by Hollywood in some science fiction, which is of a dystopia that collapses. And I think that while we can't believe in a utopia I think a better vision of the future is protopia, this idea that we have incremental progress, that we're working and creeping very, very steadily but slowly towards betterment. So, every year is a little tiny better than the year before, not much but a little tiny better and that kind of incremental progress is really only visible when you turn around and look back behind you. Because half or even a one percent difference is really something we can't see every year and it's not going to be seen in the news. If you look at the news the news is about outliers, it's about unusual things, it's not about the slow evidence of progress, which is not seen in the news. So, if you want to see what's really happening in the world you can't look at the news you have to look at the scientific evidence, which is going to register a very small delta that is really not visible unless you turn around and look behind you and then you can see oh, 20 years this is real.
KRAUSS: We make our own purpose and it seems to me life is more precious because it's temporary and accidental and we should take advantage of that. And we have evolved brains and that allows us to ask questions not just about how the universe works but how we should behave. Now, it's a long philosophical debate about whether you can get ought from is and maybe you could never get ought from is and maybe the reason is the slave of passion, but one thing seems clear to me that without knowing what it is you can never get to ought or if you do the ought that you get to is silly. If you don't know the consequences of your actions, which is really what science tells us, then you can't assess how to behave. And so, understanding empirical phenomena plays a central role in leading a better life it seems to me and it should play a central role in public policy so that we as a society can make sound decisions about how to act in the common good.
KELLY: Civilization is not monumental heroic enterprise, it's the small creep of one percent betterment through centuries. And I think if we believe that progress is real then we can actually behave better. If we believe that progress is real we can still dream about making these new things because we know that even through the new technologies are going to introduce as many new problems as they solve and that most of the problems that we'll have in the future will come from new technology, you'll still go forward and make and invent those new things even though they will create new problems because those new problems themselves will birth new solutions, which will have new problems, but that circle and cycle keeps going round and round and there's a one percent net gain for each revolution and that's what we get out of this.
When it comes to thinking about the future, is it best to assume the best or the worst? Like with most things, it's actually a little column A and a little column B. This video features theoretical physicists, futurists, sociologists, and mavericks explaining the pros and cons of both.
"In the long term optimists decide the future," argues Kevin Kelly, Senior Maverick for Wired and the magazine's founding executive editor. "It's the optimist who create all of the things that are going to be most important in our life." Kelly adds that, while every car runs on an optimistic engine, "you certainly need breaks to steer it."
Finding a balance between the optimism that fuels innovation and a grounded pessimism is the key to a better future.
---
From Your Site Articles
Related Articles Around the Web
Big ideas.
Once a week.
Subscribe to our weekly newsletter.
It is impossible for science to arrive at ultimate truths, but functional truths are good enough.
Credit: Sergey Nivens / 202871840
13-8
What is truth? This is a very tricky question, trickier than many would like to admit.
Science does arrive at what we can call functional truth, that is, when it focuses on what something does as opposed to what something is. We know how gravity operates, but not what gravity is, a notion that has changed over time and will probably change again.
The conclusion is that there are not absolute final truths, only functional truths that are agreed upon by consensus. The essential difference is that scientific truths are agreed upon by factual evidence, while most other truths are based on belief.
Does science tell the truth? The answer to this question is not as simple as it seems, and my 13.8 colleague Adam Frank took a look at it in his article about the complementarity of knowledge. There are many levels of complexity to what truth is or means to a person or a community. Why?
It's complicated
First, "truth" itself is hard to define or even to identify. How do you know for sure that someone is telling you the truth? Do you always tell the truth? In groups, what may be considered true to a culture with a given set of moral values may not be true in another. Examples are easy to come by: the death penalty, abortion rights, animal rights, environmentalism, the ethics of owning weapons, etc.
At the level of human relations, truth is very convoluted. Living in an age where fake news has taken center stage only corroborates this obvious fact. However, not knowing how to differentiate between what is true and what is not leads to fear, insecurity, and ultimately, to what could be called worldview servitude — the subservient adherence to a worldview proposed by someone in power. The results, as the history of the 20th century has shown extensively, can be catastrophic.
Proclamations of final or absolute truths, even in science, shouldn't be trusted.
The goal of science, at least on paper, is to arrive at the truth without recourse to any belief or moral system. Science aims to go beyond the human mess so as to be value-free. The premise here is that Nature doesn't have a moral dimension, and that the goal of science is to describe Nature the best possible way, to arrive at something we could call the "absolute truth." The approach is a typical heir to the Enlightenment notion that it is possible to take human complications out of the equation and have an absolute objective view of the world. However, this is a tall order.
It is tempting to believe that science is the best pathway to truth because, to a spectacular extent, science does triumph at many levels. You trust driving your car because the laws of mechanics and thermodynamics work. NASA scientists and engineers just managed to have the Ingenuity Mars Helicopter — the first man-made device to fly over another planet — hover above the Martian surface all by itself.
We can use the laws of physics to describe the results of countless experiments to amazing levels of accuracy, from the magnetic properties of materials to the position of your car in traffic using GPS locators. In this restricted sense, science does tell the truth. It may not be the absolute truth about Nature, but it's certainly a kind of pragmatic, functional truth at which the scientific community arrives by consensus based on the shared testing of hypotheses and results.
What is truth?
Credit: Sergey Nivens / 242235342
But at a deeper level of scrutiny, the meaning of truth becomes intangible, and we must agree with the pre-Socratic philosopher Democritus who declared, around 400 years BCE, that "truth is in the depths." (Incidentally, Democritus predicted the existence of the atom, something that certainly exists in the depths.)

A look at a dictionary reinforces this view. "Truth: the quality of being true." Now, that's a very circular definition. How do we know what is true? A second definition: "Truth: a fact or belief that is accepted as true." Acceptance is key here. A belief may be accepted to be true, as is the case with religious faith. There is no need for evidence to justify a belief. But note that a fact as well can be accepted as true, even if belief and facts are very different things. This illustrates how the scientific community arrives at a consensus of what is true by acceptance. Sufficient factual evidence supports that a statement is true. (Note that what defines sufficient factual evidence is also accepted by consensus.) At least until we learn more.
Take the example of gravity. We know that an object in free fall will hit the ground, and we can calculate when it does using Galileo's law of free fall (in the absence of friction). This is an example of "functional truth." If you drop one million rocks from the same height, the same law will apply every time, corroborating the factual acceptance of a functional truth, that all objects fall to the ground at the same rate irrespective of their mass (in the absence of friction).
But what if we ask, "What is gravity?" That's an ontological question about what gravity is and not what it does. And here things get trickier. To Galileo, it was an acceleration downward; to Newton a force between two or more massive bodies inversely proportional to the square of the distance between them; to Einstein the curvature of spacetime due to the presence of mass and/or energy. Does Einstein have the final word? Probably not.
Is there an ultimate scientific truth?
Final or absolute scientific truths assume that what we know of Nature can be final, that human knowledge can make absolute proclamations. But we know that this can't really work, for the very nature of scientific knowledge is that it is incomplete and contingent on the accuracy and depth with which we measure Nature with our instruments. The more accuracy and depth our measurements gain, the more they are able to expose the cracks in our current theories, as I illustrated last week with the muon magnetic moment experiments.
So, we must agree with Democritus, that truth is indeed in the depths and that proclamations of final or absolute truths, even in science, shouldn't be trusted. Fortunately, for all practical purposes — flying airplanes or spaceships, measuring the properties of a particle, the rates of chemical reactions, the efficacy of vaccines, or the blood flow in your brain — functional truths do well enough.
Using urinals, psychological collages, and animated furniture to shock us into reality.
Culture & Religion
Dada is a provocative and surreal art movement born out of the madness of World War I.
Tzara, a key Dada theorist, says Dada seeks "to confuse and upset, to shake and jolt" people from their comfort zones.
Dada, as all avant-garde art, faces a key problem in how to stay true to its philosophy.
In a world gone mad, what can the few sane people left do? What can someone say when there are no words that seem up to the job? How can anyone hope to express ideas so terrible when doing so will only reduce those ideas?
These are some of the things that inspired the Dada movement, and in its absurd, surreal, and chaotic nonsense, we find the voice of the voiceless.
The origin of Dadaism
Dada was a response to the madness of World War I. Reasonable, intelligent, and sensitive people looked at the blood and mud graveyards of the trenches and wondered how any meaning or goodness could ever be found again. How can someone make sense of a world where millions of young, happy, hopeful men were scythed down in a spray of bullets? How could life go back to normal when returning soldiers, blinded and disfigured from gas, lay homeless in the streets? Out of this awful revulsion, there came one bitter voice, and it said: "Everything is nonsense."
Dada is the art of the nihilist. It smashes accepted wisdom, challenges norms and values, and offends, upsets, and provokes us to re-examine everything.
And so, the Dada movement expressed itself in absurdity. Tzara, the closest you get to a Dadaist philosopher, put it like this: "Like everything in life, Dada is useless. Dada is without pretension, as life should be." Dada rejects all systems, all philosophy, all definite answers, and all truth. It is the living embrace of contradictions and nonsense. It seeks "to confuse and upset people, to shake and jolt". It aims to shout down the "shamefaced sex of comfortable compromise and good manners," when actually "everything happens in a completely idiotic way."
In short, Dada is a response to the world when all the usual methods have broken down. It's the recognition that dinner party conversations, Hollywood blockbusters, and Silicon Valley are not how life actually is. This is a false reality and order, like some kind of veneer.
The Dada response to life is to embrace the personal and passionate madness of it all, where "the intensity of a personality is transposed directly, clearly into the work." It's to recognize the unique position of an artist, who can convey ideas and feelings in a way that goes beyond normal understanding. Art goes straight to the soul, but the intensity of it all can be hard to "enjoy" in the strictest sense.
Where is this Dada?
For instance, Dada is seen in the poems of Hugo Ball who wrote in meaningless foreign-sounding words. It's in Hausmann, who wrote works in disconnected phonemes. It's found in Duchamp's iconoclastic "Fountain" that sought to question what art or an artist really meant. It's in Hans Richter's short film "Ghost before Breakfast," which has an incoherent montage of images, loosely connected by the theme of inanimate objects in revolt. And, it's in Kurt Schwitters' "psychological collages" which present fragments of objects, juxtaposed together.
Kurt Schwitters, Merz-drawing 85, Zig-Zag Red, 1920, collageCredit: Kurt Schwitters / Public Domain via Wikipedia
Dada is intended to shock. It's an artistic jolt asking, or demanding, that the viewers reorient themselves in some way. It is designed to make us feel uncomfortable and does not make for easy appreciation. It's only when we're thrown so drastically outside of our comfort zone in this way that Dada asks us to question how things are. It shakes us out of a conformist stupor to look afresh at things.

The paradox of Dadaism
Of course, like all avant-garde art, Dada needs to address one major problem: how do you stay so provocative, so radical, and so anti-establishment when you also seek success? How can maverick rebels stay so as they get a mortgage and want a good school for their kids? The problem is that young, inventive, and idealistic artists are inevitably sucked into the world of profit and commodity.
As Grayson Perry, a British modern artist, wrote: "What starts as a creative revolt soon becomes co-opted as the latest way to make money," and what was once fresh and challenging "falls away to reveal a predatory capitalist robot." With Dada, how long can someone actually live in a world of nonsense and nihilistic absurdity?
But there will always be new blood to keep movements like Dada going. As the revolutionaries of yesterday become the rich mansion-owners of today, there will be hot, young things to come and take up the mantle. There will always be something to challenge and questions to be asked. So, art movements like Dada will always be in the vanguard.
Dada is the art of the nihilist. It smashes accepted wisdom, challenges norms and values, and offends, upsets, and provokes us to re-examine everything. It's an absurd art form that reflects the reality it perceives — that life is nothing more than a dissonant patchwork of egos floating in an abyss of nothing.
Jonny Thomson teaches philosophy in Oxford. He runs a popular Instagram account called Mini Philosophy (@philosophyminis). His first book is Mini Philosophy: A Small Book of Big Ideas.
Unfortunately, humanity will never see it coming.
A computer image of a Higgs interaction. By Lucas Taylor / CERN, CC BY-SA 3.0, Wikipedia Commons.
Technology & Innovation
It sounds like a plot from a comic book or a sci-fi film, a theory that got a boost when one of the greatest discoveries in physics in the modern era, the discovery of the "God particle,"or the Higgs boson, the missing piece in the Standard Model of particle physics. In the preface to his book Starmus, Stephen Hawking warns that the Higgs Boson field could collapse, resulting in a chain reaction that would take in the whole universe with it.  
Theoretical physicist Joseph Lykken says it would probably take billions of years before we reach that point. Lykken hails from the Fermi National Accelerator Laboratory in Batavia, Illinois. If it did happen though, you wouldn't know it. One instant you are here, the next, you and everything else is swallowed up by an enormous vacuum bubble, traveling at light speed in every direction. Humanity would never see it coming.
Peter Higgs and colleagues first theorized the existence of the Higgs boson in 1964. The Large Hadron Collider (LHC) at CERN in Geneva, Switzerland finally discovered it in 2012. With this missing piece found, three of the four fundamental forces of nature become complete. The particle's measured value is 126 billion electron volts. That's 126 times a proton's mass. This is just enough to maintain a state teetering near the edge of stability.
Everything in the universe contains a certain amount of energy. Even so, everything also adheres to the principle of stability. All substances want to become stable. To do that, one must contain as little energy as it can. When something has a high energy level, it is unstable, and moves to rid itself of excess energy, in order to achieve stability.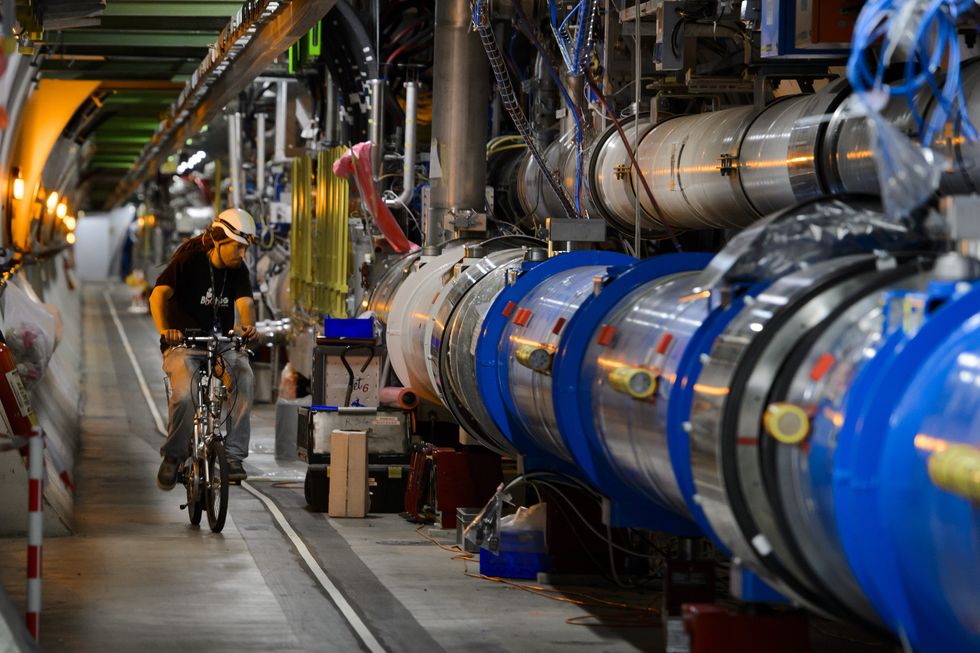 Part of the Large Hadron Collider (LHC) at CERN, where the Higgs boson was discovered.
Quantum fields imbue particles with various properties. They also want to move to a low energy state, here called a vacuum state. The Higgs Field may be the exception. It lends particles' mass. Rather than being a vacuum, the Higgs Field contains potential energy it cannot rid itself of, making it a false vacuum and by nature unstable. This instability could spark off, if the field was able to absorb more energy. A certain point it could absorb no more, teeter over the brink and end everything in existence.
The Higgs Field is maintaining a low energy state at the moment. But some believe it is slowly transitioning to a high energy state. When it does, it will kick off what is known as "vacuum decay." In Hawking's book, once the Higgs Field becomes metastable, the vacuum decay bubble will emerge. Being at a high energy state, it will quickly move to consume everything at a low energy state, or everything else around it. The vacuum bubble moves along destroying atoms, turning everything it encounters into hydrogen.
Prof. Lykken believes it will take billions of years. "There's no principle that we know of that would put us right on the edge," he said. University of Southern Denmark physicists strengthened the vacuum decay theory in a study published in the journal High Energy Physics. They found however that vacuum decay could occur at any moment.
Even so, there may be outside forces associated with the Higgs Field that influence it in unknown ways. Dark matter for example, that mysterious substance that could comprise up to 27% of the universe, may interact with the Higgs Field. Recently however, a team of prominent physicists brought into doubt whether or not dark matter actually exists. Another theory called "supersymmetry," states that every particle has its opposite. This helps keep the universe stable. Could the Higgs boson have a twin? Would that particle keep it from vacuum decay? No one is sure.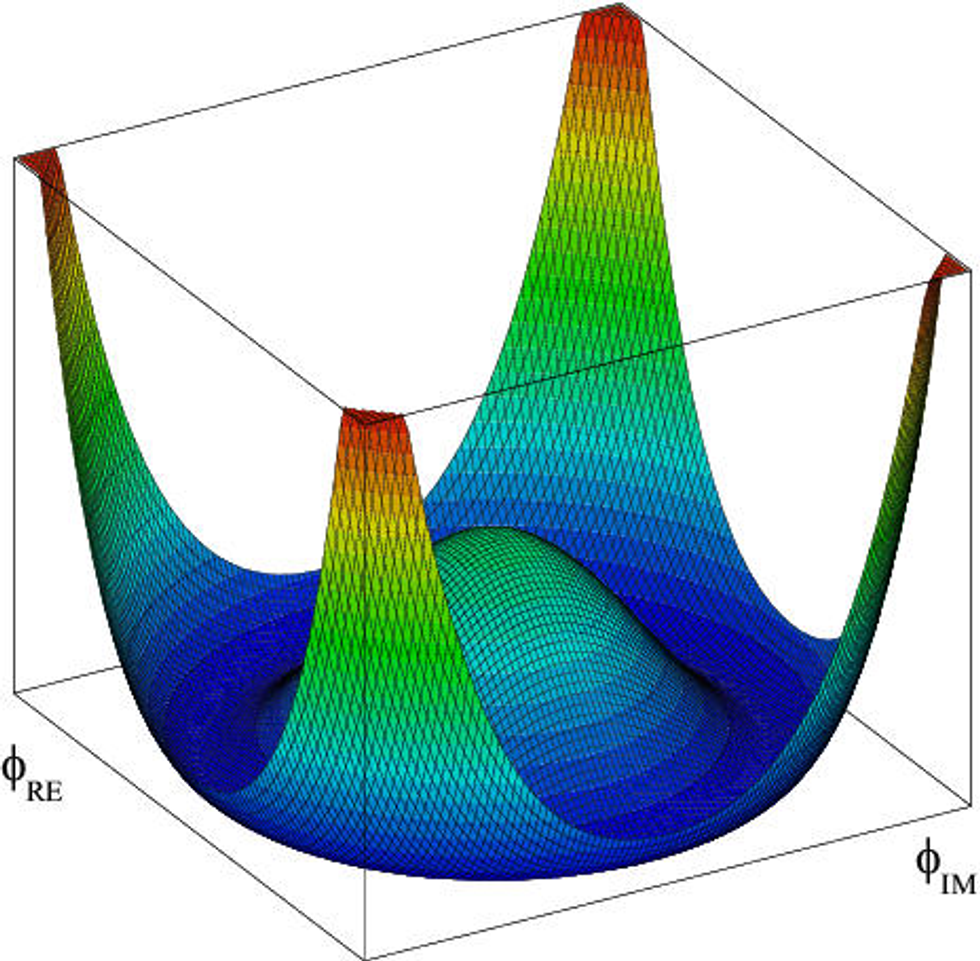 A representation of the Higgs Field. by Gonis from es, CC BY-SA 3.0, Wikipedia Commons. 
It is believed that when vacuum decay eventually takes place, what will be left is a superheated, hard, and extremely dense sphere. Some astrophysicists believe the universe, just before the Big Bang, may have looked like this. The Higgs Field is thought to have emerged shortly after the Big Bang. So it may be the driving force which deletes the universe and forces it to start over again.
This isn't the only conceptualization which predicts the destruction of everything everywhere. Another is the Big Crunch theory. This is the opposite of the Big Bang. With the first, a collection of super dense material exploded, heaving everything out in all directions. With the Big Crunch, it's thought that material eventually stops moving at some point, and begins traveling in the opposite direction, coming back together again.
So even if we are able to escape the planet and become an intergalactic species before the sun engulfs the earth, the universe itself may collapse. The only way to ensure longevity is if the multiverse actually exists, and we can become a multi-universal species. Whether it is the Big Crunch of Vacuum Decay that gets us, it's interesting to think that perhaps after that dense, hot state, it could in theory explode again, causing a second Big Bang.
If true, how many times has the cycle occurred? And does history repeat itself exactly, or is a totally new universe born? It is of course important to remember that this is all in the realm of theoretical physics. The universe may hide as of yet a treasure trove of unknown particles which could change these predictions and speculations completely.
To learn more about vacuum decay click here: 
Two different studies provide further evidence of the efficacy of psychedelics in treating depression.
Photo: agsandrew / Adobe Stock
Surprising Science
A phase 2 clinical trial by Imperial College London found psilocybin to be as effective at treating depression as escitalopram, a commonly prescribed antidepressant.
A different study by the University of Maryland showed that blocking the hallucinogenic effects of magic mushrooms in mice did not reduce the antidepressant effect.
Combined, these studies could lead to new ways of applying psychedelics to patient populations that don't want to trip.
Due to stigma, their illegal status and difficulty in finding control groups, research with psychedelics has been a challenge. But research increasingly shows that this class of drug has legitimate medicinal uses, and they may be just as good or even better than more traditional therapies.
Now, the Centre for Psychedelic Research at Imperial College London reports in the New England Journal of Medicine that when pitted against escitalopram (brand name: Lexapro), psilocybin was as effective as the popular SSRI (selective serotonin reuptake inhibitor) in treating moderate to severe depression. Perhaps most significantly, these results were obtained when comparing 6 weeks of daily doses of escitalopram to just two administrations of psilocybin.
Robin Carhart-Harris, head of the center who has published over 100 papers on psychedelics, is confident this study represents another step forward in applying psychedelics to mental health treatment protocols while also reducing fears a lot of citizens have around these substances. In a press release, he said:
"One of the most important aspects of this work is that people can clearly see the promise of properly delivered psilocybin therapy by viewing it compared with a more familiar, established treatment in the same study. Psilocybin performed very favorably in this head-to-head."
Credit: Robin Carhart-Harris et al, NEJM, 2021.
As depicted above, the phase 2 clinical trial included 59 volunteers. The escitalopram (control) group received six weeks of daily escitalopram in addition to two tiny (1-mg) doses of psilocybin — a dose so low that it is unlikely to produce hallucinogenic effects. The psilocybin (experimental) group received two 25-mg doses of psilocybin three weeks apart with placebo given on all the other days.

At the end of the study, both groups saw a decrease in depressive symptoms, though the results were not statistically significant. (That isn't necessarily bad because if the two drugs have similar effects, then they would not produce statistically significant results. Still, a larger study is needed to confirm that psilocybin is "just as good as" escitalopram.)
Additionally, several other outcomes favored psilocybin over escitalopram. For instance, 57 percent in the psilocybin group saw a remission of symptoms compared to 28 percent in the escitalopram group. This result was significant.
Psychedelics without tripping
As psychedelics become decriminalized and potentially legalized for therapeutic use, however, a large population of people might desire the antidepressant effects without the hallucinations. For example, the psychedelic ibogaine may be useful for treating addiction, so the company Mindmed is developing an analog that works without producing the unwanted hallucinogenic side effects.
A new research article, published in the journal PNAS, investigated the antidepressant effects of psilocybin on a group of chronically stressed mice. (Under immense stress, mice develop something resembling human depression.) As with humans, depressed mice lose a sense of joy, which can be assessed by determining their preference for sugar water over tap water. Normal mice prefer sugar water, but depressed mice simply don't care.
Once the mice were no longer juicing up on the sweetened water, the team dosed them with psilocybin alongside a drug called ketanserin, a 5-HT2A serotonin receptor antagonist that eliminates psychedelic effects. Within 24 hours of receiving the dose, the mice were rushing back to the sugar water, indicating that tripping is not necessary for psilocybin to work as an antidepressant.
While the team is excited about these results, they realize it needs to be replicated in a different population.
"The possibility of combining psychedelic compounds and a 5-HT2AR antagonist offers a potential means to increase their acceptance and clinical utility and should be studied in human depression."
Photo: Cannabis_Pic / Adobe Stock
The future of psychedelic therapy

Psychedelics such as psilocybin and LSD have a long track record of efficacy in clinical trials and anecdotal experiences. Almost all volunteers of the famous Marsh Chapel experiment claimed their experience on Good Friday in 1962 was one of the most significant events of their lives — and this was a quarter-century after the fact. A more recent, controlled study found that a single dose of psilocybin showed antidepressant effects six months later.
Proponents of macrodosing and ritualistic experiences sometimes argue that the full-blown mystical trip is the therapy, though this is anecdotal, not clinical research. As the Maryland team noted, a number of people are contraindicated for psychedelics, whether through a family history of schizophrenia or current antidepressant treatments.
Senior author Scott Thompson is excited for future research on this topic. As he said of his team's findings:
"The psychedelic experience is incredibly powerful and can be life-changing, but that could be too much for some people or not appropriate… These findings show that activation of the receptor causing the psychedelic effect isn't absolutely required for the antidepressant benefits, at least in mice."
Hopefully, with more research occurring in psychedelics than even in the 1950s (when studies predominantly relied on anecdotal evidence and little government support), the longstanding stigmatization of psychedelics is beginning to recede. This could open up new possibilities for both clinical research and, for those curious about the ritual effects, a continuation of introspective experiences.
--
Stay in touch with Derek on Twitter and Facebook. His most recent book is "Hero's Dose: The Case For Psychedelics in Ritual and Therapy."