5 Programming Languages Everyone Should Know
Programmer Larry Page offers language suggestions to amateur programmers who might not know exactly where to start.
Larry Wall
Larry Wall is the computer programmer responsible for creating Perl, a powerful general-purpose programming language known for its strengths in text processing. Wall, whose graduate work was in linguistics, designed Perl in 1987 for reports processing and continues to oversee the language's development according to the motto "Larry is always right, even when he was wrong." He also originated the three canonical "virtues" of a good programmer: laziness, impatience, and hubris.
06 August, 2010
Question: What are the five programming languages everyone, even non-programmers, should know about and why?
Larry Wall: Oh, boy, that's a really tough question. It's kind of like asking what are the five countries you should know about if you're not interested in geology, or geography, or politics, and the answer varies depending on what your actual interests are, or what are the five companies you should know. And the answer changes over time, too. Back when I was getting started, lo these many decades ago, the answers would've been Fortran, Cobalt, Basic, Lisp, and maybe APL, and those were very formative languages back then and people learned a lot from those, but these days, it might be more important for you to know JavaScript, even if the only reason you know that is that you know whether or not to click the "enable JavaScript" button in your browser. But JavaScript is a nice, lightweight, object-oriented language and that's why it can fit in a browser and do these things such as run little programs that help you input your data and then send it off to a web server somewhere.
There are heavier-weight object-oriented languages and the elephant in the room is sort of Java, you can't really make a list of modern languages without talking about it. Java is sort of the Cobalt of the 21st century, I think. It's kind of heavyweight, verbose, and everyone loves to hate it, though not everyone will admit that. But managers kind of like it because it looks like you're getting a lot done, you know, if 100 lines of Java code accomplish a task, then it looks like you've written 100 lines, even though in a different language, it might only take 5 lines. You know, it's like, you know, you can eat a 1-pound steak or you can eat, you know, 100 pounds of shoe leather and you feel a greater sense of accomplishment after the shoe leather, but, you know, maybe they're some downsides.
But it also, because it is sort of considered an industrial language and programmers are sort of interchangeable parts, managers like it for that reason, and for that reason, a lot of Java jobs have been outsourced from the United States.
Oh, what other languages? I think going in a different direction, coming more from academia, we have a language like Haskell, which we call a functional programming language. That means function in a mathematical sense, not in the sense the other languages are dysfunctional. But a function mathematically has an input and an output and it maps to, you know, with a great deal of mathematical certainty what those are. Haskell is one of those languages that mathematician-type-minded people love; it's sort of a language for geniuses, by geniuses. So you should probably know about it, if only to be able to say, "Well, is this kind of like Haskell?" And if so, then you know you have to hire some really smart people to program in it. Haskell is sort of a modern kind of Lisp in that sense.
What else? Well, we can't leave off modern languages without talking about C. The C language, that's just spelled with the letter C, is actually about 40 years old, but people have tried to replace C with other languages that are like it and have by and large not succeeded because C is a very minimalistic language and very close to the metal, as we say, on a machine, and lets you get down and do very fine grain stuff, very efficiently, but it's a lot of hard work. But once you've done that work, you can run it pretty much everywhere. So almost all the other languages that you see, Java, Perl, whatever, actually if you look down underneath, they're actually implemented in C, or in a closely related language. So that continues to be a very fundamental language, if only because everyone is trying to reinvent it and not succeeding in doing so.
And finally, for a fifth language, well, you'd probably want to pick one of the scripting languages. There's several to choose from, there's Python, there's Ruby, but of course, I am prejudiced in favor of Perl, because I think it has the liveliest community and because we have intentionally been redesigning it lately to leapfrog all the other languages. For the last number of years, we've been redesigning it to out all the warts that we've noticed over time. And we figured it was just our one chance to break backward compatibility, break the things that need breaking, keep all the things that make Perl, Perl, keep it a joy to use, and with this redesign, make it a language that will be able to be useful and enjoyable for decades. And so I'd recommend Perl, but I'm known to be prejudiced in the matter.
Java is "heavyweight, verbose, and everyone loves to hate it," but programmer Larry Wall still thinks you should know it. In this video, he offers suggestions for people interested in learning languages, as well as suggestions for those significantly less invested in computer programming.
Malcolm Gladwell teaches "Get over yourself and get to work" for Big Think Edge.
Big Think Edge
Learn to recognize failure and know the big difference between panicking and choking.

At Big Think Edge, Malcolm Gladwell teaches how to check your inner critic and get clear on what failure is.

Subscribe to Big Think Edge before we launch on March 30 to get 20% off monthly and annual memberships.
It turns out, that tattoo ink can travel throughout your body and settle in lymph nodes.
17th August 1973: An American tattoo artist working on a client's shoulder. (Photo by F. Roy Kemp/BIPs/Getty Images)
popular
In the slightly macabre experiment to find out where tattoo ink travels to in the body, French and German researchers recently used synchrotron X-ray fluorescence in four "inked" human cadavers — as well as one without. The results of their 2017 study? Some of the tattoo ink apparently settled in lymph nodes.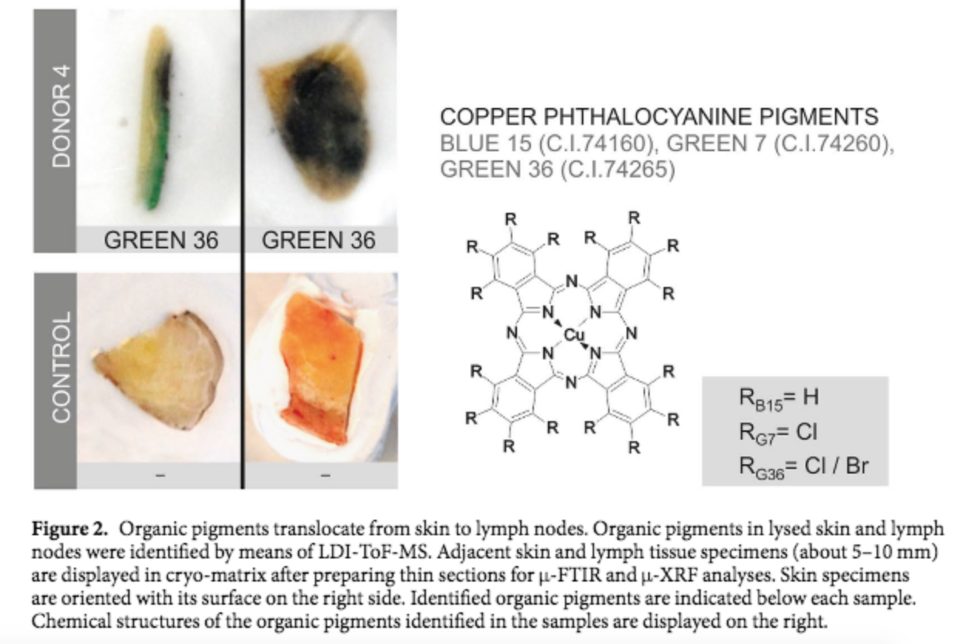 Image from the study.
As the authors explain in the study — they hail from Ludwig Maximilian University of Munich, the European Synchrotron Radiation Facility, and the German Federal Institute for Risk Assessment — it would have been unethical to test this on live animals since those creatures would not be able to give permission to be tattooed.
Because of the prevalence of tattoos these days, the researchers wanted to find out if the ink could be harmful in some way.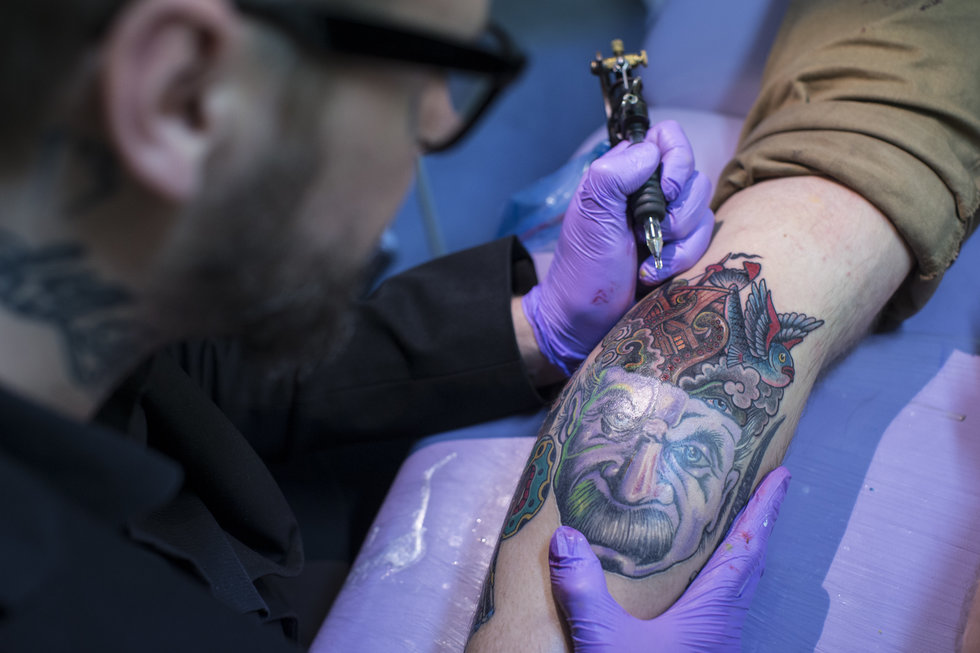 "The increasing prevalence of tattoos provoked safety concerns with respect to particle distribution and effects inside the human body," they write.
It works like this: Since lymph nodes filter lymph, which is the fluid that carries white blood cells throughout the body in an effort to fight infections that are encountered, that is where some of the ink particles collect.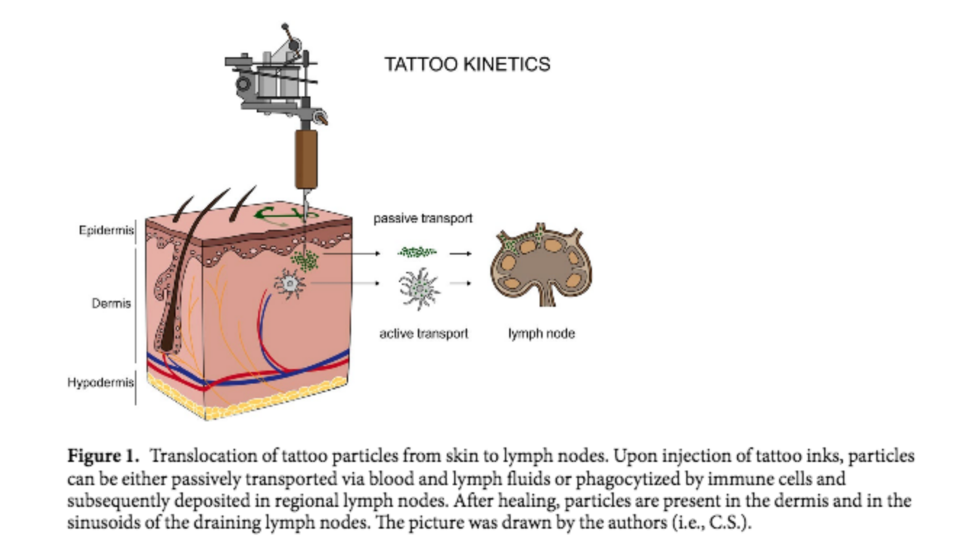 Image by authors of the study.
Titanium dioxide appears to be the thing that travels. It's a white tattoo ink pigment that's mixed with other colors all the time to control shades.
The study's authors will keep working on this in the meantime.
"In future experiments we will also look into the pigment and heavy metal burden of other, more distant internal organs and tissues in order to track any possible bio-distribution of tattoo ink ingredients throughout the body. The outcome of these investigations not only will be helpful in the assessment of the health risks associated with tattooing but also in the judgment of other exposures such as, e.g., the entrance of TiO2 nanoparticles present in cosmetics at the site of damaged skin."
It's one of the most consistent patterns in the unviverse. What causes it?
Videos
Spinning discs are everywhere – just look at our solar system, the rings of Saturn, and all the spiral galaxies in the universe.
Spinning discs are the result of two things: The force of gravity and a phenomenon in physics called the conservation of angular momentum.
Gravity brings matter together; the closer the matter gets, the more it accelerates – much like an ice skater who spins faster and faster the closer their arms get to their body. Then, this spinning cloud collapses due to up and down and diagonal collisions that cancel each other out until the only motion they have in common is the spin – and voila: A flat disc.
Big think's weekly newsletter.
Get smarter faster from the comfort of your inbox.
See our newsletter privacy policy
here
Most Popular
Most Recent
Big think's weekly newsletter.
Get smarter faster from the comfort of your inbox.
See our newsletter privacy policy
here
© Copyright 2007-2018 & BIG THINK, BIG THINK EDGE,
SMARTER FASTER trademarks owned by The Big Think, Inc. All rights reserved.