Woody Guthrie Versus the One Percent
Woody Guthrie saw America differently, and his songs were designed to make people think. And yet, what was most appealing about his persona was his perceived authenticity.
Daniel Honan
From 2011-2014, Daniel Honan was the Managing Editor at Big Think. Prior to Big Think, Daniel was Vice President of Production for Plum TV, a niche cable network he helped launch in 2002. The production team he oversaw won over two dozen Emmy awards. Daniel has created numerous shows and documentaries for television, and his film credits include Stealing the Fire, a documentary on the black market for nuclear weapons technology.
Follow Daniel on Twitter @DanielHonan
11 July, 2012
100 years ago today, folk legend Woody Guthrie was born. In the popular imagination, Guthrie tends to epitomize the notion of authenticity. He traveled widely during the years of the Great Depression and wrote songs about migrants living along the Columbia River, dreaming about owning the land they toiled on. 
---
That is, after all, the theme of Guthrie's most famous song, "This Land is Your Land," a song that is so majestic that we often miss its bitter ironies that can be found in Guthrie's double and triple entendres. Guthrie originally titled the song "God Blessed America" in response to what he saw as the staid patriotism expressed in Irving Berlin's "God Bless America." Guthrie saw the country differently, and his songs were designed to make people think. His songs, after all, packed a punch. Guthrie not only composed hard-hitting songs for hard-hit folks, he valorized outlaws such as Pretty Boy Floyd, contrasting him with the one-percenters who would "rob you with a fountain pen."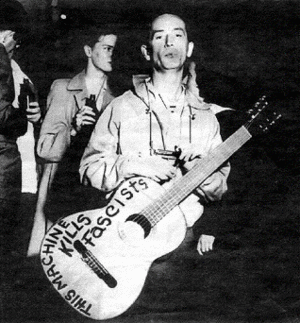 "This Machine Kills Fascists"
Guthrie's music found a rebirth during the folk revival of the 1960s, as artists like Bob Dylan covered his songs and the folklorist Alan Lomax introduced his music to a wider audience. What was so appealing about Guthrie was that he was the personification of the outsider, the authentic hillbilly who sang about real people and real issues, as opposed to the superficial themes that were expressed in pop culture at the time.
And yet, as Ed Cray observed in his biography, Ramblin' Man: The Life and Times of Woody Guthrie, hokey cowboy singers were a novelty craze in the late 1930s, and Guthrie created that persona for himself. 
What's the Big Idea?
In an age where we often use the terms "personal brand" and "online identity" interchangeably, it is not hard to see how constructed our identities have become. Is the "authentic" self disappearing and being replaced by a series of data points that now constitute who we are? If so, what does this say about our identity as a culture? 
Today, Guthrie's music has been revitalized again, as the Occupy Wall Street movements have taken "This Land is Your Land," and made it their anthem (see video below). So how does Guthrie speak to us today? On the one hand, his songs are the voice of collectivism, an idea that is locked in the same battle against radical individualism that is was in the 1930s and 1960s. And yet, the more powerful idea that Guthrie offers us today is that of authenticity, which is an idea that the Left is certainly in need of, as is the whole country. 
Guthrie, of course, continues to inspire new artists today. (In addition to songwriters, I would add there are plenty of bloggers, programmers and others working in other mediums who have taken up Guthrie's cause today). One of the most prominent of Guthrie's 21st century devotees is Josh Ritter, who speaks about his inspiration from Woody Guthrie to have his voice heard. 
Watch the video here:
Tom Morello, formerly the guitarist for Rage Against the Machine, was active in the Occupy Wall Street movement. Here is his rendition of "This Land is Your Land."
Watch here:
Image courtesy of Shutterstock
Follow Daniel Honan on Twitter @Daniel Honan
The famed author headed to the pond thanks to Indian philosophy.
Image: Public Domain / Shutterstock / Big Think
Personal Growth
The famed author was heavily influenced by Indian literature, informing his decision to self-exile on Walden Pond.
He was introduced to these texts by his good friend's father, William Emerson.
Yoga philosophy was in America a century before any physical practices were introduced.
Pfizer's partnerships strengthen their ability to deliver vaccines in developing countries.
Susan Silbermann, Global President of Pfizer Vaccines, looks on as a health care worker administers a vaccine in Rwanda. Photo: Courtesy of Pfizer.
Sponsored
Community healthcare workers face many challenges in their work, including often traveling far distances to see their clients
Pfizer is helping to drive the UN's sustainable development goals through partnerships.
Pfizer partnered with AMP and the World Health Organization to develop a training program for healthcare workers.
A little goes a long way.
Photo: Shutterstock / Big Think
Personal Growth
A recent study from the Department of Health and Human Services found that 80 percent of Americans don't exercise enough.
Small breaks from work add up, causing experts to recommend short doses of movement rather than waiting to do longer workouts.
Rethinking what exercise is can help you frame how you move throughout your day.
Big think's weekly newsletter.
Get smarter faster from the comfort of your inbox.
See our newsletter privacy policy
here
Most Popular
Most Recent
Big think's weekly newsletter.
Get smarter faster from the comfort of your inbox.
See our newsletter privacy policy
here
© Copyright 2007-2018 & BIG THINK, BIG THINK EDGE,
SMARTER FASTER trademarks owned by The Big Think, Inc. All rights reserved.