How to Survive and Thrive in a World of Digital Darwinism (Don't Be Lame)
How do you get a million and a half people to read a blog post on tax policy? Obama digital wunderkind Teddy Goff has a simple mantra: don't be lame.
13 June, 2013
Before Bill Clinton was elected president in 1992, he first had to win the so-called "Carville primary" in 1991. The reward for winning this behind-the-scenes contest was the services of the hottest political consultant at the time, James Carville. "The equivalent this time might be the Teddy Goff primary," writes Al Hunt on Bloomberg, "to earn the assistance of the digital wunderkind who directed social media for the Obama campaign."
---
Goff's online exploits are legendary. In 2012, he raised over $500 million, registered more than a million voters, built a Facebook page with 45 million fans and a Twitter following of 33 million. Shall we go on? Over 100 million video views, signing up hundreds of thousands of volunteers online - it's fair to say Goff is in the right business. Or is he? 
Of course, Goff's man was re-elected, partly on the strength of the most impressive online fundraising, organizing and communications campaign in the history of politics. And yet, the strategy that Goff devised, and the tools he used to implement it, is broadly transferable. 
For instance, how do you get a million and a half people to read a blog post on tax policy? That seems like a tall order. How can tax policy compete with LOL cat videos? As Goff tells Big Think, you are dealing with consumers "who can click away as soon as they don't like what they're seeing." So Goff and his team relied on a simple mantra: don't be lame. 
Watch the video here:
What's the Big Idea?
Not being lame is easier said than done, especially when you're dealing with a subject that is potentially very dull. However, a little bit of fun can go a long way. A talented digital strategist like Goff sees the Internet not as a marketing challenge, but an opportunity. A traditional campaign might have drafted a white paper or quoted a number of economists who were critical of Romney's plan. And that might have fit very well in a newspaper ad. But Goff had other ideas.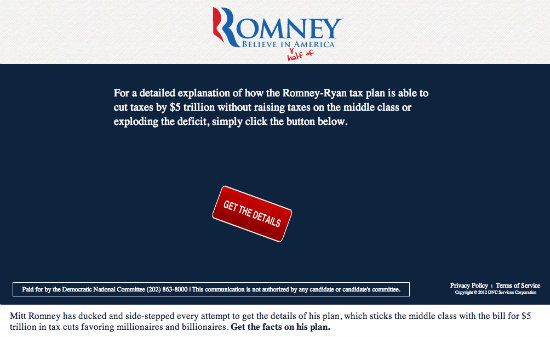 In the video, Goff tells Big Think how he developed a faux-Romney campaign website that promised potential voters details on the Romney tax plan. However, when you attempted to click a button labeled "GET THE DETAILS," the button moved out of the way of your cursor, as if to dodge the question. After eight seconds of frustration you were finally redirected to a DNC blog post that eviscerated Romney's tax plan. 
As it turns out, people loved it. Goff's meme garnered over 1.5 million Facebook likes within a day. "It was content that just simply couldn't have existed before the Internet," he says.
Image courtesy of Shutterstock
What can 3D printing do for medicine? The "sky is the limit," says Northwell Health researcher Dr. Todd Goldstein.
Northwell Health
Sponsored by Northwell Health
Medical professionals are currently using 3D printers to create prosthetics and patient-specific organ models that doctors can use to prepare for surgery.
Eventually, scientists hope to print patient-specific organs that can be transplanted safely into the human body.
Northwell Health, New York State's largest health care provider, is pioneering 3D printing in medicine in three key ways.
The tactics that work now won't work for long.
Politics & Current Affairs
Arms races happen when two sides of a conflict escalate in a series of ever-changing moves intended to outwit the opponent.
Great ideas in philosophy often come in dense packages. Then there is where the work of Marcus Aurelius.
(Getty Images)
Personal Growth
Meditations is a collection of the philosophical ideas of the Roman Emperor Marcus Aurelius.
Written as a series of notes to himself, the book is much more readable than the dry philosophy most people are used to.
The advice he gave to himself 2,000 years ago is increasingly applicable in our hectic, stressed-out lives.
By working together, and learning from one another, we can build better systems.
Videos
Many of the things that we experience, are our imagination manifesting into this physical realm, avers artist Dustin Yellin.
People need to completely rethink the way they work together, and learn from one another, that they they can build better systems. If not, things may get "really dark" soon.
The first step to enabling cooperation is figuring out where the common ground is. Through this method, despite contrary beliefs, we may be able to find some degree of peace.
Big think's weekly newsletter.
Get smarter faster from the comfort of your inbox.
See our newsletter privacy policy
here
Most Popular
Most Recent
Big think's weekly newsletter.
Get smarter faster from the comfort of your inbox.
See our newsletter privacy policy
here
© Copyright 2007-2019 & BIG THINK, BIG THINK EDGE,
SMARTER FASTER trademarks owned by The Big Think, Inc. All rights reserved.