How to Survive and Thrive in a World of Digital Darwinism (Don't Be Lame)
How do you get a million and a half people to read a blog post on tax policy? Obama digital wunderkind Teddy Goff has a simple mantra: don't be lame.
Daniel Honan
From 2011-2014, Daniel Honan was the Managing Editor at Big Think. Prior to Big Think, Daniel was Vice President of Production for Plum TV, a niche cable network he helped launch in 2002. The production team he oversaw won over two dozen Emmy awards. Daniel has created numerous shows and documentaries for television, and his film credits include Stealing the Fire, a documentary on the black market for nuclear weapons technology.
Follow Daniel on Twitter @DanielHonan
13 June, 2013
Before Bill Clinton was elected president in 1992, he first had to win the so-called "Carville primary" in 1991. The reward for winning this behind-the-scenes contest was the services of the hottest political consultant at the time, James Carville. "The equivalent this time might be the Teddy Goff primary," writes Al Hunt on Bloomberg, "to earn the assistance of the digital wunderkind who directed social media for the Obama campaign."
---
Goff's online exploits are legendary. In 2012, he raised over $500 million, registered more than a million voters, built a Facebook page with 45 million fans and a Twitter following of 33 million. Shall we go on? Over 100 million video views, signing up hundreds of thousands of volunteers online - it's fair to say Goff is in the right business. Or is he? 
Of course, Goff's man was re-elected, partly on the strength of the most impressive online fundraising, organizing and communications campaign in the history of politics. And yet, the strategy that Goff devised, and the tools he used to implement it, is broadly transferable. 
For instance, how do you get a million and a half people to read a blog post on tax policy? That seems like a tall order. How can tax policy compete with LOL cat videos? As Goff tells Big Think, you are dealing with consumers "who can click away as soon as they don't like what they're seeing." So Goff and his team relied on a simple mantra: don't be lame. 
Watch the video here:
What's the Big Idea?
Not being lame is easier said than done, especially when you're dealing with a subject that is potentially very dull. However, a little bit of fun can go a long way. A talented digital strategist like Goff sees the Internet not as a marketing challenge, but an opportunity. A traditional campaign might have drafted a white paper or quoted a number of economists who were critical of Romney's plan. And that might have fit very well in a newspaper ad. But Goff had other ideas.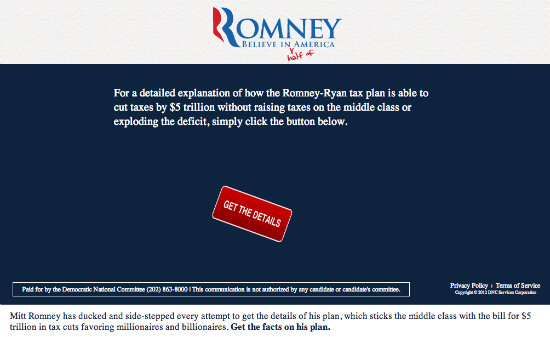 In the video, Goff tells Big Think how he developed a faux-Romney campaign website that promised potential voters details on the Romney tax plan. However, when you attempted to click a button labeled "GET THE DETAILS," the button moved out of the way of your cursor, as if to dodge the question. After eight seconds of frustration you were finally redirected to a DNC blog post that eviscerated Romney's tax plan. 
As it turns out, people loved it. Goff's meme garnered over 1.5 million Facebook likes within a day. "It was content that just simply couldn't have existed before the Internet," he says.
Image courtesy of Shutterstock
In a breakthrough for nuclear fusion research, scientists at China's Experimental Advanced Superconducting Tokamak (EAST) reactor have produced temperatures necessary for nuclear fusion on Earth.
Credit: EAST Team
Surprising Science
The EAST reactor was able to heat hydrogen to temperatures exceeding 100 million degrees Celsius.
Nuclear fusion could someday provide the planet with a virtually limitless supply of clean energy.
Still, scientists have many other obstacles to pass before fusion technology becomes a viable energy source.
Military recruits are supposed to be assessed to see whether they're fit for service. What happens when they're not?
Politics & Current Affairs
During the Vietnam War, Robert McNamara began a program called Project 100,000.
The program brought over 300,000 men to Vietnam who failed to meet minimum criteria for military service, both physically and mentally.
Project 100,000 recruits were killed in disproportionate numbers and fared worse after their military service than their civilian peers, making the program one of the biggest—and possibly cruelest—mistakes of the Vietnam War.
The 116th Congress is set to break records in term of diversity among its lawmakers, though those changes are coming almost entirely from Democrats.
(Photo: MANDEL NGAN/AFP/Getty Images)
Politics & Current Affairs
Women and nonwhite candidates made record gains in the 2018 midterms.
In total, almost half of the newly elected Congressional representatives are not white men.
Those changes come almost entirely from Democrats; Republican members-elect are all white men except for one woman.
Big think's weekly newsletter.
Get smarter faster from the comfort of your inbox.
See our newsletter privacy policy
here
Most Popular
Most Recent
Big think's weekly newsletter.
Get smarter faster from the comfort of your inbox.
See our newsletter privacy policy
here
© Copyright 2007-2018 & BIG THINK, BIG THINK EDGE,
SMARTER FASTER trademarks owned by The Big Think, Inc. All rights reserved.