Louis XVI's Blood... Isn't
25 April, 2014
---
Editor's Note: This article was provided by our partner, RealClearScience. The original is here.
In early 2013, a team of scientists
reported
that blood on a stained handkerchief kept within a two-century-old gourd belonged to legendary French monarch Louis XVI.
The finding fit in nicely with popular history: After Louis XVI's public beheading in 1793, citizens of the newly formed French Republic supposedly rushed forward to dab their handkerchiefs in the quickly pooling blood.
That macabre, chaotic collection of timeless souvenirs could very well have happened, but a new study published in Nature's Scientific Reports disputes the earlier report from 2013. The blood in that gourd almost certainly doesn't belong to Louis XVI.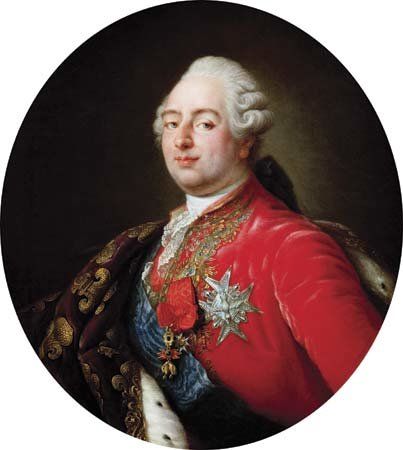 After sequencing the genome of the DNA contained within that blood, a team of geneticists turned up a great many reasons to doubt its royal authenticity. For starters, an examination of alleles determining height and eye color show that the blood's former owner was only slightly taller than an average European male in the 18th century -- roughly 5'8" -- and had brown eyes. This is incompatible with the widely circulated description of Louis XVI: around 6'3" tall and blue-eyed. Moreover, an examination of the blood's ancestry found it to be most related to individuals from Northern Italy. Considering that Louis XVI's heritage is predominantly rooted to present-day Germany and Poland, it is highly unlikely that the blood belongs to the king.
Laypersons may recall Louis XVI as the final king in the thousand-year French monarchy, and the only French king to ever be executed. He was married to the illustrious Marie Antoinette, who's widely credited with uttering the infamous phrase, "Let them eat cake." In fact, there's no evidence that she ever said that.
Source: Olalde, I. et al. Genomic analysis of the blood attributed to Louis XVI (1754–1793), king of France. Sci. Rep. 4, 4666; DOI:10.1038/srep04666 (2014).
(Images: Davide Pettener, Wikimedia Commons)
What can 3D printing do for medicine? The "sky is the limit," says Northwell Health researcher Dr. Todd Goldstein.
Northwell Health
Sponsored by Northwell Health
Medical professionals are currently using 3D printers to create prosthetics and patient-specific organ models that doctors can use to prepare for surgery.
Eventually, scientists hope to print patient-specific organs that can be transplanted safely into the human body.
Northwell Health, New York State's largest health care provider, is pioneering 3D printing in medicine in three key ways.
The tactics that work now won't work for long.
Politics & Current Affairs
Arms races happen when two sides of a conflict escalate in a series of ever-changing moves intended to outwit the opponent.
Great ideas in philosophy often come in dense packages. Then there is where the work of Marcus Aurelius.
(Getty Images)
Personal Growth
Meditations is a collection of the philosophical ideas of the Roman Emperor Marcus Aurelius.
Written as a series of notes to himself, the book is much more readable than the dry philosophy most people are used to.
The advice he gave to himself 2,000 years ago is increasingly applicable in our hectic, stressed-out lives.
By working together, and learning from one another, we can build better systems.
Videos
Many of the things that we experience, are our imagination manifesting into this physical realm, avers artist Dustin Yellin.
People need to completely rethink the way they work together, and learn from one another, that they they can build better systems. If not, things may get "really dark" soon.
The first step to enabling cooperation is figuring out where the common ground is. Through this method, despite contrary beliefs, we may be able to find some degree of peace.
Big think's weekly newsletter.
Get smarter faster from the comfort of your inbox.
See our newsletter privacy policy
here
Most Popular
Most Recent
Big think's weekly newsletter.
Get smarter faster from the comfort of your inbox.
See our newsletter privacy policy
here
© Copyright 2007-2019 & BIG THINK, BIG THINK EDGE,
SMARTER FASTER trademarks owned by The Big Think, Inc. All rights reserved.