Big ideas.
Once a week.
Subscribe to our weekly newsletter.
Domestic Nukes: An Unprecedented Disaster Waiting to Happen, with Eric Schlosser
Despite knuckle-gripping tension and mass nuclear proliferation during the Cold War, not a single detonation has caused mass civilian casualties since 1945. According to investigative journalist Eric Schlosser, such good fortune is nothing more than blind luck.
09 October, 2014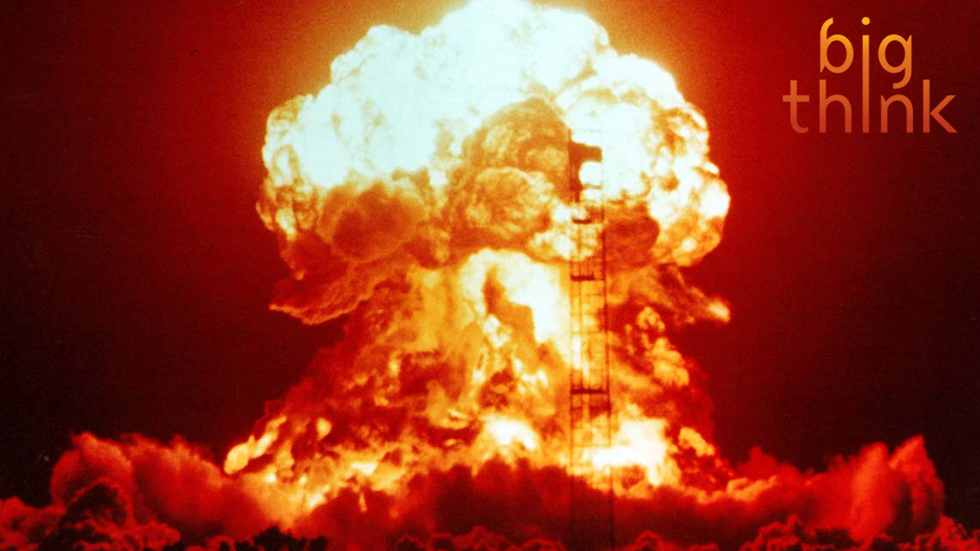 Somehow and someway the United States managed to make it to the year 2014 without getting itself blown up. Despite knuckle-gripping tension and mass nuclear proliferation during the Cold War, not a single detonation has caused mass civilian casualties since 1945. According to investigative journalist Eric Schlosser, such good fortune is nothing more than blind luck. Schlosser is best known as author of best-selling books Fast Food Nation and Reefer Madness. His latest, Command and Control, analyzes nuclear weapons and the illusion of their safety. In his recent Big Think interview, Schlosser explains why the American public has no reason to feel safe about how the U.S. manages its nuclear arsenal:
---
Schlosser's book, as well as this interview, focuses in particular on a frightening incident that occurred thirty-four years ago in the town of Damascus, Arkansas. Damascus was home to a massive silo housing a ten-story Titan II missile. Atop this missile was the most powerful nuclear warhead the United States ever built. Tread carefully, right?
On September 18, 1980, an airman conducting routine maintenance dropped a socket that fell 80 feet (24 m) down the silo before tearing a hole in the missile's protective metal skin. This caused a major rocket fuel leak. Rocket fuel is highly flammable. It's also highly explosive. And thousands of gallons of the stuff was suddenly spilling out into a silo containing an explosive device capable of leveling much of Arkansas.
The rocket exploded within 24 hours (killing one, injuring dozens) but since Arkansas is still on the map you can probably guess that the warhead was kept from detonating. Still, as Schlosser explains, hearing this story for the first time shocked him. How could we have come so close to such a disaster? When he began researching further into Damascus, Schlosser found that it wasn't nearly as isolated an incident as he initially suspected:
"The more I learned, the more amazed I was by how many other accidents there had been and how many times the United States came close to losing our own cities as a result of accidents with our own nuclear weapons. So that led me to interview bomber crew members, missile crew members, nuclear weapon designers, nuclear weapon repairmen and to do a lot of searches through the Freedom of Information Act for top secret documents about these nuclear accidents and about safety problems with our weapons."
Schlosser's research eventually led to the writing of Command and Control. His findings revealed that the U.S. government routinely lied about, covered up, and underreported accidents involving nuclear devices:
"There was this effort to keep away from the American people the truth about the dangers and the risks of our nuclear arsenal because there was a concern that if the American people really understood some of the risks they wouldn't support our nuclear weapons policies."
Now, in the 21st century, Schlosser wants citizens to carry more sway in the national discussion about these weapons. A nuclear detonation on domestic soil would wreak chaos on a scale dwarfing any known natural disaster. With stakes this high and the Cold War long over, is it not time to do away with all the government secrecy? 
"All manmade things are fallible and they're going to be fallible because we're fallible. It's impossible for human beings to create anything that's perfect and that will never go wrong. So the question is how much risk are you willing to accept. And those decisions weren't made by the American people debating well how much risk are we willing to accept. They were made by Pentagon policy makers acting largely in secret, a small number of people. Eventually they came to the conclusion that the risk of an accidental detonation from a nuclear weapon during an accident should be one in a million. And that's what they decided was an acceptable risk. Now one in a million sounds like a very unlikely occurrence but one in a million things happen all the time. People who buy lottery tickets and win the lottery are defying odds much greater than one in a million."
At this rate, Schlosser believes a nuclear disaster is bound to happen sometime. It may be years from now; it may be tomorrow. What is for sure is that our illusion of safety from nuclear threat is simply that -- an illusion. And the greatest threat of a detonation on American soil comes not from Russia or some other outside entity. It comes from within. After all, we're only ever one lost socket away from catastrophe.
"When nuclear weapons were first being invented this was such a new technology and such a new science they really had no idea what some of the safety implications would be. And one of the themes of my book is that this technology has always from the very beginning been on the verge of slipping out of control... And in the year 2014 there are still all kinds of uncertainties about our ability to control this technology and to be able to prevent catastrophic mistakes and accidents if something goes wrong."
A new paper reveals that the Voyager 1 spacecraft detected a constant hum coming from outside our Solar System.
Credit: NASA / JPL - Caltech.
Surprising Science
Voyager 1, humankind's most distant space probe, detected an unusual "hum" in the data from interstellar space.
The noise is likely produced by interstellar gas.
Further investigation may reveal the hum's exact origins.
Voyager 1, humanity's most faraway spacecraft, has detected an unusual "hum" coming from outside our solar system. Fourteen billion miles away from Earth, the Voyager's instruments picked up a droning sound that may be caused by plasma (ionized gas) in the vast emptiness of interstellar space. Launched in 1977, the Voyager 1 space probe — along with its twin Voyager 2 — has been traveling farther and farther into space for over 44 years. It has now breached the edge of our solar system, exiting the heliosphere, the bubble-like region of space influenced by the sun. Now, the spacecraft is moving through the "interstellar medium," where it recorded the peculiar sound.
Stella Koch Ocker, a doctoral student in astronomy at Cornell University, discovered the sound in the data from the Voyager's Plasma Wave System (PWS), which measures electron density. Ocker called the drone coming from plasma shock waves "very faint and monotone," likely due to the narrow bandwidth of its frequency.
While they think the persistent background hum may be coming from interstellar gas, the researchers don't yet know what exactly is causing it. It might be produced by "thermally excited plasma oscillations and quasi-thermal noise."
The new paper from Ocker and her colleagues at Cornell University and the University of Iowa, published in Nature Astronomy, also proposes that this is not the last we'll hear of the strange noise. The scientists write that "the emission's persistence suggests that Voyager 1 may be able to continue tracking the interstellar plasma density in the absence of shock-generated plasma oscillation events."
Voyager Captures Sounds of Interstellar Space www.youtube.com
The researchers think the droning sound may hold clues to how interstellar space and the heliopause, which can be thought of as the solar's system border, may be affecting each other. When it first entered interstellar space, the PWS instrument reported disturbances in the gas caused by the sun. But in between such eruptions is where the researchers spotted the steady signature made by the near-vacuum.

Senior author James Cordes, a professor of astronomy at Cornell, compared the interstellar medium to "a quiet or gentle rain," adding that "in the case of a solar outburst, it's like detecting a lightning burst in a thunderstorm and then it's back to a gentle rain."
More data from Voyager over the next few years may hold crucial information to the origins of the hum. The findings are already remarkable considering the space probe is functioning on technology from the mid-1970s. The craft has about 70 kilobytes of computer memory. It also carries a Golden Record created by a committee chaired by the late Carl Sagan, who taught at Cornell University. The 12-inch gold-plated copper disk record is essentially a time capsule, meant to tell the story of Earthlings to extraterrestrials. It contains sounds and images that showcase the diversity of Earth's life and culture.
As the American population grows, fewer people will die of cancer.
Surprising Science
A new study projects that cancer deaths will decrease in relative and absolute terms by 2040.
The biggest decrease will be among lung cancer deaths, which are predicted to fall by 50 percent.
Cancer is like terrorism: we cannot eliminate it entirely, but we can minimize its influence.
As the #2 leading cause of death, cancer takes the lives of about 600,000 Americans each year. In comparison, heart disease (#1) claims more than 650,000 lives, while accidents (#3) take about 175,000 lives. (In 2020 and likely 2021, COVID will claim the #3 spot.)
Headlines are usually full of terrible news about cancer. Seemingly, you can't get away from anything that causes it. RealClearScience made a list of all the things blamed for cancer — antiperspirants, salty soup, eggs, corn, Pringles, bras, burnt toast, and even Facebook made the list.
The reality, however, is much more optimistic. We're slowly but surely winning the war on cancer.
Winning the war on cancer
How can we make such a brazen statement? A new paper published in the journal JAMA Network Open tracks trends in cancer incidence and deaths and makes projections to the year 2040. The authors predict that around 568,000 Americans will have died of cancer in 2020, but they project that number to fall to 410,000 by 2040. That's a drop of nearly 28 percent, despite the U.S. population being projected to grow from roughly 333 million today to 374 million in 2040, an increase of 12 percent. That means cancer deaths will decrease in both relative and absolute terms.
What accounts for this unexpected good news? The lion's share is the number of deaths attributable to lung cancer, which is projected to decrease by more than 50 percent, from 130,000 to 63,000. This drop is largely due to the decreasing use of tobacco products. Other deaths predicted to decline include those from colorectal, breast, prostate, and ovarian cancers, among others, such as leukemia and non-Hodgkin lymphoma (NHL).
The authors credit screening and biomedical advances for saving many of these lives. For instance, lead author Dr. Lola Rahib wrote in an email to Big Think that "colonoscopies remove precancerous polyps." She also noted that targeted therapies and immunotherapies have helped reduce the number of deaths from leukemia and NHL.
We'll never cure cancer
Now the bad news: We'll never cure cancer. There are at least three reasons for this. The first is obvious: We all die. The lifetime prevalence of death is 100 percent. The truth is that we are running out of things to die from. After a long enough period of time, something gives out — often your cardiovascular system or nervous system. Or you develop you cancer.
The second reason is that we are multicellular organisms and, hence, we are susceptible to cancer. (Contrary to popular myth, sharks get cancer, too.) The cells of multicellular organisms face an existential dilemma: they can either get old and stop dividing (a process called senescence) or become immortal but cancerous. For this reason, the problem of cancer may not have a solution.
Finally, there isn't really such a thing as a disease called "cancer." What we call cancer is actually a collection of several different diseases, some of which are preventable (like cervical cancer with the HPV vaccine) or curable (like prostate cancer). Unfortunately, some cancers probably never will be curable, not least because cancers can mutate and develop resistance to the drugs we use to treat them.
But the overall optimism still stands: We are slowly and incrementally winning the war on cancer. Like terrorism, it's not a foe that we can completely vanquish, but it is one whose influence we can minimize in our lives.
China has reached a new record for nuclear fusion at 120 million degrees Celsius.
Technology & Innovation
This article was originally published on our sister site, Freethink.
China wants to build a mini-star on Earth and house it in a reactor. Many teams across the globe have this same bold goal --- which would create unlimited clean energy via nuclear fusion.
But according to Chinese state media, New Atlas reports, the team at the Experimental Advanced Superconducting Tokamak (EAST) has set a new world record: temperatures of 120 million degrees Celsius for 101 seconds.
Yeah, that's hot. So what? Nuclear fusion reactions require an insane amount of heat and pressure --- a temperature environment similar to the sun, which is approximately 150 million degrees C.
If scientists can essentially build a sun on Earth, they can create endless energy by mimicking how the sun does it.
If scientists can essentially build a sun on Earth, they can create endless energy by mimicking how the sun does it. In nuclear fusion, the extreme heat and pressure create a plasma. Then, within that plasma, two or more hydrogen nuclei crash together, merge into a heavier atom, and release a ton of energy in the process.
Nuclear fusion milestones: The team at EAST built a giant metal torus (similar in shape to a giant donut) with a series of magnetic coils. The coils hold hot plasma where the reactions occur. They've reached many milestones along the way.
According to New Atlas, in 2016, the scientists at EAST could heat hydrogen plasma to roughly 50 million degrees C for 102 seconds. Two years later, they reached 100 million degrees for 10 seconds.
The temperatures are impressive, but the short reaction times, and lack of pressure are another obstacle. Fusion is simple for the sun, because stars are massive and gravity provides even pressure all over the surface. The pressure squeezes hydrogen gas in the sun's core so immensely that several nuclei combine to form one atom, releasing energy.
But on Earth, we have to supply all of the pressure to keep the reaction going, and it has to be perfectly even. It's hard to do this for any length of time, and it uses a ton of energy. So the reactions usually fizzle out in minutes or seconds.
Still, the latest record of 120 million degrees and 101 seconds is one more step toward sustaining longer and hotter reactions.
Why does this matter? No one denies that humankind needs a clean, unlimited source of energy.
We all recognize that oil and gas are limited resources. But even wind and solar power --- renewable energies --- are fundamentally limited. They are dependent upon a breezy day or a cloudless sky, which we can't always count on.
Nuclear fusion is clean, safe, and environmentally sustainable --- its fuel is a nearly limitless resource since it is simply hydrogen (which can be easily made from water).
With each new milestone, we are creeping closer and closer to a breakthrough for unlimited, clean energy.
Videos
The symbol for love is the heart, but the brain may be more accurate.
Scroll down to load more…