You've got 10 minutes with Einstein. What do you talk about? Black holes? Time travel?
Why not gambling? The Art of War? Contemporary parenting?
Each week, host Jason Gots surprises some of the world's brightest minds with ideas they're not at all prepared to discuss. Join us and special guests Neil Gaiman, Alan Alda, Salman Rushdie, Margaret Atwood, Richard Dawkins, Maria Popova, Mary-Louise Parker, Neil deGrasse Tyson and many more...
17 February, 2017
Yourself, Only Better – Ayelet Waldman – Think Again Podcast #86
Spontaneous talk on surprise topics. Author Ayelet Waldman on parenting, identity, and how LSD microdosing changed her life for the better.
Think Again Podcasts
---
Subscribe on Google Play, Stitcher, or iTunes
Come talk to us on Twitter: @bigthinkagain
In this episode: 
Since 2008, Big Think has been sharing big ideas from creative and curious minds. The Think Again podcast takes us out of our comfort zone, surprising our guests and Jason Gots, your host, with unexpected conversation starters from Big Think's interview archives.
Ayelet Waldman is a novelist and essayist, a former federal public defender who taught at Loyola and UC Berkeley schools of Law. Her latest book, A Really Good Day: How Microdosing Made a Mega difference in My Mood, My Marriage, and My Life is an honest, funny, informative account of her month-long experience "microdosing" on LSD – after a ton of research into the practice and potential psychological benefits of taking subperceptual doses of the chemical. Spoiler: overall it helped her. The book also digs into the history and ramifications of the criminalization of psychoactive drugs, and the philosophy of "harm reduction" in parenting. 
In a funny, free-ranging, rapid-fire dialogue, Ayelet and Jason dive into topics as diverse as the split between art and science, how not to mess up your kids too badly, and the benefits of neuroplasticity.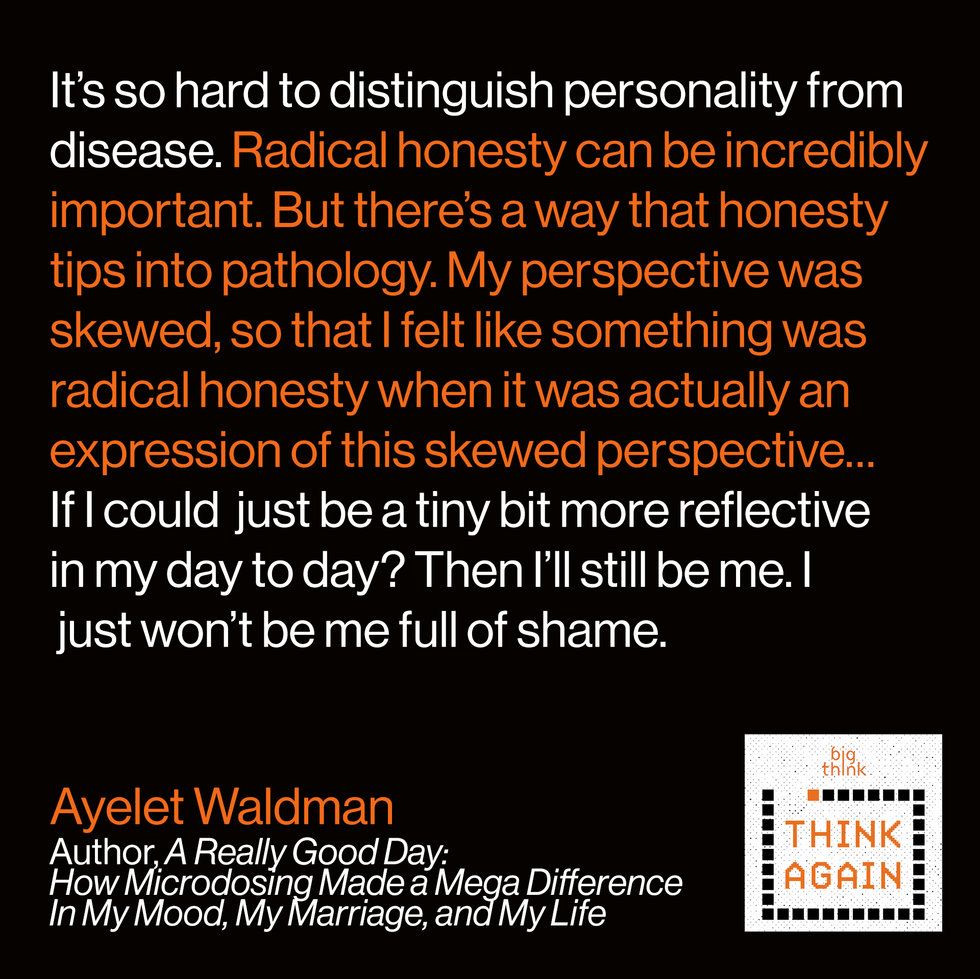 Surprise conversation starter interview clips:
Bill Nye on Art vs. Science, Andrew Solomon on Parenting and Empathy
About Think Again - A Big Think Podcast: You've got 10 minutes with Einstein. What do you talk about? Black holes? Time travel? Why not gambling? The Art of War? Contemporary parenting? Some of the best conversations happen when we're pushed outside of our comfort zones. Each week on Think Again, we surprise smart people you may have heard of with short clips from Big Think's interview archives on every imaginable subject. These conversations could, and do, go anywhere.
Related Articles
Love, grief, and moral disgust aren't unique to humans. Like chimps, humans sometimes struggle for dominance, but our first impulse is trust and connection. Frans de Waal has spent decades showing that most of what we believe about animals, humans, and the differences between us is wrong.
Think Again Podcasts
The lifelong gratitude of a chimp de Waal taught to bottle-feed and adopt an orphan
Trump's alpha male display during the 2016 debates
How B.F. Skinner screwed up behavioral science for half a century
Killer robots. Alien invasions. Climate change. Josh Clark of Stuff You Should Know and the new podcast The End of the World thinks a lot these days about existential threats. Believe it or not, he's optimistic.
Think Again Podcasts
Could the threat of extinction be humanity's opportunity to get our collective s#*t together?
Two centuries since the Enlightenment, the war between reason and belief is still raging. Why?
Why is it still hard to explain to some people what a podcast is?



Think Again Podcasts
Why hasn't technology given us more freedom?
Why is eternal life not desirable?
Why don't Universal Basic Income and other forms of redistribution solve the underlying problem?
Connect with us
How to listen
You can listen to Think Again right here on site, or select your podcast app: