15 August, 2018
Daniel McCabe: This seemingly impossible knot
Congo is one of the most culturally diverse, mineral rich, and beautiful places on Earth. But the "heart of darkness" colonizers dreamed into being still bleeds. Daniel McCabe's documentary This is Congo lets this wounded nation speak for itself.
Politics & Current Affairs
THIS IS CONGO, a new documentary film, attempts to wrap its mind around the incomprehensible realities of the Democratic Republic of Congo, almost 60 years after it was founded. At one point, commenting on one of the more incomprehensible recent events, a high-ranking military officer remarks:
---
"They will say, "This is Congo"
But when will they ask "Why? why is Congo like this?"
Where do we begin? Where can we begin? For as long as I can remember, the news out of Congo has been bad. But my memory of the news only goes back about two decades, to when I started paying attention.
The cycle of violence is a funny thing. It has its own momentum. People get swept up in it for personal reasons, or manipulated by politicians fanning the flames of old resentments. Ask anyone on either side of a blood feud where it started—who threw the first stone, and when the sun goes down, they'll still be talking.
Where does Congo's trouble begin? Why is the country in a seemingly unending state of war between marauding rebel groups and marauding government soldiers, the people's lives torn to shreds in between? And even if the people of Congo could fully trace this nightmare to its roots, how could they save the tree?
My guest today is documentary filmmaker Daniel McCabe. His new film THIS IS CONGO asks all of these questions and more.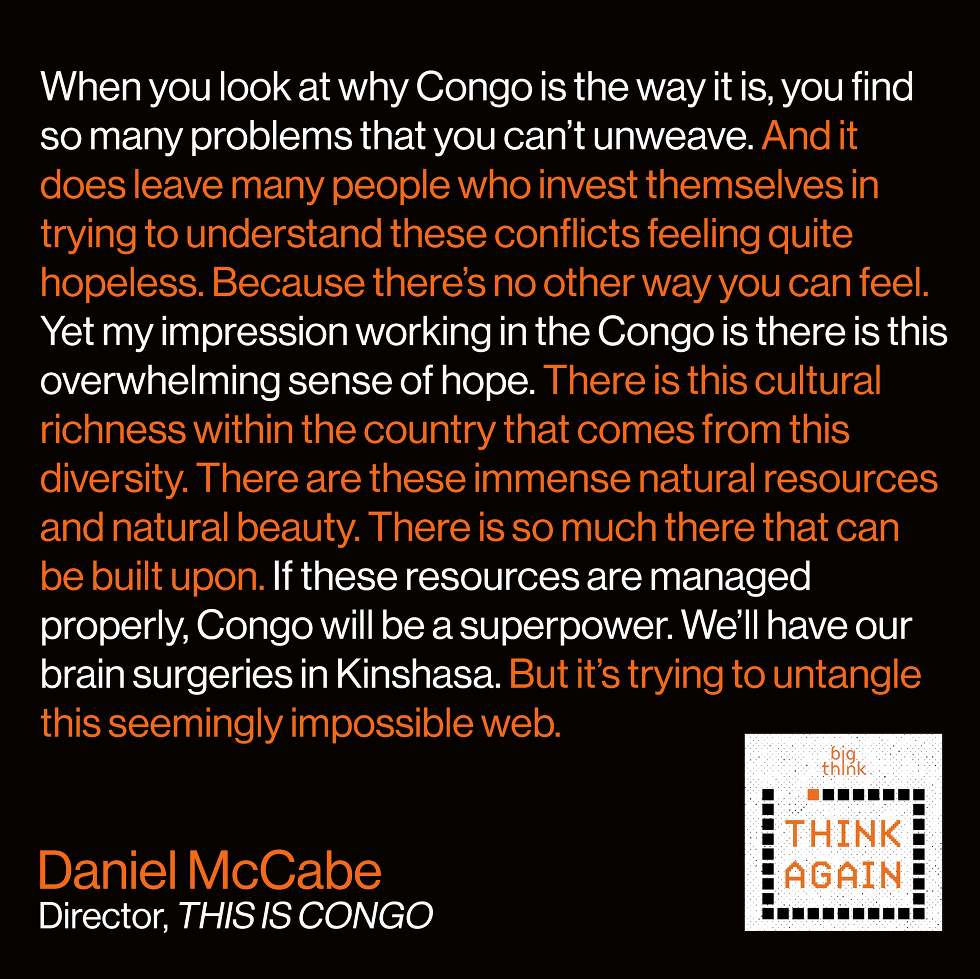 Surprise conversation-starter clips in this episode:
About Think Again - A Big Think Podcast: Since 2008, Big Think has been sharing big ideas from creative and curious minds. Since 2015, the Think Again podcast has been taking us out of our comfort zone, surprising our guests and Jason Gots, your host, with unexpected conversation starters from Big Think's interview archives.
You've got 10 minutes with Einstein. What do you talk about? Black holes? Time travel? Why not gambling? The Art of War? Contemporary parenting? Some of the best conversations happen when we're pushed outside of our comfort zones. Each week on Think Again, we surprise smart people you may have heard of with short clips from Big Think's interview archives on every imaginable subject. These conversations could, and do, go anywhere.

Come talk to us
on Twitter: @bigthinkagain
Related Articles
How a mother-daughter obsession became a massive and dangerous industry. The weird history of the Myers-Briggs Type Indicator.
Think Again Podcasts
Find out why Carl Jung turns over in his grave every time someone calls herself an 'introvert' or an 'extravert'!
Discover how Truman Capote became the subject of psychological experiments on creativity!
A seismic shake-up at a venerable literary gatekeeper. Shallow and not-so-shallow consumerism. The Paris Review's new editor on old ghosts, new voices, and what's worth keeping.
In Egypt, comedy can be a matter of life and death. But life in America's no cakewalk either. Political satirist Bassem Youssef on reinventing yourself, crossing cultural lines, and the future of space exploration.
Politics & Current Affairs
My grandmother used to tell a story about coming to America from Poland. How she sang God Bless America to cheer up all the grownups on the ship. She was 5 or 6 years old, traveling alone with her mom. For her, it must have been a big adventure. I can hardly imagine what it was like for her mom— my great grandmother — how bad things must have been for Jews in their home town of Bialystok for her to pick up and leave like that, without her husband, heading toward some distant cousin in the undiscovered country of Vineland, New Jersey.
Connect with us
How to listen
You can listen to Think Again right here on site, or select your podcast app:
Big think's weekly newsletter.
Get smarter faster from the comfort of your inbox.
See our newsletter privacy policy
here
TRENDING EPISODES
LATEST
Big think's weekly newsletter.
Get smarter faster from the comfort of your inbox.
See our newsletter privacy policy
here
© Copyright 2007-2018 & BIG THINK, BIG THINK EDGE,
SMARTER FASTER trademarks owned by The Big Think, Inc. All rights reserved.