You've got 10 minutes with Einstein. What do you talk about? Black holes? Time travel?
Why not gambling? The Art of War? Contemporary parenting?
Each week, host Jason Gots surprises some of the world's brightest minds with ideas they're not at all prepared to discuss. Join us and special guests Neil Gaiman, Alan Alda, Salman Rushdie, Margaret Atwood, Richard Dawkins, Maria Popova, Mary-Louise Parker, Neil deGrasse Tyson and many more...
15 August, 2018
Daniel McCabe: This seemingly impossible knot
Congo is one of the most culturally diverse, mineral rich, and beautiful places on Earth. But the "heart of darkness" colonizers dreamed into being still bleeds. Daniel McCabe's documentary This is Congo lets this wounded nation speak for itself.
Think Again Podcasts
THIS IS CONGO, a new documentary film, attempts to wrap its mind around the incomprehensible realities of the Democratic Republic of Congo, almost 60 years after it was founded. At one point, commenting on one of the more incomprehensible recent events, a high-ranking military officer remarks:
---
"They will say, "This is Congo"
But when will they ask "Why? why is Congo like this?"
Where do we begin? Where can we begin? For as long as I can remember, the news out of Congo has been bad. But my memory of the news only goes back about two decades, to when I started paying attention.
The cycle of violence is a funny thing. It has its own momentum. People get swept up in it for personal reasons, or manipulated by politicians fanning the flames of old resentments. Ask anyone on either side of a blood feud where it started—who threw the first stone, and when the sun goes down, they'll still be talking.
Where does Congo's trouble begin? Why is the country in a seemingly unending state of war between marauding rebel groups and marauding government soldiers, the people's lives torn to shreds in between? And even if the people of Congo could fully trace this nightmare to its roots, how could they save the tree?
My guest today is documentary filmmaker Daniel McCabe. His new film THIS IS CONGO asks all of these questions and more.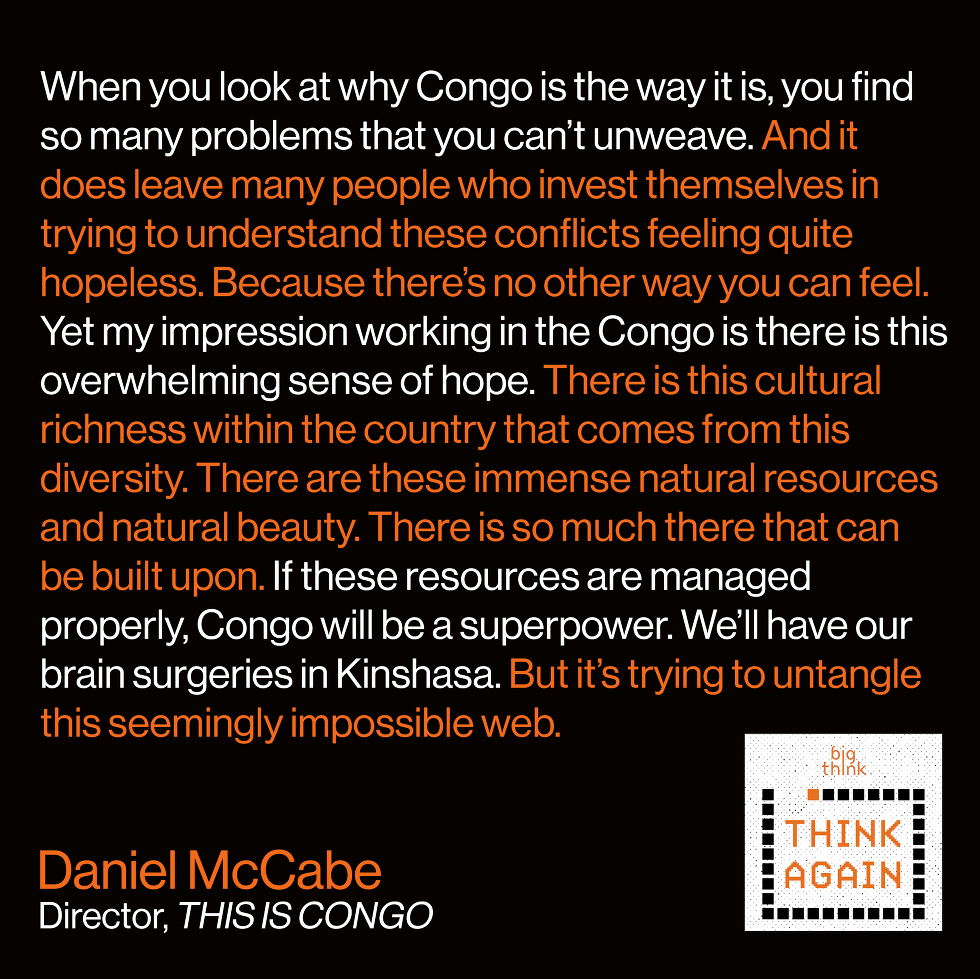 Surprise conversation-starter clips in this episode:
About Think Again - A Big Think Podcast: Since 2008, Big Think has been sharing big ideas from creative and curious minds. Since 2015, the Think Again podcast has been taking us out of our comfort zone, surprising our guests and Jason Gots, your host, with unexpected conversation starters from Big Think's interview archives.
You've got 10 minutes with Einstein. What do you talk about? Black holes? Time travel? Why not gambling? The Art of War? Contemporary parenting? Some of the best conversations happen when we're pushed outside of our comfort zones. Each week on Think Again, we surprise smart people you may have heard of with short clips from Big Think's interview archives on every imaginable subject. These conversations could, and do, go anywhere.

Come talk to us
on Twitter: @bigthinkagain
Want to be smarter than you were yesterday? Learn to have better conversations using these 3 design principles.
Sponsored by the Institute for Humane Studies
What is a great conversation? They are the ones that leave us feeling smarter or more curious, with a sense that we have discovered something, understood something about another person, or have been challenged.
There are 3 design principles that lead to great conversations: humility, critical thinking, and sympathetic listening.
Critical thinking is the celebrated cornerstone of liberalism, but next time you're in a challenging and rewarding conversation, try to engage sympathetic listening too. Understanding why another intelligent person holds ideas that are at odds with your own is often more enlightening than merely hunting for logic errors.
Related Articles
Should all speech be free? How much intolerance should society tolerate?
Sponsored by the Institute for Humane Studies
For society to stay open and free, you don't need to eliminate prejudice. You need the opposite: All kinds of prejudice pitted against each other.
Intellectual diversity helps society as a whole learn the truth. And as long as society has rules that force ideas to be openly tested, the intolerant will not gain the upper hand.
"In America it's legal to be intolerant. It may not be right. It may not get you accepted or respected. But absolutely it's legal and it should be legal," says Jonathan Rauch.
When I was a teenager and music was still on cassettes, a mixtape was an act of love. In this episode, I'm putting together some of my favorite moments of 2019, strung together with minimal interruption from me.
Picking up where we left off a year ago, a conversation about the homeostatic imperative as it plays out in everything from bacteria to pharmaceutical companies—and how the marvelous apparatus of the human mind also gets us into all kinds of trouble.
Think Again Podcasts
"Prior to nervous systems: no mind, no consciousness, no intention in the full sense of the term. After nervous systems, gradually we ascend to this possibility of having to this possibility of having minds, having consciousness, and having reasoning that allows us to arrive at some of these very interesting decisions."

"We are fragile culturally and socially…but life is fragile to begin with. All that it takes is a little bit of bad luck in the management of those supports, and you're cooked…you can actually be cooked—with global warming!"
How do you write away the personal hole in your heart when that hole was left by a man half the world idolizes? Steve Jobs' daughter, the writer Lisa Brennan-Jobs, on the process and effects of writing her beautiful memoir SMALL FRY.
Brigitte Lacombe
Think Again Podcasts
"If I hadn't gone back with a fine-toothed-comb, a lot of these assumptions I had would have just been the air I breathed into my future."
"There is something like theft in a memoir. If you want to write about yourself you have to write about other people who are unwitting and don't want to be written about…"
Connect with us
How to listen
You can listen to Think Again right here on site, or select your podcast app: