You've got 10 minutes with Einstein. What do you talk about? Black holes? Time travel?
Why not gambling? The Art of War? Contemporary parenting?
Each week, host Jason Gots surprises some of the world's brightest minds with ideas they're not at all prepared to discuss. Join us and special guests Neil Gaiman, Alan Alda, Salman Rushdie, Margaret Atwood, Richard Dawkins, Maria Popova, Mary-Louise Parker, Neil deGrasse Tyson and many more...
01 July, 2016
Think Again Podcast #54 – LIVE with Sarah Jones
Playing many different characters, Tony and Obie award-winner Sarah Jones responds to surprise "big ideas" in Think Again podcast's first ever live show at NYC Podfest
Think Again Podcasts
---
Subscribe on Google Play, Stitcher, or iTunes
Come talk to us on Twitter: @bigthinkagain
In this episode: 
Sarah Jones
 is a Tony and Obie award-winning playwright and performer. She's unlike any other artist in her uncanny ability to create, 
become, 
 and instantly switch between characters, convincingly inhabiting their physicality and their consciousness. Sarah's 2004 one woman show BRIDGE & TUNNEL channeled the symphony of voices that make up New York City's five boroughs. She returns this fall to the Manhattan Theatre Club with SELL/BUY/DATE, in which she plays all characters in a sex-ed class from the future that doubles as a brilliant, satirical commentary on life in 2016. 
On May 20th, 2016, almost exactly a year after we launched, Think Again did an episode live with Sarah Jones as part of NYC Podfest, at CakeShop NYC. Host Jason Gots knew in advance that Sarah might be slipping into and out of character, but not 
which characters
, or when. Over the course of the hour, Sarah became and responded to the surprise discussion clips as Rashid, an out-of-work rapper, Lorraine, a Jewish grandmother, Bella, a millennial, and many more. Far from stereotypes, these were fully-fleshed people with brilliant insights grounded in their radically different life experiences. 
Above all, it was a hell of a lot of fun for the 100+ people present, and we're delighted to share it now with you. 
Surprise clips in this episode: 
Douglas Rushkoff on collaboration in the digital economy
, 
Angie MacArthur on types of attention
, 
Parag Khanna on World War III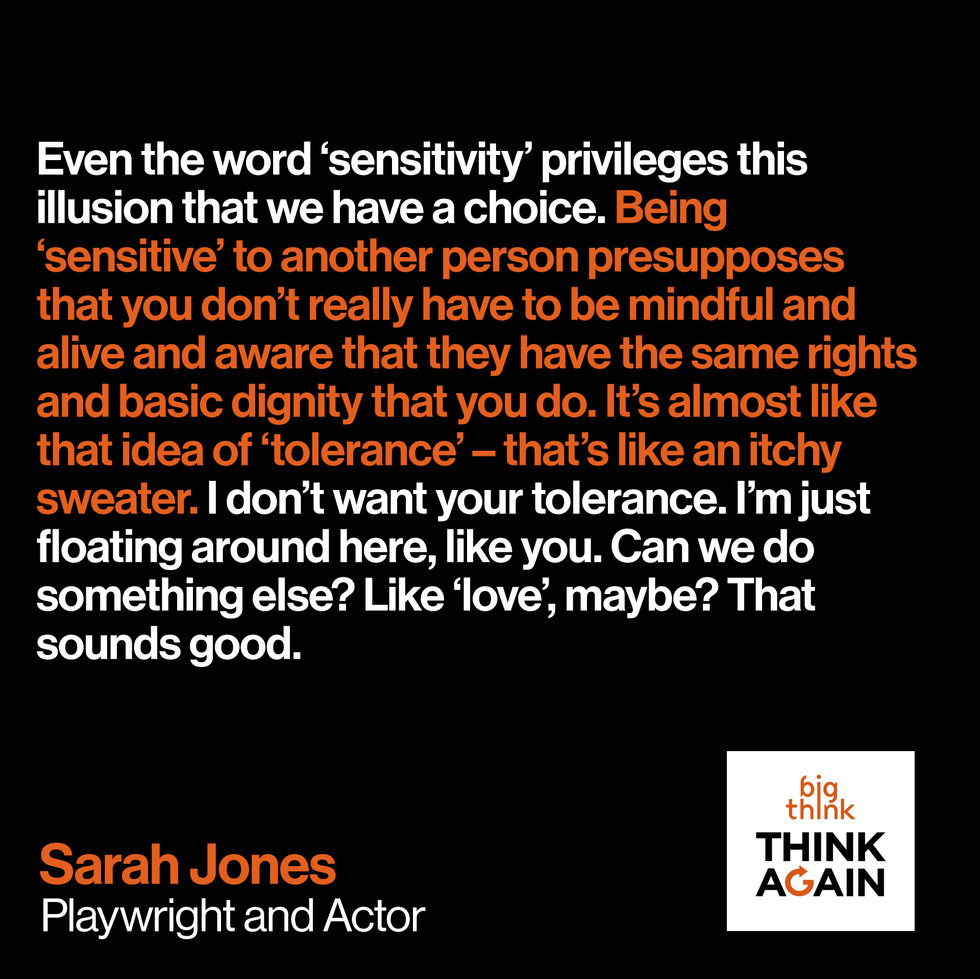 About Think Again - A Big Think Podcast: You've got 10 minutes with Einstein. What do you talk about? Black holes? Time travel? Why not gambling? The Art of War? Contemporary parenting? Some of the best conversations happen when we're pushed outside of our comfort zones. Each week on Think Again, we surprise smart people you may have heard of with short clips from Big Think's interview archives on every imaginable subject. These conversations could, and do, go anywhere.
Related Articles
Our modern-day Kafka on his new novel Lake Success and the dark comedy that in 2018 pretty much writes itself
Technology & Innovation
riding the Greyhounds of hell, from New York to El Paso
the alternate reality of hedge fund traders
Why would two intelligent women running a hugely successful podcast at one of the most respected studios in the audio world quit to risk everything on a technology almost nobody understands?
Think Again Podcasts
Fake news, real risk, and the messy rise of blockchain media.
Why people police other people's voices
And much, much more.
Man Booker prize winners Olga Tokarczuk and her translator Jennifer Croft on maps that lead nowhere, plasticized anatomies, and humor across national borders.

Think Again Podcasts
Our fragmented times demand a new kind of novel.
Here, Olga talks humor across the world...
... and maps that lead us nowhere.
Connect with us
How to listen
You can listen to Think Again right here on site, or select your podcast app: