You've got 10 minutes with Einstein. What do you talk about? Black holes? Time travel?
Why not gambling? The Art of War? Contemporary parenting?
Each week, host Jason Gots surprises some of the world's brightest minds with ideas they're not at all prepared to discuss. Join us and special guests Neil Gaiman, Alan Alda, Salman Rushdie, Margaret Atwood, Richard Dawkins, Maria Popova, Mary-Louise Parker, Neil deGrasse Tyson and many more...
30 June, 2016
Think Again Podcast #53 – Sean Wilentz – The Culture Strikes Back
Demagoguery, colonizing Mars, and the perpetual pendulum of party politics. Princeton Historian Sean Wilentz on the Think Again podcast
Culture & Religion
---
Subscribe on Google Play, Stitcher, or iTunes
Come talk to us on Twitter: @bigthinkagain
In this episode: 
Sean Wilentz
 is a Princeton professor and the Bancroft-Prize-Winning Author of 
The Rise of American Democracy. 
He's also a major music historian and the author of Bob Dylan in America, and the official historian of Bob Dylan's website. His new book 
The Politicians and the Egalitarians: The Hidden History of American Politics
argues that there are two keys to understanding American politics––the theme of party politics and outsider resistance to it, and the theme of economic and social egalitarianism. He argues that all positive change in American political history has happened within the system of party politics. 
On this week's episode of Think Again - a Big Think Podcast, Wilentz and host 
Jason Gots
 discuss identity politics, human life on Mars, and the culture war that began when the counterculture "won" the battle in the late '60s, and which Wilentz argues is reaching a final cataclysm with the election of 2016. 
Surprise discussion clips in this episode: 
Comedian Lewis Black on political correctness
, 
Bill Nye on colonizing Mars
.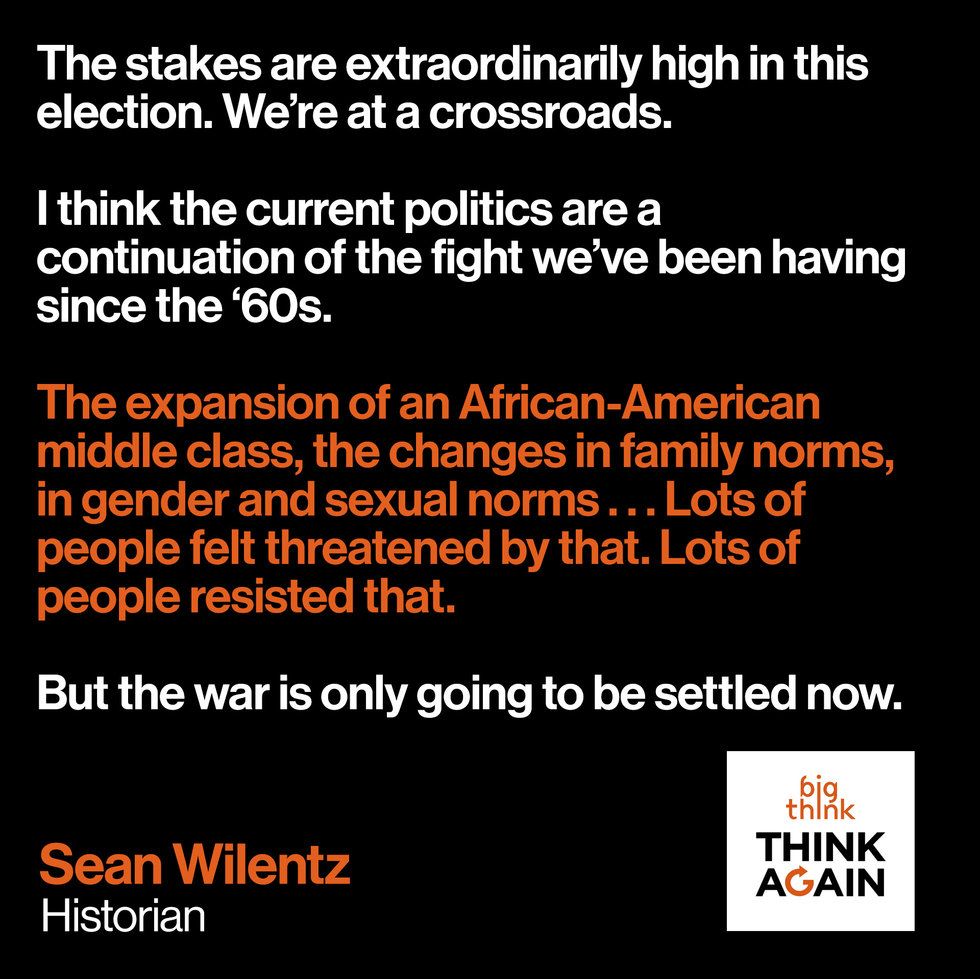 About Think Again - A Big Think Podcast: You've got 10 minutes with Einstein. What do you talk about? Black holes? Time travel? Why not gambling? The Art of War? Contemporary parenting? Some of the best conversations happen when we're pushed outside of our comfort zones. Each week on Think Again, we surprise smart people you may have heard of with short clips from Big Think's interview archives on every imaginable subject. These conversations could, and do, go anywhere.
Related Articles
How do you write away the personal hole in your heart when that hole was left by a man half the world idolizes? Steve Jobs' daughter, the writer Lisa Brennan-Jobs, on the process and effects of writing her beautiful memoir SMALL FRY.
Brigitte Lacombe
Think Again Podcasts
"If I hadn't gone back with a fine-toothed-comb, a lot of these assumptions I had would have just been the air I breathed into my future."
"There is something like theft in a memoir. If you want to write about yourself you have to write about other people who are unwitting and don't want to be written about…"
Artist, "bird noticer", and concerned citizen of the digital state of the world Jenny Odell looks at many different ways of resisting the attention economy, sinking into the reality of our lives, and finding solidarity and agency with others.
Ryan Meyer
Think Again Podcasts
"Someone is defining the terms already by asking the question. And if you're not attentive, you will accept those terms."
"It's really hard to draw a hard line around an entity in any ecological system. And I think this is a great description of the self, too."
Picking up the thread of a conversation they started two decades ago in Jerusalem, with some help from Lenny Bruce, philosopher Martha Nussbaum, and other influences along the way, host Jason Gots and Williams College professor Jeffrey Israel go deep on private grievances, public life, and where the two overlap.
Connect with us
How to listen
You can listen to Think Again right here on site, or select your podcast app: