13 May, 2016
Think Again Podcast #45 - James McBride – Fear Sells Many a Car/James Brown is a Noun
Think Again Podcasts
---
Subscribe on Google Play, Stitcher, or iTunes
Come talk to us on Twitter: @bigthinkagain
In this episode: Fear, says National Book Award winner and New York Times bestselling author James McBride, was the most powerful force in the life of James Brown, the Godfather of Soul. It drove him to become "the hardest working man in show business", to hoard massive stashes of cash beneath hotel room carpets, and to seek temporary refuge in drugs. It also drove him to leave one of the most astonishing musical legacies in American history, redefining R&B, Soul, and Funk music in the process.
This, along with surprise interview clips from Charles Duhigg, Steven Pinker, and A.O. Scott, is the spark that sets James McBride and host Jason Gots off on a conversational journey with many twists and turns that touches on violence, virtual reality, and what it's like to be in a writer's room with Ta-Nahesi Coates, James McBride, David Simon (creator of The Wire) and Pulitzer Prize winning historian Taylor Branch.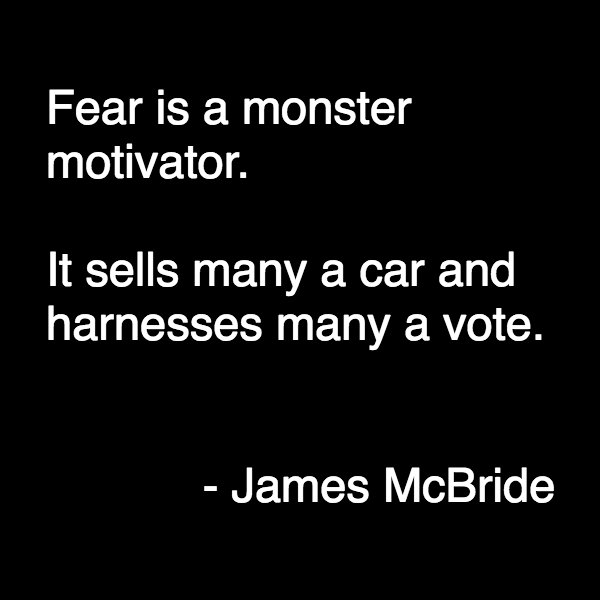 EXTRA BONUS THING! 
Our funky, funky theme song by Breakmaster Cylinder
About Think Again - A Big Think Podcast: You've got 10 minutes with Einstein. What do you talk about? Black holes? Time travel? Why not gambling? The Art of War? Contemporary parenting? Some of the best conversations happen when we're pushed outside of our comfort zones. Each week on Think Again, we surprise smart people you may have heard of with short clips from Big Think's interview archives on every imaginable subject. These conversations could, and do, go anywhere.
Related Articles
When you're a Hasidic woman in Borough Park, Brooklyn, starting an ambulance corps is a radical act. Documentary filmmaker Paula Eiselt on the push-pull of identity and cultural change in her film 93Queen.
Culture & Religion
When I started college at New York University in 1990, nobody lived in Brooklyn. Brooklyn was the dark side of the moon. At least that's how we NYU students thought about it. Lots of people lived in Brooklyn, of course. Just not us. It's 2018, and Brooklyn has become an international brand, synonymous with artisanal pickles, gastropubs, and luxury condos. It's the place even former NYU students can't afford to live anymore.
On hallucinating a teensy Virgin Mary in a water fountain, our weird relationship to fame, her stint as an elf-hunting camp counselor, and more in what feels like a 4 am college conversation with the inimitable Parker Posey.
Sex & Relationships
The impulse to make art is with us from childhood. It's the desire to play. To say "hey! Look what I made!" It's the wild fun of making a big mess that's nobody else's but your own—and not having to clean it up. Above all else, art is wild. It's independent. It's free. And that's one reason why the art industry is a very weird thing. In order to make money "at scale" as the Silicon Valley kids like to say, movie studios, fancy galleries, and concert promoters have to quantify, systematize, and package that sense of freedom. If it sounds like a paradox, that's because it is. I'm just gonna say it: the more money at stake, the less breathing space for everything that draws us to art in the first place.
Do not succumb to "funklessness". Join us as we nerd out to a staggering degree on utopian afrofuturism, David Bowie, and the sci-fi-inflected music of the '70s. With Jason Heller, Hugo-award winning author of Strange Stars.
Culture & Religion
The other day I was at a kid's birthday party and a fellow dad was joking that "When we were kids, it was all 'bang-bang-bang!' and now it's all 'pew-pew-pew!'"He was talking about video games and lasers as opposed to, I'm guessing, cowboys? Actually, as I remember childhood, it was all "wowm…wowm!" The sound of lightsabers. I was 5 years old when Star Wars: A New Hope came out, and like everyone who grew up back then, I had sci-fi seeping into my very pores. Alien civilizations. Cyborg killers. The dark, unfeeling menace of advanced technology…
Big think's weekly newsletter.
Get smarter faster from the comfort of your inbox.
See our newsletter privacy policy
here
Most Popular Podcasts
Most Recent
Big think's weekly newsletter.
Get smarter faster from the comfort of your inbox.
See our newsletter privacy policy
here
© Copyright 2007-2018 & BIG THINK, BIG THINK EDGE,
SMARTER FASTER trademarks owned by The Big Think, Inc. All rights reserved.