You've got 10 minutes with Einstein. What do you talk about? Black holes? Time travel?
Why not gambling? The Art of War? Contemporary parenting?
Each week, host Jason Gots surprises some of the world's brightest minds with ideas they're not at all prepared to discuss. Join us and special guests Neil Gaiman, Alan Alda, Salman Rushdie, Margaret Atwood, Richard Dawkins, Maria Popova, Mary-Louise Parker, Neil deGrasse Tyson and many more...
01 December, 2017
The Upside of Downtime – Manoush Zomorodi – Think Again - a Big Think Podcast #127
When was the last time you were well and truly bored? If you can't remember, you're not alone. Manoush Zomorodi on what our brains really need, and what they're getting.
Culture & Religion
---
Subscribe on Google Play, Stitcher, or iTunes
Come talk to us on Twitter: @bigthinkagain
When was the last time you were bored? I mean really, well and truly, staring at the patterns in the wallpaper bored? 
Statistics suggest that you're probably listening to this show on a smartphone. Which means you own a smartphone. Which means it's probably always close at hand, full of apps and podcasts to distract you the instant that uncomfortable feeling of boredom creeps in. Which means your brain almost never gets the chance to sit with that restlessness and come up with creative alternatives, from daydreaming to doing something brilliant (or at least less boring) in real life. If that's not you, awesome. But it's a lot of us these days. 
My guest today, Manoush Zomorodi, is the host of Note to Self - a popular radio show and podcast on how we live with technology. An experiment she did on the show with the eager help of 20,000 fans became the subject of her new book Bored and Brilliant: how spacing out can unlock your most productive and creative self.
Surprise conversation-starter clips in this episode: 
Tim Ferriss on mastering any skill quickly and efficiently, starting with cooking, Bryan Cranston on working together across generations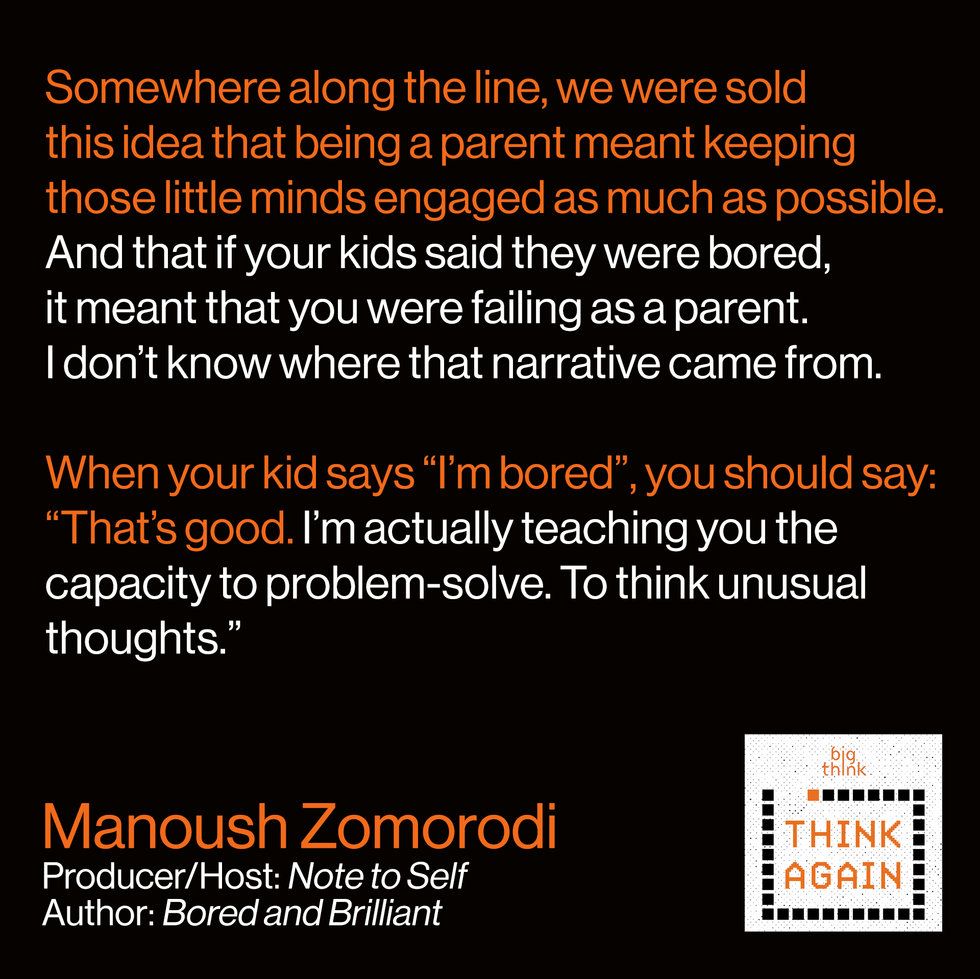 About Think Again - A Big Think Podcast: Since 2008, Big Think has been sharing big ideas from creative and curious minds. Since 2015, the Think Again podcast has been taking us out of our comfort zone, surprising our guests and Jason Gots, your host, with unexpected conversation starters from Big Think's interview archives.
You've got 10 minutes with Einstein. What do you talk about? Black holes? Time travel? Why not gambling? The Art of War? Contemporary parenting? Some of the best conversations happen when we're pushed outside of our comfort zones. Each week on Think Again, we surprise smart people you may have heard of with short clips from Big Think's interview archives on every imaginable subject. These conversations could, and do, go anywhere.
When should you censor yourself, and when should you speak up? Emily Chamlee-Wright explains moral philosopher Adam Smith's 'impartial spectator'.
Sponsored by the Institute for Humane Studies
18th-century moral philosopher Adam Smith argued that you could measure the appropriateness of your words and actions by satisfying an imaginary judge he called the impartial spectator.
Switching perspectives to listen to that impartial spectator is a difficult skill as it requires self-command to triumph over self-love. Wise people imagine the spectator's response and use it to help steer productive discourse – especially in difficult and chaotic debates.
Self-command is an intellectual virtue. It's a thinking tool that helps us know when to self-censor and when to speak up in the interest of civil discourse and truth seeking.
Related Articles
Should all speech be free? How much intolerance should society tolerate?
Sponsored by the Institute for Humane Studies
For society to stay open and free, you don't need to eliminate prejudice. You need the opposite: All kinds of prejudice pitted against each other.
Intellectual diversity helps society as a whole learn the truth. And as long as society has rules that force ideas to be openly tested, the intolerant will not gain the upper hand.
"In America it's legal to be intolerant. It may not be right. It may not get you accepted or respected. But absolutely it's legal and it should be legal," says Jonathan Rauch.
Etgar Keret's stories are as funny, painful, and surreal as life itself. We talk about the craziness of his native Israel, his new collection of short stories FLY ALREADY, marijuana, dementia, and much more.
Taped on the Asian side of Istanbul, Turkey: The ancient art of coffee ground reading. Food as a citizen of geographic, not national borders. Chef and food ethnographer Musa Dağdeviren, author of THE TURKISH COOKBOOK, and his ambitious project to preserve Turkey's rich and diverse cuisine.
When I was a teenager and music was still on cassettes, a mixtape was an act of love. In this episode, I'm putting together some of my favorite moments of 2019, strung together with minimal interruption from me.
Connect with us
How to listen
You can listen to Think Again right here on site, or select your podcast app: