You've got 10 minutes with Einstein. What do you talk about? Black holes? Time travel?
Why not gambling? The Art of War? Contemporary parenting?
Each week, host Jason Gots surprises some of the world's brightest minds with ideas they're not at all prepared to discuss. Join us and special guests Neil Gaiman, Alan Alda, Salman Rushdie, Margaret Atwood, Richard Dawkins, Maria Popova, Mary-Louise Parker, Neil deGrasse Tyson and many more...
20 January, 2017
The Mirror of Our Better Selves – Bernard-Henri Lévy - Think Again Podcast #82
Spontaneous talk on surprise topics. French philosopher and filmmaker "BHL" on evil, complacency, and the necessity of outsider thinking.
Culture & Religion
---
Subscribe on Google Play, Stitcher, or iTunes
Come talk to us on Twitter: @bigthinkagain
In this episode: 
Since 2008, Big Think has been sharing big ideas from creative and curious minds. The Think Again podcast takes us out of our comfort zone, surprising our guests and Jason Gots, your host, with unexpected conversation starters from Big Think's interview archives.
The Washington Post has this to say about today's guest: "There is no American equivalent of Bernard-Henri Lévy. Known as "BHL," he is among the last of a quintessentially French breed, the 20th century intellectuel engagé. As a "nouveau philosophe" disenchanted with Marxism, communism and the excesses of 1968, when civil unrest roiled France, Levy has enjoyed a long and theatrical career since the 1970s, embracing journalism, philosophy, film and an outspoken advocacy for human rights."
BHL's films include the documentaries Bosna! And A Day in the Death of Sarajevo. Lévy is co-founder of the antiracist group SOS Racisme and has served on diplomatic missions for the French government. His newest book The Genius of Judaism explores what he sees as the crucial metaphysical role of Jewish thought and the Jewish people in the life of nations. 
Today's episode addresses torture, the question of evil, and the tipping point at which democracy becomes something else.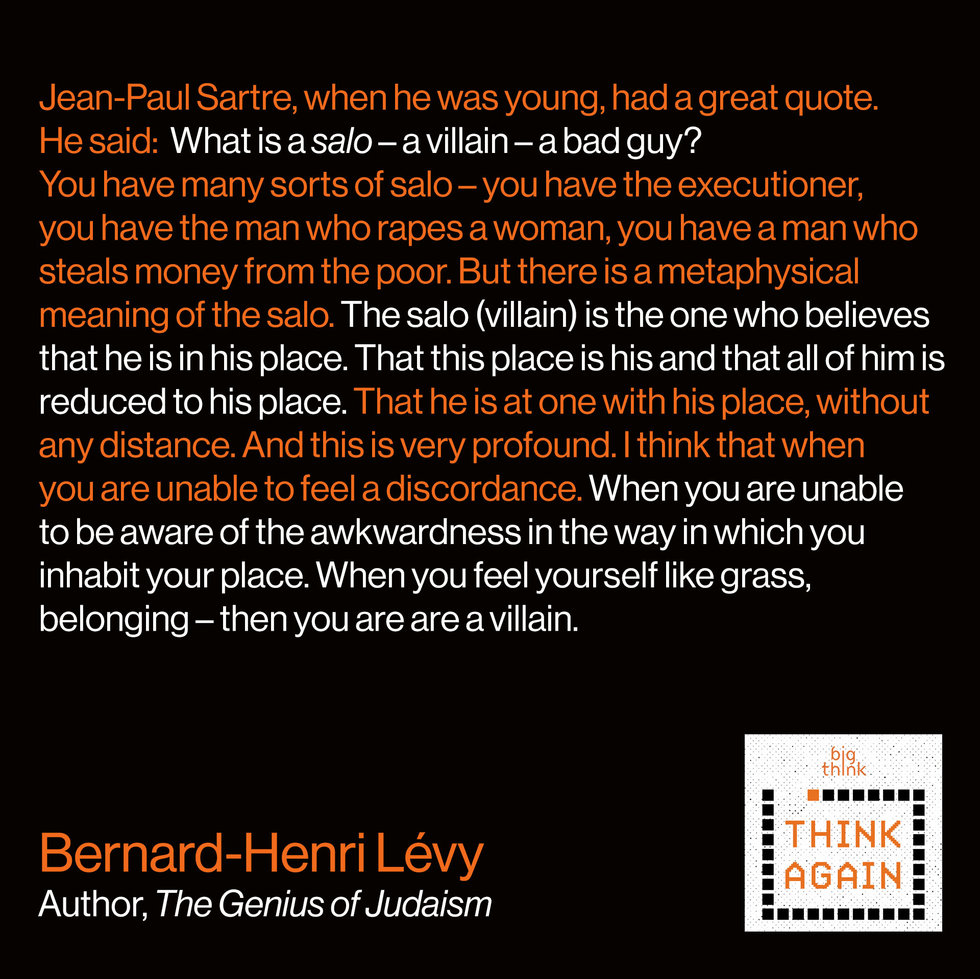 Surprise conversation starter interview clips in this episode: Paul Bloom on Torture, and Ian Bremmer on America as a Superpower. 
About Think Again - A Big Think Podcast: You've got 10 minutes with Einstein. What do you talk about? Black holes? Time travel? Why not gambling? The Art of War? Contemporary parenting? Some of the best conversations happen when we're pushed outside of our comfort zones. Each week on Think Again, we surprise smart people you may have heard of with short clips from Big Think's interview archives on every imaginable subject. These conversations could, and do, go anywhere.
Related Articles
One of the most influential Buddhist teachers and writers of the past half-century, Joseph Goldstein helped bring Vipassana (insight) practice to the West. We talk about love, pop-mindfulness, and how even a philosopher can learn to quiet the mind.
Think Again Podcasts
Neuroscience's romance with meditation
Puppy videos as a deep spiritual practice
How the "retreat" was born



30 years later, a new investigative documentary on Bob Lazar's claims about Area 51 raises some ghosts, some hell, and some unsettling questions.
Think Again Podcasts
What if aliens have been visiting us all along?
"Skeptical optimism" and investigations into the unknown
Neurodiversity and deficiencies as sources of power



Empathy makes us human. Humans make structures that rob us of empathy when we need it most. Helen Riess is trying to reverse that trend.
Think Again Podcasts
Heart – mind = emotional quicksand. Mind – heart = greeting card sympathy
The doctor burnout epidemic and how to fix it
Connect with us
How to listen
You can listen to Think Again right here on site, or select your podcast app: