You've got 10 minutes with Einstein. What do you talk about? Black holes? Time travel?
Why not gambling? The Art of War? Contemporary parenting?
Each week, host Jason Gots surprises some of the world's brightest minds with ideas they're not at all prepared to discuss. Join us and special guests Neil Gaiman, Alan Alda, Salman Rushdie, Margaret Atwood, Richard Dawkins, Maria Popova, Mary-Louise Parker, Neil deGrasse Tyson and many more...
08 September, 2017
Salman Rushdie – A Permeable Frontier – Think Again - a Big Think Podcast #115
Spontaneous talk on surprise topics. Author Salman Rushdie on the secret life of cities and so much more.
Technology & Innovation
---
Subscribe on Google Play, Stitcher, or iTunes
Come talk to us on Twitter: @bigthinkagain
Since 2008, Big Think has been sharing big ideas from creative and curious minds. Since 2015, the Think Again podcast has been taking us out of our comfort zone, surprising our guests and Jason Gots, your host, with unexpected conversation starters from Big Think's interview archives.
Today's guest is Salman Rushdie. He's the author of twelve previous novels and four books of nonfiction, including Joseph Anton, Midnight's Children (for which he won the Booker Prize and the Best of the Booker), Shame, The Satanic Verses, and Two Years Eight Months and Twenty-Eight Nights which we discussed two years ago on this show.  He is a member of the American Academy of Arts and Letters and a Distinguished Writer in Residence at New York University.
His kaleidoscopic, funny, philosophical new novel The Golden House has been called a "return to realism" but maybe only because the present-day American realities it draws upon and reimagines are so indistinguishable from fantasy.
In this episode, the first one with a repeat guest since the show was launched (Henry Rollins was one taping split into two episodes) Rushdie and Jason discuss New York City, the surrealism of everyday life, comic books, and much, much, more.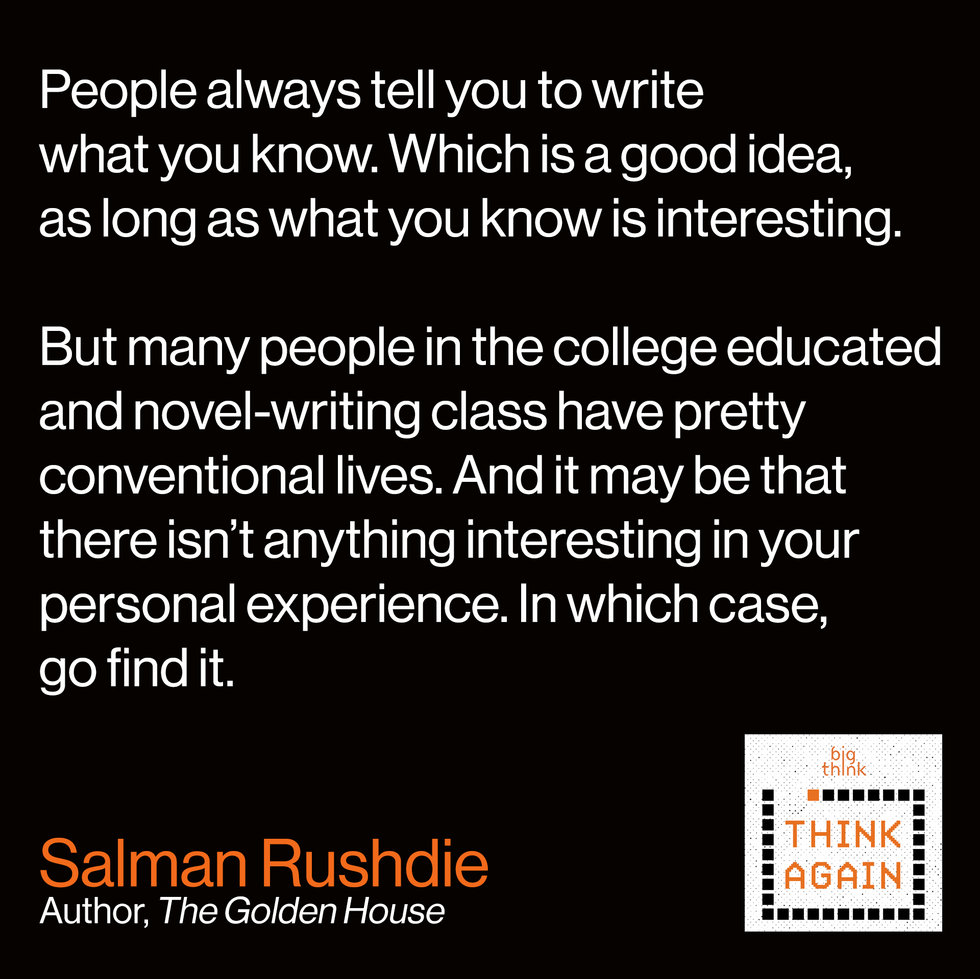 Surprise conversation starter interview clips in this episode:

Richard Dawkins on religion and anti-science, 
About Think Again - A Big Think Podcast: You've got 10 minutes with Einstein. What do you talk about? Black holes? Time travel? Why not gambling? The Art of War? Contemporary parenting? Some of the best conversations happen when we're pushed outside of our comfort zones. Each week on Think Again, we surprise smart people you may have heard of with short clips from Big Think's interview archives on every imaginable subject. These conversations could, and do, go anywhere.
Related Articles
Killer robots. Alien invasions. Climate change. Josh Clark of Stuff You Should Know and the new podcast The End of the World thinks a lot these days about existential threats. Believe it or not, he's optimistic.
Think Again Podcasts
Could the threat of extinction be humanity's opportunity to get our collective s#*t together?
Two centuries since the Enlightenment, the war between reason and belief is still raging. Why?
Why is it still hard to explain to some people what a podcast is?



Think Again Podcasts
Why hasn't technology given us more freedom?
Why is eternal life not desirable?
Why don't Universal Basic Income and other forms of redistribution solve the underlying problem?
In the 1980's, Northeast Portland was a black neighborhood hustling to survive. Today, it's full of pilates studios and handlebar moustaches. As a writer, professor, and former inmate, Mitchell S. Jackson has lived in and learned from both worlds. In SURVIVAL MATH, he puts the pieces together.
Think Again Podcasts
An open letter to Markus, the first black American to live—and immediately die—on Oregon soil.
"Nobody gets a pass. And everybody gets a pass. If you take a broad look at anyone's circumstances, it's hard to convict them of just being a terrible person."
"Portland's a utopia now…but I wonder if they know what it cost?"
Connect with us
How to listen
You can listen to Think Again right here on site, or select your podcast app: