You've got 10 minutes with Einstein. What do you talk about? Black holes? Time travel?
Why not gambling? The Art of War? Contemporary parenting?
Each week, host Jason Gots surprises some of the world's brightest minds with ideas they're not at all prepared to discuss. Join us and special guests Neil Gaiman, Alan Alda, Salman Rushdie, Margaret Atwood, Richard Dawkins, Maria Popova, Mary-Louise Parker, Neil deGrasse Tyson and many more...
10 May, 2018
Ronan Farrow: A failure to communicate
By putting its relationships in military hands, the US is losing its power abroad.
Politics & Current Affairs
In Hollywood movies diplomats always get a bad rap. I'm picturing Claude Rains as "Mr. Dryden" in Lawrence of Arabia looking, as Clyde Rains always does, somewhat reptilian as he hunches over a map of the Middle East with General Allenby, smirking secretively. Hollywood diplomats are slippery. Untrustworthy. More often than not, they turn out to be double agents. On screen, definitive action plays better than careful talk or compromise. This is true of America in general and of our politics in particular—we're just not comfortable with ambiguity. Leave that to the French. Americans are about gettin' things done.
---
But the geopolitical world is complex, and allegedly getting more so every day. Meanwhile, over the last several presidencies, America has quietly been shifting its foreign policy approach from diplomacy to military muscle. With the current president, the gutting of the State Department in favor of the Pentagon is starting to look like Friday the 13th part whatever. My guest today is investigative journalist and former State Department official Ronan Farrow. He won the Pulitzer Prize for his his work in the New Yorker on the Harvey Weinstein sexual abuse scandal. His new book is War on Peace, The End of Diplomacy and The Decline of American Influence — and the title is pretty much self-explanatory.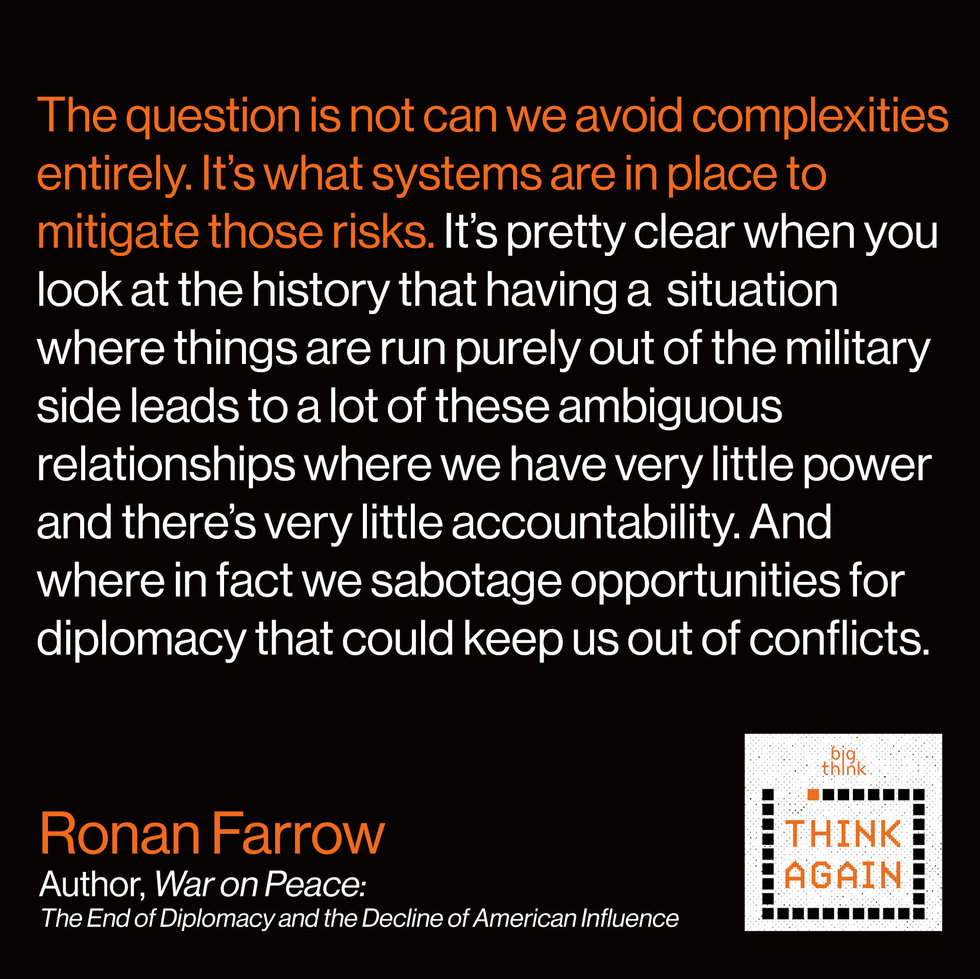 Surprise conversation-starter clips in this episode:
Heather Heying on protest movements
Barry Posen on America's intelligence budget
About Think Again - A Big Think Podcast: Since 2008, Big Think has been sharing big ideas from creative and curious minds. Since 2015, the Think Again podcast has been taking us out of our comfort zone, surprising our guests and Jason Gots, your host, with unexpected conversation starters from Big Think's interview archives.
You've got 10 minutes with Einstein. What do you talk about? Black holes? Time travel? Why not gambling? The Art of War? Contemporary parenting? Some of the best conversations happen when we're pushed outside of our comfort zones. Each week on Think Again, we surprise smart people you may have heard of with short clips from Big Think's interview archives on every imaginable subject. These conversations could, and do, go anywhere.

Come talk to us
on Twitter: @bigthinkagain
Related Articles
Killer robots. Alien invasions. Climate change. Josh Clark of Stuff You Should Know and the new podcast The End of the World thinks a lot these days about existential threats. Believe it or not, he's optimistic.
Think Again Podcasts
Could the threat of extinction be humanity's opportunity to get our collective s#*t together?
Two centuries since the Enlightenment, the war between reason and belief is still raging. Why?
Why is it still hard to explain to some people what a podcast is?



Think Again Podcasts
Why hasn't technology given us more freedom?
Why is eternal life not desirable?
Why don't Universal Basic Income and other forms of redistribution solve the underlying problem?
In the 1980's, Northeast Portland was a black neighborhood hustling to survive. Today, it's full of pilates studios and handlebar moustaches. As a writer, professor, and former inmate, Mitchell S. Jackson has lived in and learned from both worlds. In SURVIVAL MATH, he puts the pieces together.
Think Again Podcasts
An open letter to Markus, the first black American to live—and immediately die—on Oregon soil.
"Nobody gets a pass. And everybody gets a pass. If you take a broad look at anyone's circumstances, it's hard to convict them of just being a terrible person."
"Portland's a utopia now…but I wonder if they know what it cost?"
Connect with us
How to listen
You can listen to Think Again right here on site, or select your podcast app: