You've got 10 minutes with Einstein. What do you talk about? Black holes? Time travel?
Why not gambling? The Art of War? Contemporary parenting?
Each week, host Jason Gots surprises some of the world's brightest minds with ideas they're not at all prepared to discuss. Join us and special guests Neil Gaiman, Alan Alda, Salman Rushdie, Margaret Atwood, Richard Dawkins, Maria Popova, Mary-Louise Parker, Neil deGrasse Tyson and many more...
18 August, 2017
Richard Dawkins – Red in Tooth and Claw – Think Again - a Big Think Podcast #112
Spontaneous talk on surprise topics. Biologist Richard Dawkins on speaking plainly, animal cruelty, Christopher Hitchens and so much more.
Sex & Relationships
---
Subscribe on Google Play, Stitcher, or iTunes
Come talk to us on Twitter: @bigthinkagain
Since 2008, Big Think has been sharing big ideas from creative and curious minds. Since 2015, the Think Again podcast has been taking us out of our comfort zone, surprising our guests and Jason Gots, your host, with unexpected conversation starters from Big Think's interview archives.
Today's guest is internationally best-selling author, speaker, and passionate advocate for reason and science as against superstition Richard Dawkins. From 1995 to 2008 Richard Dawkins was the Charles Simonyi Professor of the Public Understanding of Science at Oxford University.  Among his many books are The Selfish Gene, the God Delusion, and his two-part autobiography: An Appetite for Wonder and A Brief Candle in the Dark. His latest is a collection of essays, stories, and speeches called Science in the Soul, spanning many decades and the major themes of Richard's work.
In this episode, which Dawkins described as "one of the best interviews I have ever had," Richard and Jason talk about whether pescatarianism makes any sense, where morality should come from (since, as Hume says, "you can't get an 'ought' from an 'is'), the greatness of Christopher Hitchens, and the evils of nationalism.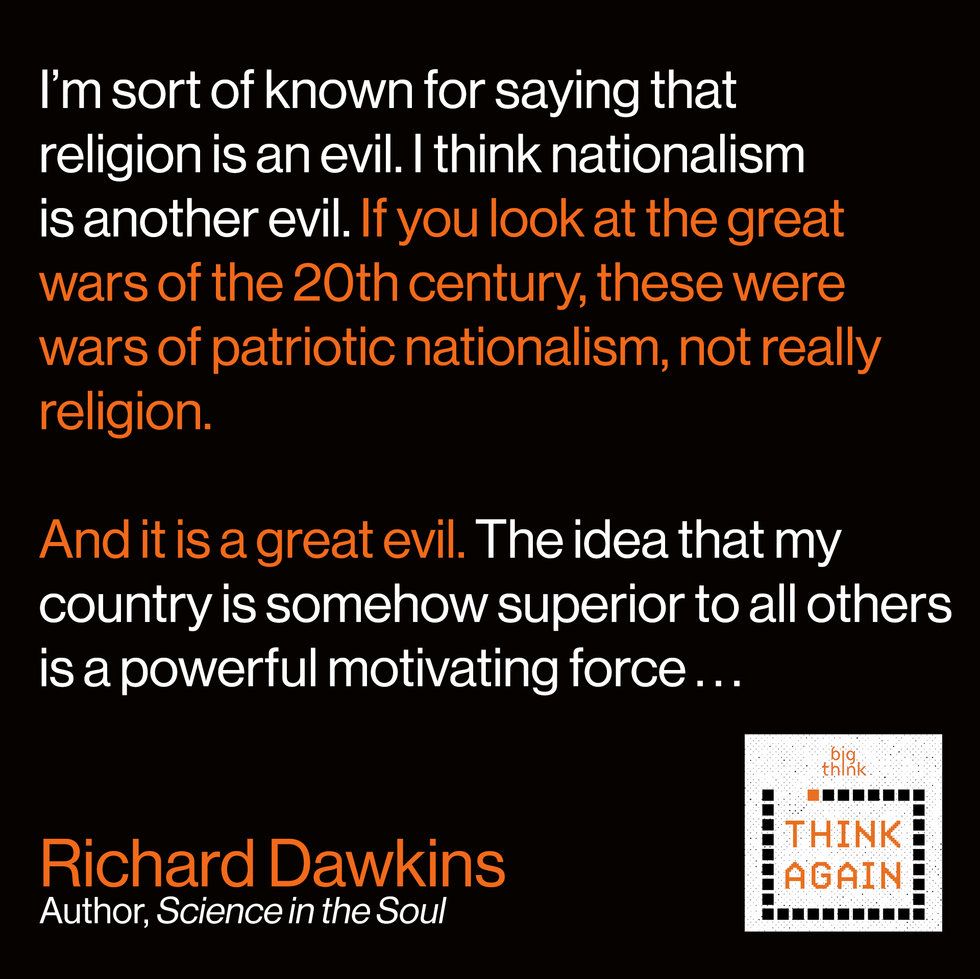 Surprise conversation starter interview clips in this episode:

Joscha Bach on when AI takes over, 
Eric Weinstein on hypocrisy as an intellectual virtue
About Think Again - A Big Think Podcast: You've got 10 minutes with Einstein. What do you talk about? Black holes? Time travel? Why not gambling? The Art of War? Contemporary parenting? Some of the best conversations happen when we're pushed outside of our comfort zones. Each week on Think Again, we surprise smart people you may have heard of with short clips from Big Think's interview archives on every imaginable subject. These conversations could, and do, go anywhere.
Want to be smarter than you were yesterday? Learn to have better conversations using these 3 design principles.
Sponsored by the Institute for Humane Studies
What is a great conversation? They are the ones that leave us feeling smarter or more curious, with a sense that we have discovered something, understood something about another person, or have been challenged.
There are 3 design principles that lead to great conversations: humility, critical thinking, and sympathetic listening.
Critical thinking is the celebrated cornerstone of liberalism, but next time you're in a challenging and rewarding conversation, try to engage sympathetic listening too. Understanding why another intelligent person holds ideas that are at odds with your own is often more enlightening than merely hunting for logic errors.
Related Articles
Should all speech be free? How much intolerance should society tolerate?
Sponsored by the Institute for Humane Studies
For society to stay open and free, you don't need to eliminate prejudice. You need the opposite: All kinds of prejudice pitted against each other.
Intellectual diversity helps society as a whole learn the truth. And as long as society has rules that force ideas to be openly tested, the intolerant will not gain the upper hand.
"In America it's legal to be intolerant. It may not be right. It may not get you accepted or respected. But absolutely it's legal and it should be legal," says Jonathan Rauch.
Fears and discoveries in translating an intimate world to the big screen. How experience helps you deal with people yelling at you. Why 21st century audiences love to be transported to Edwardian England, in spite of all the class hierarchy…
Taped on the Asian side of Istanbul, Turkey: The ancient art of coffee ground reading. Food as a citizen of geographic, not national borders. Chef and food ethnographer Musa Dağdeviren, author of THE TURKISH COOKBOOK, and his ambitious project to preserve Turkey's rich and diverse cuisine.
Picking up where we left off a year ago, a conversation about the homeostatic imperative as it plays out in everything from bacteria to pharmaceutical companies—and how the marvelous apparatus of the human mind also gets us into all kinds of trouble.
Think Again Podcasts
"Prior to nervous systems: no mind, no consciousness, no intention in the full sense of the term. After nervous systems, gradually we ascend to this possibility of having to this possibility of having minds, having consciousness, and having reasoning that allows us to arrive at some of these very interesting decisions."

"We are fragile culturally and socially…but life is fragile to begin with. All that it takes is a little bit of bad luck in the management of those supports, and you're cooked…you can actually be cooked—with global warming!"
Connect with us
How to listen
You can listen to Think Again right here on site, or select your podcast app: