You've got 10 minutes with Einstein. What do you talk about? Black holes? Time travel?
Why not gambling? The Art of War? Contemporary parenting?
Each week, host Jason Gots surprises some of the world's brightest minds with ideas they're not at all prepared to discuss. Join us and special guests Neil Gaiman, Alan Alda, Salman Rushdie, Margaret Atwood, Richard Dawkins, Maria Popova, Mary-Louise Parker, Neil deGrasse Tyson and many more...
07 November, 2017
Our Jellyfish Overlords — Juli Berwald — Think Again - a Big Think Podcast #124
Jellyfish have their tentacles all tangled up in our lives in ways we're only dimly aware of.
Think Again Podcasts
---
Subscribe on Google Play, Stitcher, or iTunes
Come talk to us on Twitter: @bigthinkagain
What happens  in your brain when I say the word "Jellyfish"? 
If you're not a marine biologist, and if going to the beach almost anywhere in the world is a part of your life, the word probably makes you wince. Maybe you remember getting stung. Maybe you remember someone putting meat tenderizer on it (is it good for anything else?) 
But as my guest today, Juli Berwald, knows, Jellyfish are neither a fish, nor the cartoon villains we make them out to be. They're a fascinating, complex, diverse lifeform whose tentacles are tangled up in all of our lives in ways we're only dimly aware of. 
Juli Berwald is a science writer with a PHD in Ocean Science. Her new book is Spineless: The Science of Jellyfish and the Art of Growing a Backbone. 
Surprise conversation-starter clips in this episode: 
Joscha Bach on free will, Richard Dawkins on animal cruelty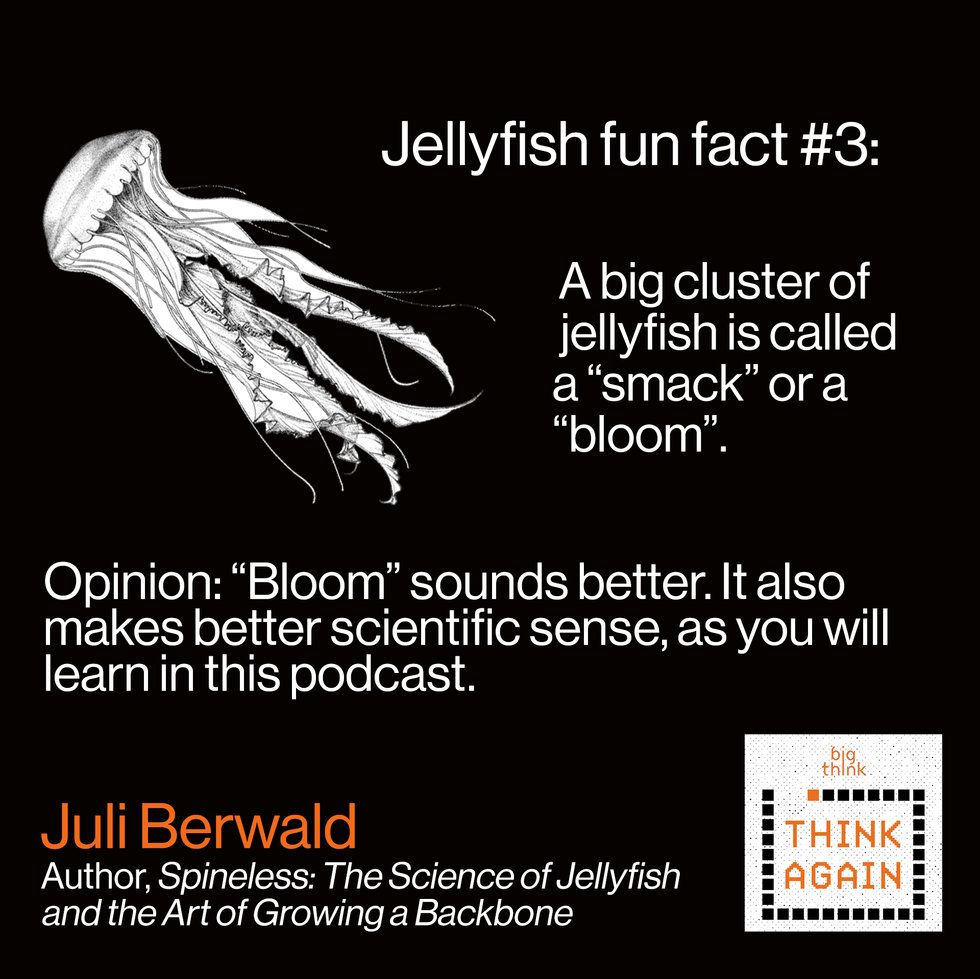 About Think Again - A Big Think Podcast: Since 2008, Big Think has been sharing big ideas from creative and curious minds. Since 2015, the Think Again podcast has been taking us out of our comfort zone, surprising our guests and Jason Gots, your host, with unexpected conversation starters from Big Think's interview archives.
You've got 10 minutes with Einstein. What do you talk about? Black holes? Time travel? Why not gambling? The Art of War? Contemporary parenting? Some of the best conversations happen when we're pushed outside of our comfort zones. Each week on Think Again, we surprise smart people you may have heard of with short clips from Big Think's interview archives on every imaginable subject. These conversations could, and do, go anywhere.
Former president of the ACLU Nadine Strossen discusses whether our society should always defend free speech rights, even for groups who would oppose such rights.
Sponsored by Charles Koch Foundation
Former ACLU president Nadine Strossen understands that protecting free speech rights isn't always a straightforward proposition.
In this video, Strossen describes the reasoning behind why the ACLU defended the free speech rights of neo-Nazis in Skokie, Illinois, 1977.
The opinions expressed in this video do not necessarily reflect the views of the Charles Koch Foundation, which encourages the expression of diverse viewpoints within a culture of civil discourse and mutual respect.
Related Articles
The wonder and the ethics of deep time. The "wood-wide-web". The claustrophobia of the Anthropocene. In our 200th episode, UNDERLAND author Robert MacFarlane takes us on a journey deep into the Earth and ourselves.
Think Again Podcasts
"We think of ourselves as this surface species. Of builders. But we are a species of burrowers and borers. And we are leaving warrens behind us that dwarf any ant's nest…"
"That handprint on the cave wall is testimony to that urge to move into darkness in search of meaning—in search of different orders of time."
An ordained Lama in a Tibetan Buddhist lineage, Lama Rod grew up a queer, black male within the black Christian church in the American south. Navigating all of these intersecting, evolving identities has led him to a life's work based on compassion for self and others.
Think Again Podcasts
"What I'm interested in is deep, systematic change. What I understand now is that real change doesn't happen until change on the inside begins to happen."
"Masculinity is not inherently toxic. Patriarchy is toxic. We have to let that energy go so we can stop forcing other people to do emotional labor for us."
With MIND IN MOTION, psychologist Barbara Tversky offers a stunning account of movement in the world as the foundation of abstract thought, from logical problem-solving to taking other people's perspectives. We discuss gesture, abstract art, animal intelligence and much more.
Think Again Podcasts
"Our feet take us from place to place. A place is a dot and the path between places is a relation. And if you think about thought, it's the same."
"There's all this work done now on how you can preserve an aging mind. Crossword puzzles…brain training…none of that works as well as moving in the world. Just keep moving."
Connect with us
How to listen
You can listen to Think Again right here on site, or select your podcast app: