You've got 10 minutes with Einstein. What do you talk about? Black holes? Time travel?
Why not gambling? The Art of War? Contemporary parenting?
Each week, host Jason Gots surprises some of the world's brightest minds with ideas they're not at all prepared to discuss. Join us and special guests Neil Gaiman, Alan Alda, Salman Rushdie, Margaret Atwood, Richard Dawkins, Maria Popova, Mary-Louise Parker, Neil deGrasse Tyson and many more...
04 April, 2018
Meg Wolitzer – Messages From Another Planet – Think Again - a Big Think Podcast #142
Love is like umami. Adulthood is accepting the schmo you are. Wordplay and worldbuilding with novelist Meg Wolitzer.
Sex & Relationships
Ambition and loyalty. What we want versus what we already have and should be grateful for. When there's conflict here, in some ways it's a tension between loyalty to others and loyalty to ourselves…or maybe loyalty to who we are now versus another possible future self. Have I overcomplicated my life out of impatience and ingratitude? Have I broken something precious beyond repair? Or on the other hand, am I missing out on the life I'm supposed to have? Sometimes I think a lot of the trouble comes from the misunderstanding that these have to be opposing forces at all. 
---
These kinds of questions and choices are at the heart of Meg Wolitzer's novels, of which there are many. She's the author of THE INTERESTINGS and her latest, THE FEMALE PERSUASION. 
Surprise conversation-starter clips in this episode: 
Tali Sharot on confirmation bias and why facts don't win fights, 
Michelle Thaler on how success and failure coexist in everyone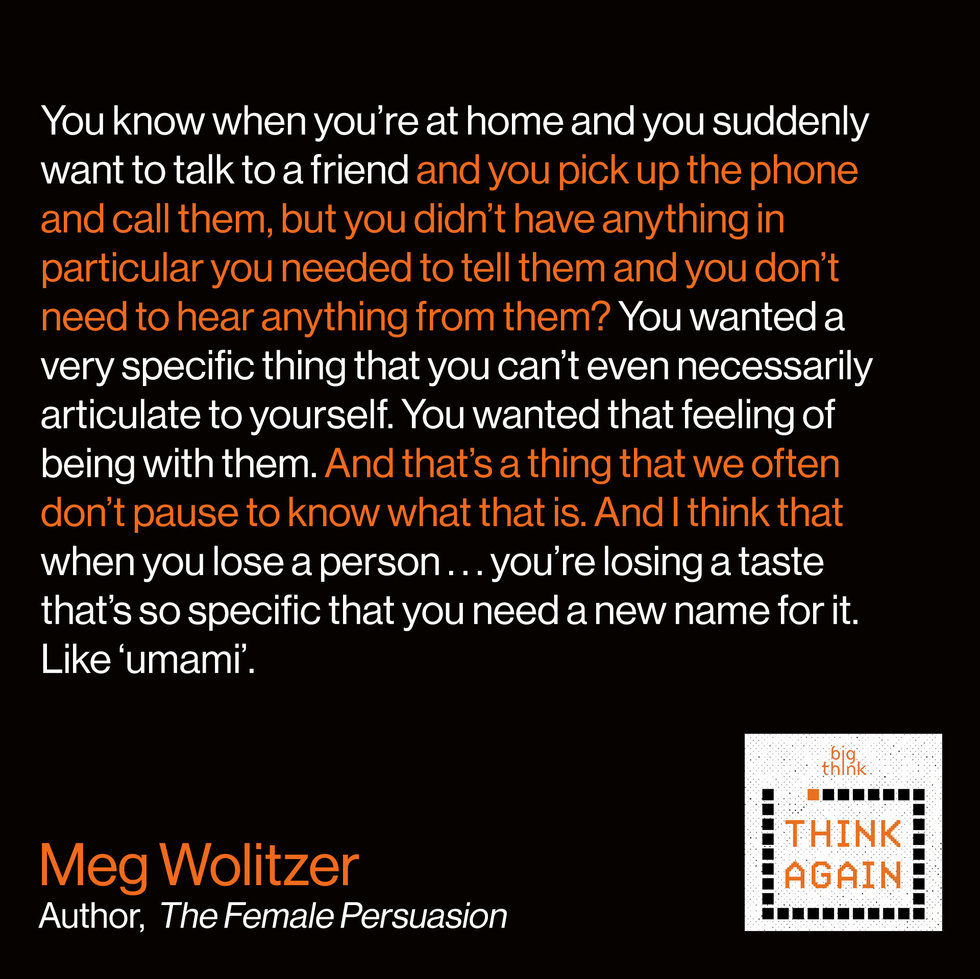 About Think Again - A Big Think Podcast: Since 2008, Big Think has been sharing big ideas from creative and curious minds. Since 2015, the Think Again podcast has been taking us out of our comfort zone, surprising our guests and Jason Gots, your host, with unexpected conversation starters from Big Think's interview archives.
You've got 10 minutes with Einstein. What do you talk about? Black holes? Time travel? Why not gambling? The Art of War? Contemporary parenting? Some of the best conversations happen when we're pushed outside of our comfort zones. Each week on Think Again, we surprise smart people you may have heard of with short clips from Big Think's interview archives on every imaginable subject. These conversations could, and do, go anywhere.

Come talk to us 
on Twitter: @bigthinkagain
Related Articles
30 years later, a new investigative documentary on Bob Lazar's claims about Area 51 raises some ghosts, some hell, and some unsettling questions.
Think Again Podcasts
What if aliens have been visiting us all along?
"Skeptical optimism" and investigations into the unknown
Neurodiversity and deficiencies as sources of power



Empathy makes us human. Humans make structures that rob us of empathy when we need it most. Helen Riess is trying to reverse that trend.
Think Again Podcasts
Heart – mind = emotional quicksand. Mind – heart = greeting card sympathy
The doctor burnout epidemic and how to fix it
With the help of positive psychology and the happiness industry, many of us seem to be running in the exact opposite direction of happiness.
Think Again Podcasts
"It's almost like the only way we can understand leisure is as a productivity hack."
"If we think of happiness as an individual responsibility, that stands in the way of building a society in which the conditions are there for everybody to thrive."
Connect with us
How to listen
You can listen to Think Again right here on site, or select your podcast app: