You've got 10 minutes with Einstein. What do you talk about? Black holes? Time travel?
Why not gambling? The Art of War? Contemporary parenting?
Each week, host Jason Gots surprises some of the world's brightest minds with ideas they're not at all prepared to discuss. Join us and special guests Neil Gaiman, Alan Alda, Salman Rushdie, Margaret Atwood, Richard Dawkins, Maria Popova, Mary-Louise Parker, Neil deGrasse Tyson and many more...
26 June, 2018
Jonathan Safran Foer: One thing we can all agree upon
Maybe everything we do is bad. But it's not all bad to the same extent. Writer Jonathan Safran Foer on factory farming and free-range parenting in 2018.
Technology & Innovation
What is food? It's nourishment. It's comfort. It's culture. It's art. For millions of people, it's not something you waste much time thinking about. You eat what you've always eaten. What everyone around you eats. What you can afford. For others, every bite is a careful, conscious choice motivated by the drive to be thin, to impress your friends, or to do the right thing.
---
In 2018, whatever our motivations, most of us live at a vast remove from the places and the ways our food is produced. We meet it gleaming and uniform on the shelves of our supermarkets. It's cheap and it's plentiful. Why look a gift horse...or cow...or pig...or chicken...in the mouth?
Here's why: While we slept, the farms that produce our food have grown and morphed and metastasized into something worse than sinister. Something that if you look too closely at it might just put you off your dinner. With every meal we eat, we're making ethical choices that define us and shape the future of the planet. How long and on what grounds can we justify looking the other way? I'm here today with the writer Jonathan Safran Foer. He's justly celebrated as a novelist, for books including EVERYTHING IS ILLUMINATED and HERE I AM, but he's here today to discuss EATING ANIMALS. It's a new documentary narrated by Natalie Portman and based on Jonathan's book of the same name.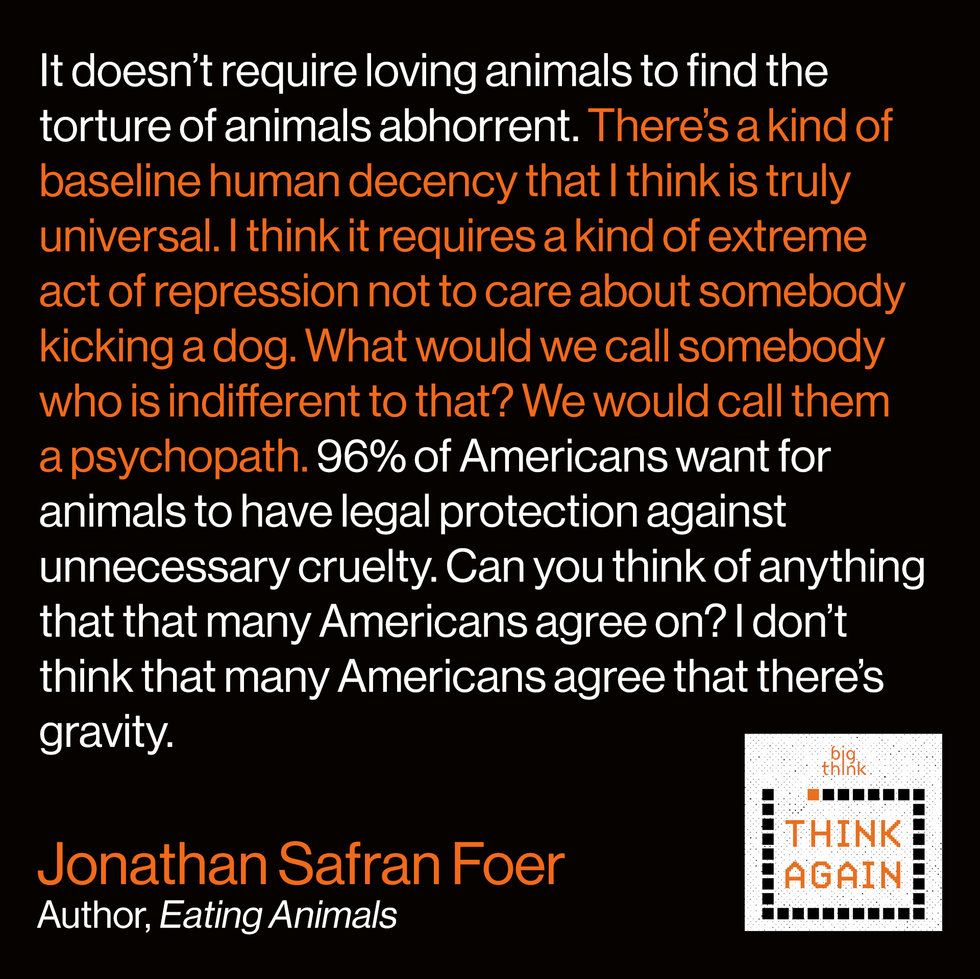 Surprise conversation-starter clips in this episode:
Joscha Bach on why the days of addictive tech are numbered
About Think Again - A Big Think Podcast: Since 2008, Big Think has been sharing big ideas from creative and curious minds. Since 2015, the Think Again podcast has been taking us out of our comfort zone, surprising our guests and Jason Gots, your host, with unexpected conversation starters from Big Think's interview archives.
You've got 10 minutes with Einstein. What do you talk about? Black holes? Time travel? Why not gambling? The Art of War? Contemporary parenting? Some of the best conversations happen when we're pushed outside of our comfort zones. Each week on Think Again, we surprise smart people you may have heard of with short clips from Big Think's interview archives on every imaginable subject. These conversations could, and do, go anywhere.

Come talk to us
on Twitter: @bigthinkagain
Jonathan Rauch explains why the internet is so hostile to the truth, and what we can do to change that.
Sponsored by the Institute for Humane Studies
Disruptive technologies tend to regress humanity back to our default mode: deeply ingrained tribalism.
Rather than using the internet to communicate, many people use it to display their colors or group affinity, like tribespeople wearing face paint. Fake news spreads faster than truth in these tribal environments.
How can we solve this problem without censorship? Platforms like Facebook and Google are tilting the playing field to be more pro-truth by asking people to stop, think, and take responsibility.
Related Articles
Should all speech be free? How much intolerance should society tolerate?
Sponsored by the Institute for Humane Studies
For society to stay open and free, you don't need to eliminate prejudice. You need the opposite: All kinds of prejudice pitted against each other.
Intellectual diversity helps society as a whole learn the truth. And as long as society has rules that force ideas to be openly tested, the intolerant will not gain the upper hand.
"In America it's legal to be intolerant. It may not be right. It may not get you accepted or respected. But absolutely it's legal and it should be legal," says Jonathan Rauch.
Taped on the Asian side of Istanbul, Turkey: The ancient art of coffee ground reading. Food as a citizen of geographic, not national borders. Chef and food ethnographer Musa Dağdeviren, author of THE TURKISH COOKBOOK, and his ambitious project to preserve Turkey's rich and diverse cuisine.
When I was a teenager and music was still on cassettes, a mixtape was an act of love. In this episode, I'm putting together some of my favorite moments of 2019, strung together with minimal interruption from me.
Picking up where we left off a year ago, a conversation about the homeostatic imperative as it plays out in everything from bacteria to pharmaceutical companies—and how the marvelous apparatus of the human mind also gets us into all kinds of trouble.
Think Again Podcasts
"Prior to nervous systems: no mind, no consciousness, no intention in the full sense of the term. After nervous systems, gradually we ascend to this possibility of having to this possibility of having minds, having consciousness, and having reasoning that allows us to arrive at some of these very interesting decisions."

"We are fragile culturally and socially…but life is fragile to begin with. All that it takes is a little bit of bad luck in the management of those supports, and you're cooked…you can actually be cooked—with global warming!"
Connect with us
How to listen
You can listen to Think Again right here on site, or select your podcast app: