You've got 10 minutes with Einstein. What do you talk about? Black holes? Time travel?
Why not gambling? The Art of War? Contemporary parenting?
Each week, host Jason Gots surprises some of the world's brightest minds with ideas they're not at all prepared to discuss. Join us and special guests Neil Gaiman, Alan Alda, Salman Rushdie, Margaret Atwood, Richard Dawkins, Maria Popova, Mary-Louise Parker, Neil deGrasse Tyson and many more...
26 June, 2018
Jonathan Safran Foer: One thing we can all agree upon
Maybe everything we do is bad. But it's not all bad to the same extent. Writer Jonathan Safran Foer on factory farming and free-range parenting in 2018.
Technology & Innovation
What is food? It's nourishment. It's comfort. It's culture. It's art. For millions of people, it's not something you waste much time thinking about. You eat what you've always eaten. What everyone around you eats. What you can afford. For others, every bite is a careful, conscious choice motivated by the drive to be thin, to impress your friends, or to do the right thing.
---
In 2018, whatever our motivations, most of us live at a vast remove from the places and the ways our food is produced. We meet it gleaming and uniform on the shelves of our supermarkets. It's cheap and it's plentiful. Why look a gift horse...or cow...or pig...or chicken...in the mouth?
Here's why: While we slept, the farms that produce our food have grown and morphed and metastasized into something worse than sinister. Something that if you look too closely at it might just put you off your dinner. With every meal we eat, we're making ethical choices that define us and shape the future of the planet. How long and on what grounds can we justify looking the other way? I'm here today with the writer Jonathan Safran Foer. He's justly celebrated as a novelist, for books including EVERYTHING IS ILLUMINATED and HERE I AM, but he's here today to discuss EATING ANIMALS. It's a new documentary narrated by Natalie Portman and based on Jonathan's book of the same name.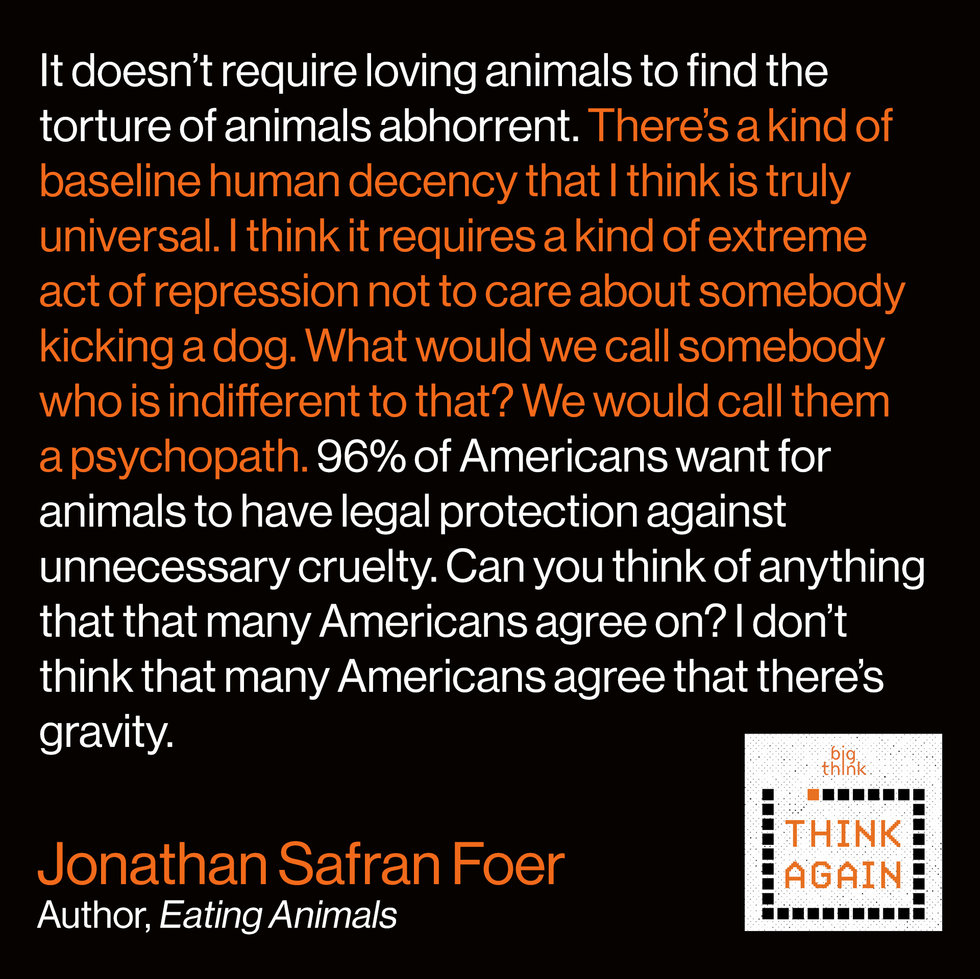 Surprise conversation-starter clips in this episode:
Joscha Bach on why the days of addictive tech are numbered
About Think Again - A Big Think Podcast: Since 2008, Big Think has been sharing big ideas from creative and curious minds. Since 2015, the Think Again podcast has been taking us out of our comfort zone, surprising our guests and Jason Gots, your host, with unexpected conversation starters from Big Think's interview archives.
You've got 10 minutes with Einstein. What do you talk about? Black holes? Time travel? Why not gambling? The Art of War? Contemporary parenting? Some of the best conversations happen when we're pushed outside of our comfort zones. Each week on Think Again, we surprise smart people you may have heard of with short clips from Big Think's interview archives on every imaginable subject. These conversations could, and do, go anywhere.

Come talk to us
on Twitter: @bigthinkagain
Related Articles
What do the "seduction movement," the Virginia Tech shooter, and the Asian-American experience have in common? Wesley Yang thinks and writes with devastating clarity about loneliness, invisibility, and the incoherence of American life.
Think Again Podcasts
What if Asian American cultural "invisibility" is the key to saving America?
Are liberalism and democracy too tame to survive identity politics?
"One risks being a pariah...just by saying the things that need to be said."
Amit Tzuk and Ofir Trainin, the subject and director of an FAMILY IN TRANSITION, an Israeli documentary about a small town father of four who becomes a woman.
Think Again Podcasts
Sometimes just being yourself is a radical act.
"We have to do public relations so that people will understand that we're...people."
Everybody is always in a state of transition. All the time, your cells are dying and replacing themselves. Your mind, your emotions, your goals, your sense of self—all of these are shifting from year to year as you age. In families where there are children, the changes are even more visible and dramatic. Bodies change, voices change, identity is always in flux. But we also have an instinct to mask these changes. To find ways of minimizing them to fit in.
My guests today have a story to tell about what happens when the changes are undeniable. When they're at odds with the values of many people in your family and community. It's about the pain and the necessity of breaking the masks you've made for yourself. FAMILY IN TRANSITION is a documentary film about Amit Tzuk, an Israeli father of four who transitions to become a woman, and the changes Amit's wife Galit and their children go through. I'm here today with Amit and with the film's director, Ofir Trainin.
Surprise conversation starter clips in this episode:

Jonathan Haidt on untruths to stop telling our children

Science and the squishiness of the human mind. The joys of wearing whatever the hell you want, and so much more.
Flickr / 13winds
Think Again Podcasts
Why can't we have a human-sized cat tree?
What would happen if you got a spoonful of a neutron star?
Why do we insist on dividing our wonderfully complex selves into boring little boxes
Connect with us
How to listen
You can listen to Think Again right here on site, or select your podcast app: