You've got 10 minutes with Einstein. What do you talk about? Black holes? Time travel?
Why not gambling? The Art of War? Contemporary parenting?
Each week, host Jason Gots surprises some of the world's brightest minds with ideas they're not at all prepared to discuss. Join us and special guests Neil Gaiman, Alan Alda, Salman Rushdie, Margaret Atwood, Richard Dawkins, Maria Popova, Mary-Louise Parker, Neil deGrasse Tyson and many more...
18 May, 2018
Jonathan Lethem: Batman's greatest enemy
Hanging out with a bat vs. being a bat. Why 'titanic' artists are too big to float. Bob Dylan's very worst song, and more.
Culture & Religion
There's a famous line from a Bob Dylan song that goes "she's got everything she needs...she's an artist...she don't look back."
---
As a person who loves art—music and literature especially—I've always been haunted by that line. Does an artist really not look back? Is looking back somehow a threat to creativity? What about Proust? Did he ever look anywhere but back?
My guest today is Jonathan Lethem, one of my very favorite writers since I read his early novel Fortress of Solitude. He's also the author of Motherless Brooklyn, Dissident Gardens and much more. Lethem is an artist who experiments and explores, playing with forms and genres and trying on new masks, but he also spends a lot of time rummaging through the stacks, unearthing things that are lost or forgotten. His latest book is More Alive and Less Lonely, a collection of essays about books and reading.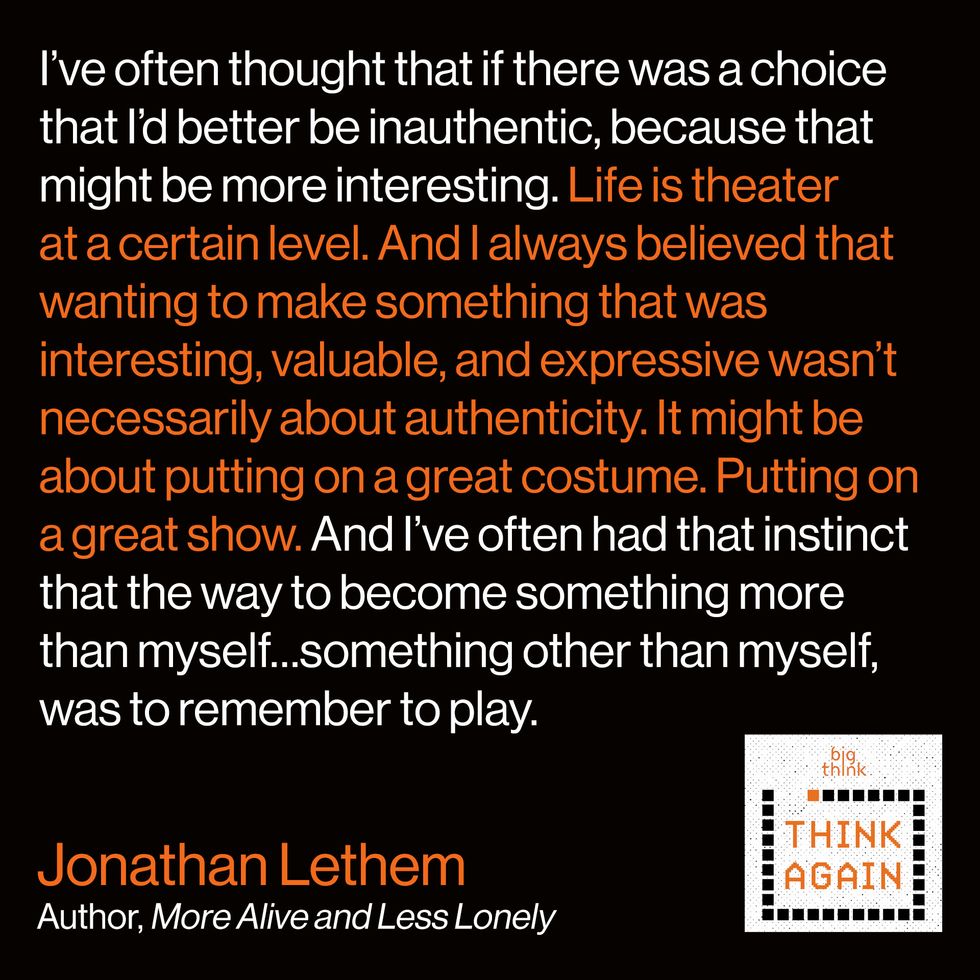 Surprise conversation-starter clips in this episode:
Michelle Thaller on human cyber-evolution
About Think Again - A Big Think Podcast: Since 2008, Big Think has been sharing big ideas from creative and curious minds. Since 2015, the Think Again podcast has been taking us out of our comfort zone, surprising our guests and Jason Gots, your host, with unexpected conversation starters from Big Think's interview archives.
You've got 10 minutes with Einstein. What do you talk about? Black holes? Time travel? Why not gambling? The Art of War? Contemporary parenting? Some of the best conversations happen when we're pushed outside of our comfort zones. Each week on Think Again, we surprise smart people you may have heard of with short clips from Big Think's interview archives on every imaginable subject. These conversations could, and do, go anywhere.

Come talk to us
on Twitter: @bigthinkagain
Related Articles
In this episode master teacher Sharon Salzberg considers whether it's ok to teach mindfulness to the armed forces, how practitioners of meditation and mindfulness should balance openness with discipline, and so much more.
The New Yorker-based comedy team on never exercising or going outside, and so much more.
In this first episode of 2020, beloved dharma teacher Joseph Goldstein is back for a conversation about struggle, doubt, and growth on the spiritual path.
Connect with us
How to listen
You can listen to Think Again right here on site, or select your podcast app: