You've got 10 minutes with Einstein. What do you talk about? Black holes? Time travel?
Why not gambling? The Art of War? Contemporary parenting?
Each week, host Jason Gots surprises some of the world's brightest minds with ideas they're not at all prepared to discuss. Join us and special guests Neil Gaiman, Alan Alda, Salman Rushdie, Margaret Atwood, Richard Dawkins, Maria Popova, Mary-Louise Parker, Neil deGrasse Tyson and many more...
07 June, 2018
Jessica Abel: Practical magic
While figuring out how to steer her own creative ship, Jessica Abel has learned powerful, practical lessons about how to help others do the same.
Think Again Podcasts
On an earlier episode of this show the Turkish novelist Orhan Pamuk said something that I've never forgotten. He said that writing programs shouldn't teach about plots or characters or how to structure a story. Instead, they should teach writers to manage their own psyches. To be the captains of their own creative ships across the rough daily waters of fluctuating emotions and energies. This kind of self-management, he suggested, is what makes the difference between people who keep producing art and those who don't.
---
My guest today is Jessica Abel. She's an accomplished artist herself—a graphic novelist who did a kind of graphic docu-novel called OUT ON THE WIRE about how some of the greatest radio shows and podcasts are made, including Snap Judgment, Radiolab, and This American Life. In the course of figuring out how to steer her own creative ship she's learned invaluable lessons about how to help others do the same. Her most recent book GROWING GILLS and her Creative Focus Workshops offer creatives a personalized process for figuring out what they want to make and how to balance those goals with the rest of their busy lives.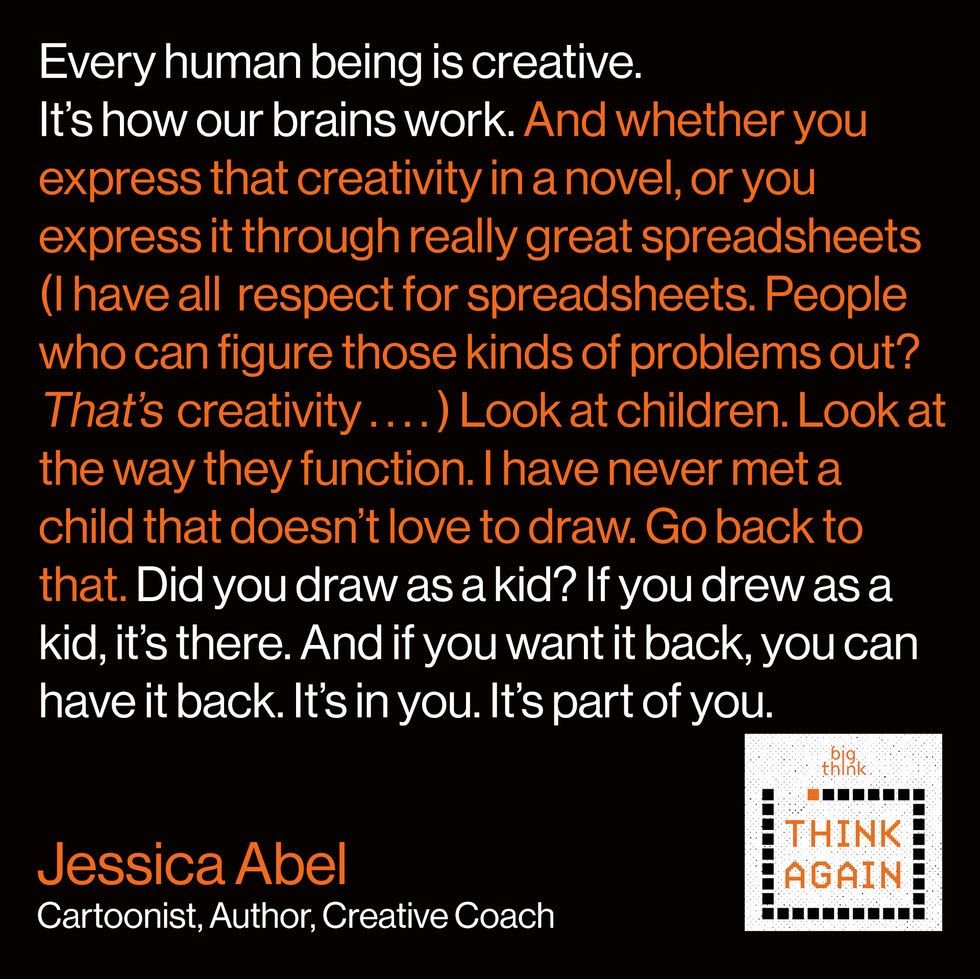 Surprise conversation-starter clips in this episode:
Radiolab's Jad Abumrad on storytelling as shamanism
Bret Weinstein on how evolution explains religion
About Think Again - A Big Think Podcast: Since 2008, Big Think has been sharing big ideas from creative and curious minds. Since 2015, the Think Again podcast has been taking us out of our comfort zone, surprising our guests and Jason Gots, your host, with unexpected conversation starters from Big Think's interview archives.
You've got 10 minutes with Einstein. What do you talk about? Black holes? Time travel? Why not gambling? The Art of War? Contemporary parenting? Some of the best conversations happen when we're pushed outside of our comfort zones. Each week on Think Again, we surprise smart people you may have heard of with short clips from Big Think's interview archives on every imaginable subject. These conversations could, and do, go anywhere.

Come talk to us
on Twitter: @bigthinkagain
Related Articles
Picking up the thread of a conversation they started two decades ago in Jerusalem, with some help from Lenny Bruce, philosopher Martha Nussbaum, and other influences along the way, host Jason Gots and Williams College professor Jeffrey Israel go deep on private grievances, public life, and where the two overlap.
The first church to marry gay couples in Oklahoma. The merging of a congregation founded by a white supremacist with the members of a black Pentacostal congregation. The film American Heretics explores the complexities of religious life in the Bible Belt as it intersects with politics and race.
Think Again Podcasts
Oklahoma is "either your past or your future…it's a microcosm of America…the issues around racism, politics, the blurring of church and state…"

Come for the cultural politics…stick around for the unlikely connections to LSD, mushrooms, and the Salem Witch Trials…
In spite of all the weird ways the word has been abused since the 2016 elections, I think of myself as a liberal. As a basic value, I try to be open-minded. And like many liberals, I live in a big, liberal city where I rarely meet anyone who doesn't share my values, religious outlook, and political beliefs. As a result, like it or not, I'm in a bubble. And when I'm not being careful about it, I'm vulnerable to seeing "the Bible Belt" and the American South as one monolithic, mostly white, evangelical, anti-abortion, Christian Right-leaning mass. As some kind of living history exhibit of a past us New Yorkers have left behind.
And I know lots of people in some of the same bubbles I occupy who are quick to point to religion as the cause of horrors throughout human history. People who see reason and science as progress, religion as unequivocally retrograde, and who point to data showing that people everywhere are getting less religious as a hopeful sign that humanity might be moving in the right direction. But just as it doesn't have a monopoly on morality, religion doesn't have a monopoly on intolerance. And reason alone can't give us values like love and kindness. Religion's one of many ways that people organize their lives and like everything we make, it's subject to both our courage and our cowardice. The best and the worst of us.
A recent Pew survey says that 63% of Americans believe in God. In Bible Belt states like Oklahoma, where that number is much higher, there are fierce political battles going on for control of the Christian narrative—pushback against fundamentalist interpretations of the Bible as aligned with conservative republican values. These battles, invisible to most of us out here on the coasts, are the subject of AMERICAN HERETICS, a powerful new documentary by my guests today, Jeanine and Catherine Butler.
Surprise conversation starters in this episode:
Michael Pollan on the history of LSD and psilocybin mushrooms in America
"We live in an age in which there is too much excessive information, less knowledge, and very, very little wisdom." Elif Shafak has faced trial and investigation in her native Turkey for giving voice to the voiceless in her novels. We talk about her book THREE DAUGHTERS OF EVE and the fight for nuance in a world of binaries.
Think Again Podcasts
"To say that there are two stories to the same issue…doesn't mean [they] have the same power. Sometimes one of those stories will be the story that no one hears….that is suppressed and erased and forgotten and pushed to the margins."

"I think faith is way too important to leave it to the religious. Just like politics is way too important to leave it to career politicians. And I've started to believe that technology is way too important to leave it to tech companies and monopolies."
After four years and just over 200 conversations for this podcast, I'm feeling the need for a new kind of politics. One that would champion uncertainty, fragility, emotional vulnerability against the tyranny of opinions that push us one way or another. I used to think that art was sufficient for this purpose. After all, it was books like J.D. Salinger's Franny and Zooey or Dostoevsky's The Brothers Karamazov, bands like the Smiths and the Velvet Underground that gave a much younger me courage to embrace ambiguity as a great teacher.
Art's an open door, but you have to walk through it. And it's the politics and culture around you that shape your ability to do so. We're hurting and hungry for connection. Sick of misunderstanding and violence. I think this is true all over the world. I think it runs so deep it's like an underground river, one whose presence we can only guess at from the contours of the surface earth.
I'm very happy to be talking today with Turkish-born global citizen, novelist and activist Elif Shafak. She's the author of HONOR, THE FLEA PALACE, and THREE DAUGHTERS OF EVE, among many other books. In her writing and public speaking, she's one of the most eloquent voices I know of this new politics that doesn't fit easily on any flag.
Surprise conversation starters in this episode:
Connect with us
How to listen
You can listen to Think Again right here on site, or select your podcast app: