You've got 10 minutes with Einstein. What do you talk about? Black holes? Time travel?
Why not gambling? The Art of War? Contemporary parenting?
Each week, host Jason Gots surprises some of the world's brightest minds with ideas they're not at all prepared to discuss. Join us and special guests Neil Gaiman, Alan Alda, Salman Rushdie, Margaret Atwood, Richard Dawkins, Maria Popova, Mary-Louise Parker, Neil deGrasse Tyson and many more...
13 October, 2017
Holdin' on for a Hero – Nancy Koehn – Think Again - a Big Think Podcast #120
What's a real leader anyway? Harvard historian Nancy Koehn mines history for some answers.
Personal Growth
---
Subscribe on Google Play, Stitcher, or iTunes
Come talk to us on Twitter: @bigthinkagain
What do Rachel Carson, Frederick Douglass, Dietrich Bonhoeffer, Ernest Shackleton, and Abraham Lincoln have in common, aside from being historical figures you've probably heard of? That's the question Nancy Koehn tries to answer in her new book Forged in Crisis: The Power of Courageous Leadership in Turbulent Times. At a time when trustworthy leadership seems in short supply, it examines what real leadership is and how it comes about. 
Host Jason Gots has some serious questions about whether and in what forms a fragmented 21st century America is prepared to accept "leadership" at all. 
Nancy Koehn is a historian at the Harvard Business School whose research focuses on how leaders, past and present, craft lives of purpose, worth, and impact. 
Surprise conversation-starter clips in this episode: 
Liv Boeree on lessons learned from professional poker for clear thinking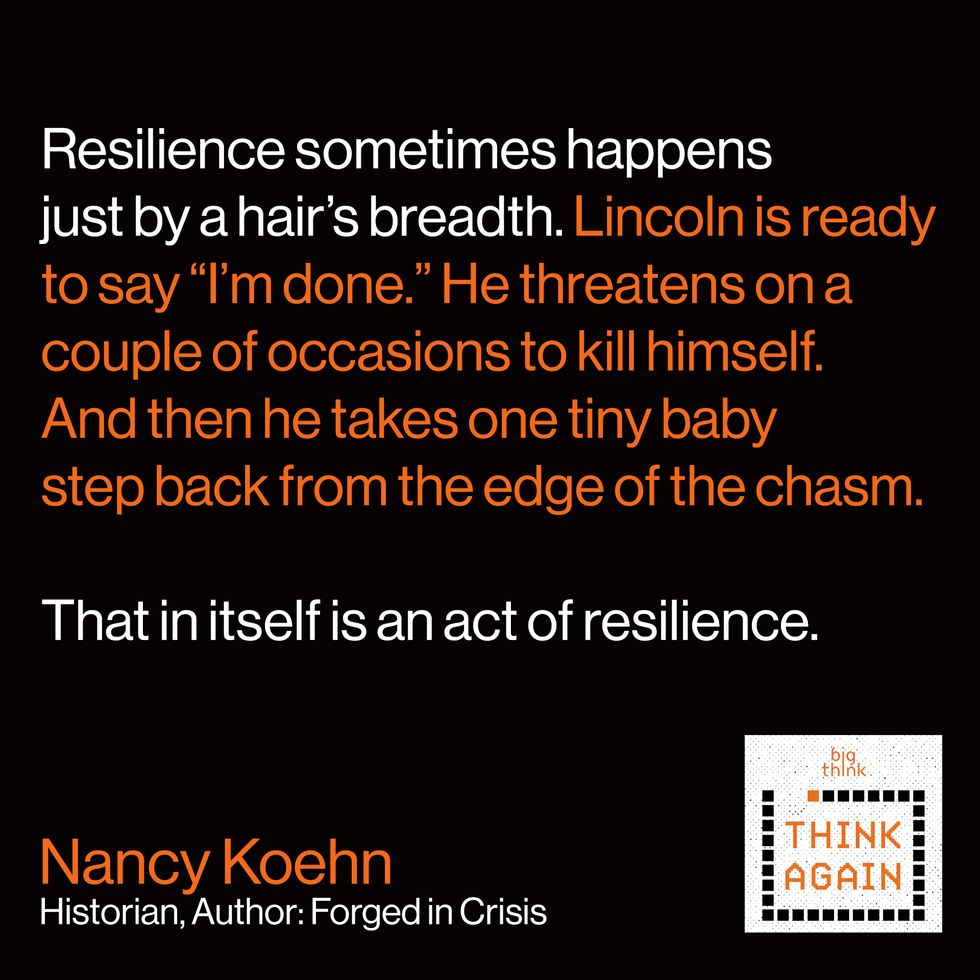 About Think Again - A Big Think Podcast: Since 2008, Big Think has been sharing big ideas from creative and curious minds. Since 2015, the Think Again podcast has been taking us out of our comfort zone, surprising our guests and Jason Gots, your host, with unexpected conversation starters from Big Think's interview archives.
You've got 10 minutes with Einstein. What do you talk about? Black holes? Time travel? Why not gambling? The Art of War? Contemporary parenting? Some of the best conversations happen when we're pushed outside of our comfort zones. Each week on Think Again, we surprise smart people you may have heard of with short clips from Big Think's interview archives on every imaginable subject. These conversations could, and do, go anywhere.
Even the most controversial research conducted by scholars can impact cultures and drive progress.
Videos
Academic freedom is, at the same time, absolutely critical and underappreciated.
This protection drives innovation and progress, but do we take it for granted? Scholars' ability to conduct controversial research impacts culture and society in a positive way.
The opinions expressed in this video do not necessarily reflect the views of the Charles Koch Foundation, which encourages the expression of diverse viewpoints within a culture of civil discourse and mutual respect.
Related Articles
"I think when you come to grips with what happened, it gives you a chance of doing something different. What's really dark is when you're going through something and you have no perspective." By revisiting—through poetry—his 9 years in prison for a teenage carjacking, Reginald Dwayne Betts finds freedoms most of us have never known.
Think Again Podcasts
Some experiences change you so completely that you're left with a choice: either spend your life running from them or spend your life turning them over in memory, trying to find new ways in, through, and out the other side. The power of the impulse to explain or somehow articulate these experiences is inversely proportionate to other people's ability to understand them. They're everything all at once. It seems to me that my guest today has made that second choice, the hard choice not to run away. Or maybe it's a choice you have to keep making over and over again. His name is Reginald Dwayne Betts. He's 39 years old—an accomplished poet and essayist and a graduate of Yale Law School. But he spent most of his teenage years and young adulthood in prison and over a year in solitary confinement, experiences neither society, nor memory, nor his fellow feeling for the more than 2 million people behind bars in the United States, the vast majority of them black men and boys, has let him forget. Dwayne's beautiful and necessary new book of poems is called FELON, and I'm honored to have him with me here today to talk about it.
Journeys of discovery and wonder in the inner and outer world.
For too long, we've treated racism as a personality trait or a vague systemic menace rather than the result of policies and ideas created deliberately to benefit some groups at the expense of others. As a result, too many anti-racist efforts have collapsed into name-calling sessions, failing to achieve their goals. Ibram X. Kendi, author of How to be an Antiracist, sees a better way.
Connect with us
How to listen
You can listen to Think Again right here on site, or select your podcast app: