You've got 10 minutes with Einstein. What do you talk about? Black holes? Time travel?
Why not gambling? The Art of War? Contemporary parenting?
Each week, host Jason Gots surprises some of the world's brightest minds with ideas they're not at all prepared to discuss. Join us and special guests Neil Gaiman, Alan Alda, Salman Rushdie, Margaret Atwood, Richard Dawkins, Maria Popova, Mary-Louise Parker, Neil deGrasse Tyson and many more...
01 June, 2018
David Sedaris: Sir David of the Spotless Roadways
Walking all over the English countryside picking up trash, the genitalia of the spotted hyena, and many other subjects comical and deadly serious.
Surprising Science
Life is full of horrible things. I dare you to deny it. Things like death, sickness, and alcoholism. And did I mention death, which lies in wait for us all? But if you talk about these things at dinner parties, or at work, or to someone you have just met in line at the grocery store, you risk being branded a negative person. In some circles, such as the state of California, negativity is like leprosy. It can really mess up your social life.
---
This does not seem to trouble my guest today, who has spent much of his life turning horrible, true stories into festive comedy. like many people, I first heard David Sedaris' unmistakable voice on public radio in the late 90s. My sister and I took a couple of his audio books on a road trip across America in her red Saturn with a bumper sticker on the back that read "Humanity is Trying". Having Sedaris along as company somehow made the endless miles of Stuckeys' and strip malls, and the weeping people at Elvis's grave side in Graceland a little less alien and terrifying. In his latest book, Calypso, David is doing his thing better than ever. It's about what's on his mind these days, from decluttering the English countryside, to feeding a surgically removed lump of fat to a snapping turtle, to a sister's suicide.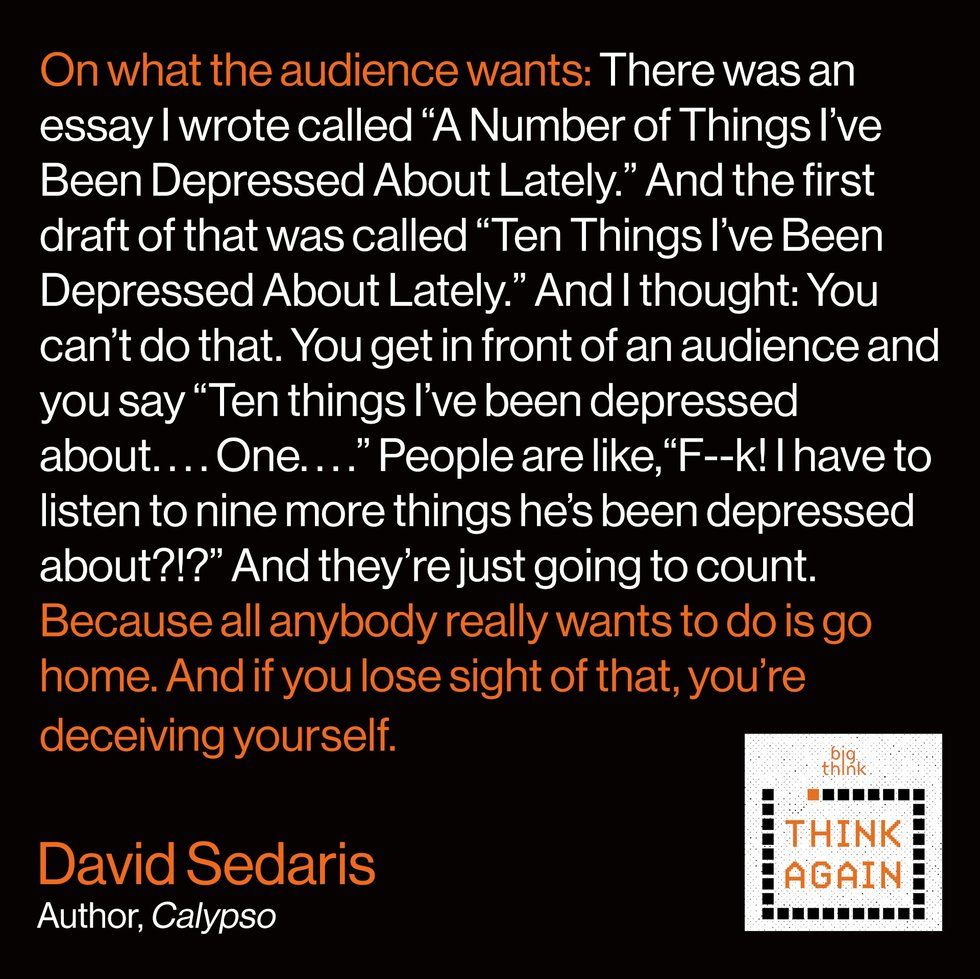 Surprise conversation-starter clips in this episode:
Martin Amis on the "etiquette" of good writing
Lucy Cooke on the extraordinary genitalia of female spotted hyenas
About Think Again - A Big Think Podcast: Since 2008, Big Think has been sharing big ideas from creative and curious minds. Since 2015, the Think Again podcast has been taking us out of our comfort zone, surprising our guests and Jason Gots, your host, with unexpected conversation starters from Big Think's interview archives.
You've got 10 minutes with Einstein. What do you talk about? Black holes? Time travel? Why not gambling? The Art of War? Contemporary parenting? Some of the best conversations happen when we're pushed outside of our comfort zones. Each week on Think Again, we surprise smart people you may have heard of with short clips from Big Think's interview archives on every imaginable subject. These conversations could, and do, go anywhere.

Come talk to us
on Twitter: @bigthinkagain
How do you do justice to the truth in a headline-driven world?
Sponsored by the Institute for Humane Studies
The internet is parasitic on traditional media sources, says Keith Whittington. Traditional news outlets do the hard reporting to generate the facts and notable opinions that other outlets respond to.
The greatest challenge to truth in journalism is that social media presents news stories out of context; we no longer see news among other news articles, and we may only ever see the headline without the detail and nuance required.
Media institutions are working to tackle these challenges, but until then it is our responsibility as citizens and consumers to get smarter about how we navigate news feeds and the hyper-partisan press.
Related Articles
Should all speech be free? How much intolerance should society tolerate?
Sponsored by the Institute for Humane Studies
For society to stay open and free, you don't need to eliminate prejudice. You need the opposite: All kinds of prejudice pitted against each other.
Intellectual diversity helps society as a whole learn the truth. And as long as society has rules that force ideas to be openly tested, the intolerant will not gain the upper hand.
"In America it's legal to be intolerant. It may not be right. It may not get you accepted or respected. But absolutely it's legal and it should be legal," says Jonathan Rauch.
Etgar Keret's stories are as funny, painful, and surreal as life itself. We talk about the craziness of his native Israel, his new collection of short stories FLY ALREADY, marijuana, dementia, and much more.
Taped on the Asian side of Istanbul, Turkey: The ancient art of coffee ground reading. Food as a citizen of geographic, not national borders. Chef and food ethnographer Musa Dağdeviren, author of THE TURKISH COOKBOOK, and his ambitious project to preserve Turkey's rich and diverse cuisine.
When I was a teenager and music was still on cassettes, a mixtape was an act of love. In this episode, I'm putting together some of my favorite moments of 2019, strung together with minimal interruption from me.
Connect with us
How to listen
You can listen to Think Again right here on site, or select your podcast app: