You've got 10 minutes with Einstein. What do you talk about? Black holes? Time travel?
Why not gambling? The Art of War? Contemporary parenting?
Each week, host Jason Gots surprises some of the world's brightest minds with ideas they're not at all prepared to discuss. Join us and special guests Neil Gaiman, Alan Alda, Salman Rushdie, Margaret Atwood, Richard Dawkins, Maria Popova, Mary-Louise Parker, Neil deGrasse Tyson and many more...
24 March, 2017
Daniel Dennett – Thinking About Thinking About Thinking – Think Again Podcast #91
Spontaneous talk on surprise topics. Philosopher of mind Daniel Dennett waxing wise and wicked on consciousness, dolphins, and more.
Culture & Religion
---
Subscribe on Google Play, Stitcher, or iTunes
Come talk to us on Twitter: @bigthinkagain
In this episode: 
Since 2008, Big Think has been sharing big ideas from creative and curious minds. The Think Again podcast takes us out of our comfort zone, surprising our guests and Jason Gots, your host, with unexpected conversation starters from Big Think's interview archives.
Daniel Dennett is one of the foremost philosophers of mind working today to unravel the puzzle of what minds are and what they're for, and Co-Director of the Center for Cognitive Studies at Tufts University. His latest book of many is called From Bacteria to Bach and Back: The Evolution of Minds, and it's a sweeping (but detailed) attempt to demystify how we get from inanimate matter to cathedrals, symphonies, and of course, podcasts.
In this fun and meaty episode of Think Again, Dennett waxes wicked and wise on consciousness, Dolphins, Artificial Intelligence, and much, much more.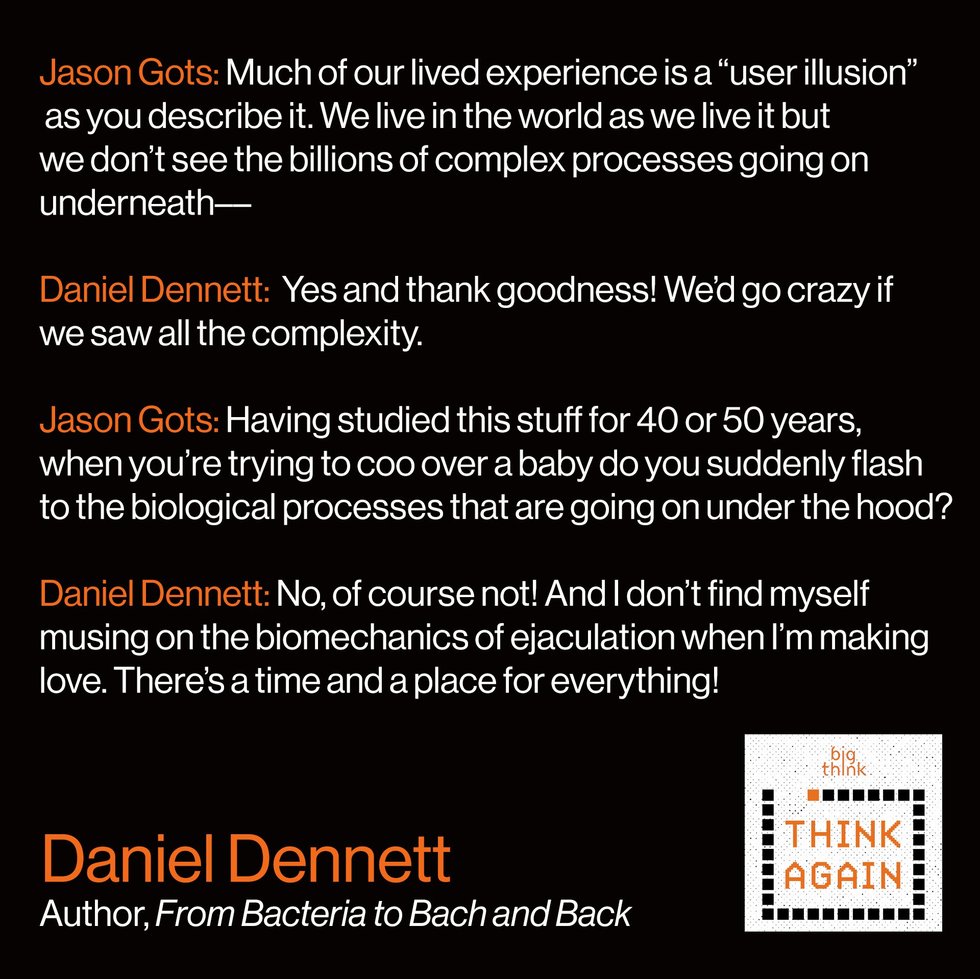 Surprise conversation starter interview clips:
Andrew Keen on the Internet and social isolation and Ben Goertzel on Artificial General Intelligence
About Think Again - A Big Think Podcast: You've got 10 minutes with Einstein. What do you talk about? Black holes? Time travel? Why not gambling? The Art of War? Contemporary parenting? Some of the best conversations happen when we're pushed outside of our comfort zones. Each week on Think Again, we surprise smart people you may have heard of with short clips from Big Think's interview archives on every imaginable subject. These conversations could, and do, go anywhere.
Related Articles
It's up to us humans to re-humanize our world. An economy that prioritizes growth and profits over humanity has led to digital platforms that "strip the topsoil" of human behavior, whole industries, and the planet, giving less and less back. And only we can save us.
Think Again Podcasts
It's an all-hands-on-deck moment in the arc of civilization.
Everyone has a choice: Do you want to try to earn enough money to insulate yourself from the world you're creating— or do you want to make the world a place you don't have to insulate yourself from?
One of the most influential Buddhist teachers and writers of the past half-century, Joseph Goldstein helped bring Vipassana (insight) practice to the West. We talk about love, pop-mindfulness, and how even a philosopher can learn to quiet the mind.
Think Again Podcasts
Neuroscience's romance with meditation
Puppy videos as a deep spiritual practice
How the "retreat" was born



30 years later, a new investigative documentary on Bob Lazar's claims about Area 51 raises some ghosts, some hell, and some unsettling questions.
Think Again Podcasts
What if aliens have been visiting us all along?
"Skeptical optimism" and investigations into the unknown
Neurodiversity and deficiencies as sources of power



Connect with us
How to listen
You can listen to Think Again right here on site, or select your podcast app: