Think Again Podcast Mixtape #2– Staring at the Sea
In the second of our "year one in review" mixtapes, host Jason Gots curates the best moments thus far of Think Again - a Big Think Podcast, with excerpts from conversations with Henry Rollins, Kate Tempest, Sarah Jones, Mary-Louise Parker, and A.O. Scott
05 August, 2016
---
Subscribe on Google Play, Stitcher, or iTunes
Come talk to us on Twitter: @bigthinkagain
In this episode:  
Big Think launched in 2008 as a "YouTube for intellectuals." Since then, it has produced over 10,000 short-form video interviews with many of the most influential and creative thinkers of our time. 
In 2014, the podcast SERIAL burst on the scene and Apple put a "podcasts" app in the iPhone's OS, and suddenly podcasting, which had existed for over a decade, was widely considered to have entered its Golden Age (wonder how all the veteran podcasters felt about that...). So Big Think decided it might be a good time to start a podcast, too––to find its voice in this newly energized space. Jason Gots (who had been a writer and editor there since 2010), more or less leapt out of his chair at the meeting where this was announced and volunteered to create and host it. Thus THINK AGAIN - A BIG THINK PODCAST was born. 
Big Think's videos are bits of "expert wisdom", presented confidently and definitively against a white screen background. With THINK AGAIN, we wanted to revisit these ideas the way the audience encounters them––spontaneously, messily, and often out of context. We wanted to bring the experts to that state some thinkers call "beginner's mind" and see what would happen. 
The format: Jason sits down with artists, scientists, historians––all accomplished experts in their fields. They chat a bit about the guest's work. Then, they watch three surprise Big Think interview clips (chosen by the video producers), emailed to Jason just before the interview, and discuss them. And the conversation goes where it goes.  
Some amazing moments have happened this past year––fun, profound, profoundly painful––so this week and next, we're stepping back and taking stock. This, the second of two "greatest hits mixtapes", features Playwright and Performer Sarah Jones both as herself and as a completely different person, Musician and Artist Henry Rollins on a divided America, Critic A.O. Scott on our complicated relationships with our devices, Actress and Author Mary-Louise Parker being extremely skeptical that Virtual Reality will make us more empathetic, and Rapper and Novelist Kate Tempest with a staggeringly powerful, spontaneous monologue on the stories we tell ourselves. 
Surprise clips in this episode:
Paul Ekman, Ralph Rivera, Sherry Turkle, Parag Khanna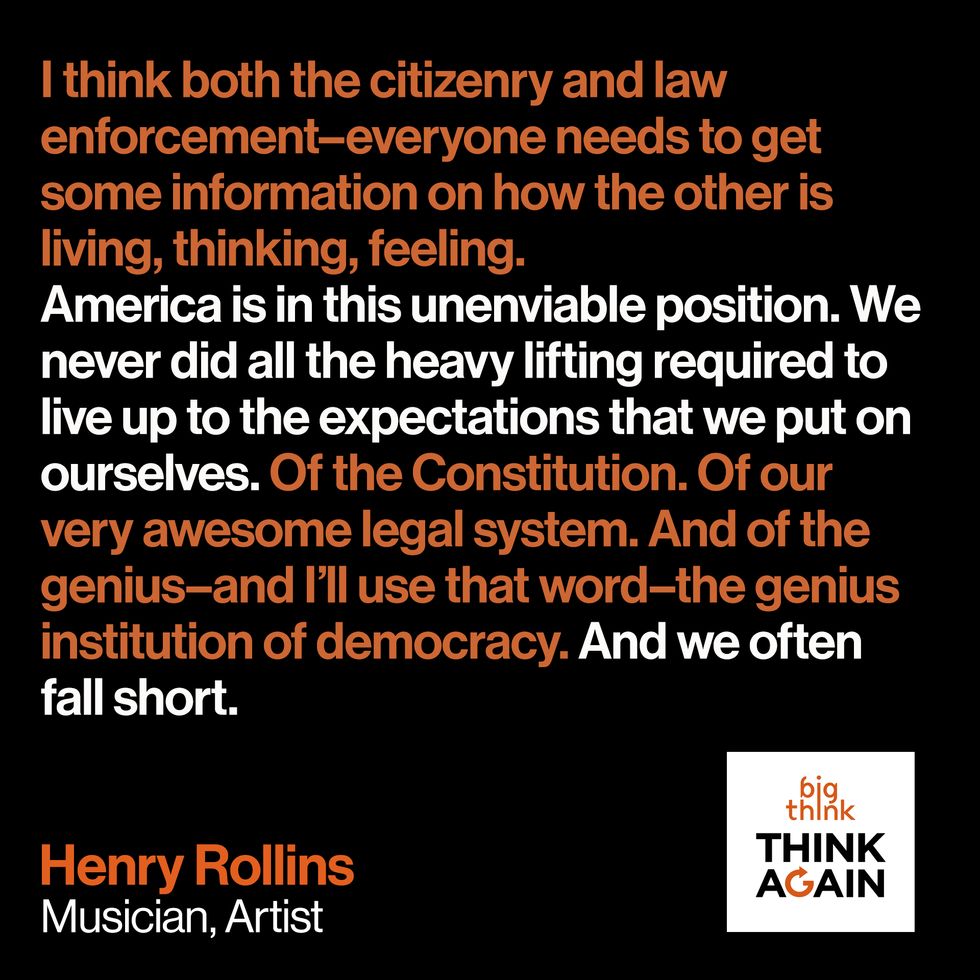 About Think Again - A Big Think Podcast: You've got 10 minutes with Einstein. What do you talk about? Black holes? Time travel? Why not gambling? The Art of War? Contemporary parenting? Some of the best conversations happen when we're pushed outside of our comfort zones. Each week on Think Again, we surprise smart people you may have heard of with short clips from Big Think's interview archives on every imaginable subject. These conversations could, and do, go anywhere.
Videos
Paying a fee for greenhouse gas emissions may spur a revolution, in terms of corporate behavior, toward the climate crisis.
Scroll down to load more…