Think Again Podcast Mixtape #1– Lies, Monsters, Friendship, Religion, and Space Aliens
In the first of two "year one in review" mixtapes, host Jason Gots curates the best moments thus far of Think Again - a Big Think Podcast, with excerpts from conversations with Junot Diaz, Maria Popova, Saul Williams, Jesse Ventura, and Sam Harris
29 July, 2016
---
Subscribe on Google Play, Stitcher, or iTunes
Come talk to us on Twitter: @bigthinkagain
In this episode:  
Big Think launched in 2008 as a "YouTube for intellectuals." Since then, it has produced over 10,000 short-form video interviews with many of the most influential and creative thinkers of our time. 
In 2014, the podcast SERIAL burst on the scene and Apple put a "podcasts" app in the iPhone's OS, and suddenly podcasting, which had existed for over a decade, was widely considered to have entered its Golden Age (wonder how all the veteran podcasters felt about that...). So Big Think decided it might be a good time to start a podcast, too––to find its voice in this newly energized space. Jason Gots (who had been a writer and editor there since 2010), more or less leapt out of his chair at the meeting where this was announced and volunteered to create and host it. Thus THINK AGAIN - A BIG THINK PODCAST was born. 
Big Think's videos are bits of "expert wisdom", presented confidently and definitively against a white screen background. With THINK AGAIN, we wanted to revisit these ideas the way the audience encounters them––spontaneously, messily, and often out of context. We wanted to bring the experts to that state some thinkers call "beginner's mind" and see what would happen. 
The format: Jason sits down with artists, scientists, historians––all accomplished experts in their fields. They chat a bit about the guest's work. Then, they watch three surprise Big Think interview clips (chosen by the video producers), emailed to Jason just before the interview, and discuss them. And the conversation goes where it goes.  
Some amazing moments have happened this past year––fun, profound, profoundly painful––so this week and next, we're stepping back and taking stock. This, the first of two "greatest hits mixtapes", features author Junot Diaz on why he's fascinated by double lives, popular philosopher Sam Harris on monsters in literature, Brain Pickings founder Maria Popova on the complexities of friendship, rapper and poet Saul Williams on the Catholic Church and his preacher father, and former pro wrestler and Minnesota Governor Jesse Ventura on space aliens. It also includes an original THINK AGAIN song written for us in less than a week by the amazing, inimitable Matt Farley.
Surprise clips in this episode: 
Joyce Carol Oates, Dan Ariely, William Shatner, Charlene Li, Brian Greene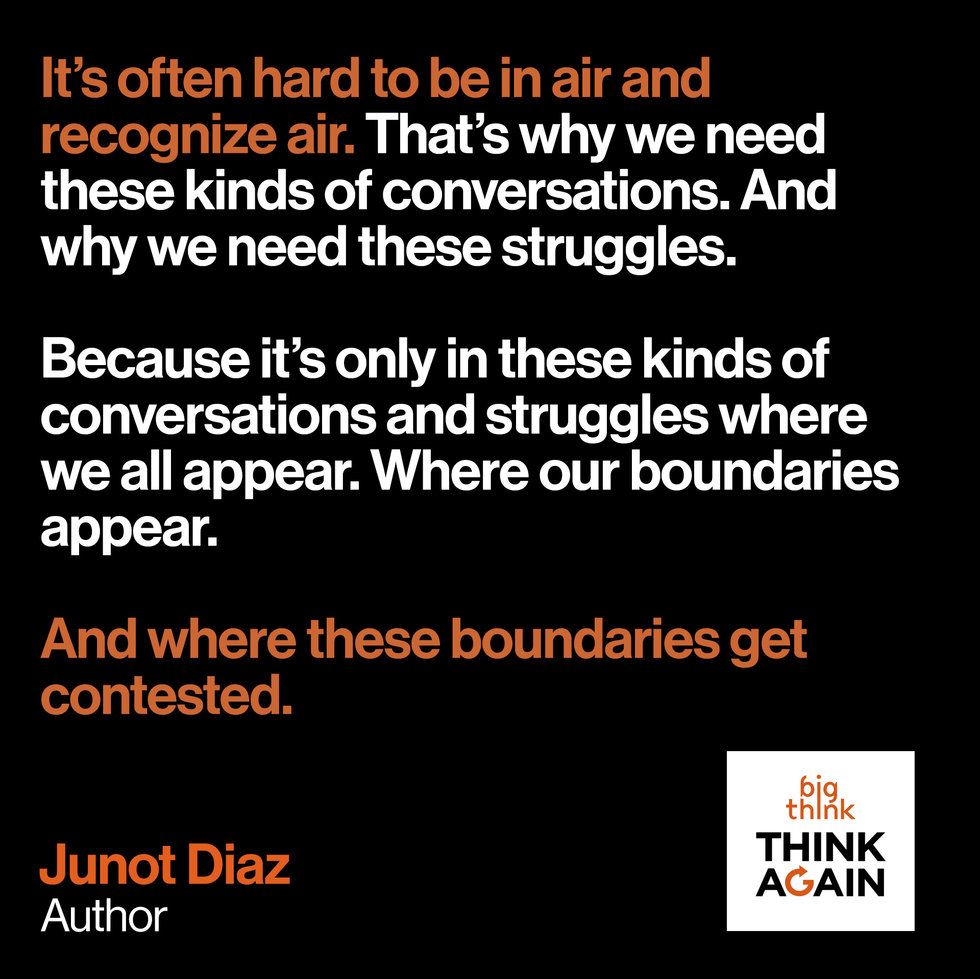 About Think Again - A Big Think Podcast: You've got 10 minutes with Einstein. What do you talk about? Black holes? Time travel? Why not gambling? The Art of War? Contemporary parenting? Some of the best conversations happen when we're pushed outside of our comfort zones. Each week on Think Again, we surprise smart people you may have heard of with short clips from Big Think's interview archives on every imaginable subject. These conversations could, and do, go anywhere.
Upstreamism advocate Rishi Manchanda calls us to understand health not as a "personal responsibility" but a "common good."
Sponsored by Northwell Health
Upstreamism tasks health care professionals to combat unhealthy social and cultural influences that exist outside — or upstream — of medical facilities.
Patients from low-income neighborhoods are most at risk of negative health impacts.
Thankfully, health care professionals are not alone. Upstreamism is increasingly part of our cultural consciousness.
The Bajau people's nomadic lifestyle has given them remarkable adaptions, enabling them to stay underwater for unbelievable periods of time. Their lifestyle, however, is quickly disappearing.
Wikimedia Commons
Culture & Religion
The Bajau people travel in small flotillas throughout the Phillipines, Malaysia, and Indonesia, hunting fish underwater for food.
Over the years, practicing this lifestyle has given the Bajau unique adaptations to swimming underwater. Many find it straightforward to dive up to 13 minutes 200 feet below the surface of the ocean.
Unfortunately, many disparate factors are erasing the traditional Bajau way of life.
We explore the history of blood types and how they are classified to find out what makes the Rh-null type important to science and dangerous for those who live with it.
Abid Katib/Getty Images
Surprising Science
Fewer than 50 people worldwide have 'golden blood' — or Rh-null.
Blood is considered Rh-null if it lacks all of the 61 possible antigens in the Rh system.
It's also very dangerous to live with this blood type, as so few people have it.
An innovation may lead to lifelike evolving machines.
Shogo Hamada/Cornell University
Surprising Science
Scientists at Cornell University devise a material with 3 key traits of life.
The goal for the researchers is not to create life but lifelike machines.
The researchers were able to program metabolism into the material's DNA.
Big think's weekly newsletter.
Get smarter faster from the comfort of your inbox.
See our newsletter privacy policy
here
Most Popular
Most Recent
Big think's weekly newsletter.
Get smarter faster from the comfort of your inbox.
See our newsletter privacy policy
here
© Copyright 2007-2019 & BIG THINK, BIG THINK EDGE,
SMARTER FASTER trademarks owned by The Big Think, Inc. All rights reserved.