Think Again Podcast Mixtape #1– Lies, Monsters, Friendship, Religion, and Space Aliens
In the first of two "year one in review" mixtapes, host Jason Gots curates the best moments thus far of Think Again - a Big Think Podcast, with excerpts from conversations with Junot Diaz, Maria Popova, Saul Williams, Jesse Ventura, and Sam Harris
Jason Gots
Jason Gots is a New York-based writer, editor, and podcast producer. For Big Think, he writes (and sometimes illustrates) the blog "Overthinking Everything with Jason Gots" and is the creator and host of the "Think Again" podcast. In previous lives, Jason worked at Random House Children's Books, taught reading and writing to middle schoolers and community college students, co-founded a theatre company (Rorschach, in Washington, D.C.), and wrote roughly two dozen picture books for kids learning English in Seoul, South Korea. He is also the proud father of an incredibly talkative and crafty little kid.
29 July, 2016
---
Subscribe on Google Play, Stitcher, or iTunes
Come talk to us on Twitter: @bigthinkagain
In this episode:  
Big Think launched in 2008 as a "YouTube for intellectuals." Since then, it has produced over 10,000 short-form video interviews with many of the most influential and creative thinkers of our time. 
In 2014, the podcast SERIAL burst on the scene and Apple put a "podcasts" app in the iPhone's OS, and suddenly podcasting, which had existed for over a decade, was widely considered to have entered its Golden Age (wonder how all the veteran podcasters felt about that...). So Big Think decided it might be a good time to start a podcast, too––to find its voice in this newly energized space. Jason Gots (who had been a writer and editor there since 2010), more or less leapt out of his chair at the meeting where this was announced and volunteered to create and host it. Thus THINK AGAIN - A BIG THINK PODCAST was born. 
Big Think's videos are bits of "expert wisdom", presented confidently and definitively against a white screen background. With THINK AGAIN, we wanted to revisit these ideas the way the audience encounters them––spontaneously, messily, and often out of context. We wanted to bring the experts to that state some thinkers call "beginner's mind" and see what would happen. 
The format: Jason sits down with artists, scientists, historians––all accomplished experts in their fields. They chat a bit about the guest's work. Then, they watch three surprise Big Think interview clips (chosen by the video producers), emailed to Jason just before the interview, and discuss them. And the conversation goes where it goes.  
Some amazing moments have happened this past year––fun, profound, profoundly painful––so this week and next, we're stepping back and taking stock. This, the first of two "greatest hits mixtapes", features author Junot Diaz on why he's fascinated by double lives, popular philosopher Sam Harris on monsters in literature, Brain Pickings founder Maria Popova on the complexities of friendship, rapper and poet Saul Williams on the Catholic Church and his preacher father, and former pro wrestler and Minnesota Governor Jesse Ventura on space aliens. It also includes an original THINK AGAIN song written for us in less than a week by the amazing, inimitable Matt Farley.
Surprise clips in this episode: 
Joyce Carol Oates, Dan Ariely, William Shatner, Charlene Li, Brian Greene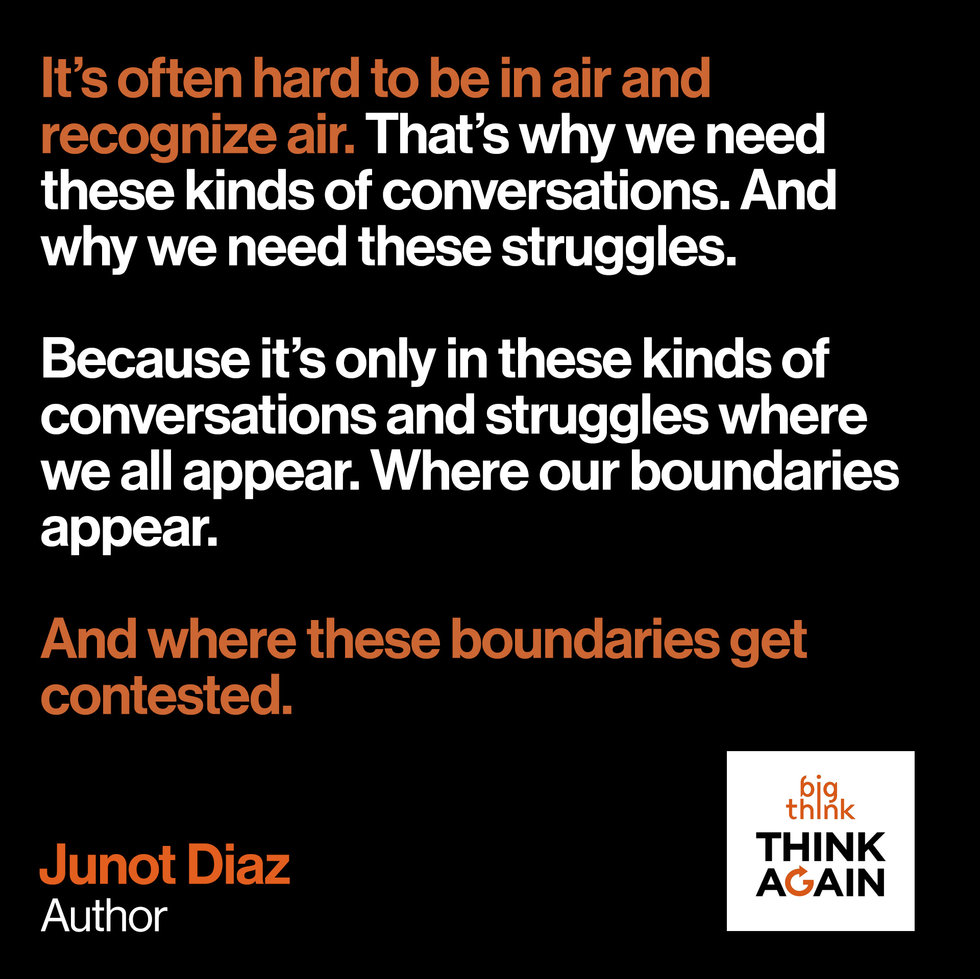 About Think Again - A Big Think Podcast: You've got 10 minutes with Einstein. What do you talk about? Black holes? Time travel? Why not gambling? The Art of War? Contemporary parenting? Some of the best conversations happen when we're pushed outside of our comfort zones. Each week on Think Again, we surprise smart people you may have heard of with short clips from Big Think's interview archives on every imaginable subject. These conversations could, and do, go anywhere.
Orangutans join humans and bees in a very exclusive club
Surprising Science
Orangutan mothers wait to sound a danger alarm to avoid tipping off predators to their location
It took a couple of researchers crawling around the Sumatran jungle to discover the phenomenon
This ability may come from a common ancestor
Progressive America would be half as big, but twice as populated as its conservative twin.
Image: Dicken Schrader
Strange Maps
America's two political tribes have consolidated into 'red' and 'blue' nations, with seemingly irreconcilable differences.
Perhaps the best way to stop the infighting is to go for a divorce and give the two nations a country each
Based on the UN's partition plan for Israel/Palestine, this proposal provides territorial contiguity and sea access to both 'red' and 'blue' America
Journaling can help you materialize your ambitions.
Videos
Organizing your thoughts can help you plan and achieve goals that might otherwise seen unobtainable.
The Bullet Journal method, in particular, can reduce clutter in your life by helping you visualize your future.
One way to view your journal might be less of a narrative and more of a timeline of decisions.
Big think's weekly newsletter.
Get smarter faster from the comfort of your inbox.
See our newsletter privacy policy
here
Most Popular
Most Recent
Big think's weekly newsletter.
Get smarter faster from the comfort of your inbox.
See our newsletter privacy policy
here
© Copyright 2007-2018 & BIG THINK, BIG THINK EDGE,
SMARTER FASTER trademarks owned by The Big Think, Inc. All rights reserved.