The Textbook Challenge: Environmental Science (7th grade)
Scott McLeod
Scott McLeod, J.D., Ph.D., is an Associate Professor of Educational Leadership at the University of Kentucky. He also is the Founding Director of the UCEA Center for the Advanced Study of Technology Leadership in Education (CASTLE), the nation's only academic center dedicated to the technology needs of school administrators, and was a co-creator of the wildly popular video series, Did You Know? (Shift Happens). He has received numerous national awards for his technology leadership work, including recognitions from the cable industry, Phi Delta Kappa, and the National School Boards Association. In Spring 2011 he was a Visiting Canterbury Fellow at the University of Canterbury in New Zealand. Dr. McLeod blogs regularly about technology leadership issues at Dangerously Irrelevant and Mind Dump, and occasionally at The Huffington Post. He can be reached at scottmcleod.net.
16 February, 2011
First up in my analysis of my children's textbooks for The Textbook Challenge: my 7th-grade daughter's Environmental Science text. The purpose of the challenge is to compare textbook content to what can be found online.
---
\n
Environmental Science? Sounds like a timely topic indeed...
\n
Profile and interview
\n
The book starts with a profile of - and interview with - a Wildlife Management Biologist. There are 4 pages of text and pictures. I find similar resources on the Web with a quick Google search. Check.
\n
\n
Learning activity - Camouflage
\n
Flipping forward randomly, I find the following activity (click on image for larger size):
\n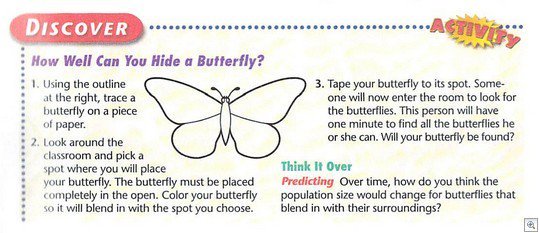 \n
Hmmm... I'm NOT impressed with this activity. This book lists 3 program authors, 3 more book authors, 2 contributing writers, a reading consultant, an interdisciplinary consultant, 2 safety consultants, 13 program reviewers, 27 content reviewers, 26 teacher reviewers, and 25 activity field testers (whew!). Despite all the expertise and Ph.D.s. on the list, this was the best they could come up with for an activity related to camouflage?
\n
I show this to my daughter. She already knows at least as much about camouflage as she would learn from this activity. She responds quickly to the 'Think It Over' part. She does NOT learn anything new from this activity. I'm not sure any other 7th-grader will either.
\n
There are a wealth of camouflage activities and lesson plans available via a quick Google search. Check.
\n
\n
Real-world lab - Is paper a renewable resource?
\n
Flipping forward randomly again, I come to a 'real world lab' that purports to address whether or not paper is a renewable resource. In this activity, students examine newspapers under microscopes, tear them up into small pieces, and then essentially make them back into paper again by making a rudimentary paper press. Students then extend their learning by answering some questions and designing 'experiments' on how to recycle other materials such as glossy magazine paper or cardboard.
\n
Quick Google searches turn up a number of similar resources. Check.
\n
Exploring soil conservation
\n
Flipping forward randomly again brings me to a sidebar on farming practices that help reduce soil erosion. A quick Google search is productive. Check.
\n
Try this - How acid is your rain?
\n
Flipping forward randomly brings me to a little side experiment on rain acidity. A quick Google search is productive. Check.
\n
Chapter review and air pollution concept map
\n
One last random flip forward. I'm at a chapter review. There are lots of multiple choice and true-false questions. There also is a fill-in-the-blank concept map for air pollution that requires students to put in EXACTLY the term expected by the textbook. A quick Google search turns up similar activities. Check.
\n
The chapter review also contains 3 'Thinking Critically' questions:
\n
\n
Comparing and Contrasting. How are radon and carbon monoxide alike? How are they different?
\n
Predicting. What effect might a sudden increase in the amount of ozone in the ozone layer have?
\n
Making generalizations. Would you expect the levels of photochemical smog to be worse in cities or in rural areas? Explain your answer.
\n
\n
I'll let you decide if these truly measure critical thinking or if they merely require student to parrot back what a teacher, textbook, or web site tells them.
\n
Conclusion
\n
Although I didn't do an exhaustive examination of the textbook, random searching didn't turn up much that wasn't easily findable online. Some of the Web activities appeared more cognitively complex than what was in the text; others were similar.
Giving our solar system a "slap in the face."
Surprising Science
A stream of galactic debris is hurtling at us, pulling dark matter along with it
It's traveling so quickly it's been described as a hurricane of dark matter
Scientists are excited to set their particle detectors at the onslffaught
The climate change we're witnessing is more dramatic than we might think.
Surprising Science
A lazy buzz phrase – 'Is this the new normal?' – has been doing the rounds as extreme climate events have been piling up over the past year. To which the riposte should be: it's worse than that – we're on the road to even more frequent, more extreme events than we saw this year.
Once again, our circadian rhythm points the way.
Photo: Victor Freitas / Unsplash
Surprising Science
Seven individuals were locked inside a windowless, internetless room for 37 days.
While at rest, they burned 130 more calories at 5 p.m. than at 5 a.m.
Morning time again shown not to be the best time to eat.
Big think's weekly newsletter.
Get smarter faster from the comfort of your inbox.
See our newsletter privacy policy
here
Most Popular
Most Recent
Big think's weekly newsletter.
Get smarter faster from the comfort of your inbox.
See our newsletter privacy policy
here
© Copyright 2007-2018 & BIG THINK, BIG THINK EDGE,
SMARTER FASTER trademarks owned by The Big Think, Inc. All rights reserved.