Race, gender, and the death penalty
18 October, 2011
Here's an interesting graph from a new paper by Kenny Shirley and Andrew Gelman:
---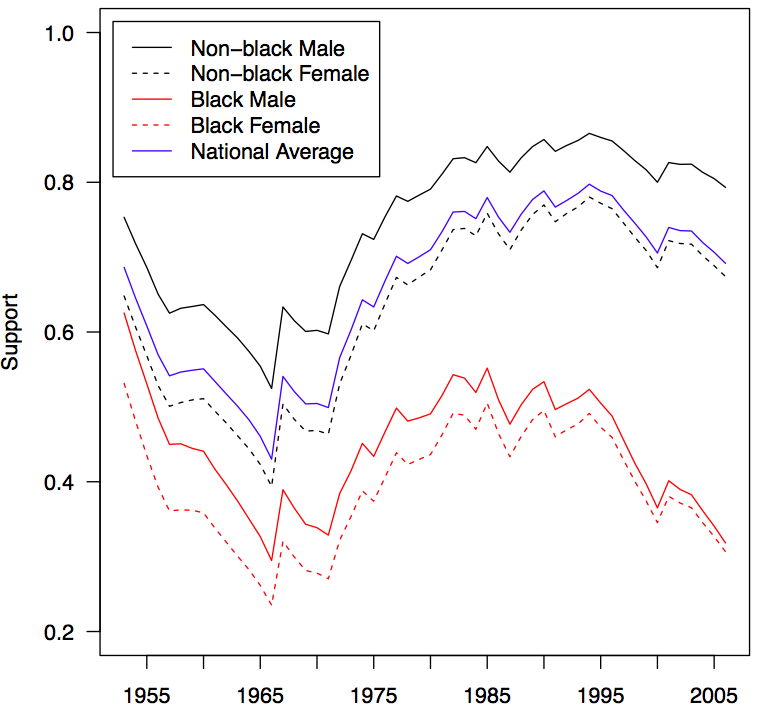 The most obvious thing here is white Americans have been and remain much more likely to support the death penalty than black Americans. Indeed, the gap between white and black support for the death penalty appears to have widened significantly since about 1970. Perhaps this is not surprising, as blacks have been and remain much more likely than whites to be executed. But blacks are also more likely to be murdered than whites. If the death penalty is a deterrent, as is often alleged, it ought to benefit blacks more than whites. In any case, if there is a deterrent effect, black Americans are not too impressed. Strong black opposition to the death penalty likely reflects more than just the fact that blacks are more likely than whites to be executed, but also a widespread sense among blacks, often backed by personal experience, that they are more likely to be ill-treated by the criminal justice system generally. I've never been pulled over for "driving while white," and I don't know anyone who has.
Perhaps the more interesting question concerns the difference between men and women in their support for the death penalty. White women support it less than white men and black women support it even less than black men, the group most threatened by the chance of execution. Generally men are far more likely than women to get the death penalty, so this is unlikely to reflect gender solidarity or an attenuated sense of self-preservation. Maybe women are, for some reason, more likely than men to notice that women almost never get the death penalty and to see that this is unfair. Or maybe women and men differ somewhat in their attitudes toward punishment.
This paper by Jonathan Haidt, John Sabini, Dena Gromet, John Darley on "What exactly makes revenge sweet? How anger is satisfied in real life and at the movies" [.doc] finds that women report taking a bit less satisfaction than men in avenged personal slights. But men and women don't differ significantly in the fictional depictions of vengeance they find satisfying. It seems that Haidt, et al, predicted somewhat larger gender differences. Though not completely borne out, their grounds for the prediction are interesting, and perhaps account for some of the within-race gender gaps in support for the death penalty:
We also expected to find gender differences. Crick, Casas, and Mosher (1997), for example, found that when angry, boys are more likely to use physical aggression, while girls are more likely to use relational or emotional aggression. The writings of Gilligan (1982) and Tannen (1990) also suggest that women are more oriented towards personal relationships, and that they should be more sensitive than men to harm from relationship threats. Frodi (1978) and others have found that women experience more conflict over the expression of anger than do men. There is also evidence that male non-human primates have faster conflict-reconciliation cycles than do female non-human primates (de Waal, 1996). All of these findings suggest that angry episodes may be more interpersonally complex, more long-lasting, and less easily closed off by direct revenge for women than for men.
I kinda like the idea that men are more likely to find vengeance satisfying because they're emotionally simpler. In the end, though, I suspect it's just that men are slightly more bloodthirsty. 
But, to get back to the graph, we shouldn't lose sight of the fact that intra-race gender differences are trivial compared to differences between blacks and whites on this issue. Since blacks are most likely to be killed by the death penalty, and also most likely to be saved by the deterrence effect of the death penalty, I think I know what I might say in response to the question "What do black people think they know about the death penalty that what people don't?" But if someone were to ask me "What do white people, especially white men, think they know about the death penalty that black people don't?" I wouldn't know how to begin. Any takers?
Related Articles
Explore how alcohol affects your brain, from the first sip at the bar to life-long drinking habits.
(Photo by Angie Garrett/Wikimedia Commons)
Mind & Brain
Alcohol is the world's most popular drug and has been a part of human culture for at least 9,000 years.
Alcohol's effects on the brain range from temporarily limiting mental activity to sustained brain damage, depending on levels consumed and frequency of use.
Understanding how alcohol affects your brain can help you determine what drinking habits are best for you.
If you want to know what makes a Canadian lynx a Canadian lynx a team of DNA sequencers has figured that out.
Surprising Science
A team at UMass Amherst recently sequenced the genome of the Canadian lynx.
It's part of a project intending to sequence the genome of every vertebrate in the world.
Conservationists interested in the Canadian lynx have a new tool to work with.
Artwork: Guillaume le Clerc / Wikimedia Commons
13th-century fantastical depiction of an elephant.
It is easy to see how one can look at 66,000 genomic sequences stored away as being the analogous equivalent of the Svalbard Global Seed Vault. It is a potential tool for future conservationists.
But what are the practicalities of sequencing the genome of a lynx beyond engaging with broad bioethical questions? As the animal's habitat shrinks and Earth warms, the Canadian lynx is demonstrating less genetic diversity. Cross-breeding with bobcats in some portions of the lynx's habitat also represents a challenge to the lynx's genetic makeup. The two themselves are also linked: warming climates could drive Canadian lynxes to cross-breed with bobcats.
John Organ, chief of the U.S. Geological Survey's Cooperative Fish and Wildlife units, said to MassLive that the results of the sequencing "can help us look at land conservation strategies to help maintain lynx on the landscape."
What does DNA have to do with land conservation strategies? Consider the fact that the food found in a landscape, the toxins found in a landscape, or the exposure to drugs can have an impact on genetic activity. That potential change can be transmitted down the generative line. If you know exactly how a lynx's DNA is impacted by something, then the environment they occupy can be fine-tuned to meet the needs of the lynx and any other creature that happens to inhabit that particular portion of the earth.
Given that the Trump administration is considering withdrawing protection for the Canadian lynx, a move that caught scientists by surprise, it is worth having as much information on hand as possible for those who have an interest in preserving the health of this creature—all the way down to the building blocks of a lynx's life.
The exploding popularity of the keto diet puts a less used veggie into the spotlight.
Purple cauliflower. (Photo: Shutterstock)
Surprising Science
The cauliflower is a vegetable of choice if you're on the keto diet.
The plant is low in carbs and can replace potatoes, rice and pasta.
It can be eaten both raw and cooked for different benefits.
Big think's weekly newsletter.
Get smarter faster from the comfort of your inbox.
See our newsletter privacy policy
here
Most Popular
Most Recent
Big think's weekly newsletter.
Get smarter faster from the comfort of your inbox.
See our newsletter privacy policy
here
© Copyright 2007-2018 & BIG THINK, BIG THINK EDGE,
SMARTER FASTER trademarks owned by The Big Think, Inc. All rights reserved.