Race, gender, and the death penalty
18 October, 2011
Here's an interesting graph from a new paper by Kenny Shirley and Andrew Gelman:
---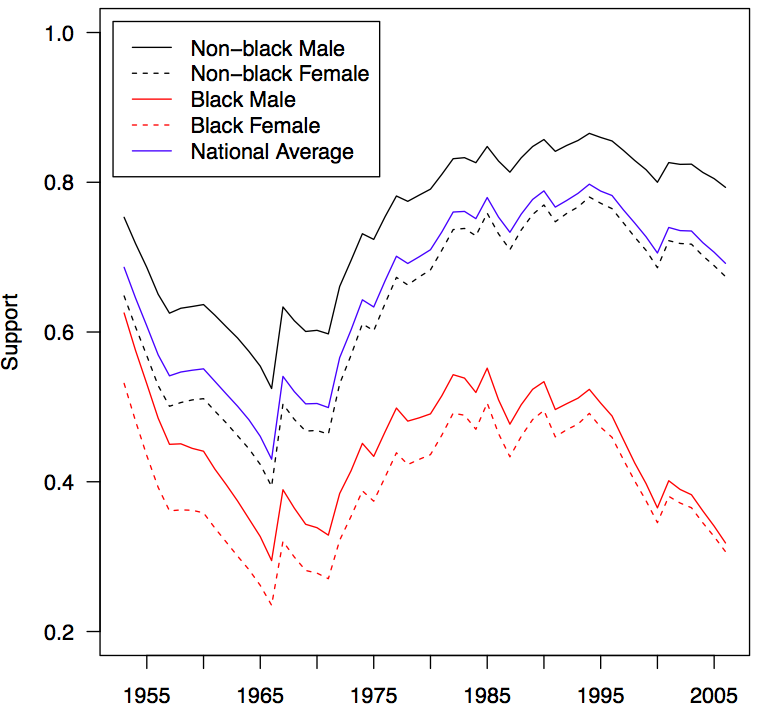 The most obvious thing here is white Americans have been and remain much more likely to support the death penalty than black Americans. Indeed, the gap between white and black support for the death penalty appears to have widened significantly since about 1970. Perhaps this is not surprising, as blacks have been and remain much more likely than whites to be executed. But blacks are also more likely to be murdered than whites. If the death penalty is a deterrent, as is often alleged, it ought to benefit blacks more than whites. In any case, if there is a deterrent effect, black Americans are not too impressed. Strong black opposition to the death penalty likely reflects more than just the fact that blacks are more likely than whites to be executed, but also a widespread sense among blacks, often backed by personal experience, that they are more likely to be ill-treated by the criminal justice system generally. I've never been pulled over for "driving while white," and I don't know anyone who has.
Perhaps the more interesting question concerns the difference between men and women in their support for the death penalty. White women support it less than white men and black women support it even less than black men, the group most threatened by the chance of execution. Generally men are far more likely than women to get the death penalty, so this is unlikely to reflect gender solidarity or an attenuated sense of self-preservation. Maybe women are, for some reason, more likely than men to notice that women almost never get the death penalty and to see that this is unfair. Or maybe women and men differ somewhat in their attitudes toward punishment.
This paper by Jonathan Haidt, John Sabini, Dena Gromet, John Darley on "What exactly makes revenge sweet? How anger is satisfied in real life and at the movies" [.doc] finds that women report taking a bit less satisfaction than men in avenged personal slights. But men and women don't differ significantly in the fictional depictions of vengeance they find satisfying. It seems that Haidt, et al, predicted somewhat larger gender differences. Though not completely borne out, their grounds for the prediction are interesting, and perhaps account for some of the within-race gender gaps in support for the death penalty:
We also expected to find gender differences. Crick, Casas, and Mosher (1997), for example, found that when angry, boys are more likely to use physical aggression, while girls are more likely to use relational or emotional aggression. The writings of Gilligan (1982) and Tannen (1990) also suggest that women are more oriented towards personal relationships, and that they should be more sensitive than men to harm from relationship threats. Frodi (1978) and others have found that women experience more conflict over the expression of anger than do men. There is also evidence that male non-human primates have faster conflict-reconciliation cycles than do female non-human primates (de Waal, 1996). All of these findings suggest that angry episodes may be more interpersonally complex, more long-lasting, and less easily closed off by direct revenge for women than for men.
I kinda like the idea that men are more likely to find vengeance satisfying because they're emotionally simpler. In the end, though, I suspect it's just that men are slightly more bloodthirsty. 
But, to get back to the graph, we shouldn't lose sight of the fact that intra-race gender differences are trivial compared to differences between blacks and whites on this issue. Since blacks are most likely to be killed by the death penalty, and also most likely to be saved by the deterrence effect of the death penalty, I think I know what I might say in response to the question "What do black people think they know about the death penalty that what people don't?" But if someone were to ask me "What do white people, especially white men, think they know about the death penalty that black people don't?" I wouldn't know how to begin. Any takers?
Many believe that the internet has made it easier for us to participate in political activism. But is that really true?
Videos
Protesting in person is costly in terms of money and resources; some people have children to take care of, jobs that can't be away from, or may not have time to attend a planning event.
The internet was supposed to be a way to sidestep this barrier to political activism. But this doesn't consider the other barriers preventing poor and working-class folks from participating in digital activism.
In particular, these people lack ASETs: access to computers, the skills to use them, the empowerment necessary to feel that using Twitter or other social media is for them, and the time to make use of digital platforms in an effective way.
Some games are just for fun, others are for thought provoking statements on life, the universe, and everything.
(Photo from Flickr)
Culture & Religion
Video games are often dismissed as fun distractions, but some of them dive into deep issues.
Through their interactive play elements, these games approach big issues intelligently and leave you both entertained and enlightened.
These five games are certainly not the only games that cover these topics or do so well, but are a great starting point for somebody who wants to play something thought provoking.
The bid to buy Greenland is unlikely to become seriously considered.
Politics & Current Affairs
Greenland and Danish officials alike think the idea is ridiculous.
The island is an autonomous state, and it's unlikely the Danish would sell it because of yearly subsidies costs.
After hearing the Danish Prime Minister call the idea absurd, Trump cancelled their forthcoming meeting.