Five ways artificial intelligence will shape the future of universities
09 May, 2018
Artificial Intelligence (AI) is transforming many human activities ranging from daily chores to highly sophisticated tasks. But unlike many other industries, the higher education sector has yet to be really influenced by AI.
---
Uber has disrupted the taxi sector, Airbnb has disrupted the hotel industry and Amazon disrupted first the bookselling sector, then the whole retail industry. It is only a matter of time then until the higher education sector undergoes a significant transformation.
Within a few short years, universities may well have changed beyond all recognition. Here are five ways that AI will help to change and shape the future of universities and higher education for the better.
1. Personalised learning
Universities are already using AI algorithms to personalise learning and deliver content that is suited to the students needs and pace of learning – and this is only likely to continue. This idea is built on research that shows different people have different aptitudes, skills and orientations to learn when exposed to the same content and learning environments.
Offering personalised, adaptive learning platforms recognises the diversity that is part of any learning ecosystem. This will be a significant change for universities, as it moves away from the traditional model of "one module guide for all".
It will see educators equipped with data sets to analyse and understand the needs of individuals. And work can be automatically adapted to the style and pace of learning for each particular student.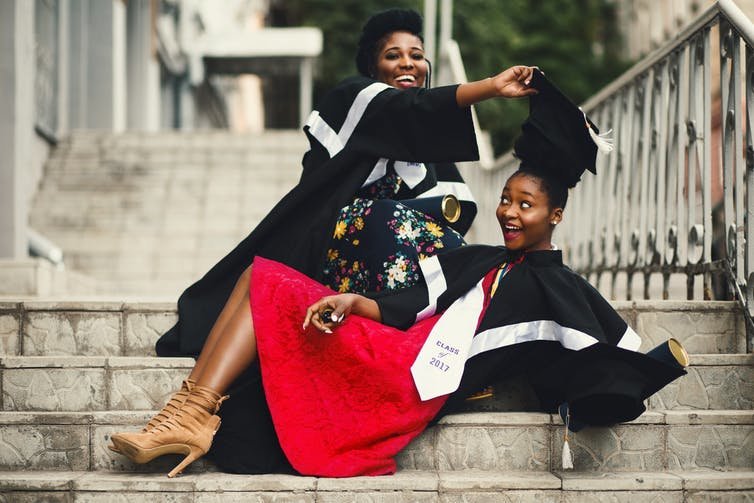 Because everybody learns differently. Pexels
2. Moving beyond the classroom
As educational AI develops, students will be able to study where they want, when they want and using whatever platform they want. This is likely to mean that tablets and mobile phones will become the main delivery methods.
Universities are already using AI-enabled smart building concepts to redesign learning spaces. Modern "smart" classroom spaces are now generally equipped with circular tables, laptops, flat screen monitors, multiple projectors, and whiteboards to encourage and support collaborative and engaged active learning.
This helps educators move away from a traditional classroom set-up, to a more interactive style of working, to encourage deeper learning approaches. And this will start to include more hybrid methods of learning – such as both face-to-face and online interactions.
3. Welcome to the smart campus
The Internet of Things also has the potential to transform universities into smarter places to work and learn. At its core, the technology is simple, it's all about connecting devices over the internet and letting them talk to us, as well as each other.
Smart classrooms will also enhance the learning experience of the students. A classroom connected to the Internet of Things equipped can adapt to the personalised settings to prepare the classroom for different faculty members. Monitoring attendance and invigilating exams will also be automated and made much more robust.
This development in technology will also enable smart campuses to adopt advanced systems to automatically monitor and control every facility. Universities will be able to monitor parking spaces, building alarms, room usage, heating and lighting all very easily.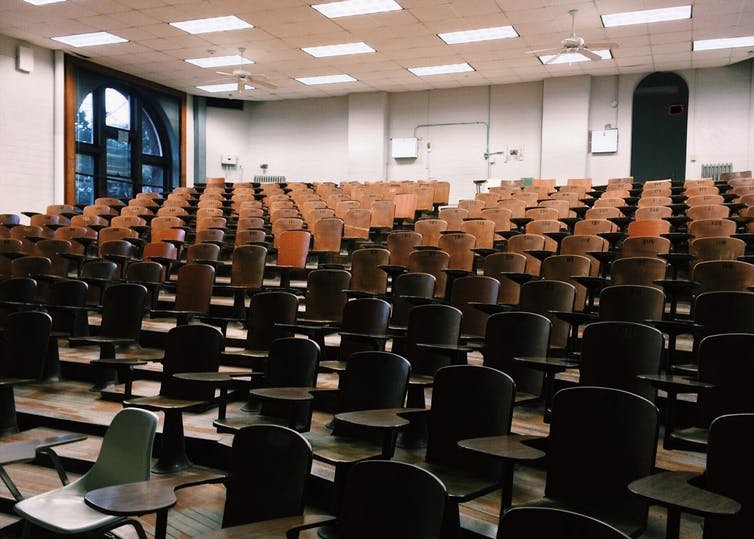 Say goodbye to traditional learning environments. Pexels.
4. Great customer service
Universities are also using AI to streamline their processes, resulting in cost savings and better service levels – and this is something that is set to continue. A good example of this is Deakin University in Australia, which has partnered with IBM to be the first university worldwide to implement Watson. Watson is a supercomputer developed by IBM that combines AI and sophisticated analytical software to answer users' questions.
Watson's main functionality is to replicate a human's ability to answer questions. This functionality uses 90 servers with a combined data store of more than 200m pages of information and processed against six million logic rules.
Deakin's aim is to create a 24/7 online student advisory service, that will improve the student experience. Integrated with their single interface platform and online personal hub, DeakinSync enables students to ask questions and receive instant online answers.
5. Monitoring performance
Another dimension of using AI innovations in universities will be the use of block chains. This will revolutionise how universities operate, as higher education institutions use this technology to automate recognition and the transfer of credits, potentially opening up learning opportunities across universities.
Universities can also use block chains to register and record the intellectual property rights arising from scholarly research. Copyright could be notarised at the date of publication and later reuse can be tracked for impact assessments. This will transform the way universities operate and help to demonstrate the true impact that academic research can have.
Nafis Alam, Associate Professor, University of Reading and Graham Kendall, Professor of Computer Science and Provost/CEO/PVC, University of Nottingham
This article was originally published on The Conversation. Read the original article.
It's unlikely that there's anything on the planet that is worth the cost of shipping it back
Surprising Science
In the second season of National Geographic Channel's MARS (premiering tonight, 11/12/18,) privatized miners on the red planet clash with a colony of international scientists
Privatized mining on both Mars and the Moon is likely to occur in the next century
The cost of returning mined materials from Space to the Earth will probably be too high to create a self-sustaining industry, but the resources may have other uses at their origin points
Want to go to Mars? It will cost you. In 2016, SpaceX founder Elon Musk estimated that manned missions to the planet may cost approximately $10 billion per person. As with any expensive endeavor, it is inevitable that sufficient returns on investment will be needed in order to sustain human presence on Mars. So, what's underneath all that red dust?
Mining Technology reported in 2017 that "there are areas [on Mars], especially large igneous provinces, volcanoes and impact craters that hold significant potential for nickel, copper, iron, titanium, platinum group elements and more."
Were a SpaceX-like company to establish a commercial mining presence on the planet, digging up these materials will be sure to provoke a fraught debate over environmental preservation in space, Martian land rights, and the slew of microbial unknowns which Martian soil may bring.
In National Geographic Channel's genre-bending narrative-docuseries, MARS, (the second season premieres tonight, November 12th, 9 pm ET / 8 pm CT) this dynamic is explored as astronauts from an international scientific coalition go head-to-head with industrial miners looking to exploit the planet's resources.
Given the rate of consumption of minerals on Earth, there is plenty of reason to believe that there will be demand for such an operation.
"Almost all of the easily mined gold, silver, copper, tin, zinc, antimony, and phosphorus we can mine on Earth may be gone within one hundred years" writes Stephen Petranek, author of How We'll Live on Mars, which Nat Geo's MARS is based on. That grim scenario will require either a massive rethinking of how we consume metals on earth, or supplementation from another source.
Elon Musk, founder of SpaceX, told Petranek that it's unlikely that even if all of Earth's metals were exhausted, it is unlikely that Martian materials could become an economically feasible supplement due to the high cost of fuel required to return the materials to Earth. "Anything transported with atoms would have to be incredibly valuable on a weight basis."
Actually, we've already done some of this kind of resource extraction. During NASA's Apollo missions to the Moon, astronauts used simple steel tools to collect about 842 pounds of moon rocks over six missions. Due to the high cost of those missions, the Moon rocks are now highly valuable on Earth.
Moon rock on display at US Space and Rocket Center, Huntsville, AL (Big Think/Matt Carlstrom)
In 1973, NASA valuated moon rocks at $50,800 per gram –– or over $300,000 today when adjusted for inflation. That figure doesn't reflect the value of the natural resources within the rock, but rather the cost of their extraction.
Assuming that Martian mining would be done with the purpose of bringing materials back to Earth, the cost of any materials mined from Mars would need to include both the cost of the extraction and the value of the materials themselves. Factoring in the price of fuel and the difficulties of returning a Martian lander to Earth, this figure may be entirely cost prohibitive.
What seems more likely, says Musk, is for the Martian resources to stay on the Red Planet to be used for construction and manufacturing within manned colonies, or to be used to support further mining missions of the mineral-rich asteroid belt between Mars and Jupiter.
At the very least, mining on Mars has already produced great entertainment value on Earth: tune into Season 2 of MARS on National Geographic Channel.
It's an asteroid, it's a comet, it's actually a spacecraft?
(ESO/M. Kornmesser)
Surprising Science
'Oumuamua is an oddly shaped, puzzling celestial object because it doesn't act like anything naturally occurring.
The issue? The unexpected way it accelerated near the Sun. Is this our first sign of extraterrestrials?
It's pronounced: oh MOO-uh MOO-uh.
A study started out trying to see the effect of sexist attacks on women authors, but it found something deeper.
Maxpixel
Surprising Science
It's well known that abusive comments online happen to women more than men
Such comments caused a "significant effect for the abusive comment on author credibility and intention to seek news from the author and outlet in the future"
Some news organizations already heavily moderate or even ban comments entirely; this should underscore that effort
Big think's weekly newsletter.
Get smarter faster from the comfort of your inbox.
See our newsletter privacy policy
here
Most Popular
Most Recent
Big think's weekly newsletter.
Get smarter faster from the comfort of your inbox.
See our newsletter privacy policy
here
© Copyright 2007-2018 & BIG THINK, BIG THINK EDGE,
SMARTER FASTER trademarks owned by The Big Think, Inc. All rights reserved.