Technology usage and overlap
Scott McLeod
Scott McLeod, J.D., Ph.D., is an Associate Professor of Educational Leadership at the University of Kentucky. He also is the Founding Director of the UCEA Center for the Advanced Study of Technology Leadership in Education (CASTLE), the nation's only academic center dedicated to the technology needs of school administrators, and was a co-creator of the wildly popular video series, Did You Know? (Shift Happens). He has received numerous national awards for his technology leadership work, including recognitions from the cable industry, Phi Delta Kappa, and the National School Boards Association. In Spring 2011 he was a Visiting Canterbury Fellow at the University of Canterbury in New Zealand. Dr. McLeod blogs regularly about technology leadership issues at Dangerously Irrelevant and Mind Dump, and occasionally at The Huffington Post. He can be reached at scottmcleod.net.
16 February, 2011
[cross-posted at the TechLearning blog]
---
\n\n
We can imagine a continuum of frequency of technology usage that looks something like this (click on image for larger version):
\n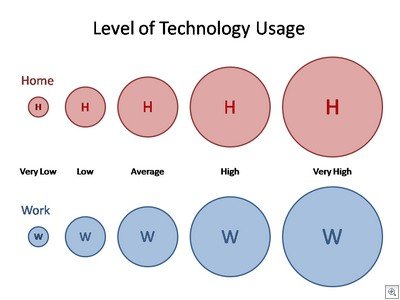 \n
People use digital technologies at various levels at both home and work. We can arbitrarily categorize the frequency of their technology usage as a range of very low to very high. Of course individuals may fall into one category at home and another at their workplace.
\n
We can imagine a second continuum of technology usage overlap that looks something like this:
\n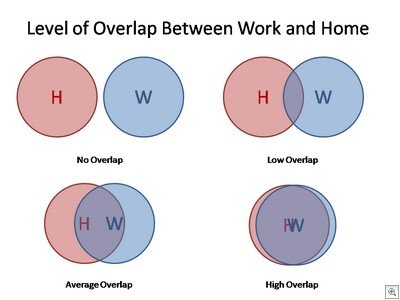 \n
In other words, the digital technologies that people use at work will overlap to various degrees with those used at home. Some folks will have little to no overlap, using one set of tools at home and another at work, while others will utilize similar software and hardware in both locations.
\n
[There's at least a third possible continuum: type of technology usage. However, I'm not smart enough to figure out how to incorporate into this post how people use their digital technologies so I'll leave that for someone else. There probably are other dimensions of this as well. Maybe we'll hear from the tech integration folks!]
\n
We can conceptualize different individuals or job classes by using these two continua. For example, we probably would be safe in guessing that someone working in the information technology industry is likely to use technology a lot both at work and at home. That IT professional also may have substantial crossover between home and work in terms of tool usage. In contrast, a secretary might have a technology-intensive work life, using a computer nearly every minute of every day, but have a less-intensive technology experience at home. Finally, a fast food worker may not use technology much at work or at home, the latter perhaps because of income challenges. Lest I offend anyone, let me note that these are just generalizations to illustrate the use of the two continua; we all can think of many exceptions to these examples.
\n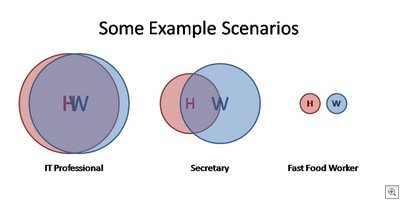 \n
If we use these continua to think about K-12 schools, then I believe the issue probably looks something like this:
\n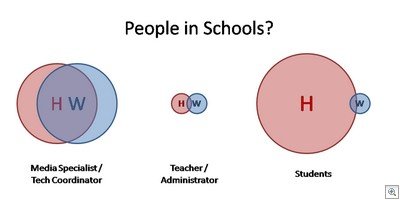 \n
Speaking generally, the people in charge of implementing technology initiatives likely are high users at both home and work, with a fair amount of overlap in terms of the tools that they use. Teachers and administrators, on the other hand, probably are not using technology near as often. Also, they likely have relatively little crossover between the specialized technology systems they use at work (e.g., student information systems, electronic gradebooks, PowerPoint, parent portal software, and "clickers" for formative assessment) and what they use at home (e.g., digital photo management, games). What overlap does exist is probably mostly in the arenas of e-mail, word processing, and browsing the Internet. Finally, as we know, students' personal lives usually are much more technology-rich at home than at school. They use many more tools, most of which are not allowed during the school day.
\n
It would be interesting to discuss these continua with a school staff, ask educators to draw their own diagrams, and then compile the results in some way. For example, if we assign the numbers 1 (very low) through 5 (very high) to the first continuum and 1 (no overlap) through 4 (high overlap) to the second, we can think of individuals as numeric triads (home-work-overlap). Using the examples above, an IT professional thus would be 5–5–4, a secretary 3–4–3, and a fast food worker 1–1–0. A media specialist might be 4–4–3, a principal 1–1–1, and a student 5–1–1. Once the triads were determined, they could be analyzed for purposes of sparking discussion.
\n
I'm not strongly invested in these continua. There probably are better ways to think about these two dimensions and, if so, I'd love to hear them. But I do think it's helpful to try and diagram issues in a way that makes sense to people. If we believe that moving schools forward on the technology front is desirable, we have to help educators create mental models that are easily understandable and useful.
\n
Have a happy Thanksgiving, everyone.
\n
In a breakthrough for nuclear fusion research, scientists at China's Experimental Advanced Superconducting Tokamak (EAST) reactor have produced temperatures necessary for nuclear fusion on Earth.
Credit: EAST Team
Surprising Science
The EAST reactor was able to heat hydrogen to temperatures exceeding 100 million degrees Celsius.
Nuclear fusion could someday provide the planet with a virtually limitless supply of clean energy.
Still, scientists have many other obstacles to pass before fusion technology becomes a viable energy source.
Military recruits are supposed to be assessed to see whether they're fit for service. What happens when they're not?
Politics & Current Affairs
During the Vietnam War, Robert McNamara began a program called Project 100,000.
The program brought over 300,000 men to Vietnam who failed to meet minimum criteria for military service, both physically and mentally.
Project 100,000 recruits were killed in disproportionate numbers and fared worse after their military service than their civilian peers, making the program one of the biggest—and possibly cruelest—mistakes of the Vietnam War.
The 116th Congress is set to break records in term of diversity among its lawmakers, though those changes are coming almost entirely from Democrats.
(Photo: MANDEL NGAN/AFP/Getty Images)
Politics & Current Affairs
Women and nonwhite candidates made record gains in the 2018 midterms.
In total, almost half of the newly elected Congressional representatives are not white men.
Those changes come almost entirely from Democrats; Republican members-elect are all white men except for one woman.
Big think's weekly newsletter.
Get smarter faster from the comfort of your inbox.
See our newsletter privacy policy
here
Most Popular
Most Recent
Big think's weekly newsletter.
Get smarter faster from the comfort of your inbox.
See our newsletter privacy policy
here
© Copyright 2007-2018 & BIG THINK, BIG THINK EDGE,
SMARTER FASTER trademarks owned by The Big Think, Inc. All rights reserved.