When you see a stranger in some kind of hardship, how do you react? Researchers carried out a rare study in a real-life setting to assess the relationship between empathy and altruism.
People remain at the beach near two corpses after the collapse of a bicycle track in Rio de Janeiro, Brazil. (Photo: CHRISTOPHE SIMON/AFP/Getty Images)
When you see a stranger in some kind of hardship, how do you react? What goes through your mind when you consider whether to help this person? Researchers, led by psychologist Richard Bethlehem of the University of Cambridge, carried out a rare study in a real-life setting, and found that your level of empathy is related to your altruism and whether you'd get involved in a stranger's problem.
The scientists staged a hidden-camera style situation where passersby were given an opportunity to help a cyclist who supposedly had an accident. Regardless of the choice they made, researchers would approach these people afterwards, asking them to take a "memory test". It was important for them to conceal the true aims of the study to get a more honest reaction.
Those who agreed to participate were then given a series of questions and sent questionnaires to gauge their empathy levels as well as possible autistic traits.
1067 walked by the researchers, with about 7% actually helping the cyclist. Of the 55 people who then agreed to be in the study, 29% were those who helped the cyclist.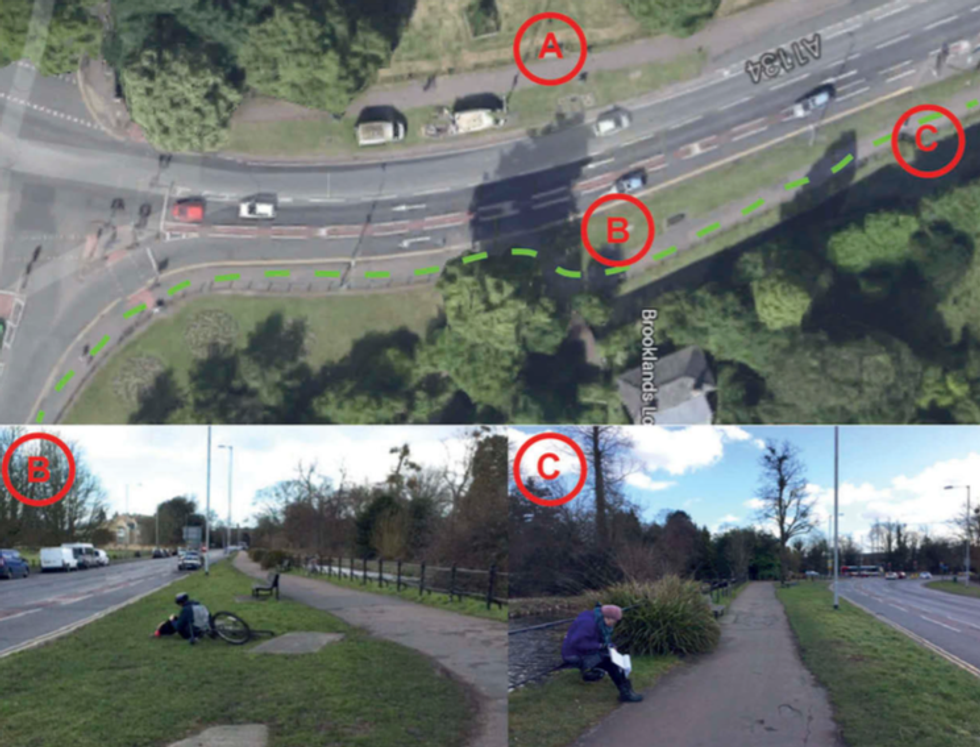 Credit: R. Bethlehem
Analyzing participant data, researchers concluded that empathy scores were related to altruistic behavior – those with higher empathy were also those who helped the cyclist. Their average empathy score was 56/80 while the non-helpers got 20/80.
The reason researchers also looked at autism spectrum scores is because earlier research indicated that people who had more autistic traits were less likely to be altruistic. But the new scores did not show such a correlation. In fact, a person who was diagnosed with Autism Spectrum Disorder was one of those who helped the cyclist. 
One other obvious (and rather sad) conclusion from the study is that most people don't stop to help a stranger in distress. But those with more empathy are more likely to do so.
"The implication of the present study is that within any institution (even perhaps extreme inhumane institutions such as those under the Nazi regime), there will be individual differences in how people within the institution respond, and that some of this variation in helping behavior is accounted for by where on the empathy dimension the individual is situated," wrote the researchers.
Check out the new open access study here in Social Neuroscience.
Most of us have heard of the double helix. But quadruple helix DNA?
A woman with cancer looking into the mirror.
We remember the double helix from science class, that elegant swirl of genes that make up all life on earth. By contrast, quadruple strand DNA sounds like something out of a sci-fi horror movie. Maybe something to do with a cloned monster that gets out and tears up the town, until a small band of plucky heroes take it down. Though it sounds fantastic, we all contain quadruple strand DNA. And it fact, it has been implicated in a real monster. But a plucky band of scientists who discovered it, may unlock its potential for fighting this serious and real disease that potentially, threatens us all. 
A recent study, out of the University of Cambridge in the UK, finds that four-strand DNA has the potential to offer new targets for cancer treatment. These control certain genes, particularly those associated with cancer. This discovery, published in the journal Nature Genetics, may also help to advance the small, but growing sector known as personalized medicine. The more information we have about the genetic makeup of a patient, the better we can diagnose, treat, and even prevent diseases.
One problem with cancer treatments today is that they attack all cells indiscriminately. Chemotherapy for instance, hurts healthy cells and cancerous ones alike. With targeted therapy, only the cancer cells are damaged, leaving healthy ones alone. To do so, researchers must find what is unique about cancer cells. They may now have found one important aspect.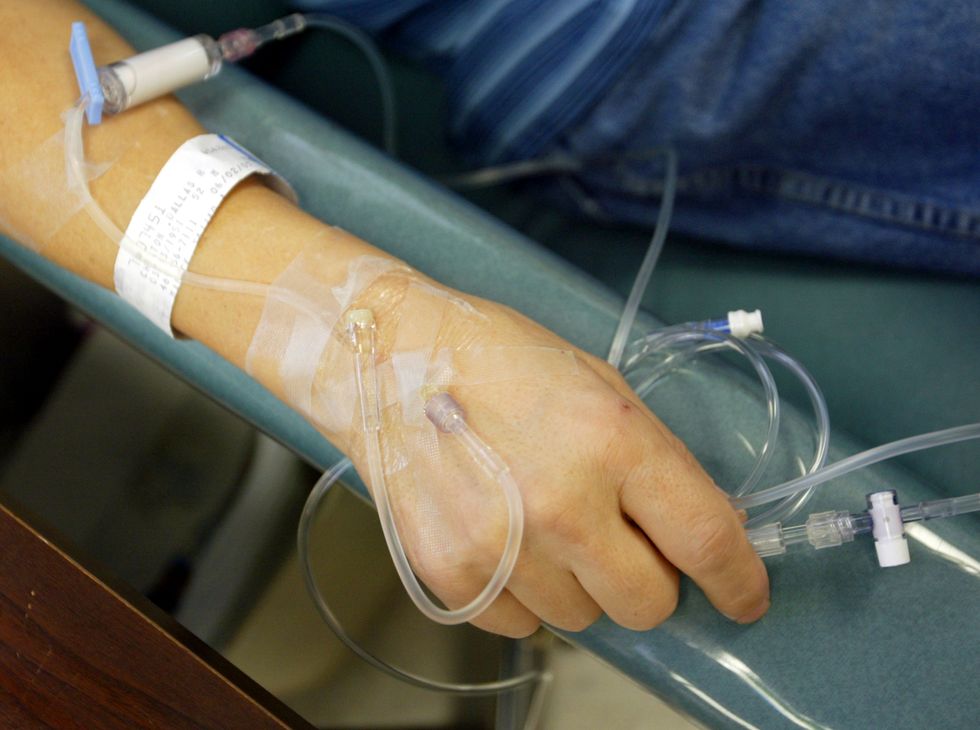 Chemotherapy drugs have harsh side effects, and injure cancer cells and healthy ones alike. Scientists are looking for options that only target cancer.
Four-strand DNA is known as G-quadruplexes, because they occur in regions of DNA with a lot guanine or G. This is one of the four main nucleic acids that make up RNA and DNA. The others include adenine (A), cytosine (C), and thymine (T). Watson and Crick discovered the double helix some sixty years ago, a structure they described as a twisty ladder.
G-quadruplexes are more like a tower with many floors. Each floor is known as a tetrad. Guanine (G) resides at all four corners, on each floor, held in place by hydrogen bonds. Cambridge researchers also found that a strand of DNA can fold itself into a G-quadruplex.
Those scientists who first discovered quadruple-strand DNA a few years ago, are behind this present finding. Professor Shankar Balasubramanian was the senior author on the study. He is a professor of medicinal chemistry at the university, and an investigator at the Cancer Research UK Cambridge Institute.
At first, there were a lot of theories on how G-quadruplexes might be associated with cancer. "But what we've found is that even in non-cancer cells, these structures seem to come and go in a way that's linked to genes being switched on or off," Balasubramanian said.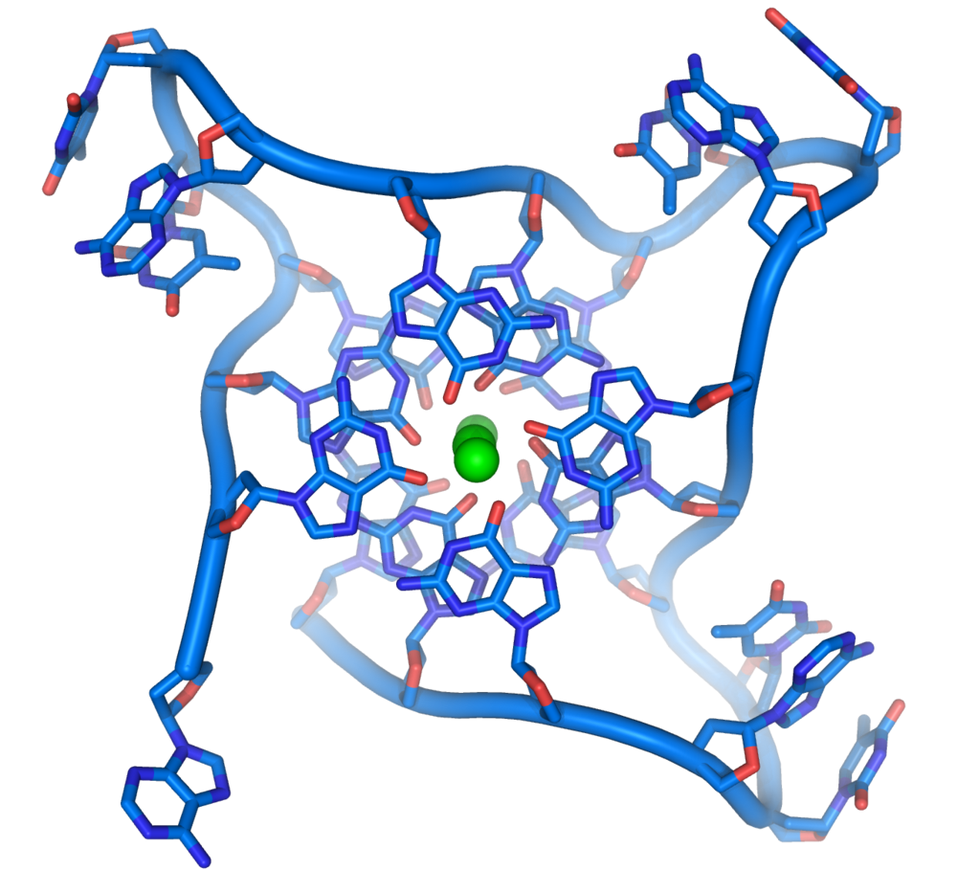 Model of a G-quadraplex. Image by TimVickers at English Wikipedia (Transferred from en.wikipedia to Commons.) [Public domain], via Wikimedia Commons
In this study, the professor and his team used small molecules to alter pre-cancerous cells, in order to search for G-quadruplexes. About 10,000 were located, mostly in areas that control gene behavior. They were particularly prominent around those genes associated with cancer.
Dr. Robert Hansel-Hertsch was the lead author on this project. He is a postdoctoral research associate at the university. Hansel-Hertsch said that G-quadruplexes were discovered in areas of the genome known for transcription, or rewriting DNA into other cells. They also control functioning and ultimately, the fate of cells.
"The finding that these structures may help regulate the way that information is encoded and decoded in the genome will change the way we think this process works," he said. Researchers now think that quadruple strand DNA acts similarly to epigenetic tags, in a process known as methylation.
This study suggests that four-strand DNA could become the next target for novel and precision cancer treatment. According to Prof. Balasubramanian, cancer cells respond well to small molecules that interact with G-quadruplexes. This suggests that these structures may exist in large numbers in pre-cancerous and cancerous cells.
Someday, cancer treatment may come down to flipping a few biochemical "switches," stopping the cancer from multiplying and spreading. On this, Prof. Balasubramanian said, "Figuring out the fundamental processes that cancer cells use to switch genes on and off could help scientists develop new treatments that work against many types of the disease."
To learn more about four strand DNA click here: 
There's more to intuition than meets the eye.
Wolf of Wall Street / Universal Pictures
If you don't make decisions by "going with your gut," you may want to start now.
Why? According to research published in Scientific Reports in 2016, researchers from the University of Cambridge and Sussex discovered that the more aware of your "gut feelings" you are, the more accurately you'll make high-risk decisions.
First of all, "gut feelings" are interoceptive sensations that guide behavior. Rather than gathering data and making decisions about the outside world with our senses, interoceptive sensations gather data and make decisions about our bodies. They "can report anything from body temperature to breathlessness, racing heart, fullness from the gut, bladder and bowel," and "they underpin states such as hunger, thirst, pain, and anxiety," according to Science Daily. Neurobiologist Antonio Damasio explains the whole thing to us here:
It's that last ability of interoceptive sensations that makes them useful in high-risk decision making. Research shows that high-risk choices are accompanied by subtle physiological changes like a faster heartbeat. Those physiological changes are known as somatic markers, and "such autonomic responses feedback on the brain to bias our decisions, steering us away from gambles with negative expected returns and towards ones with positive returns," as the study reports.
London researchers decided to test that theory with the most high-risk decision makers they could find: hedge fund traders. The team gathered 18 high-frequency male traders and tested their ability to silently count their own heartbeats without touching their chests or pulses. The team measured the traders' results against a control group of 48 male students. The traders "performed significantly better… the mean score for traders was 78.2, compared to 66.9 for the controls," the study reports.
Stronger still, the most accurate traders were the ones with the most job experience in high-frequency trading. In many cases, a trader's heartbeat counting score indicated the number of years he had survived as a trader.
"Traders in the financial world often speak of the importance of gut feelings for choosing profitable trades — they select from a range of possible trades the one that just 'feels right,'" says John Coates, study co-author and former Wall Street trader. "Our findings suggest they're right — they manage to read real and valuable physiological trading signals, even if they are unaware they are doing so."
While those findings are striking, they also confirm a long-held secret of the stock market: it's driven by emotion, not logic. "Stock traders make decisions based on psychological factors, including emotions, and may place undue weight on specific information at the expense of other relevant data," explains Psychology Today. "Different emotional states can have unpredictable effects on decision-making at different times. Mood can have an impact on cognitive performance and expectations, while factors such as a series of gains or losses can have an effect on traders."
A 2002 study published in the Journal of Cognitive Neuroscience monitored the heart rate, blood pressure, and sweat production of 10 professional traders during their normal work day. While the team measured the traders, they also collected real-time financial information, recording the prices and trends of "13 foreign currencies and two stock futures that the traders were eyeing and manipulating," the study reports. They found that "even veteran traders with a reputation for logical cold decisions had heart palpitations during volatile events, and less experienced traders reacted emotionally to a broader swath of market behavior," the study reports. Essentially, stock market trades are made based on how the traders react to the data, not because of the data itself.
That said, there are caveats with the Cambridge study. Financial traders are really good at reading their heartbeats compared to most people because they've got lots of practice at it; other people who regularly make high-risk decisions, such as police or firefighters, might be equally as good. Furthermore, other research has shown that heartbeat detection ability increases with stress levels regardless of occupation. All the Cambridge study demonstrates for certain is a correlation between heartbeat detection accuracy and accurate high-risk decision making; it does not show causation. "It's a starting point for more controlled science," Coates admitted to the New York Times. "There's a part of our brain that sends signals to our body, and it's really smart. It doesn't succumb to the mistakes of behavioral finance."
Add to that the fact that the study was only done on men and I see another immediate avenue for testing. I couldn't find any research comparing women's stress levels to men for this kind of test and I'm curious as to how that would have affected the correlation factor. I would also have liked to see the traders measured against men their own age who might have similar experience making high-risk decisions rather than undergraduate students to get a more accurate read on the heartbeat detection ability.
Still: there is enough research out there to safely say that you shouldn't use cold, hard Spock logic to make high-risk decisions. Poker player and former trader Brandon Adams backs it up and explains why here: