A groundbreaking new study shows that octopuses seemed to exhibit uncharacteristically social behavior when given MDMA, the psychedelic drug commonly known as ecstasy.
Octopuses, like humans, have genes that seem to code for serotonin transporters.
Scientists gave MDMA to octopuses to see whether those genes translated into a binding site for serotonin, which regulates emotions and behavior in humans
Octopuses, which are typically asocial creatures, seem to get friendlier while on MDMA, suggesting humans have more in common with the strange invertebrates than previously thought
Research points to many social-cognitive, emotional, behavioral and biological benefits that marriage seems to bestow on its participants.
Photo: Justin Sullivan/Getty Images
Scientists have long observed that there are many potential benefits of married life. One of their most popular findings perhaps pertains to the longevity advantage married people, and particularly men, have over their never married, divorced or widowed peers.
Studies point to many social-cognitive, emotional, behavioral and biological benefits that marriage seems to bestow on its participants. For example, being married is related to improved cancer survival. Being married has also been linked to better cognitive function, a reduced risk of Alzheimer's disease, improved blood sugar levels, and better outcomes for hospitalized patients.
Now a new meta-analysis led by psychiatrist Andrew Sommerlad from University College London and published in the Journal of Neurology, Neurosurgery & Psychiatry, has found that single people were 42 percent more likely overall to develop dementia than married individuals. The risk for widowed people was 20 percent higher while, interestingly, researchers found no evidence for an increased risk of dementia in divorced people.
Dementia is a rising global public health problem. There were an estimated 50 million people with dementia in 2017 and according to the World Alzheimer Report, this number will almost double every 20 years, reaching 75 million in 2030 and 131.5 million in 2050.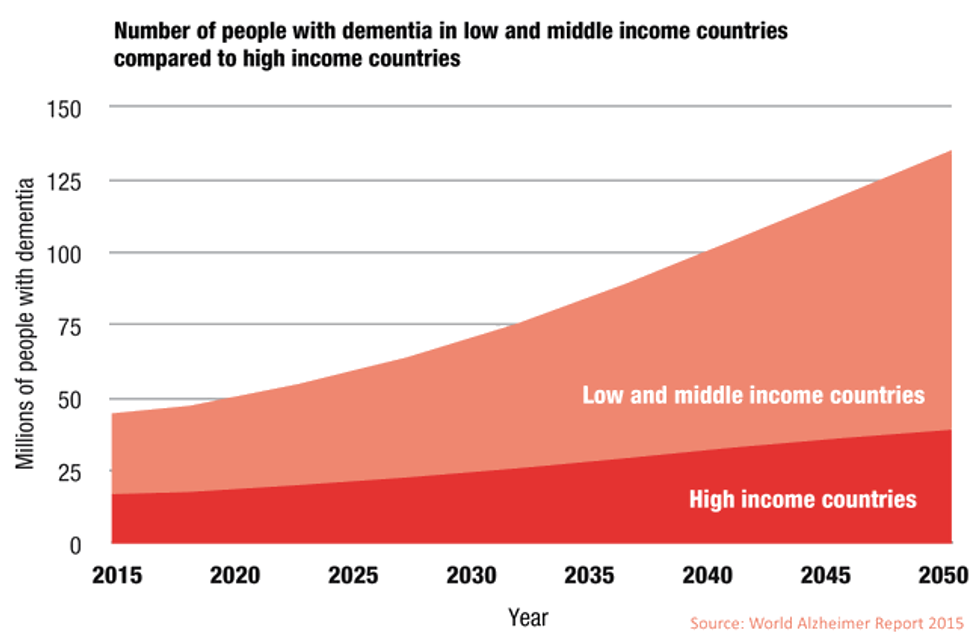 By studying the relationship between dementia and marital status, the scientists are hoping to find modifiable risk factors that could decrease individuals' likelihood of developing the disease. In their analysis the researchers conducted a systematic review of the literature including studies with a total of 812, 047 participants.
One factor that married life provides, and that seems to alleviate the risk for dementia, is increased social interactions. Social interactions could improve the individuals' cognitive reserves and enable them to better deal with neuropathological damage via compensatory mechanisms. More frequent social contact is also associated with reduced harmful lifestyle behaviors.
Having a marital partner seems to also influence people to make better lifestyle choices. The reverse is true for unmarried people who are more prone to adverse health behaviors and poorer health outcomes.
Laura Phipps from Alzheimer's Research U.K. points out another aspect of marriage that may be relevant:
"People who are married tend to be financially better off, a factor that is closely interwoven with many aspects of our health. Spouses may help to encourage healthy habits, look out for their partner's health and provide important social support."
Social norms may also contribute to the statistics. The scientists hypothesize that developing dementia could be related to underlying cognitive or personality traits that may have prevented people with smaller lifelong cognitive reserve to get married. As unmarried life becomes more common in modern cultures, single people born in the latter half of the 20th century have fewer unusual cognitive and personality characteristics leading to a tendency for reduction in the risk of dementia in single people in more recent times.
As with this and other observational studies, it is difficult to say which aspects of married life lead to its associated health benefits and whether these aspects can be replicated in other types of close relationships like those with friends or family.
Loneliness has been shown to be a health risk in itself, but while people living with unmarried partners tend to fare better than those living alone, living with a spouse seems to give you the best health of all.
Is introversion sometimes invoked unwittingly to mask outright rude behavior? The answer is: it's complicated. Here's what introverts and non-introverts can do to navigate the complexity.
Dead-pan, introverted actress Aubrey Plaza flipping that bird. (Photo by Frederick M. Brown/Getty Images)
Does respecting and embracing introversion entail a slippery slope for justifying blatant disrespect? Reflecting as an introvert herself, writer and editor KJ Dell'Antonia asks in a recent article for The New York Times whether some of her actions are actually bad manners masquerading as an unyielding personality-trait. She reflects:
I've started to develop [a suspicion] that my introversion is an excuse for something else. I'm shy, yes. But am I also rude? In a contest between my manners and my preferences, am I allowing my preferences to win?
There seems to be a dilemma between honoring one's own introverted tendencies and respecting commitments to others. Dell'Antonia goes on to offer several examples to illustrate her dilemma, including only doing the bare minimum to attend and participate in professional meetings, not participating or spectating at her children's athletic events, and skimping out on kids' school assemblies. A general conflict emerges from all of these cases: acting on what seem like natural introverted tendencies undermines duties in relationships to others, whether professional or personal.
Dell'Antonia is not the only self-proclaimed introvert to be troubled by the blurry line between being true to one's self and being kind to others. Sophia Dembling, author of The Introvert's Way and Introverts in Love, wrote a sympathetic open response to an introverted reader writing in with similar concerns. The reader, signing off anonymously as an "Irritated Introvert," described aggravation with introverted friends exhibiting a consistent "inability and/or unwillingness" to communicate reliably. Implicitly invoking the common theme of extroverts finding introverts difficult to deal with, the Irritated Introvert writes, "I can completely identify with extroverts on this point now." In her response, Dembling begins by affirming the sentiments of annoyance and identifies with the incommunicative friends as well:
I feel your pain, Irritated Introvert.
In fact, I've been your pain. 
A friend who lives in another city once chastised me for not returning his calls when he left voicemails. He said he wouldn't keep calling if I was going to be that way.  My introversion had become outright rudeness, and I am truly grateful to this friend for telling me. From then on, I either answered the telephone when he called, returned his calls in a reasonable period of time, or let him know via email when I would. And, perhaps most importantly, I initiated contact more than I had before. And I started doing all that with all my far-flung friends. 
Not responding to emails or phone calls is rude—and I think you're generous calling it an "inability" to respond.
Neither the propensities toward rudeness nor anxieties about it are unusual to introverts. So what does this mean we ought to expect of them, and how can they flourish in accordance with their own nature?
Video via scientificamerican.com.
A necessary first step is to recognize that social institutions, as they currently stand, are disproportionately geared toward rewarding extroverted behavior and punishing or making difficult demands of introverts. This is part of what Susan Cain challenges in her best-selling book Quiet. Extroverts are consistently chosen over introverts for leadership positions in business settings, and introverts earn much less as a result. Similar systems of encouragement and neglect are manifest in classrooms.
Therefore, when considering the question of whether introverted behavior is rude behavior, it is crucial first to acknowledge that there is a lot of work to be done in social institutions to accommodate and encourage introverts more. Indeed, employers stand to gain a lot in productivity and good will by respecting the needs of introverts.
But for introverts and their friends, the question remains difficult: where introverted social behavior becomes rude is necessarily unclear, so the contradiction has to be embraced. The answer is somewhere in the middle. Such a happy medium is exactly what Dembling encourages fellow introverts to seek:
If you recognize yourself as a nonresponder, I strongly suggest thinking about the message you're sending friends and loved ones. You don't have to hop to it every time someone wants you, but if you constantly make people chase you down, if you never reach out, and if you don't acknowledge attempts to contact you, then you're daring your friends to give up, to say "the heck with it," and to give their time and attention to more rewarding relationships.
Indeed, this is precisely the conclusion that Dell'Antonia arrives at after interviewing the introvert-superstar herself, Susan Cain:
We can respect our own introversion, and embrace the "quiet" people among us, without abandoning every challenging interaction. When I asked Ms. Cain (while interviewing her about introversion in teenagers) if self-indulgent introverts risked crossing the line into antisocial behavior — if we might, in fact, just be being rude — she laughed, and agreed. Sometimes, she said, "you have to consider the other person's point of view instead of getting wrapped up in your own discomfort."
Thus, the answer for introverts is to keep in mind their own needs as well as their commitments to relationships that they're in. For friends and colleagues, on the other hand, the goal is to cultivate relationships and expectations that best allow introverts to flourish.  
Saturday Night Live's Lorne Michaels is a maestro at respectfully coaxing out introverts and being sensitive to people's emotional states. Charles Duhigg explains: